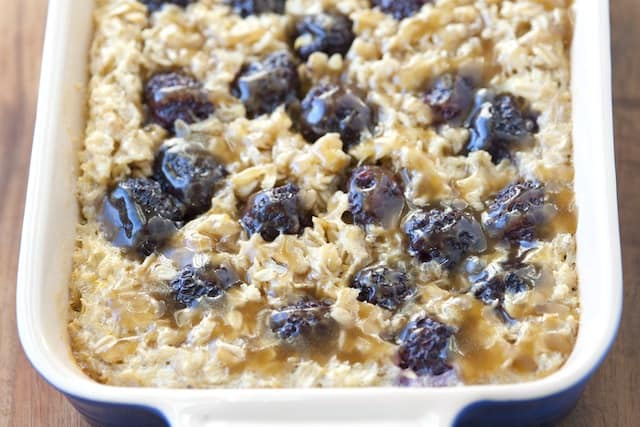 Eat this baked oatmeal with fresh blackberries and caramel sauce for breakfast or even for dessert.
When we saw how popular our Baked Oatmeal with Strawberries, Banana and Chocolate was, we just had to make another one. This time, we added bright lemon zest, juicy blackberries and of all things a quick caramel sauce on top! Yeah, we might have gone too far, on that one. As far as Adam is concerned, considering both options, this one is his favorite, me… I don't know, I got two servings of both!
How to make Blackberry Baked Oatmeal
Start by stirring the oats, brown sugar, lemon zest, baking powder, nutmeg and salt together.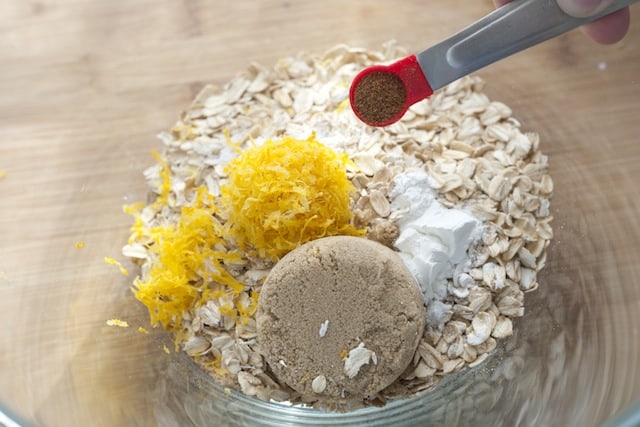 Add half of the oat mixture to a baking dish then top with a few blackberries. Then, layer the remaining oat mixture and blackberries on top of that.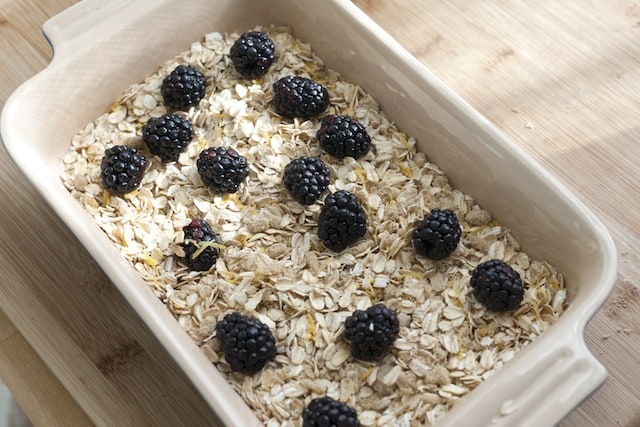 Next, combine the milk, butter, vanilla extract and egg…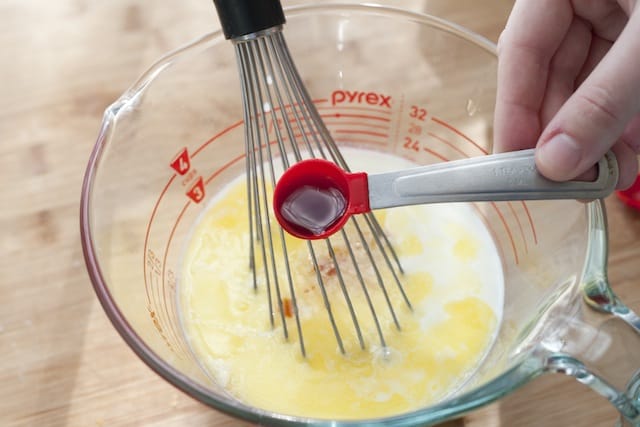 …and pour over the oat mixture and blackberries. Then bake for 35-40 minutes until the top is nicely golden brown and the milk mixture has set.
How to make our Quick "Fake-Out" Caramel Sauce
This comes together really quickly, so make the sauce just before serving. If you wanted to skip this step and just get into the oatmeal, it is delicious with honey or maple syrup instead.
If making the sauce, start by melting butter over medium heat…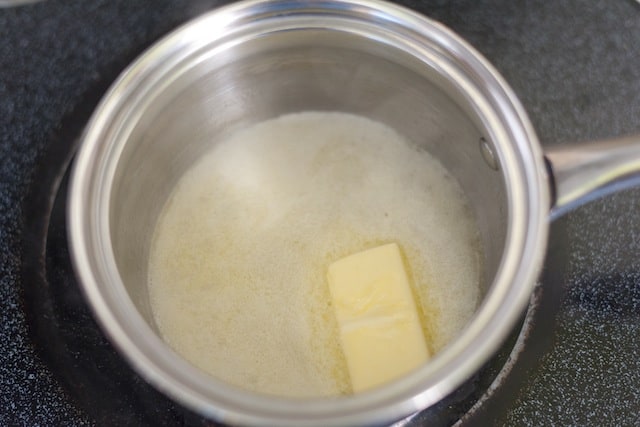 …add brown sugar and cook until dissolved.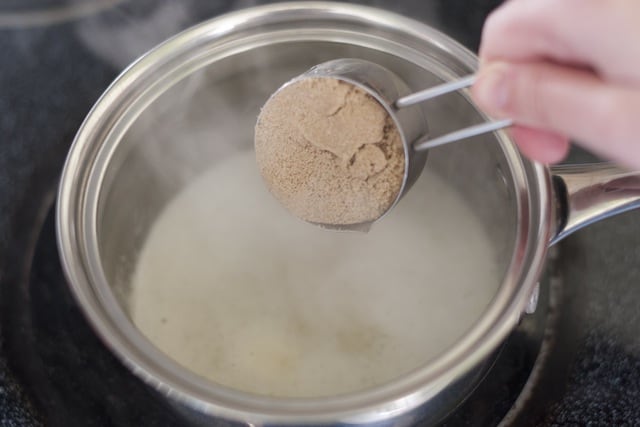 Then, add a dash or two of water to thin out the sauce and help it come together.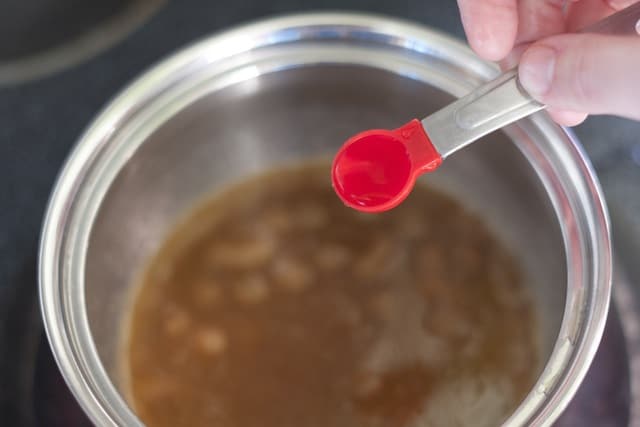 Drizzle the sauce over warm oatmeal… oh. yum.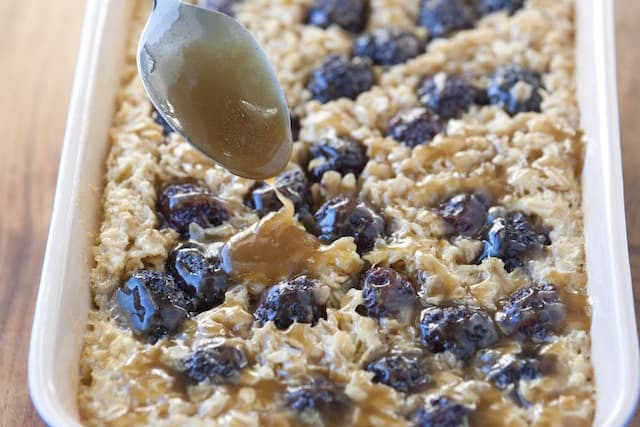 Blackberry Baked Oatmeal with Caramel Sauce
Baked oatmeal is perfect when serving a crowd for breakfast. You can bake this the night before and reheat in the morning for an easy and impressive breakfast. If making ahead, wait to make the sauce until ready to serve. Replace blackberries with blueberries or other berry.

If you would prefer to not make your own caramel sauce, this is perfectly delicious with a drizzle of honey or maple syrup.
Created By:
Adam and Joanne Gallagher
You Will Need
For Baked Oatmeal
2 cups old fashioned rolled oats
1/4 cup light brown sugar
1 teaspoon baking powder
1 tablespoon grated lemon zest
1/4 teaspoon ground nutmeg
1/2 teaspoon salt
2 cups milk
1 large egg
3 tablespoons butter, melted
1 teaspoon vanilla extract
6 ounces fresh blackberries
For Caramel Sauce
1/4 cup brown sugar
1/4 cup butter
1 tablespoon water
Directions
Preheat oven to 375°F and generously spray the inside of a 10-1/2 by 7 inch baking dish with cooking spray and place on a baking sheet.
In a large bowl, mix together the oats, sugar, baking powder, lemon zest, nutmeg and salt. Add half of the oat mixture to prepared baking dish. Arrange half of the blackberries on top. Then, add the second half of the oatmeal and top with the remaining blackberries.
In another large bowl, whisk together the milk, egg, melted butter and vanilla extract. Gently shimmy/shake the baking dish to help the milk mixture go throughout the oats. Bake 35 to 40 minutes or until the top is nicely golden brown and the milk mixture has set.
Before serving, make the caramel sauce by melting butter in a small saucepan over medium heat then add brown sugar. Cook while stirring until the sugar dissolves. Add water, stir, and then drizzle over oatmeal.
Notes and Tips
Make Ahead Meal Idea: You can make this oatmeal the night before cooking. Some readers have tried freezing: After mixing everything together the oatmeal is covered tightly or poured into resealable plastic bags and frozen. Then, when you want to bake the oatmeal, just take it out of the freezer, thaw and bake as directed. If you do this, we just suggest that the fruit is mixed into the oatmeal, not placed on top if you decide to freeze.