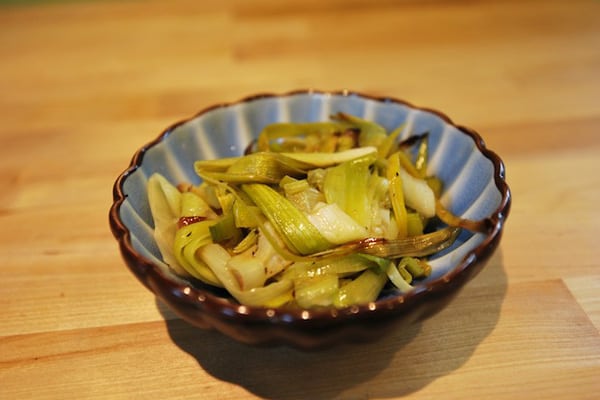 I was born in Scotland and lived there until I was 7 years old and my parents are both English, so we would often have leeks as a side dish for dinner.  I find it funny that leeks are not as popular here in America as they are in other parts of the world.  They are a great vegetable.  If you like cooked onions, the chances are you will like leeks as well.  They have a more delicate and sweeter flavor than onions, so they work really well as a side dish or added to soups, quiches, or other dishes where you do not want anything to be overpowered.
My mother's favorite way of preparing leeks is to roast them.  Roasting anything, especially vegetables really brings out natural flavors and sweetness. This takes longer than a stove top method, but the extra time is worth it (in my opinion).  The leeks come out sweet and tender.  Just roasting the leeks with salt and pepper will make a fabulous dish, but in this case I added some Herbs de Provence.  I use this herb blend a lot, you can find Herbs de Provence in most grocery stores now and is a mixture of herbs commonly used in Provence, France.  I bought mine over the internet at The Spice House and it is composed of rosemary, French thyme, tarragon, basil, savory, cracked fennel, lavender and marjoram.  You could certainly select some of those herbs and create your own mix and the dish will still be delicious.

Roasted Leeks with Herbs de Provence
You Will Need
6 medium leeks, cleaned and cut lengthwise into quarters
2 tablespoons of olive oil
1/2 teaspoon Herbs de Provence

½ teaspoon salt
¼ teaspoon pepper
½ cup of chicken or vegetable stock
Directions
Pre-heat the oven to 400 degrees F.  Clean the leeks and cut lengthwise into quarters.  In a roasting pan with sides, toss the leeks with olive oil, Herbs de Provence, salt and pepper.  Roast the leeks until they are tender for about 35 to 45 minutes.  While roasting  add a small amount of broth every 20 minutes to the leeks so they keep moist.