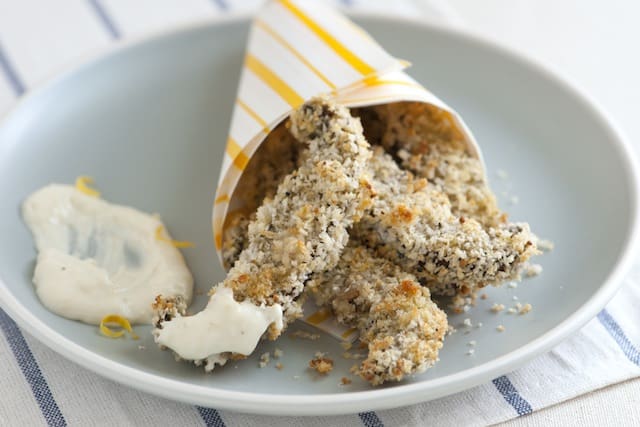 Baked portobello fries are a dream. Let me explain.
1. They're crispy on the outside.
2. They're baked, not fried.
3. Since they're baked and not fried, we convinced ourselves that we can eat a lot of them. I think we're right.
4. They're juicy inside and full of flavor — more than a fry replacement, we're thinking chicken tender replacement — that's how good they are.
5. We ate a lot of them. A lot.
Try Our Homemade Ketchup Recipe: How to make our seriously good homemade ketchup recipe. Make ketchup that's better than anything you can buy at the store!
How We Make Baked Portobello Fries
It all starts with big portobello mushrooms. We remove the stalk as well as the darker colored gills. This isn't something we normally do, they're completely fine to eat. In this case, though, it's admittedly prettier in the end if you remove them.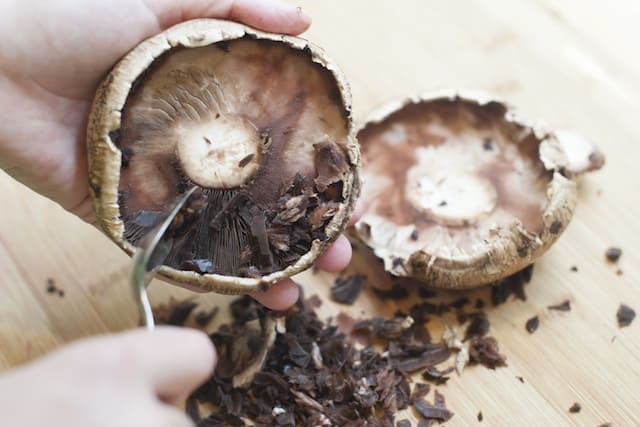 Give the mushrooms a slice then set up a breading station. Nothing fancy here – flour, eggs and breadcrumbs.
If you've got some on hand, use panko breadcrumbs, they give a lighter crunch than regular breadcrumbs. With that said, we've baked these portobello fries with both regular breadcrumbs and panko – both are delish.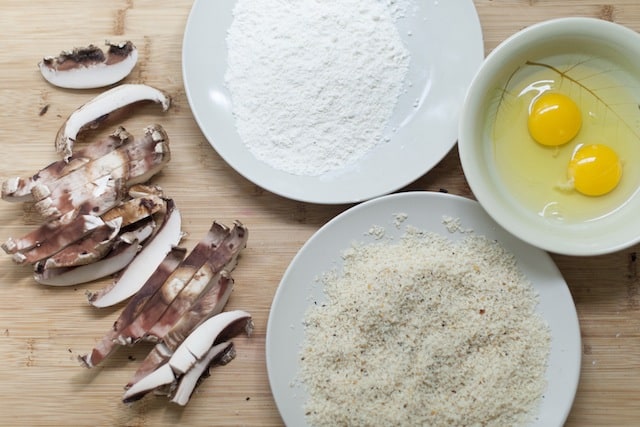 Once breaded, the fries get a little spray of cooking spray then we slide them into the oven to bake for … wait for it … 10 minutes! So quick, right?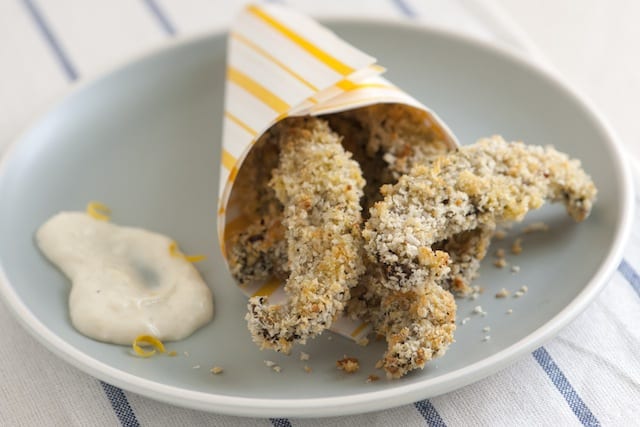 If you're feeling up to it, make a creamy horseradish dip to serve alongside the fries. Just mix mayo, a little lemon juice and prepared horseradish. You can make it as spicy as you like.
Don't feel like making your own sauce? Ketchup is perfectly delicious, too!
Crispy Baked Portobello Fries
These baked portobello mushroom fries are so easy to make. You'll need some form of breadcrumbs for this, we prefer to use panko breadcrumbs since they are a tiny bit crispier, however, you could certainly use regular or even seasoned breadcrumbs instead. We mention that this recipe can serve 2 people, this all depends on how many you eat! We devoured the whole recipe in minutes.
Created By:
Joanne and Adam Gallagher
You Will Need
2 portobello mushrooms
1/2 cup all purpose flour
2 eggs, lightly beaten
1 cup panko breadcrumbs
1 1/2 teaspoons steak seasoning
non-stick cooking spray
Directions
Heat oven to 425 degrees F. Line a baking sheet with aluminum foil or parchment paper.
Remove the stalks from each mushroom then use a spoon to scrape out any dark gills from the underneath of each mushroom and discard. Cut mushrooms into 1/4-inch slices.
Set up a breading station by adding the flour, eggs and breadcrumbs to three separate shallow dishes. Add the steak seasoning to the breadcrumbs and stir.
Dredge each mushroom slice into the flour then add to the egg to coat and finally into the breadcrumbs so that each slice is well breaded.
Arrange breaded mushrooms onto baking sheet then lightly spray with non-stick cooking spray. Bake 8-10 minutes, turning once during cooking, until golden brown and crispy.
Serve portobello fries with ketchup or your favorite flavored mayo.
Notes and Tips
We love these served with ketchup, but will sometimes make a simple horseradish mayo. To make your own, mix a 1/2 cup of mayo with 1/2 teaspoon of lemon zest and the juice of half a lemon. Stir in 2-4 teaspoons of prepared horseradish and season with salt to taste.