This easy poached chicken recipe produces the juiciest, most tender chicken you'll ever have! Use our recipe for chicken breasts or thighs. The chicken stays lean, and the texture turns soft, juicy, and tender. Use for soups, salads, sandwiches, tacos, and more!
Watch the Video
Related: We use a similar method to poach shrimp and love this easy poached salmon.
The Best Way to Poach Chicken
We've already shown you how we make tender shredded chicken. Poaching is a similar process, and even takes less time. We especially love this poaching method for chicken breast. The chicken stays lean, and the texture turns soft, juicy, and tender. Use the poached chicken to make the best chicken salad, a topper for rice bowls, or enchiladas and tacos.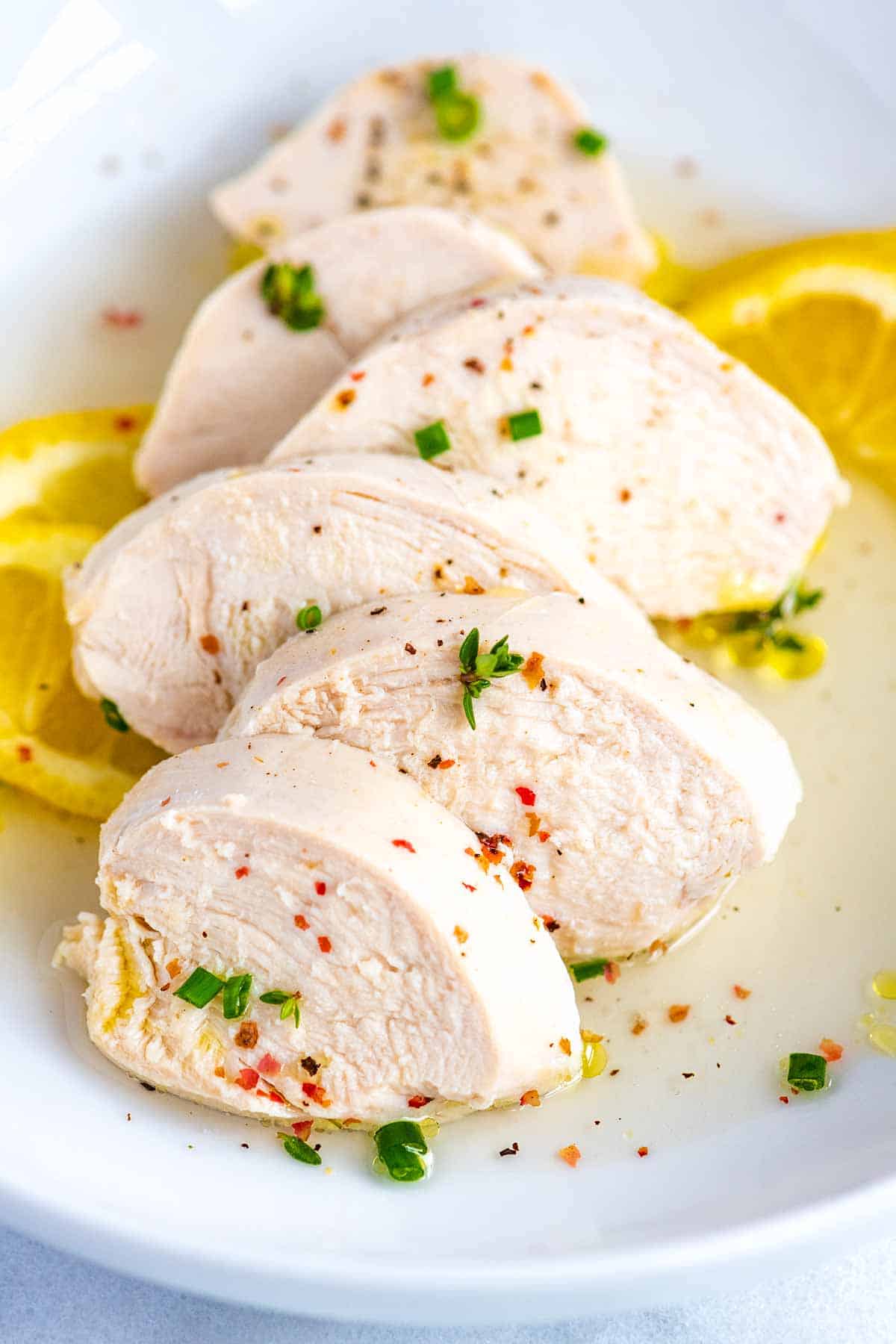 Ingredients
For the best poached chicken, you will need the following ingredients (a detailed recipe is below):
Chicken breasts or chicken thighs
Water, stock, or broth — we typically use water, but for more flavor, chicken or vegetable stock will work nicely.
Aromatics like garlic, shallots, ginger, bay leaves, or fresh herbs — The combination of aromatics is up to you and can be adapted based on how you plan to use the poached chicken. For example, if you plan to add it to a Mexican-inspired rice bowl, combine garlic, cilantro, and some cumin. Adding ginger would be excellent for more Asian-inspired dishes.
Salt is a must. By adding salt to the poaching liquid, you make sure that the cooked chicken is ultra-flavorful and perfectly seasoned.
How to Poach Chicken
The steps for poaching chicken are simple, here's the basic idea (remember, the full recipe is below):
Add the chicken, aromatics, and salt to a pot, and then add enough water to cover the chicken by about an inch. Place the pot over medium heat abd wait, without increasing the heat until the cooking liquid comes to a very low simmer. This will take a few minutes, and makes sure the chicken stays soft and tender. Increasing the heat at this point to speed up the simmer can make the chicken tough.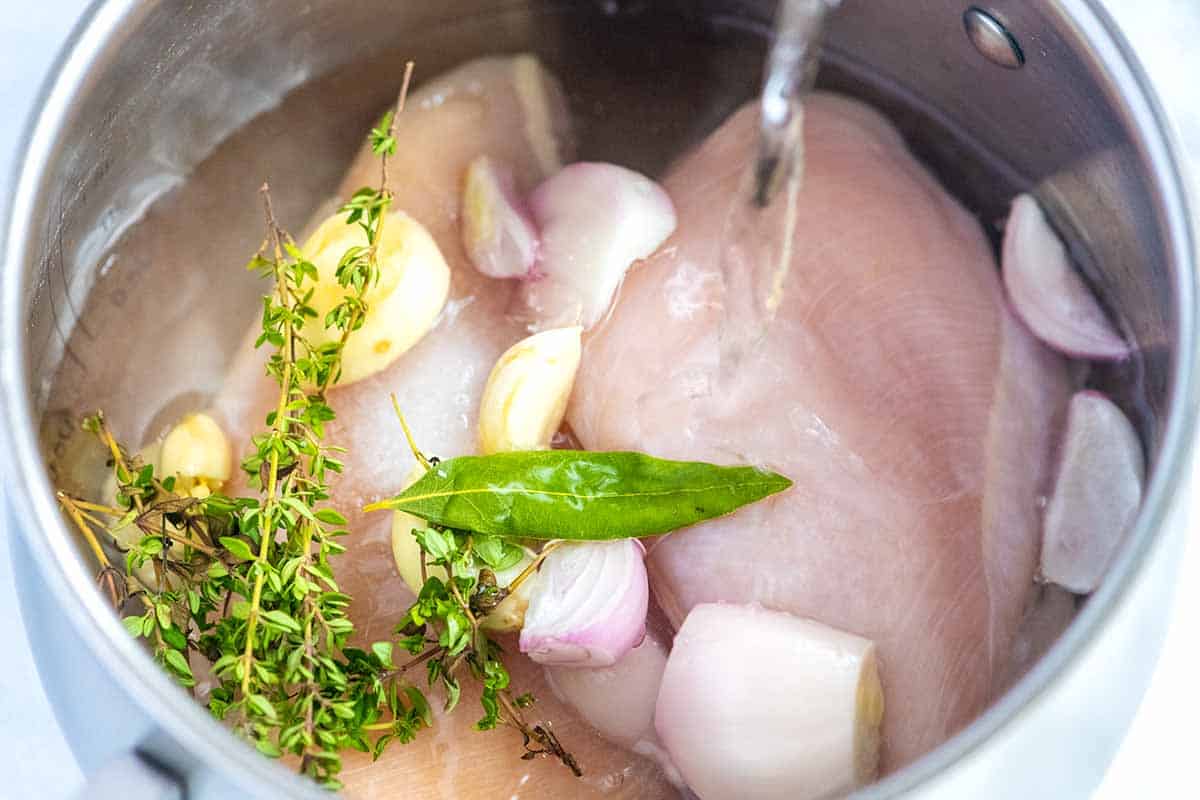 Lower the heat and cook until the chicken is cooked through (about 10 to 15 more minutes), and then transfer the chicken to a cutting board and let rest for a few minutes. Slice and serve.
And that's it, simply poached chicken that's tender and flavorful. For tips on poaching a whole chicken, see our simple chicken broth recipe. In that recipe, we gently poach a whole chicken until it is perfectly cooked. Since the chicken cooks for about 1 hour, the poaching liquid turns into the most delicious chicken broth.
For some ideas for what to do with poached chicken, see below: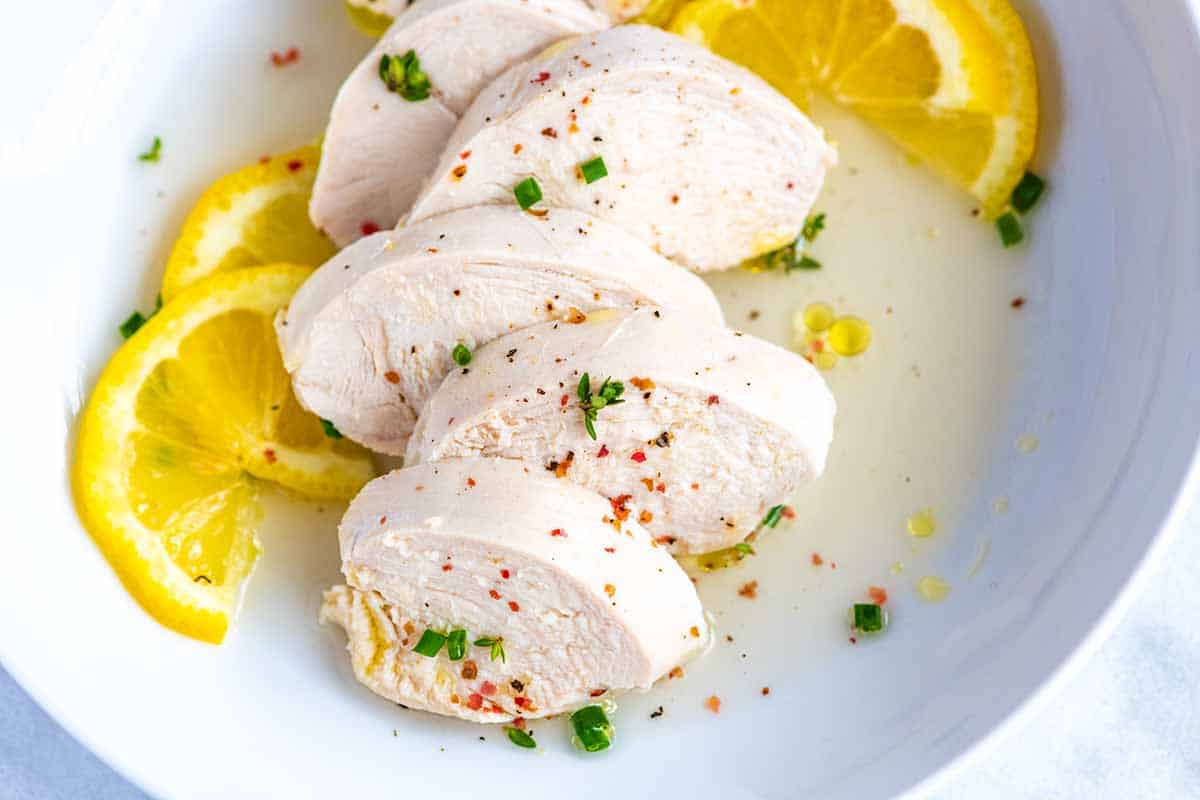 Perfect Poached Chicken
Poached chicken is tender, soft, juicy, and flavorful. Use our easy, straight-forward recipe for chicken breast or chicken thighs. You can use skin-on chicken and remove the skin before serving. The aromatics suggested in the recipe are a guide. Ginger, chili peppers, additional herbs, onion, fennel, and carrots are all excellent options.
Makes about 3 cups cooked chicken (cubed or shredded)
Watch Us Make the Recipe
You Will Need
1 ½ pounds skinless, boneless chicken breast or thighs
3 garlic cloves, smashed with the flat side of a knife
1 shallot, peeled and quartered
1 bay leaf
2 to 3 sprigs fresh thyme
1 ½ teaspoons fine sea salt
Water, or substitute with chicken or vegetable stock or broth
Optional for serving: fresh cracked black pepper, lemon slices, fresh herbs, and olive oil
Directions
1Add chicken, garlic, shallot, bay leaf, thyme, and the salt to a medium pot. Cover with water by an inch or two, 5 to 6 cups.

2Place the pot over medium heat and heat until the liquid comes to a low simmer. This will take a few minutes. For the most tender poached chicken, don't try to rush this step.

3When the liquid is at a low simmer, turn down the heat to low and cook until the chicken is cooked through, 10 to 15 minutes. To check for doneness, an internal thermometer inserted into the thickest part of the chicken should read 165 degrees Fahrenheit, and the juices will run clear when you pierce the chicken with a knife.

4Transfer to a cutting board. Slice and serve. If you do not plan on eating the chicken straightaway, skip the slicing and store tightly covered in the refrigerator. The chicken will keep 3 to 4 days in the fridge.
Adam and Joanne's Tips
Nutrition Per Serving
Serving Size
1/2 cup
/
Calories
140
/
Total Fat
3g
/
Saturated Fat
0.6g
/
Cholesterol
82.7mg
/
Sodium
632.9mg
/
Total Carbohydrate
0.9g
/
Dietary Fiber
0.1g
/
Total Sugars
0.1g
/
Protein
25.7g