Easy hummus recipe with spiced ground beef, feta cheese and fresh mint. This one is so easy and perfect served with pita bread.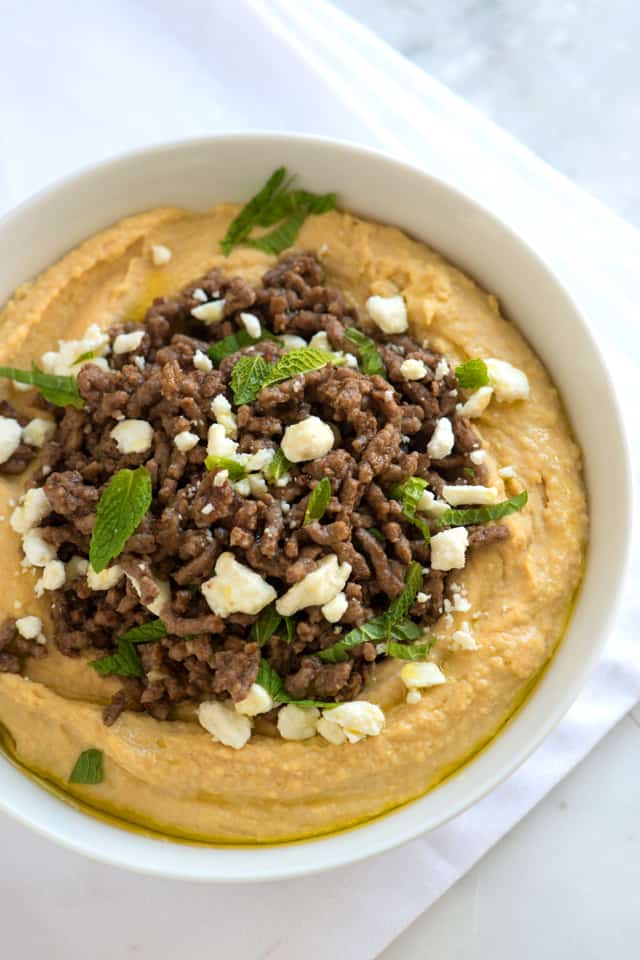 We spice ground beef up with smoky cumin, cinnamon, coriander and spicy cayenne pepper. Then, we add the spiced beef to the top of  smooth creamy hummus.
How to Make Hummus with Spiced Up Beef, Feta and Mint
The beef can be made in minutes, all we do is cook it in a skillet and add lots of zesty spices like cumin and cayenne pepper. Then, add the beef to creamy hummus and serve with pita wedges or vegetables.
You can buy your own hummus or make our simple hummus recipe (it takes about 10 minutes). Plus, if you would prefer something other than ground beef, try using ground lamb, chicken or even turkey.
To really make the flavor pop add some fresh green mint and feta cheese. So delicious!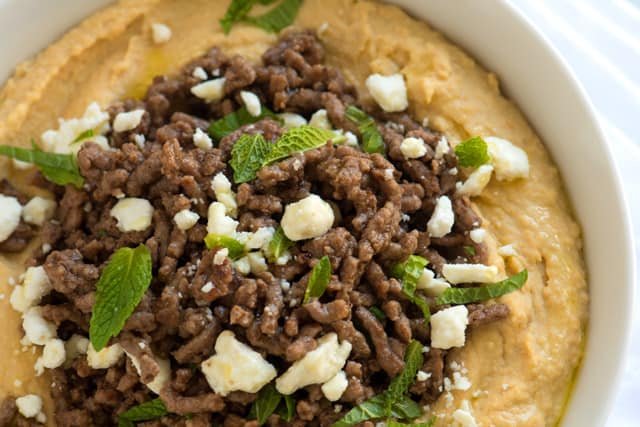 If you liked our Spiced Ground Beef and Hummus Recipe, you might enjoy these, as well:
Hummus with Spiced Up Beef, Feta and Mint
This recipe for spiced beef is perfect served on top of creamy hummus. Feel free to use store-bought hummus or use our
recipe for smooth hummus
.
Created By:
Adam and Joanne Gallagher
You Will Need
2 tablespoons olive oil
1 pound (450 grams) lean ground beef
1/2 teaspoon ground cumin
1/4 teaspoon ground cinnamon
1/4 teaspoon cayenne pepper
1/2 teaspoon ground coriander
1/4 teaspoon ground allspice
1/2 teaspoon salt
1/4 cup (60 ml) chicken stock
2 cups hummus
5 to 6 mint leaves, chopped
2 tablespoons (30 grams) crumbled feta cheese
Directions
Heat oil in a large skillet over medium heat. Add the beed and cook until browned, about 10 minutes.
Stir in cumin, cinnamon, cayenne pepper, coriander, allspice, and the salt and cook for 1 minutes to toast the spices. Pour in the chicken stock and cook until reduced, about 5 minutes.
Spoon hummus into a bowl and top with spiced beef, feta cheese and the chopped mint leaves.