Maple syrup perfectly balances the bitterness of endive in this simple side. Jump to the Maple Roasted Endive Recipe or read on to see our tips for making it.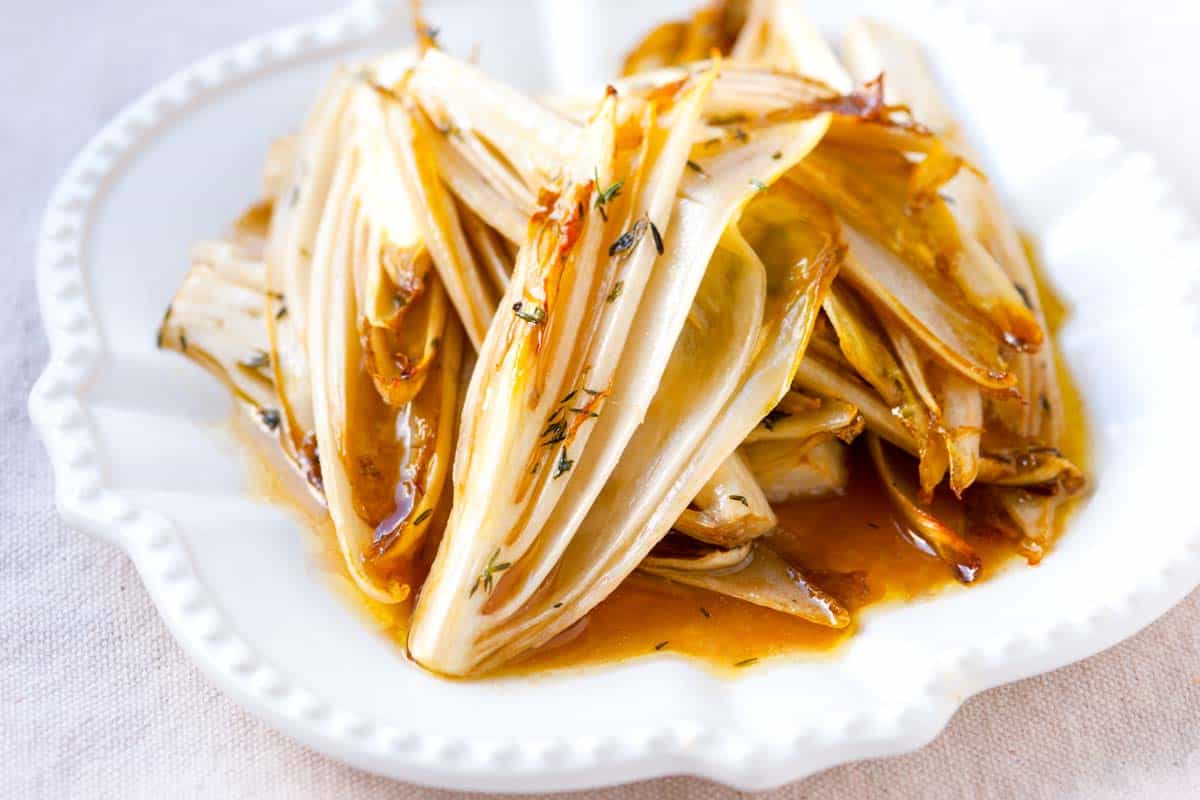 YOU MAY ALSO LIKE: Easy roasted carrots recipe with a garlic parsley butter. The carrots are sweet, tender and completely delicious. Jump to the Roasted Carrots Recipe.
How to Make Maple Roasted Endive
Endive is a little bitter, but in a good way. Maple syrup is sweet and a little smoky, in a good way. Why not combine them? This is amazing served with roast turkey or chicken, especially if you had some mashed potatoes and gravy on the table at the same time.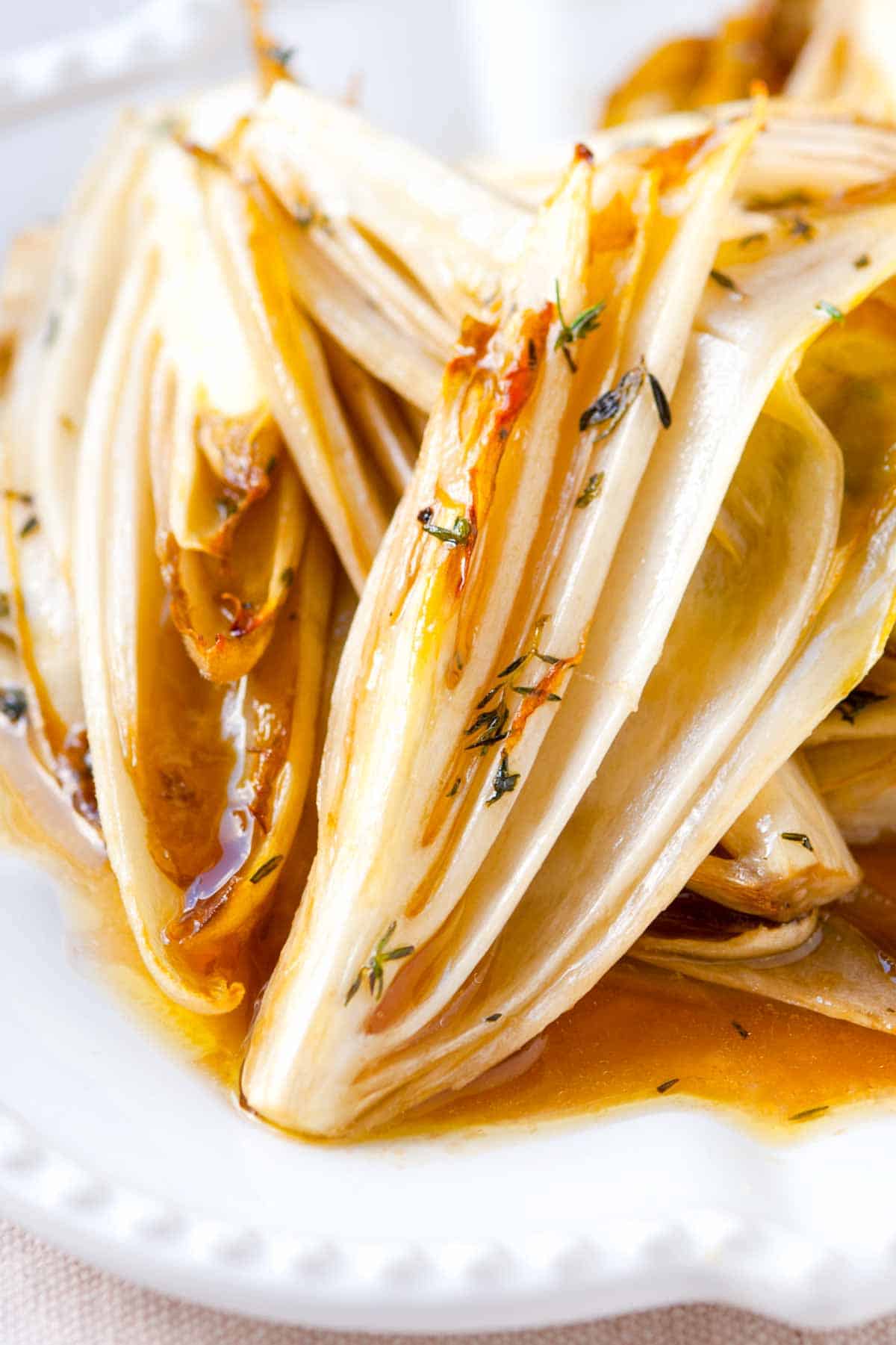 Start by cutting the endive into similar sized wedges. Add to a baking sheet and cover  with a mixture of melted butter, maple syrup, salt and fresh thyme. Bake in a 350 degree oven for 20 to 25 minutes until tender and the edges start to brown.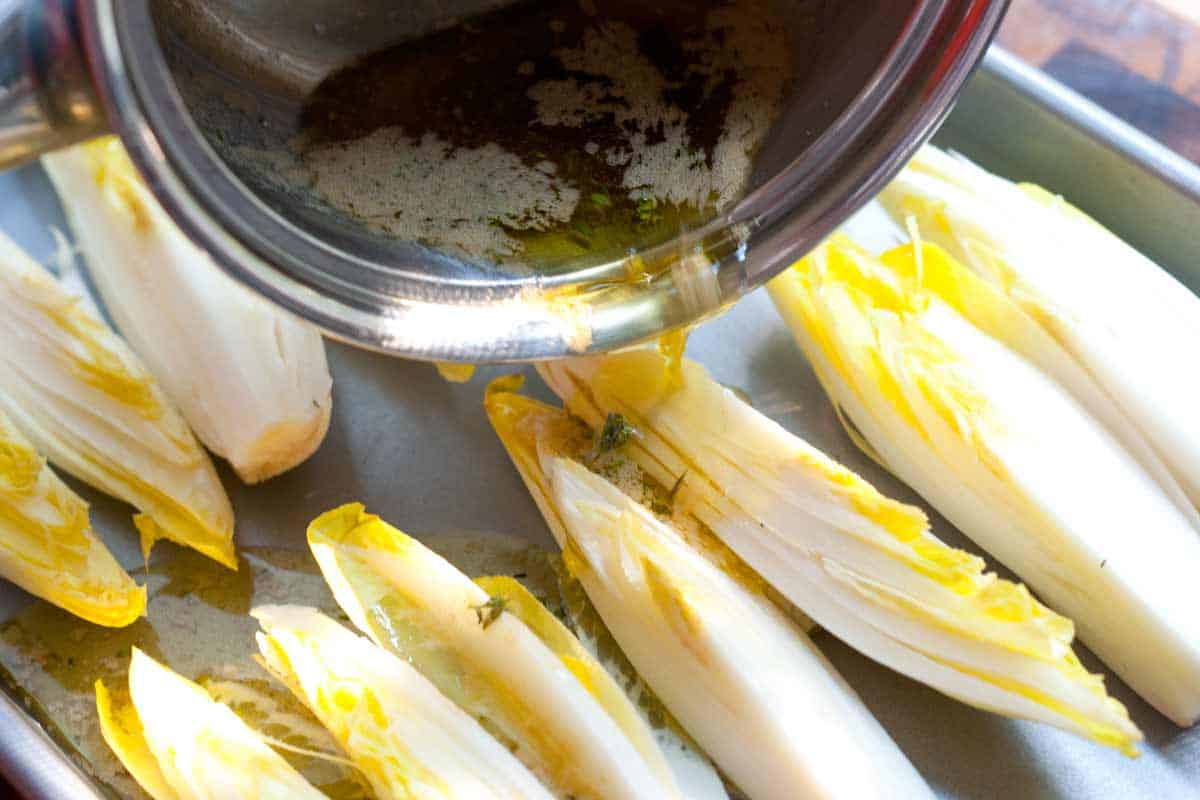 By the way, you can make the recipe with carrots or parsnips, too! If you do, peel the parsnips and/or carrots and cook in boiling water until the crunch is gone and they start to become tender, then follow the recipe as shown below.
YOU MAY ALSO LIKE: Simple roasted butternut squash recipe with cinnamon, brown sugar and a little cayenne. Jump to the Roasted Butternut Squash Recipe.
Recipe updated, originally posted November 2011. Since posting this in 2011, we have tweaked the recipe to be more clear. – Adam and Joanne
Maple Butter Roasted Endive Recipe
This takes less than 10 minutes to prep and about 25 minutes to roast. I love how the maple syrup balances the bitterness of the endive.
You Will Need
6 medium-sized endive
2 tablespoons butter
2 tablespoons real maple syrup
2 teaspoons chopped fresh thyme leaves
1/4 teaspoon sea salt
Directions
1Heat oven to 350 degrees F.

2Halve the endives or if large, cut them lengthwise into four wedges then remove as much of the core as possible (the core can be bitter). Arrange endive into one layer on a baking sheet.

3In a small saucepan, melt the butter the stir in maple syrup, thyme and salt. When hot, pour over the endive and bake until tender and the edges begin to brown, 20 to 25 minutes.