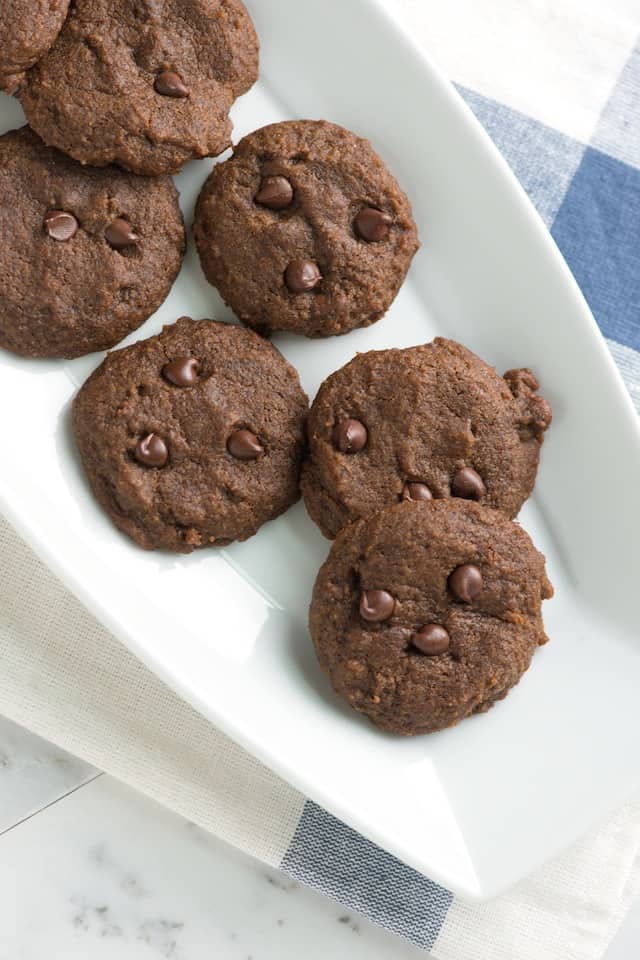 Joanne and I were trying to determine what our favorite cookie was – after much deliberation, we came to a conclusion. It's impossible for us to choose just one. Could you? Instead, we started to make a list and these soft ginger cookies with chocolate chips were on it. We both absolutely love the spiciness of ginger cookies and thought the addition of creamy milk chocolate chips couldn't hurt. You can make these easy cookies in just 20 minutes and only need a hand mixer, a spoon and a couple bowls.
Soft Ginger Cookies with Chocolate Chips Are Easy to Make
This is an easy cookie recipe – it all starts with soft butter and sugar. We use a hand blender to beat them together until creamy. Then, in goes some molasses. Molasses is important, here — it's sweet, dark in color and rich in flavor.
Next, we add flour and lots of spices. We like our ginger cookies to be spicy with lots of ground ginger, cinnamon, nutmeg and cloves. After that, we stir a bunch of milk chocolate chips into the cookie batter. We used milk chocolate since it's a little sweeter, but you can use whatever chocolate you like. White chocolate would be lovely, too!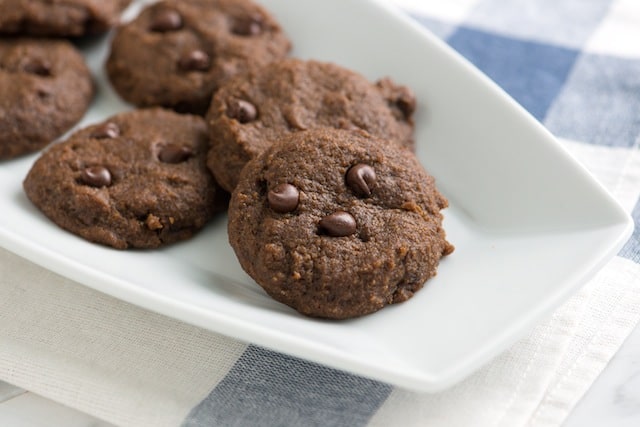 Are you craving a couple of these Soft Ginger Cookies, yet? If so, we bet you'll also enjoy a few of these:
Soft Ginger Cookies with Chocolate Chips
This soft ginger cookies with chocolate chips are so simple to make. If you want to make sure the tops are extra pretty with chocolate chips, press a few extra chips into the tops of each cookie before baking.
You Will Need
2 cups (280 grams) all-purpose flour
2 teaspoons ground ginger
1 teaspoon ground cinnamon
1/4 teaspoon ground cloves
2 teaspoons baking soda
1/2 teaspoon salt
3/4 cup (170 grams) butter, at room temperature (1 1/2 sticks)
1 cup (200 grams) sugar
1 egg
1/2 teaspoon vanilla extract
1/4 cup (59 ml) unsulphured molasses (we use Blackstrap Unsulphured Molasses)
3/4 cup (135 grams) milk chocolate chips
Directions
Heat oven to 350 degrees F (177 degrees C). Then, line one or two baking sheets with parchment paper. (You don't have to use parchment paper, it just helps with clean-up. If you do not wish to use it, regular ungreased baking sheets will be fine).
Grab a large bowl then use a hand mixer to beat the butter until whipped and creamy. This takes about 30 seconds. Now, with the mixer on, gradually add the sugar and beat into the butter until combined. Add the egg and molasses and beat until blended.
Sift the flour, ginger, cinnamon, ground cloves, baking soda and the salt into a a separate medium bowl, and then set aside.
Grab a spoon and stir about 1/3 of the sifted flour mixture into the butter mixture. Once incorporated, add another 1/3 and stir until combined. Then, add the final third and stir until combined.
Add chocolate chips and stir until incorporated. Then, drop cookie mixture by rounded tablespoonfuls onto baking sheet(s). Then, gently press the cookie dough down towards the baking sheet.
Bake cookies for 8 to 12 minutes or until edges are dry and tops are slightly cracked. Cool on baking sheets.
Store cookies in an airtight container for up to 3 days at room temperature or up to one week, if kept in the refrigerator.