This oatmeal cookie recipe makes cookies that are soft in the middle, a little chewy on the outside and full of warm flavors like cinnamon and vanilla. The cookies are very easy to make and you don't need any fancy equipment – only a hand mixer.
We love easy cookie recipes like this one. Plus, it's easy to adapt — we like using regular and golden raisins, but you could add dried cranberries, dried cherries, nuts or even chocolate chips.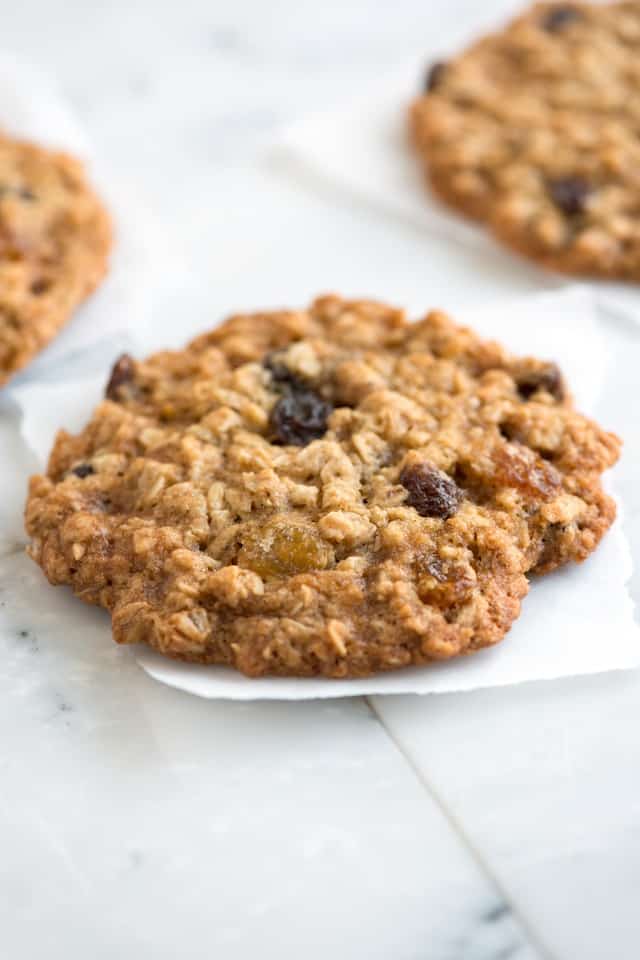 How to Make Our Chewy Oatmeal Cookie Recipe
This really is an easy cookie recipe. It all starts with beating butter and brown sugar together until creamy. Then, in another bowl, we mix together flour, spices and the oats. The two mixtures are combined and then we stir in our raisins.
For the raisins, we add an extra step. We cover them with hot water and let them sit for 10 minutes or so to plump up. That way when they bake inside the cookies, they stay plump and juicy. So good!
Support for Cookies for Kids' Cancer
We have partnered (December 2012) with OXO to help raise awareness about a wonderful charity dedicated to fighting pediatric cancer. We were not paid for this recipe or post, however, OXO products have been provided for use in the making of our recipe and video. We're honored to be a part of this opportunity.
A little about Cookies for Kids' Cancer
Cookies for Kids' Cancer is committed to raising funds to support research for new and improved therapies for pediatric cancer, the leading cause of death by disease for children under the age of 18. Through the concept of local bake sales, Cookies for Kids' Cancer provides the inspiration and support for individuals, communities, and businesses to help fight pediatric cancer.
To learn more, please visit Cookies For Kids' Cancer. You can also learn more about OXO's involvement (two of their employees started it) as well as ways you can help.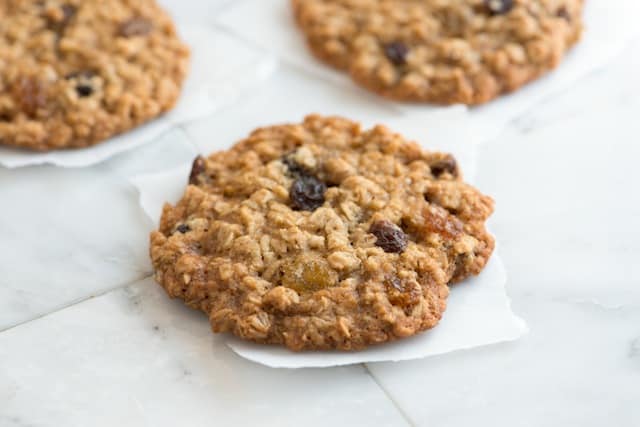 Did you like our Soft and Chewy Oatmeal Cookie Recipe? If so, we you'll love these:
Chewy Oatmeal Cookie Recipe with Raisins
This oatmeal raisin cookie recipe makes cookies that are soft in the middle, a little chewy on the outside and full of warm flavors like cinnamon and vanilla. They are very easy to make and you don't need any fancy equipment – only a hand mixer. We use two types of raisins in these oatmeal cookies for color and extra texture (the golden raisins are slightly softer). You could, however, choose to only use one kind and they will still be fantastic.
Created By:
Joanne and Adam Gallagher
You Will Need
1/2 cup raisins
1/2 cup golden raisins
1 cup hot water
3/4 cup (170 grams) unsalted butter, room temperature (1 1/2 sticks)
1 cup (210 grams) packed light brown sugar
1 egg
1 1/2 teaspoon vanilla extract
3/4 cup (110 grams) all purpose flour
1/2 teaspoon baking soda
1/2 teaspoon salt
1/2 teaspoon ground cinnamon
1/8 teaspoon ground nutmeg
3 cups (270 grams) old-fashioned rolled oats
Directions
Heat oven to 350 degrees F (177 degrees C). Line two baking sheets with parchment paper.
Add raisins to a small bowl then cover with hot water. The hot water helps the raisins to become plump and juicy. Set the bowl aside for about 10 minutes.
In a large bowl, beat the room temperature butter and sugar with a hand blender until creamy, about 2 minutes. (You can also use a stand mixer fitted with the paddle attachment).
Add the egg and 1 1/2 teaspoons of vanilla extract then beat until combined, about 1 minute.
In another bowl, use a whisk to combine the flour, baking soda, salt, cinnamon and nutmeg. Next, add the oats then stir until well combined.
Now, add the oat mixture to the butter and sugar mixture in thirds, beating after each addition until incorporated.
Drain the raisins then gently press down or squeeze them to remove any extra water. Stir them into the cookie batter. (Use a spatula or spoon for this, not the mixer).
Drop dough by two tablespoonfuls about 2 inches apart onto baking sheets. (You can also use a large cookie scoop for this). Then, wet the tips of your fingers with water and gently press cookies down until they are about 1/2-inch thick. If some of the cookies have no raisins showing on top, steal a few raisins from the bowl and add to the tops of the cookies (they are prettier this way).
Bake cookies 10 to 14 minutes or until the edges are light golden brown, the center is still soft. Cool cookies on baking sheet for 10 minutes then move to a cooling rack and cool completely.