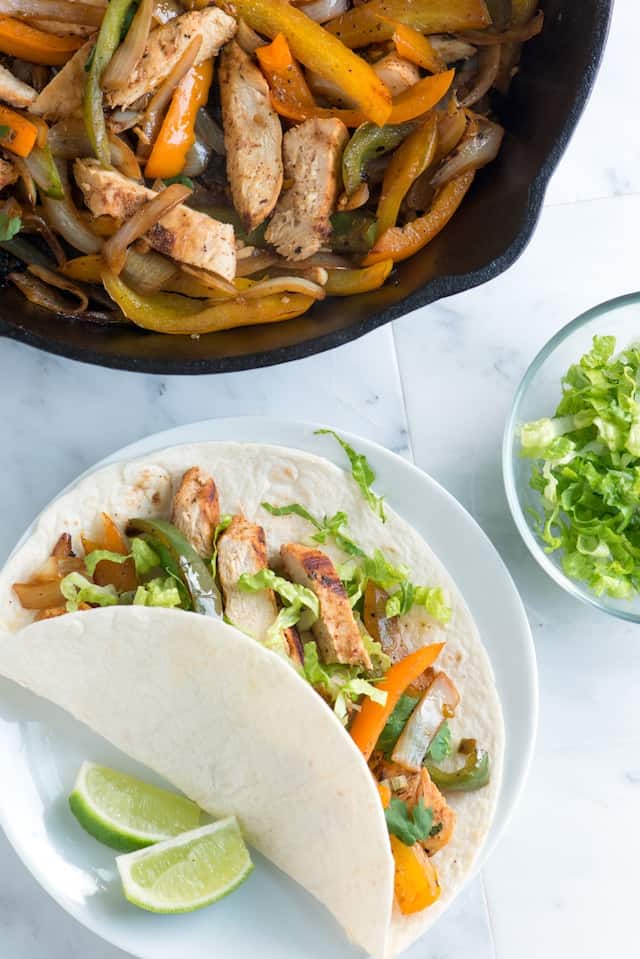 There's something charming about a big skillet of sizzling chicken fajitas next to bowls of crisp cool lettuce, guacamole, pico de gallo and creamy sour cream. It's hands on. We love that. We're allowed to pack warm tortillas with whatever we like. I go heavy on the veggies and sides. So much so that I'm always shocked at just how large I've made it. Adam, he's a little more restrained – a few slices of chicken, a pepper or two and some shredded lettuce. It's gets a little messy, is perfect for two, three or more and is fun. Fun food is the best, don't you think?
A Fresh Marinade Makes Our Chicken Fajitas Recipe Crazy Good
Our chicken fajitas start with a fresh, bright marinade. Since we use chicken breasts for our fajita recipe, we like to adds lots and lots of flavor. To freshen things up, we use orange juice and tart lime juice. A little smokey chili powder and cumin are added. Then, for some bite, we add freshly minced garlic and cilantro.
Marinate for 30 Minutes Or Up to 8 hours
The chicken really needs to sit in the marinade for at least 30 minutes, but you could marinate for longer. Keep the marinating chicken in the refrigerator for up to 8 hours. Once marinated, the chicken is quickly seared in a hot pan until browned, but still moist. So delicious.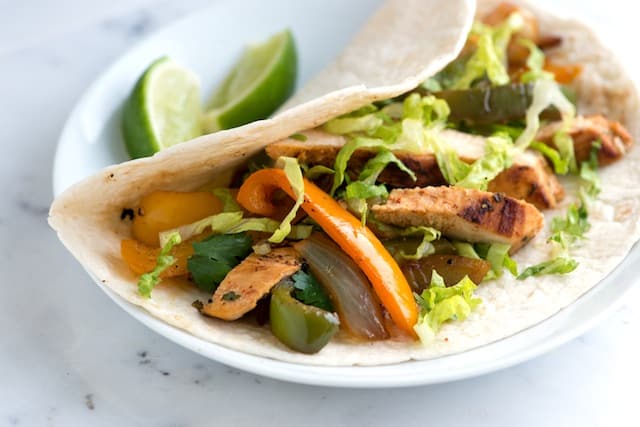 Did you enjoy our chicken fajitas recipe? If so, we bet you'll love these:
Easy Chicken Fajitas Recipe
There's something charming about a big skillet of sizzling chicken fajitas next to bowls of crisp cool lettuce, guacamole, pico de gallo and creamy sour cream. In our recipe, we ask that you marinate the chicken for at least 30 minutes. This way, the chicken breasts become a little more tender and flavorful. With that said, you can marinate the chicken for up to 8 hours.
Created By:
Joanne and Adam Gallagher
You Will Need
FOR Chicken Fajita Marinade
1/3 cup orange juice
1/4 cup lime juice
2 teaspoons chili powder
1 teaspoon ground cumin
1/2 teaspoon salt
2 garlic cloves, minced
1/4 cup chopped cilantro
2 teaspoons Worcestershire sauce
1 1/2-pounds boneless skinless chicken breasts
1 tablespoon canola or vegetable oil
FOR Vegetables
1 tablespoon canola or vegetable oil
3 bell peppers
2 onions
1 garlic clove, minced
1/2 to 1 whole jalapeño, deseeded and minced (optional)
FOR Serving (optional)
12 tortillas, warmed
Shredded lettuce
Sour cream
Directions
Depending on how thick the chicken breasts are, you may need to slice them in half horizontally, creating two thinner breasts. Each halved breast needs to have a center thickness of 1/2-inch to 3/4-inch. If the chicken breasts are already on the thinner side, leave them and continue to the next step.
Whisk together the orange juice, lime juice, chili powder, cumin, salt, minced garlic, cilantro and the Worcestershire sauce in a medium bowl. Add the chicken and nestle into the marinade. Cover bowl with plastic wrap then let chicken sit at room temperature for 30 minutes to 1 hour. You can marinate the chicken for longer. To do so, cover the chicken then let chicken sit in the refrigerator up to 8 hours. Then, about 30 minutes before cooking, remove them and let sit at room temperature to take the chill off.
Heat a large heavy-bottomed frying pan or cast-iron skillet over medium heat. Then, add 1 tablespoon of the oil.
Now, remove the chicken from marinade by lifting out and shaking a little to remove any extra liquid. Lay chicken into the pan. Depending on how wide the pan is, you may need to cook the chicken in two batches. Fit as many chicken breasts into the pan so that there is about 1/2-inch between pieces.
Cook chicken 2 to 3 minutes until browned, flip chicken then cook another 2 to 3 minutes so that the second side becomes browned. Check chicken for doneness by either cutting into a breast or checking the internal temperature, which should read 165 degrees F (74 degrees C). If the chicken is not done, continue to cook until it is.
Remove chicken to a clean plate then cover with aluminum foil.
Add the second tablespoon of oil to the pan then add bell peppers and onions. Cook about 2 minutes without stirring so that the vegetables start to brown. Stir then cook another 2 to 3 minutes, until the vegetables have wilted, but still have a little crunch. Add garlic and jalapeño (if using) and cook for 1 minute.
Slice chicken against the grain into strips. Then, nestle on top of the vegetables. Serve immediately with tortillas and your favorite fajita toppings.