The guacamole recipe we make again and again! I've made this more times than I can count. You will love this easy homemade guacamole with fresh avocados, onion, and lime.
Watch the video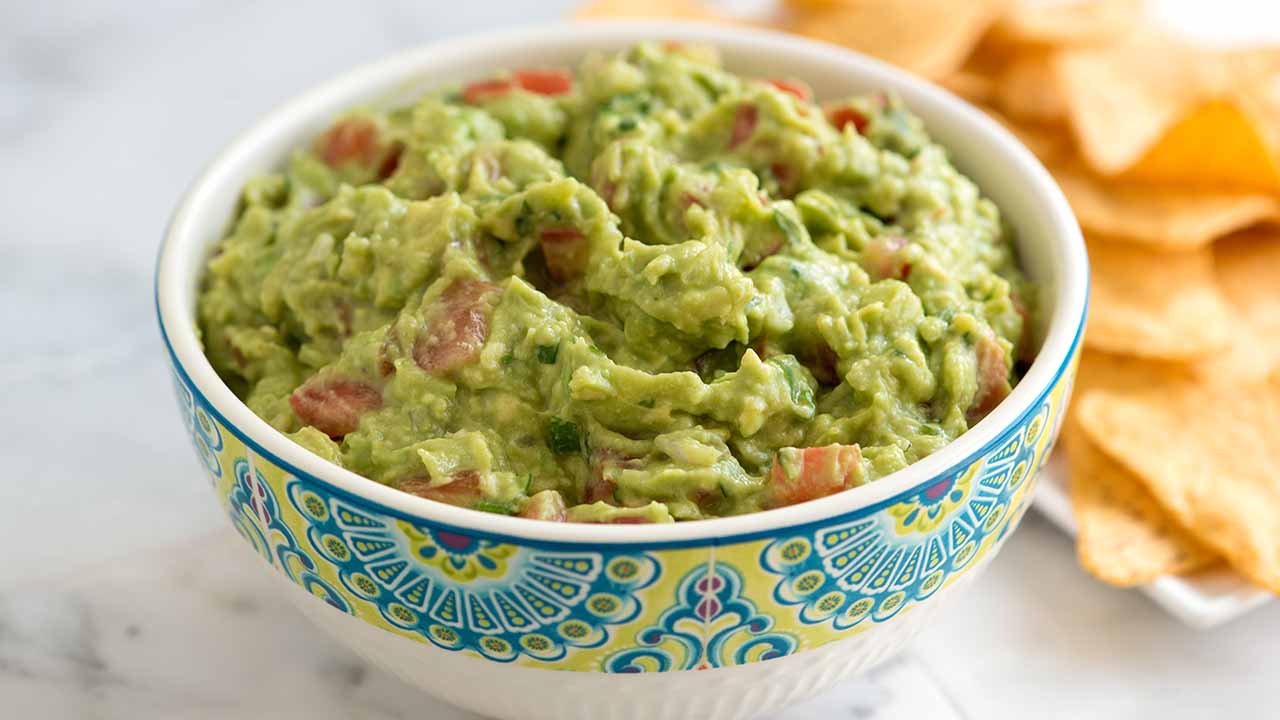 ⭐️ Upgrade your guacamole with our recipe for homemade tortilla chips!
#1 Secret for the best guacamole
Use fresh ingredients and ripe avocados for the best, most authentic guacamole. Firm, unripe avocados won't cut it for this recipe. Ripe avocados will yield to gentle pressure and have slightly bumpy skin. The small stem at the top of the avocado should be dark and easily removable, revealing a bright green color underneath.
What is guacamole?
Guacamole, a staple of Mexican cuisine, is made with mashed avocados, salt, and other fresh ingredients. It's served right away, often with tortilla chips, tacos, and fajitas. This authentic recipe uses fresh ingredients, just like in Mexico.
Key ingredients for making guacamole
De-flamed onions make the best guacamole. Before adding onion to our guacamole, we tone down the raw flavor of the onion by soaking it in cold water. This simple trick keeps the onion crunchy while preventing it from overpowering the dish. Unless you have farm-fresh sweet onion, we highly recommend de-flaming your onions for this recipe.
Fresh lime juice balances the richness of avocado. If you don't have fresh limes, fresh lemon will work in a pinch (although not as traditional). Otherwise, leave it out. You will lose a bit of fresh flavor, but the guacamole will still be excellent.
Salt makes avocados taste better. I'm pretty generous with the salt in my guacamole and use 1/2 teaspoon for three medium avocados.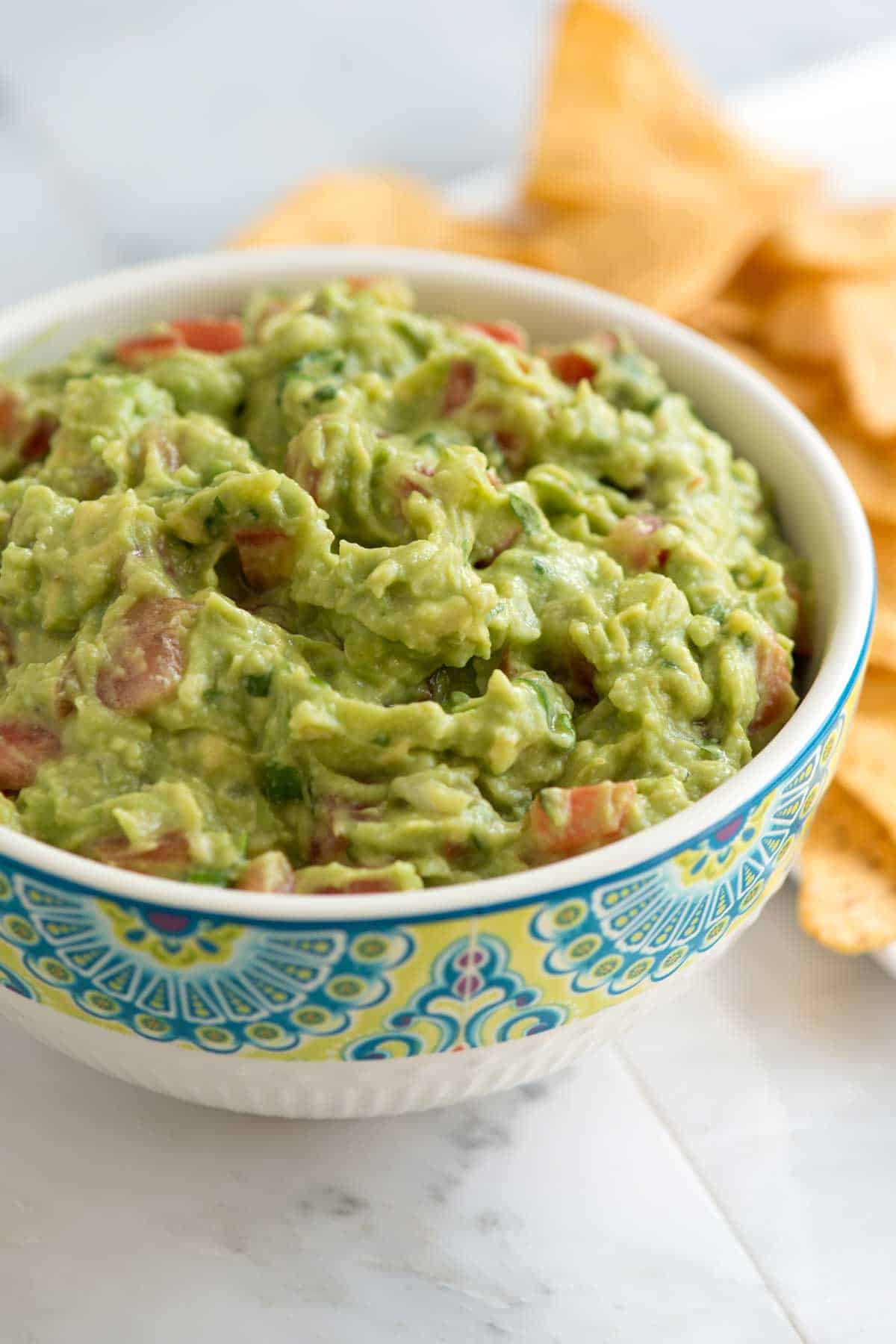 I love cilantro in guacamole and am pretty generous with it. We use a lot of fresh herbs when cooking and love the fresh, herbal flavor they add. For guacamole without cilantro, leave it out. I won't tell anyone.
Fresh jalapeño or serrano pepper adds a bit of heat. Watch our video to see how I cut chili peppers for guacamole. Depending on how spicy you want it, leave some or all of the seeds and white membrane from inside the peppers.
Add fresh tomato for color and flavor. I love the tomatoes in this recipe, but the tomatoes in guacamole can be contentious. I won't argue if you'd prefer to leave the tomato for homemade salsa. Just know that my guac is going to have some tomato added.
How to pick an avocado for guacamole
To pick avocados for guacamole, gently squeeze the avocado with the palm of your hand. If it yields a little when pressed, it's ready to eat. You can also check under the stem. If the stem pulls away easily and the area underneath is green, you've found an avocado ready to eat.
⭐️ More recipe ideas to use extra avocados: We buy more avocados that I'd like to admit. If you have some leftover in your kitchen, consider making one of these easy recipes: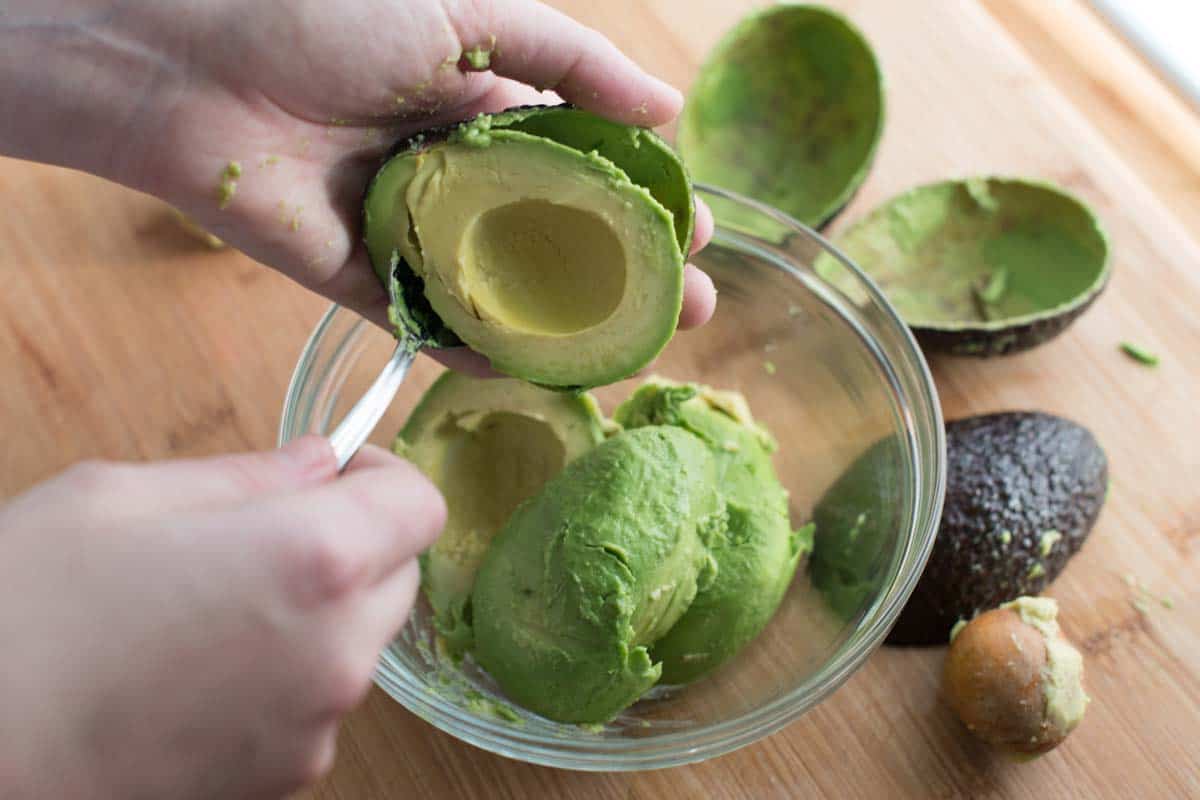 Use a fork for chunky guacamole
I like my guacamole to have some texture. For chunky guacamole, do your best not to over-mash your avocados. I use a fork to mash, like leaving a few larger chunks of avocado for texture. Another option is to use a molcajete y tejolote (mortar and pestle), which keeps some texture.
How to keep guacamole from turning brown
To keep freshly made guacamole from turning brown, press a sheet of plastic wrap down onto the guacamole, making sure there are no air pockets. Store in the fridge for a day or so.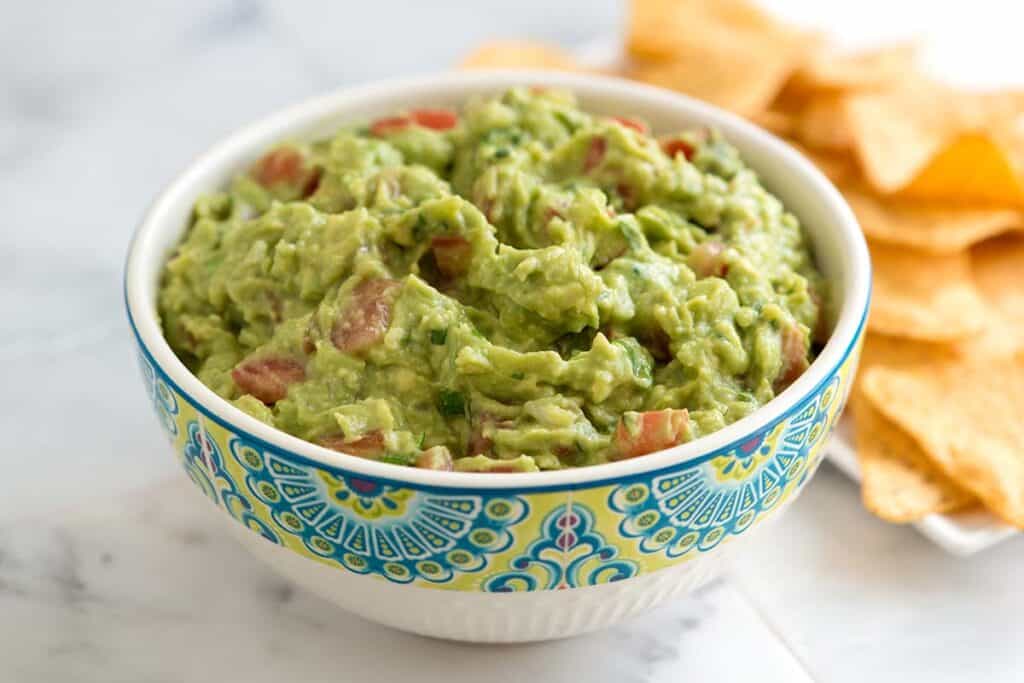 Fresh Easy Guacamole
For the best guacamole, use ripe avocados. You'll know when an avocado is ripe when it gives slightly when squeezed. Keep unripe avocados at room temperature until they are ready. See this tutorial for more about buying, cutting, and storing avocados.
Try not to over-mash the avocados. We are looking for a chunky dip. I've found a fork to be the best tool when mashing avocados for guacamole. You can see me using one in our video below.
For spicy guacamole, leave the seeds and membrane in the peppers and add to taste.
Makes approximately 6 servings
Watch Us Make the Recipe
You Will Need
3 ripe medium avocados
1/4 cup finely chopped onion
1 ½ tablespoons fresh lime juice
1/4 cup cilantro leaves and tender stems, chopped
1 small tomato, chopped, optional
1/2 teaspoon salt, or more to taste
1/4 to 1/2 teaspoon ground cumin, optional
1 to 2 teaspoons finely chopped jalapeño pepper, with seeds and membrane removed, optional
Directions
1Add the chopped onion to a small bowl and cover with cold water. Set aside for 5 minutes, drain, and then rinse. This simple step tones down the raw flavor of the onions.

2Cut avocados in half lengthwise, remove the pit, scoop out the flesh, and add to a bowl.

3Use a fork to mash the avocado into a chunky dip.

4Stir in the drained and rinsed onions, lime juice, cilantro, tomato, and salt. If you are adding them, add the finely chopped jalapeño and cumin.

5Taste the guacamole and adjust with more salt or lime juice.

6Guacamole is best when eaten soon after making it, but to store it, press plastic wrap down onto the guacamole and refrigerate for up to one day.
Adam and Joanne's Tips
Lime: Fresh lime juice is best, but I'll be honest with you: I've swapped it for lemon juice when I'm out of lime. It's slightly different from what you might be used to, but still quite delicious.
Jalapeño: I love adding diced jalapeño to my guacamole, but since I prefer it on the milder side, I remove all of the seeds and white membrane inside the pepper (you can see me do this in the video). If you love spicier guacamole, add the whole pepper — seeds and all. Serrano peppers are a good substitute, but remember that they can be hotter than jalapeño peppers.
Nutrition facts: The nutrition facts provided below are estimates. We have used the USDA database to calculate approximate values.
If you make this recipe, snap a photo and hashtag it #inspiredtaste — We love to see your creations on Instagram and Facebook! Find us: @inspiredtaste
Nutrition Per Serving
Serving Size
1/6 of recipe
/
Calories
119
/
Protein
2 g
/
Carbohydrate
8 g
/
Dietary Fiber
5 g
/
Total Sugars
2 g
/
Total Fat
10 g
/
Saturated Fat
1 g
/
Cholesterol
0 mg