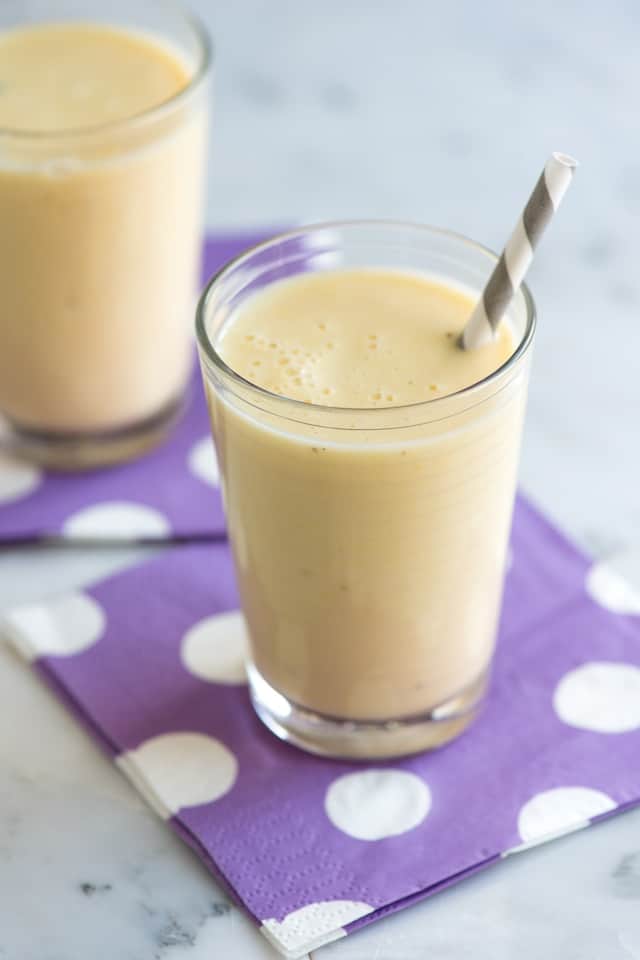 All you need is five minutes and five ingredients to make our silky smooth and simple banana smoothie recipe. This is just perfect for breakfast, an afternoon snack or for serving kids. You can even make this ahead of time, freeze it and save for later. So easy!
Just Five Ingredients for Our Banana Smoothie Recipe
A whole banana is used for this – try to use one that's sweet and ripe. An unripe banana will taste chalky. Then, we add half of an orange, a little yogurt, water (or milk) and a touch of honey. Just add everything to a blender, blend until smooth and enjoy.
Easily Customize with More Fruit and Vegetables
Our banana smoothie recipe is perfect as is, but you could always throw in more fruit or even vegetables. Try adding strawberries, raspberries, mango or pineapple.
Or, add some greens. Add about a cup of fresh baby spinach or kale and make your own Green Smoothie Recipe. You hardly taste the greens, but you get the extra nutrients.
You could even go tropical and switch out water or milk for coconut milk or pineapple juice. The options are endless.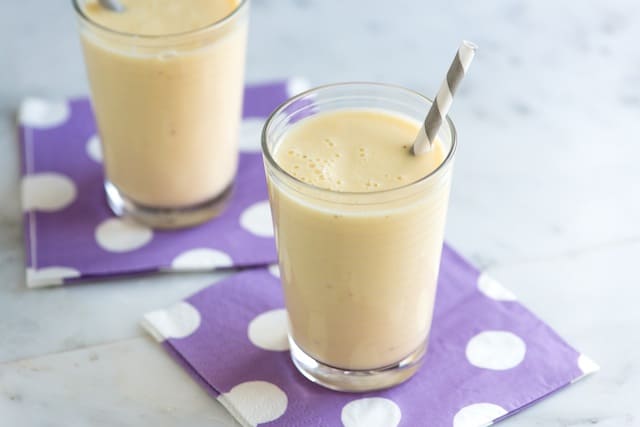 Did you like our Simple Banana Smoothie Recipe? If so, we bet you'll love these:
Simple Banana Smoothie Recipe
Our banana smoothie is extra creamy and fruity. Depending on how ripe or sweet your banana and orange are, you may need to add a little extra honey, so add based on your taste. There are many additions you can make here, try adding 1/2 a cup to a cup of fresh greens, such as spinach for a green smoothie. Also, you could add strawberries, mango, pineapple or other favorite fruit.
Created By:
Joanne and Adam Gallagher
You Will Need
1 banana
1/2 orange, peeled and quartered
1/3 cup fat-free Greek yogurt
1/4 cup water or milk
1 to 2 teaspoons honey
Directions
Roughly chop banana and orange quarters then add to a blender. Top with yogurt, water (or milk) and a teaspoon of the honey.
Turn blender on and blend until creamy and smooth. Taste then adjust with extra honey if needed.
How to Freeze or Make Ahead
This recipe makes one smoothie or two kid-size smoothies. Enjoy now, or save for later. To save the smoothie for later, pour each serving into a food-safe resealable plastic bag or container and freeze. Then, about an hour before needing the smoothie, take out from freezer.