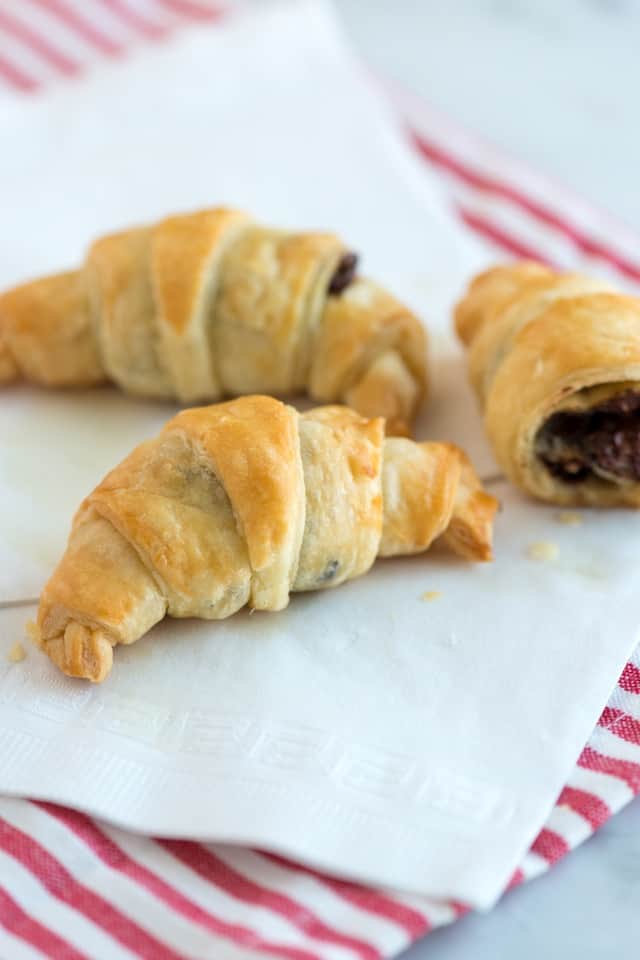 – Sponsored Post –
This mini chocolate croissant recipe is sinfully easy to make. We use a store-bought puff pastry sheet instead of making our own dough at home. They only take 30 minutes to make.
Making Croissants Easy
Traditional croissant dough is a fun, but a time consuming process. It's something everyone should try at some point, but it certainly does not fit into our definition of an easy recipe. That's why we adore this recipe.
You can easily make flaky, decadent chocolate-filled croissants without the extra time and fuss. Everyone will love them, too.
The puff pastry dough we used is actually from Pepperidge Farm. We're sure you've noticed their products in your grocery store. Pepperidge Farm did pay us to share this recipe using their puff pastry crust.
You see, they came to us to see if we would like to participate in their game day entertaining challenge. We said yes and decided to move the cheese and wings aside and instead share these extra easy croissants.
If you can't find Pepperidge Farm's puff pastry sheets, feel free to use another puff pastry dough, store-bought or homemade.
A Mini Chocolate Croissant Recipe Perfect for Mornings, Parties or Game Day
These little guys go fast. Lightning fast. Wouldn't they be perfect for entertaining?
Make a batch, throw them into a basket and watch them go.
Do you have a favorite recipe that uses Pepperidge Farm's puff pastry? If so, you should visit their Facebook page, where you can share your own Puff Pastry recipes and see recipes for others. For even more recipes, tips and how-to videos, you can also visit www.puffpastry.com.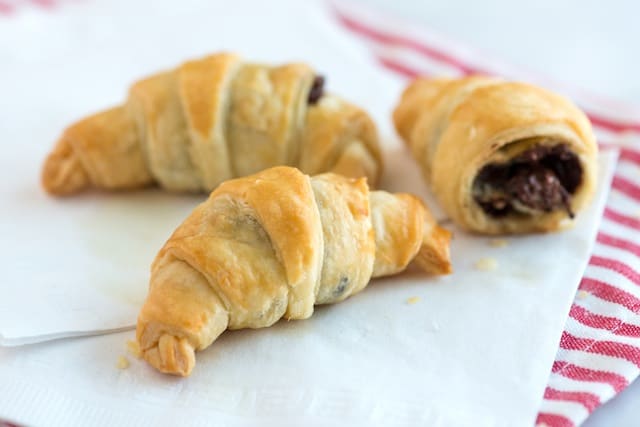 Did you enjoy our  Sinfully Easy Chocolate Croissant Recipe? If so, we bet you'll love these:
Sinfully Easy Mini Croissants with Chocolate
These mini croissants are sinfully easy to make. We use a store-bought puff pastry sheet instead of making our own croissant dough at home. The puff pastry sheet needs to be thawed before using. So, either place into the refrigerator and leave overnight or remove and thaw at room temperature for 40 to 50 minutes. Once the puff pastry has thawed, all you need is 30 minutes to make the croissants. Leave them plain, add chocolate or another favorite filling. These are mini croissants, so when making, assume each person will eat two.
Created By:
Joanne and Adam Gallagher
You Will Need
1 egg
1 tablespoon water
1/2 of a 17.3 ounce package Pepperidge Farm Puff Pastry Sheets (1 sheet), thawed
2/3 cup (113 grams) semi-sweet chocolate chips or small chocolate chunks
Directions
Heat oven to 350 degrees F (177 degrees C). Line two baking sheets with parchment paper or non-stick baking mat.
Beat the egg and water in a small bowl with a fork or whisk then set aside.
Lightly flour your work surface. Unfold the pastry sheet then lightly dust top with flour. Use a rolling pin to roll the sheet into a 16-inch square.
Cut pastry square in half then cut each half into four rectangles (making eight, 8-inch by 4-inch rectangles).
Now, cut each rectangle diagonally into two triangles (making 16 triangles).
Place about 2 teaspoons of the chocolate chips down the center of each triangle. Then, starting at the wider end, roll each triangle up. Place each croissant seam-side down so that the tip of the triangle is tucked under the rolled croissant. Then, bend in the edges, creating a crescent shape. Lightly brush tops of croissants with egg wash.
Bake 20 to 25 minutes or until they are golden brown.