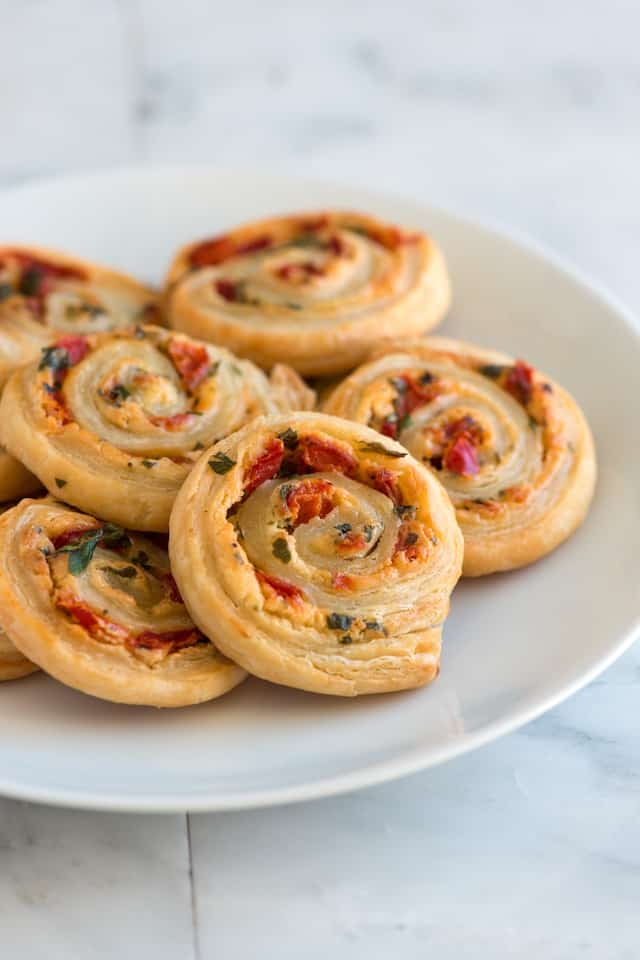 – Sponsored Post –
When we're entertaining we always try to be prepared. It makes no sense to invite friends over and spend all your time in the kitchen while they're stuck waiting for food in the next room. That's why we love sharing recipes that can be made in advance and can be served warm or at room temperature. These cheesy bites with roasted red peppers are exactly that.
You Can Make This Puff Pastry Pinwheel Recipe in 15 Minutes
Since we use store-bought puff pastry dough, it's easy to make, can be made in advance and is delicious served warm or at room temperature. Plus, it's completely flexible. We decided to roll up sweet roasted red peppers and garlicy-herb cheese. Though, ham, bacon, cream cheese, cheddar or other veggies would totally work.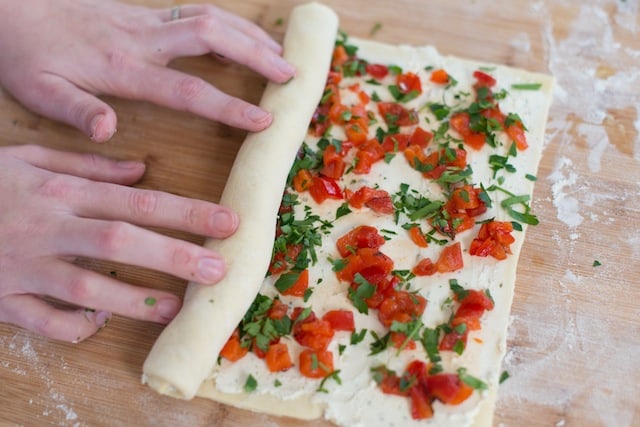 The puff pastry dough we used is actually from Pepperidge Farm. We're sure you've noticed their products in your grocery store. Pepperidge Farm did pay us to share this recipe using their puff pastry dough.
You see, they came to us to see if we would like to participate in their game day entertaining challenge. We said yes and decided to share two recipes, one sweet and the other savory. (To satisfy our sweet tooth, we shared this Sinfully Easy Chocolate Croissant Recipe).
If you can't find Pepperidge Farm's puff pastry sheets, feel free to use another puff pastry dough, store-bought or homemade.
Did you like our Cheesy Roasted Pepper Pastry Pinwheel Recipe? If so, we bet you'll love these:
Cheesy Roasted Pepper Pastry Pinwheel Recipe
We use a store-bought puff pastry sheet instead of making our own pastry at home. The puff pastry sheet needs to be thawed before using. So, either place into the refrigerator and leave overnight or remove and thaw at room temperature for 40 to 50 minutes. Feel free to substitute your favorite spreadable cheese or other toppings instead of the peppers. Cooked and crumbled bacon, ham, turkey, sausage or other veggies all would work.

This recipe makes 20 pinwheels.
Created By:
Joanne and Adam Gallagher
You Will Need
1/2 of a 17.3 ounce package Pepperidge Farm® Puff Pastry Sheets (1 sheet), thawed
1 egg
1 tablespoon water
1/2 cup (92 grams) diced roasted red peppers
1/2 cup Garlic and Herb Spreadable Cheese (we used Boursin cheese)
1/4 cup finely grated Parmigiano-Reggiano cheese
2 tablespoons chopped parsley
Directions
Heat the oven to 400°F. Beat the egg and water in a small bowl with a fork or whisk.
Lightly flour your work surface. Unfold the pastry sheet then lightly dust top with flour. Use a rolling pin to roll lightly so that the creases are flattened out (you don't want to make the square any bigger).
Brush square of pastry with egg wash. Evenly spread with the 1/2 cup of garlic and herb cheese then evenly scatter the diced peppers, Parmigiano-Reggiano cheese and parsley.
Starting at the side closest to you, roll pastry up like a jelly roll. Cut into 20 1/2-inch slices. (A serrated bread knife works well for this).
Place slices onto baking sheet. Then, lightly brush tops with egg wash.
Bake 14 to 18 minutes or until light golden brown. Serve warm or at room temperature.