We never used to make turkey meatloaf. We make turkey meatballs all the time, but never thought to make turkey meatloaf. Now though, we know we were making a mistake — a big one.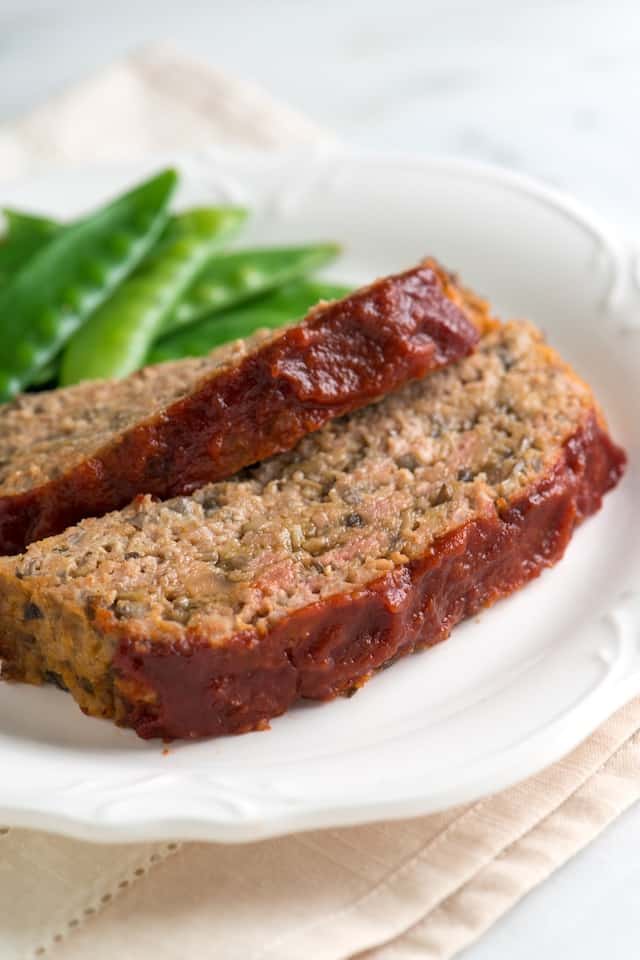 Until now, we've only been able to make somewhat dry meatloaf that's not really got anything going on with flavor. That's why we never really felt like making it. We just about gave up, but then we stumbled across a little secret. One that turned typical turkey meatloaf into something we crave and now make often.
You May Also Like These Easy Sides: Baked Sweet Potato Fries or our Simple, Everyday Mashed Potatoes.
The Secret to a Craveable, Moist Turkey Meatloaf Recipe
Mushrooms.
It's true — thanks to tiny pieces of chopped mushrooms, our turkey meatloaf recipe is moist and has unbelievable flavor.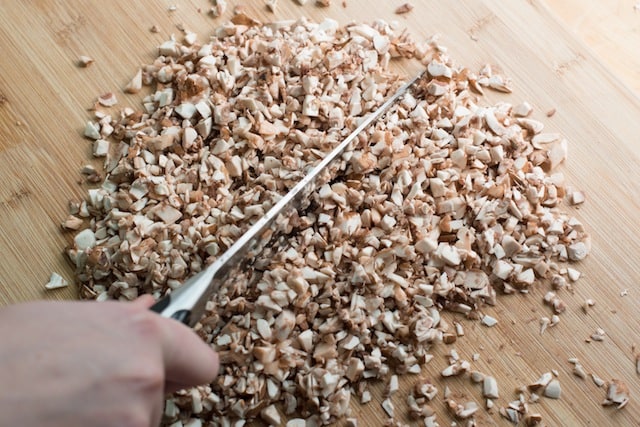 Mushrooms are chopped extra small — either by hand or in a food processor. Then, they are cooked down until soft and added to turkey meat.
This does add a little extra time at the beginning — a little more prep time than you may be used to seeing with our recipes. But, we wouldn't do it if we didn't believe it was worth it. And we really (really) do.
Not a mushroom fan? You don't really taste mushrooms in the meatloaf, instead they are in there to add depth and a savory taste. We've done this before, in fact mushrooms are the secret ingredient to our Easy Go-To Turkey Chili Recipe. People love it!
A Few Simple Ingredients
The other thing we love about this recipe is that the rest of the ingredients are simple — onion, garlic, Worcestershire sauce, breadcrumbs, milk, egg and ketchup. We usually have all those ingredients in the kitchen and we're betting you do too (or at least most of them).
What do you think? Are you ready to give our turkey meatloaf recipe (with our little secret) a try?
You May Also Like
Unbelievably Moist Turkey Meatloaf Recipe
Why we love this recipe. You would never guess this turkey meatloaf is packed with mushrooms, but that's what makes it so darn delicious. Lots (and lots) of finely chopped mushrooms add flavor and moisture, often missing from the typical turkey meatloaf.

What you need to know. This recipe is not as fast to prepare as most of our recipes on the blog, but we promise the extra prep time (20 minutes or so) in the beginning is so worth it.

Equipment you'll need. You'll need a large baking sheet, aluminum foil, a large skillet, large bowl, small bowl, measuring cups and spoons.
Created By:
Adam and Joanne Gallagher (inspiredtaste.net)
You Will Need
1/2 pound (8 ounces or 227 grams) cremini mushrooms, trimmed (about 15 mushrooms)
1 1/2 cups (145 grams) finely chopped onion (1 to 2 medium onions)
2 teaspoons minced garlic (2 medium cloves)
1 tablespoon vegetable oil
1 teaspoon kosher salt
1/2 teaspoon ground black pepper
1 tablespoon Worcestershire sauce
7 tablespoons ketchup, divided (try using our homemade ketchup recipe)
1 cup (60 grams) panko bread crumbs
1/3 (79 ml) cup milk
2 large eggs, lightly beaten
1 1/4 pound (20 ounces or 567 grams) ground turkey (92% lean)
Directions
Heat oven to 400º F. Line a baking sheet with aluminum foil then lightly oil the bottom.
Prepare Meatloaf: You can chop the mushrooms one of two ways: by hand or in a food processor. The mushrooms need to be very finely chopped, about 1/8-inch pieces. Set aside.
Cook onion, in oil, in a large skillet over medium-low heat, stirring occasionally, for 5 minutes or until softened. Add garlic then cook 1 minute.
Add chopped mushrooms, a 1/2 teaspoon of salt and a 1/4 teaspoon of the pepper. Cook, stirring occasionally about 10 minutes or until liquid from the mushrooms has evaporated and they are tender.
Transfer onions and mushrooms to a large bowl then stir in 3 tablespoons of ketchup and 1 tablespoon of Worcestershire sauce. Cool 5 minutes.
In the meantime, stir together the breadcrumbs and milk and let stand 5 minutes.
Add breadcrumbs and beaten eggs to onions and mushrooms then mix well. Next, add turkey along with remaining 1/2 teaspoon of salt and 1/4 teaspoon of pepper. Mix well with hands (or a fork). (The mixture will be very wet).
Form mixture into a 9-inch by 5-inch oval loaf in the middle of prepared baking sheet. Then, use the back of a spoon to spread the remaining 4 tablespoons of ketchup on top of the meatloaf.
Bake Meatloaf: Bake until an instant read thermometer inserted into the thickest part of the meatloaf registers 170 degrees F (77 degrees C), 40 to 50 minutes. Let stand 5 minutes before slicing.