Our best homemade mashed potatoes recipe! Use this easy recipe for peeled or skin-on potatoes. Learn the best potatoes to use and how to cook them so they are creamy and delicious.
Watch the video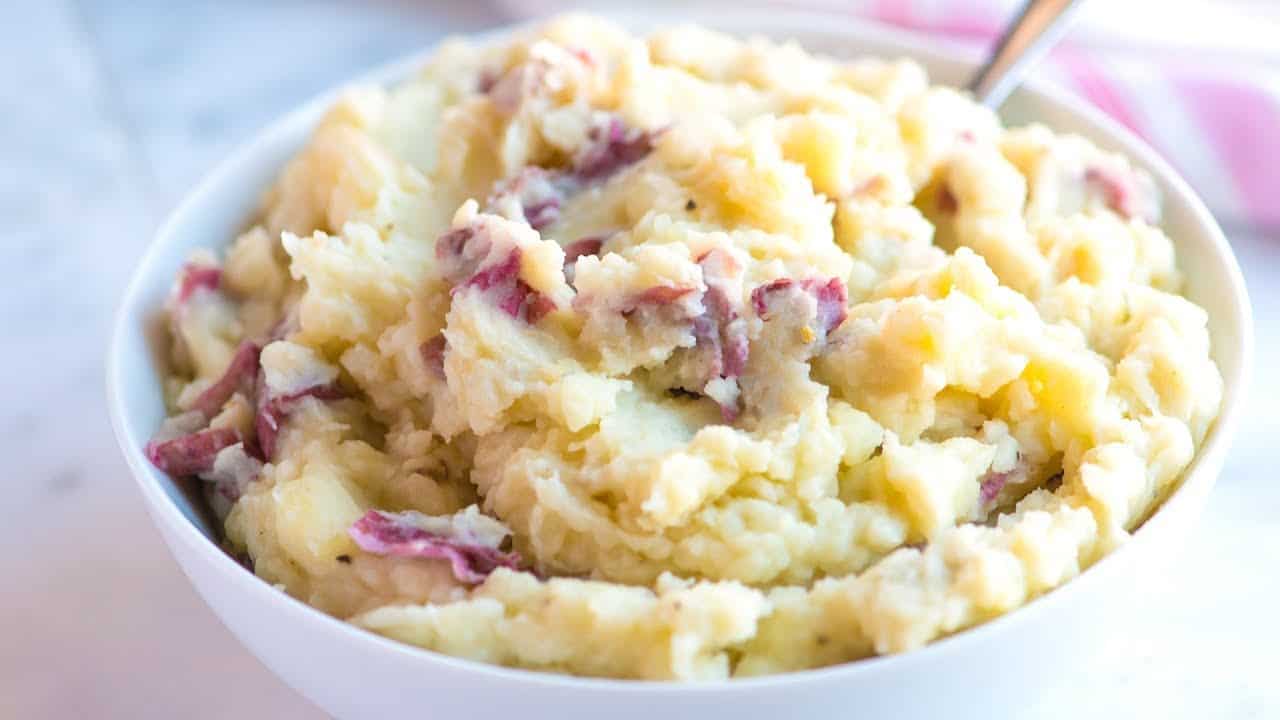 ⭐️ We love mashed potatoes with gravy, here's our easy gravy recipe!
#1 Secret for the best mashed potatoes
The secret to the creamiest, most delicious mashed potatoes is to use the right potatoes. Thin-skinned potatoes like creamers, baby potatoes, and Yukon Gold are the best potatoes for mashing. Small yellow, white, or red potatoes are perfect. They are quick to cook and make the best mashed potatoes!
We adore mashed potatoes and make them almost weekly. Our mashed potatoes recipe changes slightly depending on who makes it. Adam uses unpeeled potatoes for skin-on mashed potatoes, and I usually peel them.
How to make amazing mashed potatoes
Adam and I might disagree when it comes to peeling the potatoes, but we don't disagree when it comes to cooking them. Here are our best tips for making them in your kitchen:
Cut the potatoes into a similar size. Medium chunks (1 to 2 inches) work well and boil for about 15 minutes.
Salt the cooking water. Similar to seasoning pasta water, the salted water will enhance the flavor of your potatoes without making them taste salty. I use 1 tablespoon for a large pot.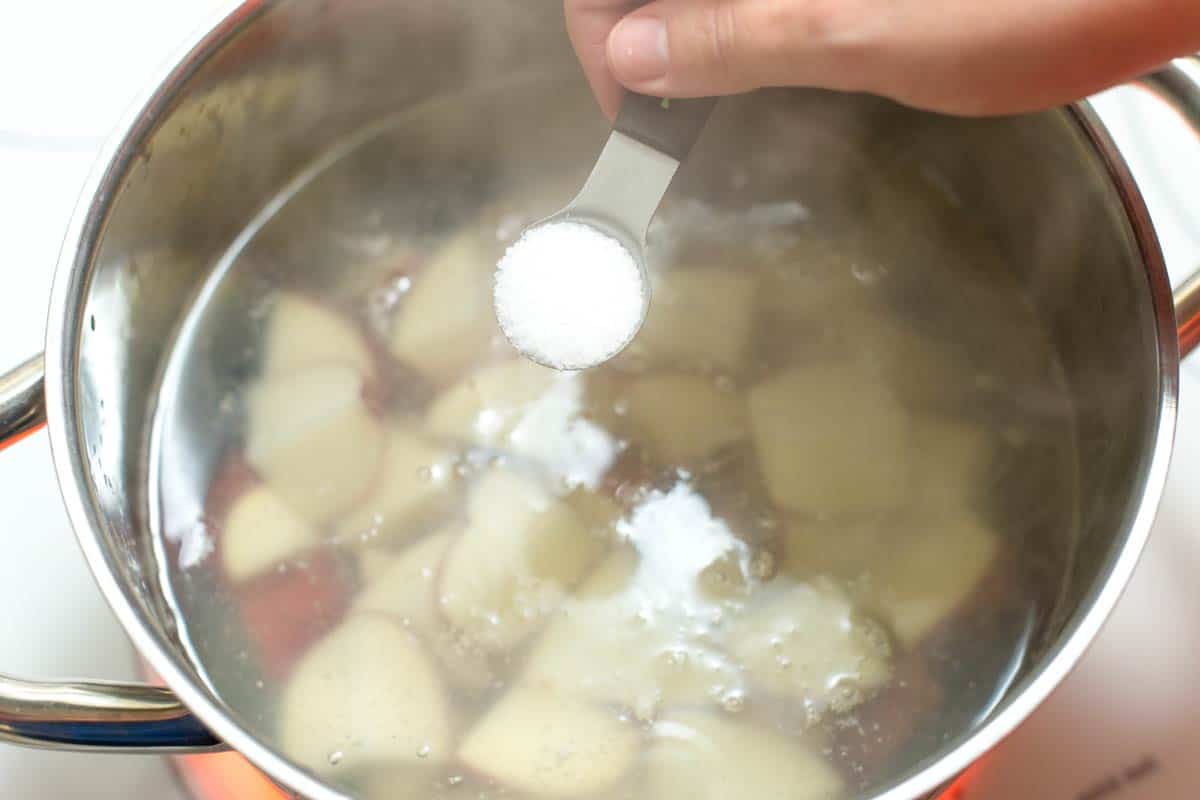 Simmer until fork tender. I know that the potatoes are ready for mashing when a fork can easily pierce through them. Cooking them longer will make them too soft and sticky. We cook potatoes for 15 to 20 minutes.
Drain them well. After draining, return the cooked potatoes to your saucepan and cover with a clean dishtowel for about 5 minutes. This helps absorb excess moisture that can make mashed potatoes watery.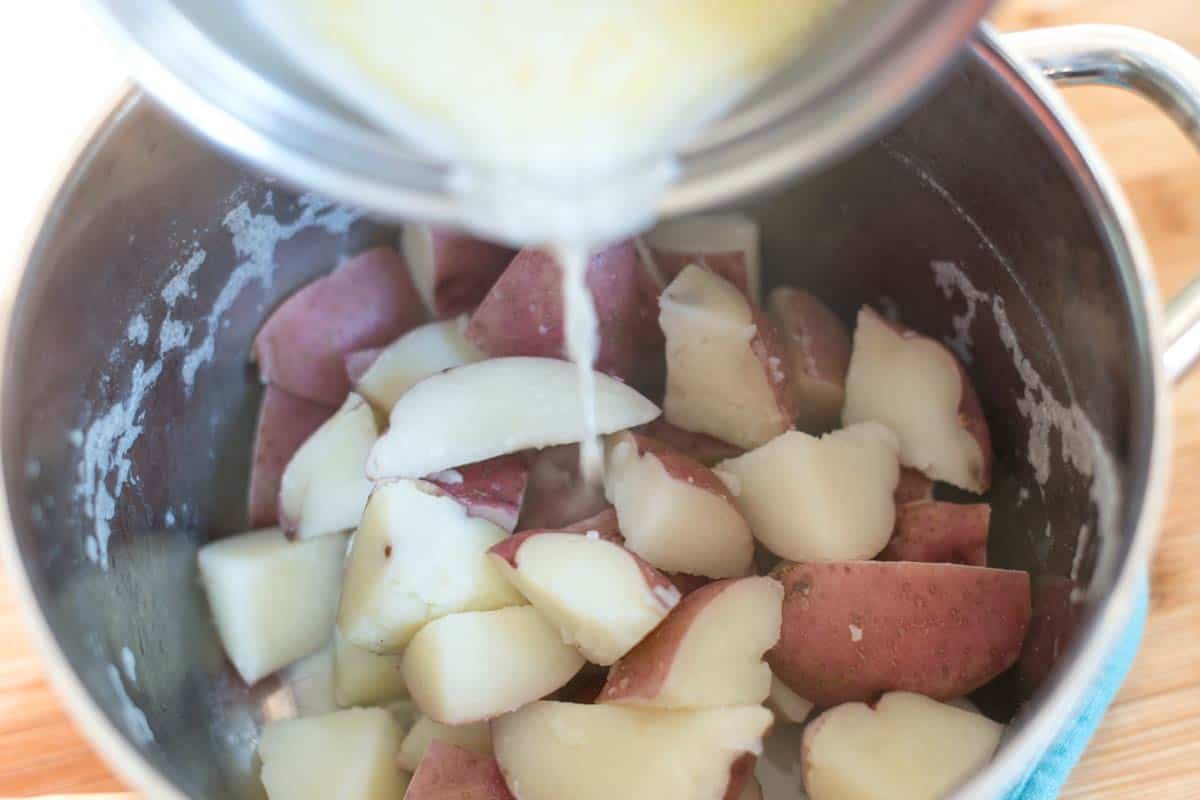 To mash the potatoes, use a potato masher or food mill. I like to add a splash of liquid and softened (or melted) butter. Milk and broth both work in our mashed potatoes recipe. To make creamy mashed potatoes, use a splash of cream.
To make mashed potatoes even more creamy, add a dollop of sour cream or mascarpone cheese. You can add some extras like roasted garlic, fresh chives, scallions, shredded cheese, and crumbled bacon.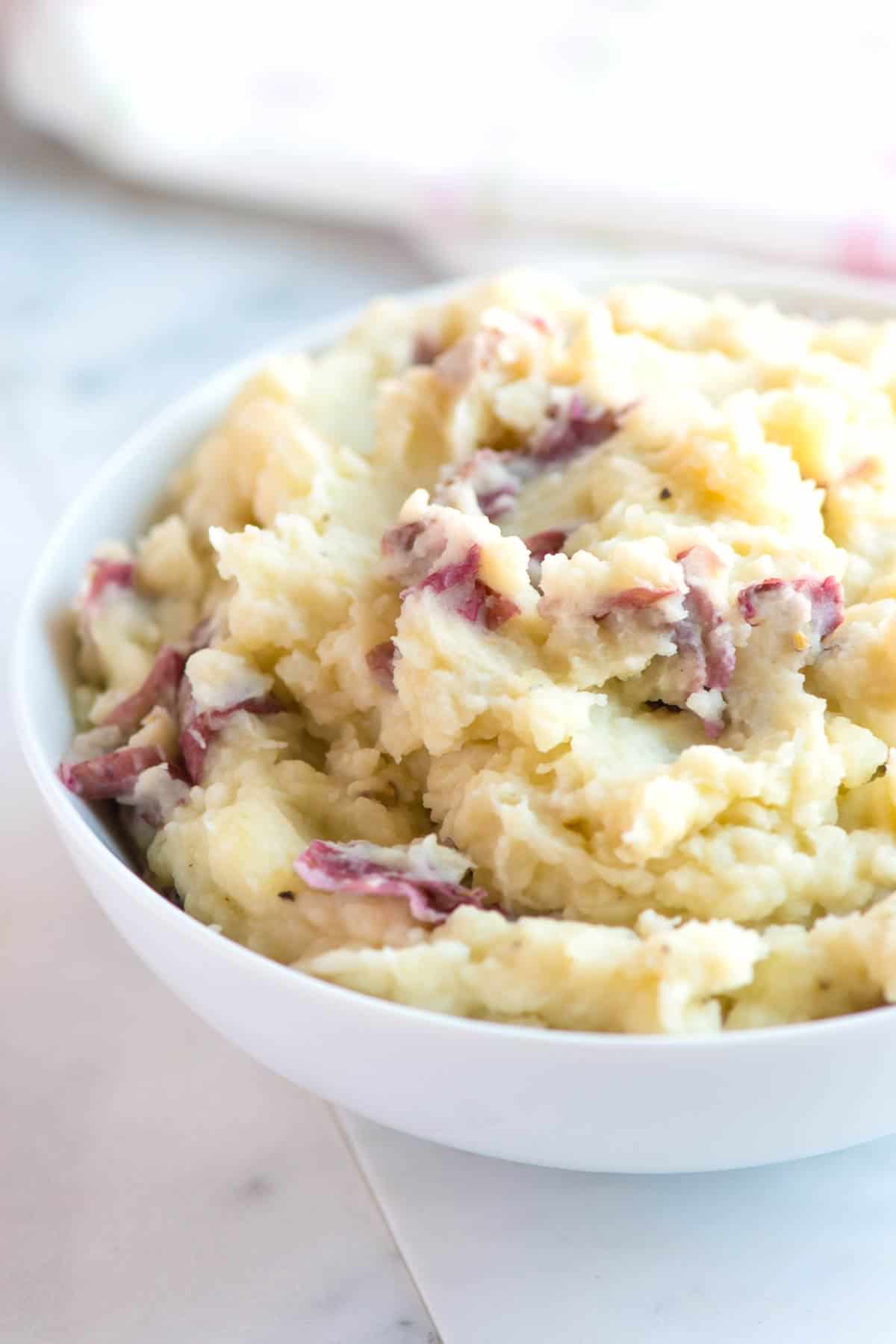 What are the best potatoes for mashed potatoes?
Use thin-skinned potatoes like creamers, baby potatoes, and Yukon Gold. Small yellow, white, or red potatoes are perfect. They are quick to cook and make the best skin-on mashed potatoes!
We are usually short on time, so the smaller potatoes allow us to skip peeling and slice in half or quarters. We use the same potatoes when making potato salad and crispy roasted potatoes.
Russet potatoes are fine for mashed potatoes, but I prefer to peel them. Mashed potatoes made with Russets will be lighter and more fluffy. When you use the smaller, waxy potatoes like Yukon Gold, they will be creamier.
For mashed potatoes made with sweet potatoes, see our savory take on mashed sweet potatoes.
What to serve with mashed potatoes
I can pretty much eat these mashed potatoes without anything else on the plate. That said, there are so many options for what to serve them with:
Every Thanksgiving, you'll see these mashed potatoes with gravy, this amazing mushroom stuffing, and our roasted garlic on the table. And just in case you need one, here's our favorite roast turkey recipe!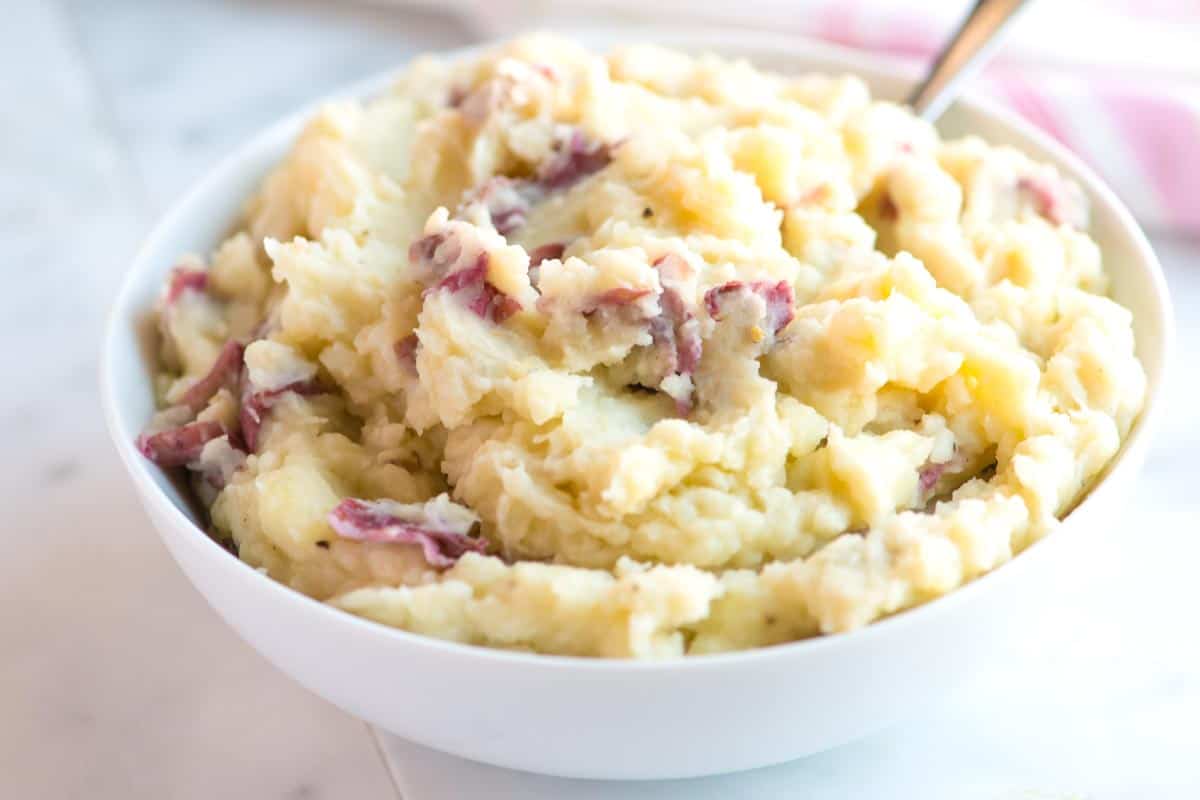 Make ahead mashed potatoes
Store mashed potatoes in an airtight container in the refrigerator for up to 2 days.
To reheat mashed potatoes, do so in the microwave or on the stovetop over low heat. Consider adding an extra splash of milk or cream before reheating to prevent them from drying out.
Can you freeze mashed potatoes?
Yes, to freeze mashed potatoes, let them cool completely, and then place them into a freezer-safe, airtight container. Freeze for up to 3 months. Thaw in the refrigerator overnight, then reheat in the microwave or over low heat. Adding a splash of milk or cream while you reheat helps to prevent them from drying out.
Homemade Mashed Potatoes
Here's how to make our favorite mashed potatoes recipe. It's flexible and can be adjusted based on what ingredients you have on hand. You'll add about 1 cup of liquid to the potatoes. I love equal parts milk and chicken broth, but use what you have. For extra creamy mashed potatoes, add an extra splash of cream.
The trick to making the best mashed potatoes is to season them well from the beginning. Add a generous amount of salt (at least one tablespoon) to the water you cook them in, similar to how you would salt water for pasta.
Makes approximately 6 servings
Watch Us Make the Recipe
You Will Need
2 pounds yellow, red, or white potatoes
Salt
1 cup milk or broth or a combination, see homemade chicken stock or vegetable stock
3 tablespoons butter or use olive oil
1/4 teaspoon fresh ground black pepper
Splash of cream or a dollop of sour cream, optional
Directions
Prepare Potatoes

1Scrub then dice potatoes, making sure they are similar in size. (We often leave the skin on the potatoes, but it is completely up to you).

2Drop potatoes in a large saucepan, add a tablespoon of salt and cover with water. Bring to a boil over medium-high heat then reduce to a low simmer. Cook until the potatoes fall apart when pierced with a fork, 15 to 20 minutes.
To Finish

1Heat the milk or chicken stock, and the butter until warm and the butter has melted. Drain then return the potatoes to the saucepan and cover with a clean dishtowel. Leave them for about 5 minutes to absorb excess steam that can make mashed potatoes watery.

2Pour in the warm butter mixture then mash the potatoes until creamy. (Don't worry if the potatoes seem a bit thin at first, they absorb the liquid after a minute or two). Stir in the pepper and splash of cream or sour cream (if using).

3Taste for seasoning and adjust with additional salt and pepper. Let stand for 5 minutes so that the potatoes thicken, and then serve.
Adam and Joanne's Tips
You can use russet (baking) potatoes. The mashed potatoes will be a bit fluffier.
For stiffer mashed potatoes, reduce the amount of liquid called for in the recipe to 3/4 cup from 1 cup.
For extra creamy potatoes, use a food mill. Pass the cooked potatoes through the smallest disk of a food mill then stir in milk or chicken stock and butter. (It's best the potatoes are peeled for this).
Nutrition facts: The nutrition facts provided below are estimates. We have used the USDA database to calculate approximate values. We have omitted salt since you will need to add to your tastes. We assumed 1/2 milk to 1/2 stock and added a splash of cream.
Nutrition Per Serving
Calories
182
/
Protein
4 g
/
Carbohydrate
28 g
/
Dietary Fiber
3 g
/
Total Sugars
2 g
/
Total Fat
7 g
/
Saturated Fat
4 g
/
Cholesterol
18 mg