Have you tried mashed sweet potatoes, yet? It's easy to fall in love with this ultra creamy sweet potato mash made with butter and a hint of cinnamon. These are on the savory side, but I've shared a few sweeter variations below.
Watch The Video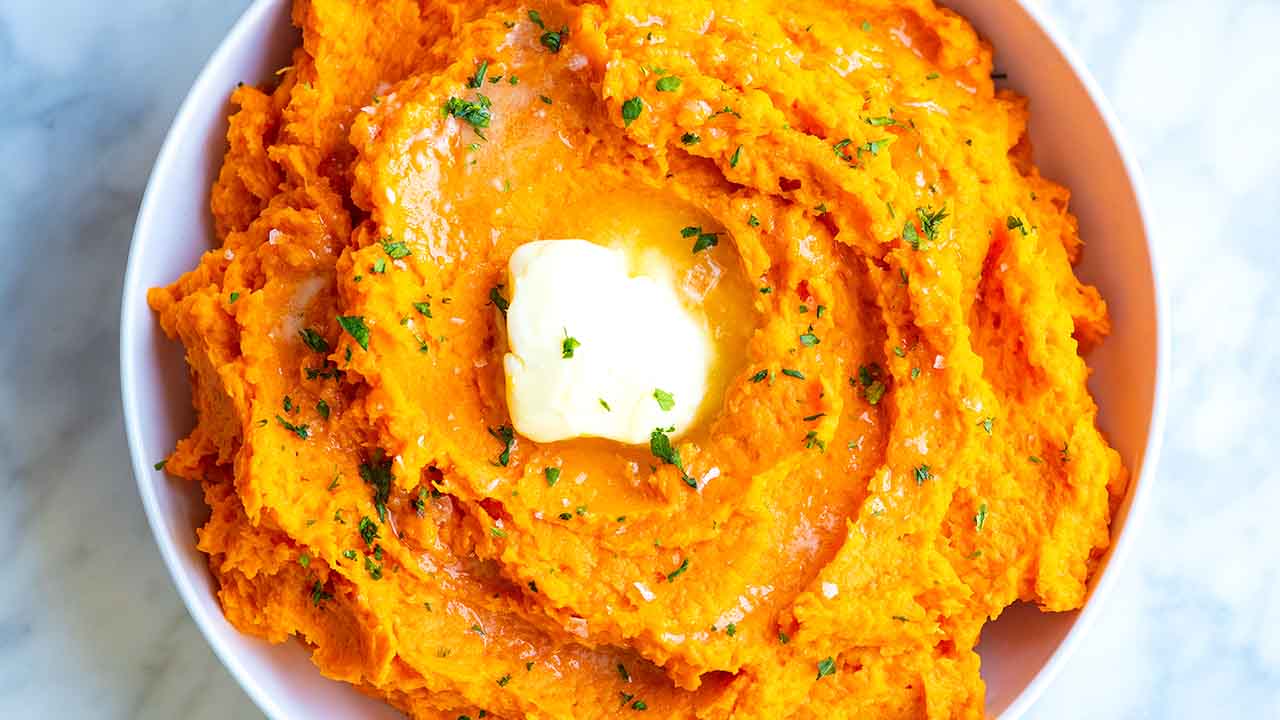 How To Make The Best Mashed Sweet Potatoes
Mashed sweet potatoes are just as easy as making regular mashed potatoes. Since sweet potatoes already have a silky texture, they turn into an absolutely delicious mash.
Our recipe below is on the savory side. I love adding a bay leaf to the water when cooking the potatoes for extra flavor and keeping the mash simple with a little butter, cinnamon, salt, pepper, and when I want them to be extra creamy, I add sour cream.
How to Choose and Prep Sweet Potatoes
Red and orange-skinned sweet potatoes make the best mashed sweet potatoes (sometimes incorrectly labeled yams in the US). These taste sweeter and have a creamier texture compared to more dry starchier varieties of sweet potato like tan or purple-skinned sweet potatoes.
The skin should be firm and smooth. I also prefer to buy small to medium sweet potatoes since these tend to be a little less starchy compared to the really large sweet potatoes.
To prep sweet potatoes, I use a vegetable brush to scrub any dirt from the peel. If you don't have a veggie brush or scrubber, you can crumple up a sheet of foil and use that to scrub the potatoes clean.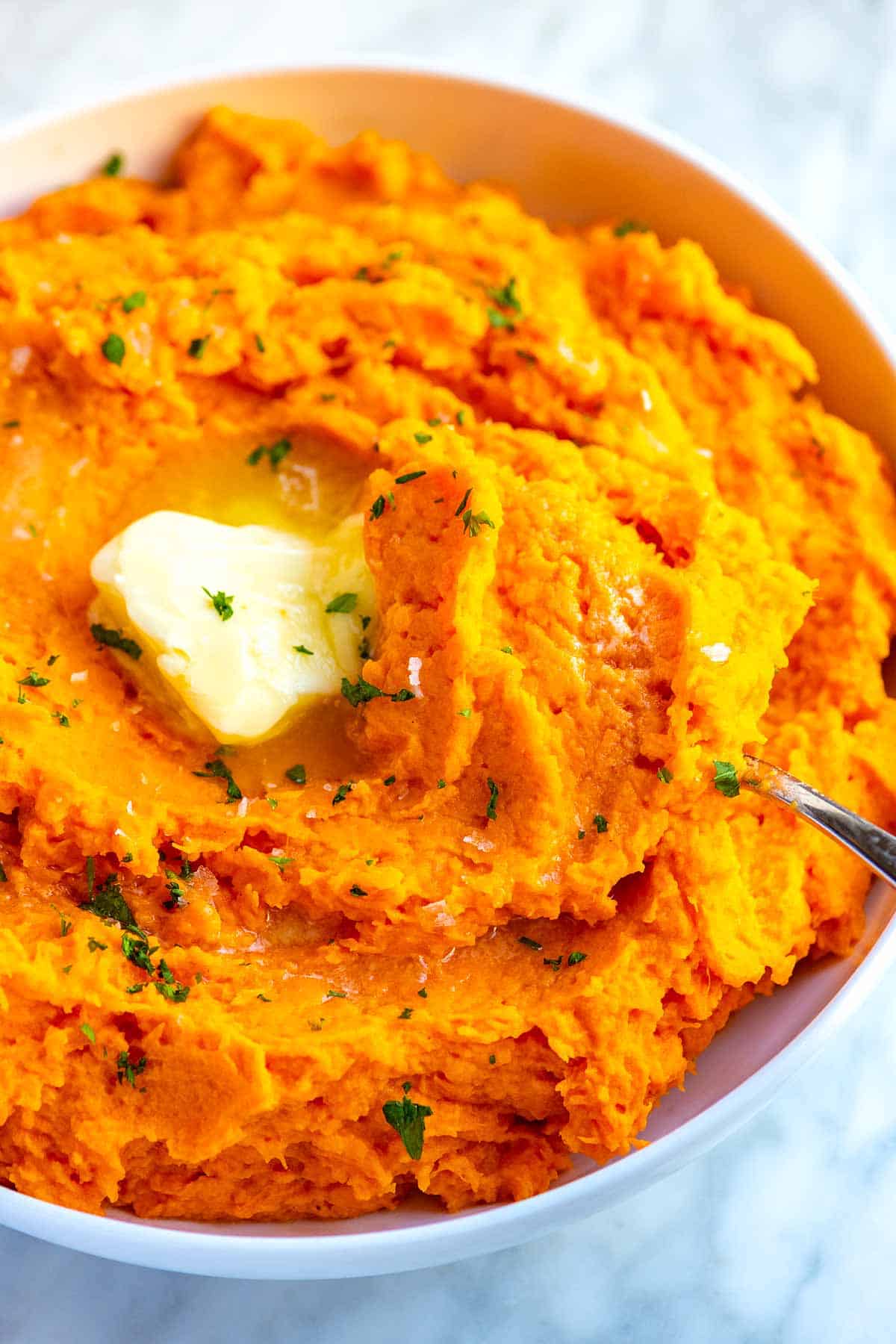 How to Cook Sweet Potatoes for Mashing
My preferred method is to simmer them in water — just like I do for regular mashed potatoes. Simmering them on the stove is quick and easy.
I add cubed, peeled sweet potatoes to a large pot and cover them with about an inch of water. I add a generous amount of salt as well as a bay leaf then bring the water to a simmer and cook until tender. The salt makes the potatoes taste incredible and the bay leaf adds a bit of extra flavor. Sometimes, I swap the bay leaf for a sprig or two of fresh thyme or rosemary.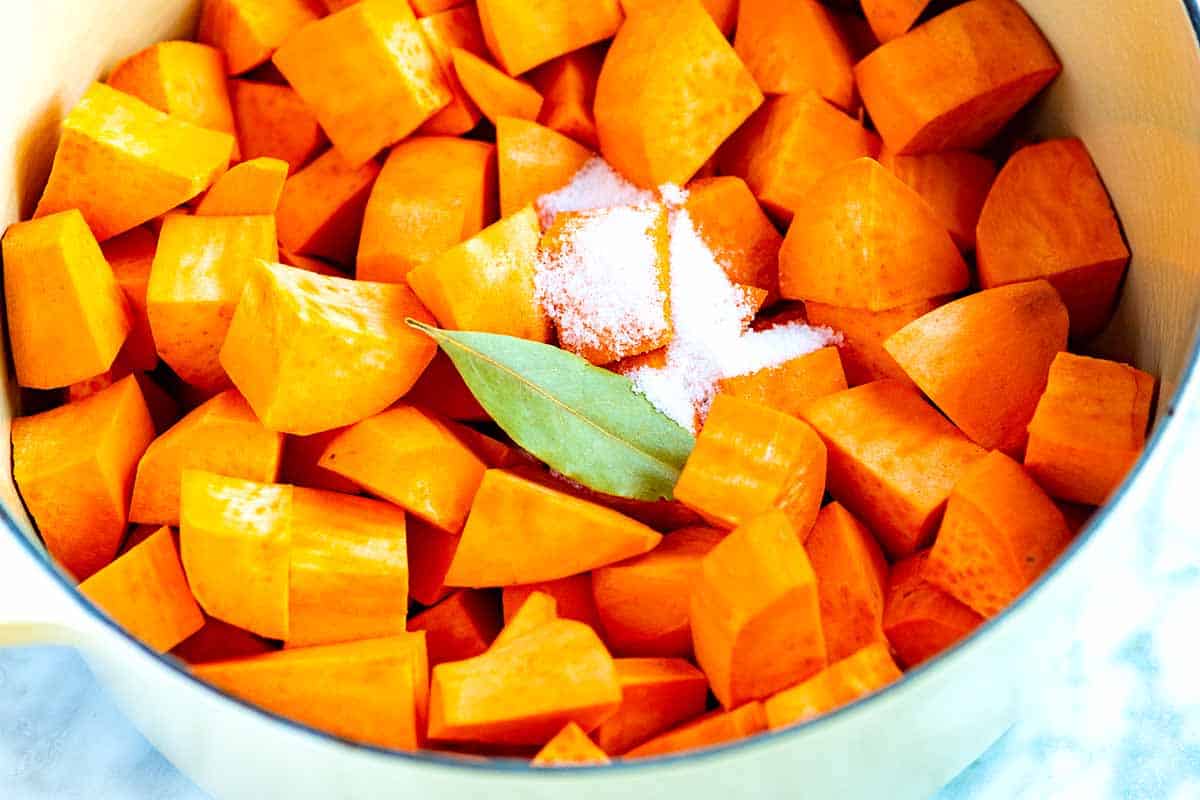 Alternate Methods: Use the oven, microwave or pressure cooker (Instant Pot)
In the oven, the sweet potatoes will take 40 to 60 minutes. To do it, heat your oven to 400 degrees Fahrenheit then wrap whole, unpeeled sweet potatoes with a bay leaf in a large sheet of foil. Place the foil pouch onto a baking sheet and bake until the potatoes can be pierced with a fork. The bake time will be 40 to 60 minutes. Unwrap the roasted sweet potatoes and when they are cool enough to handle, peel and discard the skins.
When using a microwave, you will likely need to cook the potatoes in two batches. Pierce the unpeeled sweet potatoes several times with the prongs of a fork. Add two to three sweet potatoes to a microwave-safe plate and cover with a damp paper towel. Microwave, turning once until the potatoes can easily be pierced with a fork, 8 to 12 minutes. When they are cool enough to handle, peel and discard the skins.
To cook sweet potatoes in a pressure cooker (Instant Pot), you will need roughly 35 minutes. Insert a stainless steel trivet to the bottom of the pressure cooker (ours came with one). Add one cup of water then pile whole sweet potatoes up onto the trivet (4 to 5 potatoes fit in ours). Seal the lid then cook on High Pressure for 16 minutes and allow the pressure cooker to naturally release, which takes another 10 minutes or so. When they are cool enough to handle, peel and discard the skins.
How to Mash Sweet Potatoes
The most obvious way to mash sweet potatoes is to use a potato masher. If you don't have one in your kitchen, don't worry, a fork will do the trick nicely. Using a potato masher or fork will make a creamy mash with a little texture.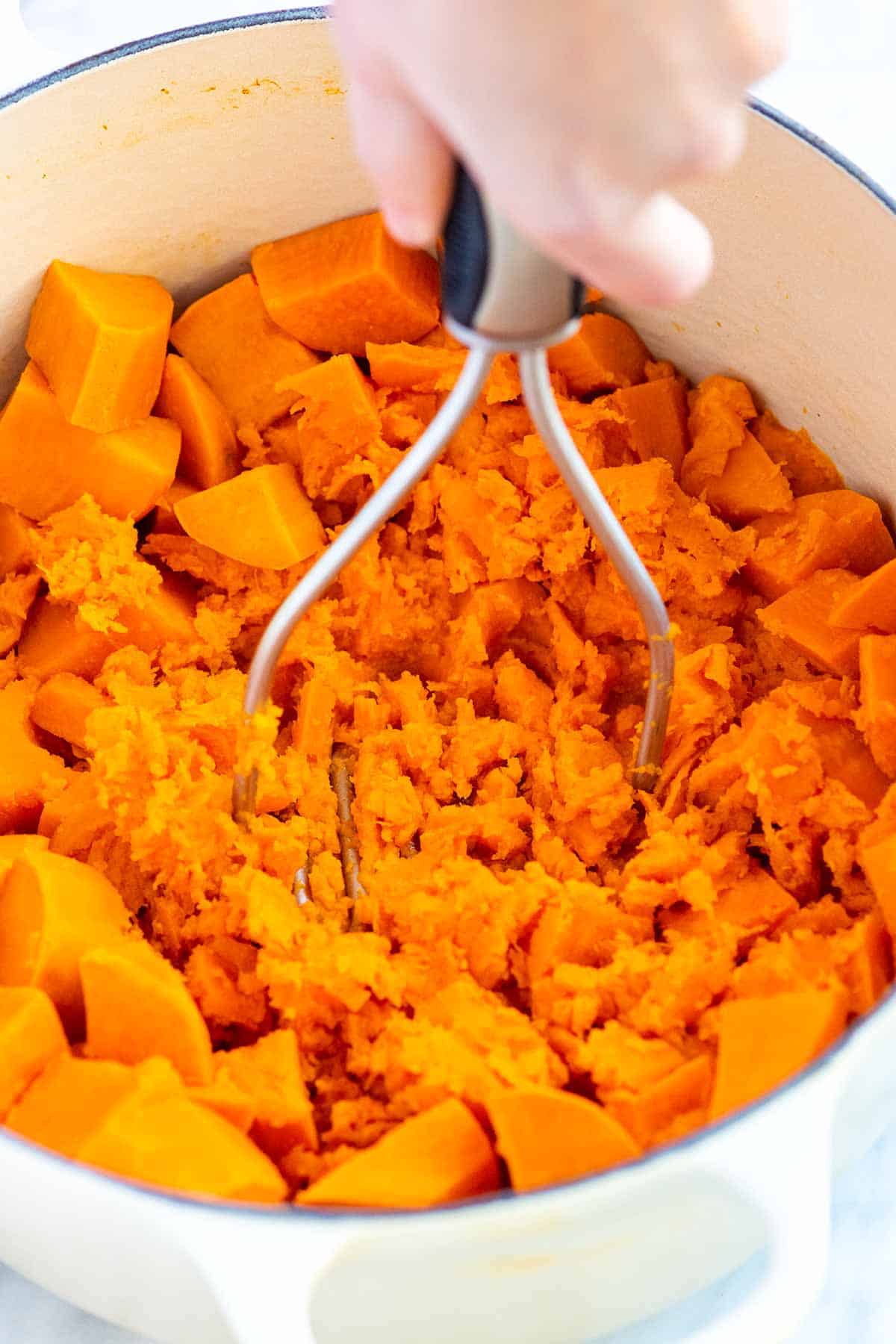 For the smoothest, silkiest mashed sweet potatoes, use a food processor or a food mill that is fitted with the smallest grinding disc.
More Tips
Peel the sweet potatoes. I love skin-on mashed potatoes, but when it comes to sweet potatoes, I find the skin a little tough. If you bake or microwave the sweet potatoes, you can remove the skin after cooking.
Make them extra creamy with sour cream or cream. I love to add sour cream. The tanginess of the sour cream balances the sweetness of sweet potatoes. Heavy cream, milk, or half-and-half helps to add some creaminess, too. Buttermilk would also be excellent.
If you love garlic, mash in a few cloves of roasted garlic — here's our favorite method for roasting garlic.
For a sweeter version, stir in a little brown sugar, maple syrup, or honey.
More Sweet Potato Recipes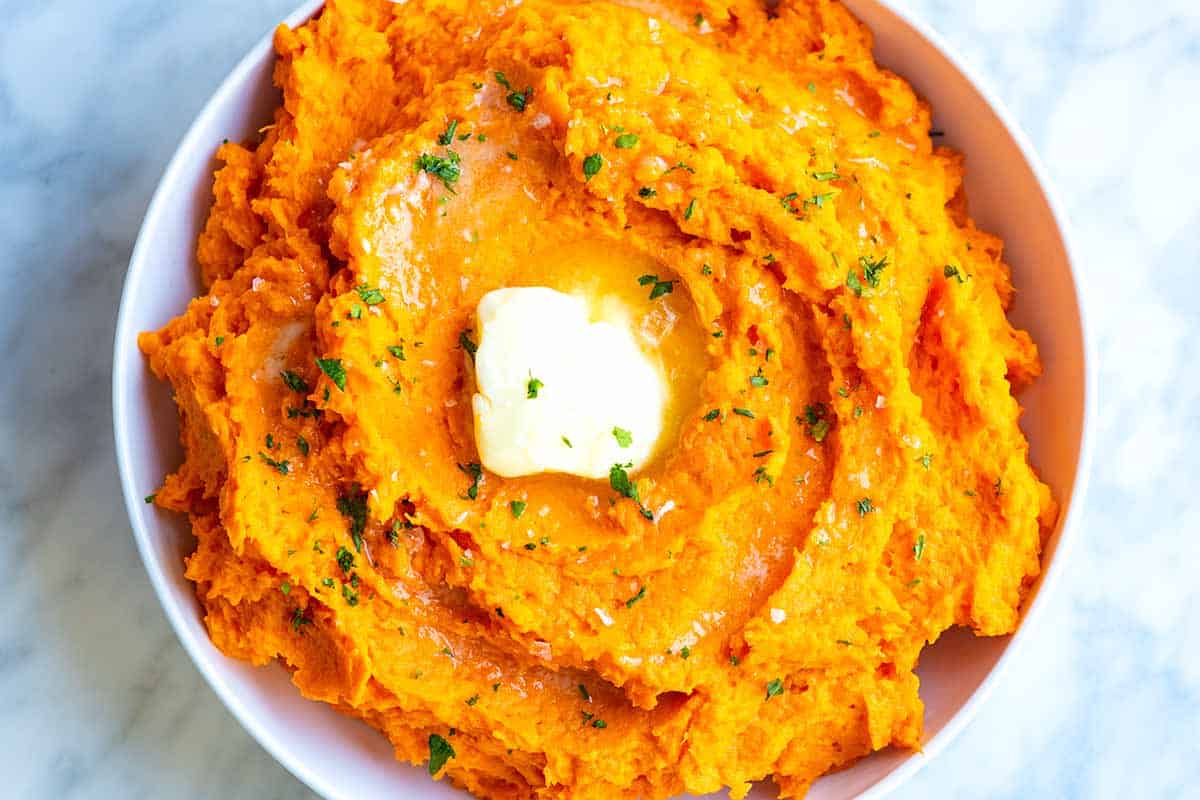 Easy Creamy Mashed Sweet Potatoes
These easy mashed sweet potatoes are on the savory side, but you can add a few extra ingredients for a sweeter version. See our tips in the notes section below for our suggestions.
You can simmer, bake, microwave, or use a pressure cooker to cook the sweet potatoes. Our preferred method is to simmer the potatoes since this takes a similar amount of time when using a pressure cooker and when microwaving them and less time than when using an oven. We have included the steps for cooking sweet potatoes in the oven, microwave, and pressure cooker in the article above.
Makes 6 servings (about 5 1/2 cups)
Watch Us Make the Recipe
You Will Need
3 pounds sweet potatoes, scrubbed clean (5 to 6 small-to-medium)
1 1/2 teaspoons fine sea salt, plus more to taste
1 bay leaf, optional or a substitute fresh thyme or rosemary sprig
3 tablespoons butter
1/8 teaspoon ground cinnamon or more to taste
3 tablespoons sour cream, heavy cream, milk or half-and-half, optional
Fine herbs and fresh ground black pepper, to taste
Directions
Cook Sweet Potatoes

1Peel and cut sweet potatoes into 1-inch cubes. Add to a large pot and add enough water so that they are covered by about one inch of water. Add the salt and bay leaf.

2Bring the water to a boil, reduce the heat to a simmer and cook until the potatoes are easily pierced with a fork, 10 to 12 minutes. Drain well, and then return the potatoes to the pot. Or if you plan to use a food processor, add them directly to the processor bowl. (A food processor makes extra silky mashed sweet potatoes.)
Mash Sweet Potatoes

1Add the butter, cinnamon, black pepper, and a pinch of salt. Mash the sweet potatoes with a potato masher until your desired consistency. If using a food processor, pulse until your desired consistency.

2For extra creamy sweet potatoes, stir in sour cream or a splash of heavy cream, milk, or half-and-half. Serve with extra butter and chopped fresh herbs (optional) on top.
Adam and Joanne's Tips
Make Ahead Tips: Mashed sweet potatoes can be made up to 3 to 4 days in advance. Keep them tightly covered in the refrigerator. They can also be frozen up to a month or more (adding a tablespoon of lemon juice will help prevent browning).
Sweeter Mashed Sweet Potatoes: Add 2 tablespoons of brown sugar or maple syrup to the cooked potatoes before mashing. We also like to increase the cinnamon by 1/4 teaspoon. Serve with a little extra maple syrup on top and if you enjoy nuts, add a handful of toasted pecans or walnuts.
Nutrition facts: The nutrition facts provided below are estimates. We have used the USDA database to calculate approximate values.
Nutrition Per Serving
Serving Size
About 3/4 cup
/
Calories
257
/
Total Fat
6.7g
/
Saturated Fat
4.2g
/
Cholesterol
17.4mg
/
Sodium
711.1mg
/
Carbohydrate
46.2g
/
Dietary Fiber
6.9g
/
Total Sugars
9.5g
/
Protein
4.1g