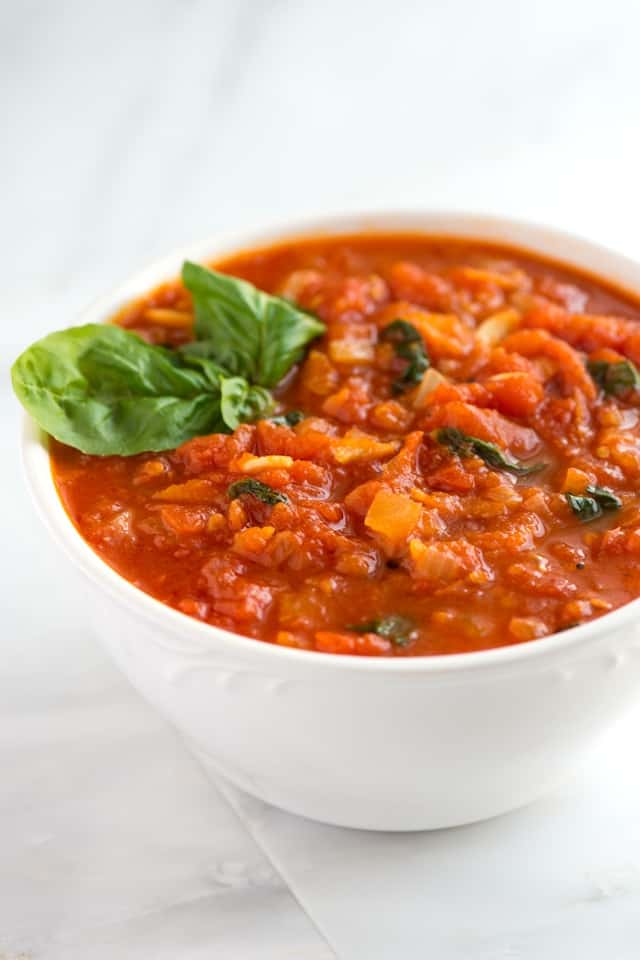 We eat a lot of pasta around here and while we always stock up on boxes of pasta, we usually forget the jars of pasta sauce. Night after night of disappointment led to learning how to make our own marinara sauce.
We're so glad we did — it's surprisingly easy to make and can be stored up to a week in the refrigerator and up to 6 months in the freezer.
This is a very basic sauce and can be used as a building block for many dishes. Use for pastas, fish or meats. You can add a little cream, add olives or capers or try making it a little spicy with crushed red chile flakes.
Main ingredients include cans of whole peeled tomatoes, which we hand crush (more on that below), olive oil, garlic, onion and carrot. The onion and carrot add natural sweetness to the sauce, balancing the acidity of the tomatoes. For the carrots, we took a tip from Mario Batali — he gates the carrot. We loved that — the carrot sort of melts into the sauce. You almost don't know it's there.
We also add lots of fresh basil at the end — you could also use parsley.
Hand Crushed Tomatoes? Why Can't I Just Buy Crushed Tomatoes to Make Marinara Sauce?
You can, but in this case, we prefer not to. Let me explain.
By hand crushing the tomatoes, you control the texture of the sauce. Like your sauce a little chunky? Don't crush the tomatoes as much. Love it extra smooth — crush the tomatoes more. We like it somewhere in the middle.
Not only do we love the extra control, we like getting our hands (well, hand) a little dirty — it's fun to crush tomatoes. Cooking should make you smile — digging into a bowl of tomatoes and squeezing most certainly achieves that.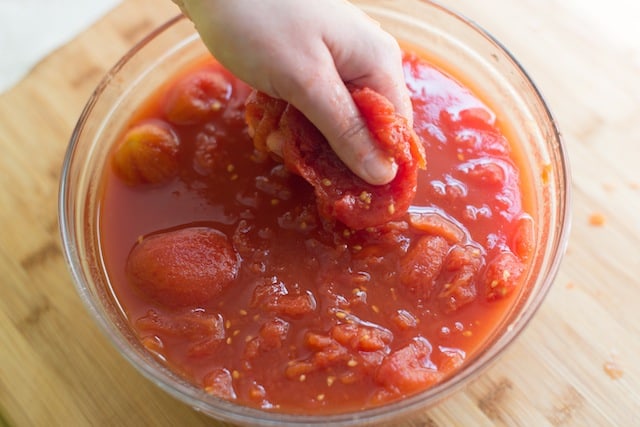 If that's just not your thing though, you could always use a potato masher or just buy crushed tomatoes from the store — it's your sauce after all.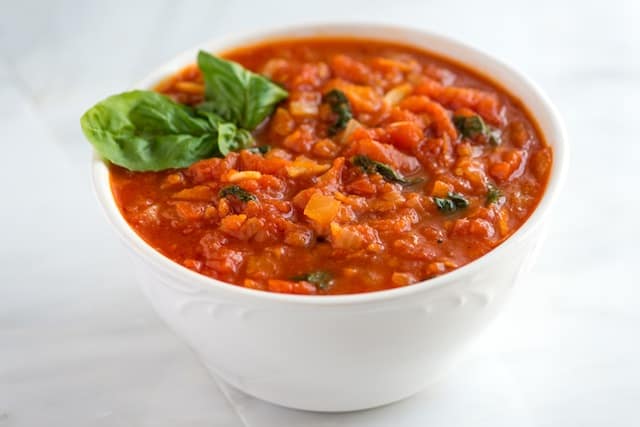 Tell us, are you up for making your own marinara sauce in your kitchen?
You May Also Like
Homemade Marinara Sauce
Why we love this recipe. Making your own marinara sauce is so simple and to us, tastes much brighter and more fresh than what you can buy at the store. It's easy to store in the refrigerator or even the freezer, too.

What you need to know. We realize it may seem strange that we ask you to buy whole tomatoes then crush them by hand before adding to the sauce. You could buy crushed tomatoes from the store, but hand crushing the tomatoes adds much more texture and feels more "homemade" to us. Also, we ask that you grate the carrot -- this makes sure it is small and will melt into the sauce. The garlic will also melt into the sauce.

Equipment you'll need. A chef's knife, boxed grater, large pot, measuring spoons, large bowl and a wooden spoon or spatula.
Created By: Joanne and Adam Gallagher
Yield: 6 cups
You Will Need
1/4 cup (60 ml) olive oil
3 cloves garlic, thinly sliced
1/2 large onion, finely chopped (about 1 1/4 cups or 180 grams)
1 medium carrot, grated (about 1/2 cup or 60 grams)
Two 28-ounce cans whole peeled tomatoes
1 dried bay leaf
20 fresh basil leaves, roughly chopped (optional)
Salt and freshly ground black pepper
Directions
Prepare Sauce
Heat olive oil in a large pot over medium-low heat. Add onions and garlic then cook, stirring occasionally, until softened but not browned - about 8 to 10 minutes.
Add the grated carrots and a pinch of salt then cook another 3 to 5 minutes, stirring occasionally until softened.
Crush and Add Tomatoes
While the vegetables cook, open tomato cans then pour tomatoes with juices into a large bowl. Use you hands or a potato masher to crush the tomatoes until desired sauce consistency.
Add crushed tomatoes with all juices and bay leaf to pan. Stir sauce then bring to a boil. Reduce heat to a gentle simmer and cook, stirring occasionally, for 20 to 30 minutes. Season to taste with salt and pepper. (Note - if the sauce is too bright or acidic, try adding a pinch of sugar to balance the acidity from the tomatoes).
Remove bay leaf and discard then stir in chopped basil.
To Store
To store, cool then refrigerate up to one week or freeze up to 6 months.