A lovely pineapple upside-down cake recipe that's extremely simple to make. The batter is lightly scented with vanilla and citrus — we like to use lime or lemon. Then, the gooey topping is made of butter, brown sugar, warm cinnamon and fresh pineapple.
We absolutely love serving this cake warm with a little whipped cream, but ice cream would be just as delicious.
Think of this as a "modernized" version of classic pineapple upside-down cake. There's no caramel on top, instead  this cake has a moist, delicious and gooey topping. The cake itself is also a little more airy than the classic.
Fresh pineapple shines in this upside-down cake recipe…
As the cake bakes, the pineapple releases some of it's juices and sweetness which runs out into the brown sugar topping. So when we can, we use fresh pineapple, which is a little lighter in flavor than canned.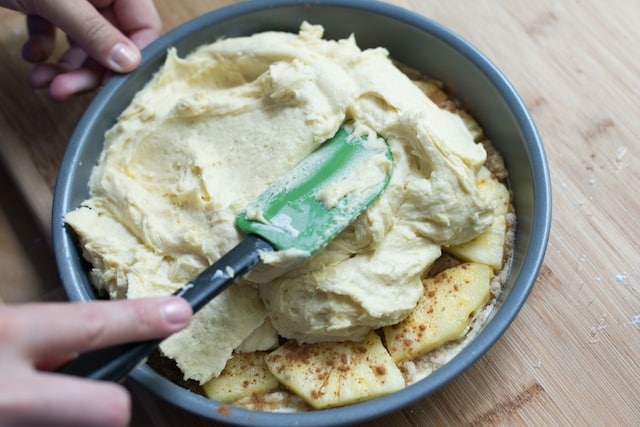 If you're in a pinch, canned pineapple will work, just be sure to use pineapple in the lightest syrup you can find. Otherwise, we have found the cake becomes too sweet for our taste.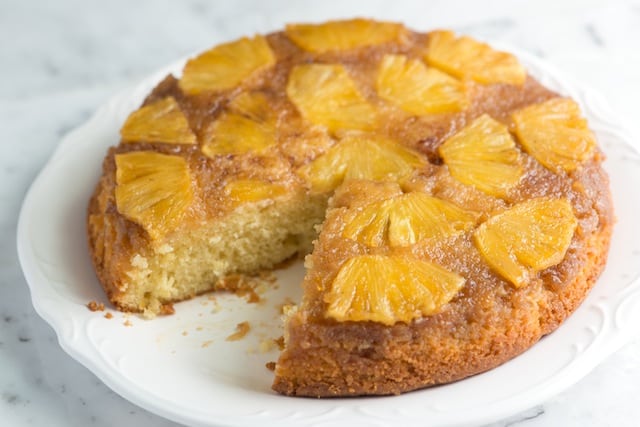 After serving this to a few friends  we were asked where the cherries were (something commonly added to pineapple cakes). For us, we're happy to skip them, but if an upside-down pineapple cake seems naked without them, add them.
You May Also Like
Pineapple Upside-Down Cake Recipe
This is a lovely light cake that's simple to make. The batter is scented with citrus peel; we like to use lime or lemon. Then, the batter is smeared over a layer of softened butter, brown sugar, warm cinnamon and pineapple slices. The final cake is light, with a gooey brown sugar sauce on top. We love using fresh pineapple here, it's much lighter in flavor than canned. If you're in a pinch, canned pineapple will work -- just be sure to use canned pineapple in the lightest syrup you can find.
Yield:
One 9-inch cake, 8 servings
You Will Need
12 tablespoons (170 grams or 1 1/2 sticks) unsalted butter, softened
1/2 cup (100 grams) lightly packed brown sugar
2 teaspoons lime or lemon zest
1/2 teaspoon ground cinnamon
8 ounces (225 grams) fresh pineapple, cut into 1/2-inch-thick wedges (about 1/4 pineapple)
1 cup (200 grams) granulated sugar
2 large eggs, separated
1 teaspoon vanilla extract
2 teaspoons baking powder
1/4 teaspoon kosher salt
1 1/2 cups (210 grams) all-purpose flour (we use unbleached Gold Medal all-purpose flour)
1/2 cup (125 grams) sour cream, or plain yogurt
Directions
Position an oven rack in the lower third of the oven and heat oven to 350º F.
Prepare Topping: Using the back of a spoon, spread 4 tablespoons of the butter over the bottom of a 9-inch cake pan. Scatter the brown sugar and cinnamon evenly over butter. Arrange the pineapple wedges in one even layer over the butter and sugar.
Make Batter: In a large bowl, beat the remaining 8 tablespoons of butter, granulated sugar and lime (or lemon) zest with an electric mixer on medium speed until light and fluffy, 3 to 4 minutes.
Add the egg yolks and vanilla and beat until smooth. Scrape the sides and bottom of the bowl then mix in the baking powder and salt.
Mix in a third of the flour mixture until only a few streaks of flour remain then mix in the remaining flour. Add the egg whites and sour cream (or yogurt) and mix just until smooth.
Bake Cake: Spoon cake batter on top of the pineapple then use a spatula to spread into an even layer. Bake for 35 to 40 minutes, until a toothpick inserted in the center of the cake comes out clean.
Cool cake in the pan for 5 minutes then run a knife around the edges and invert it onto a plate to cool. If some pineapple slices stick to the pan, use a spatula to transfer them back on top of the cake and spread a little of the gooey brown sugar sauce over them to cover it up.
Serve warm or at room temperature. Refrigerate leftover cake up to 3 days. You can also rewarm slices in the microwave for about 10 seconds.
Notes and Tips
Alternate Recipe - Apple:
For apple upside down cake, simply replace the pineapple with apple slices tossed in a little lemon juice.
Leftover Pineapple:
Beyond enjoying juicy pineapple in fruit salads or alone, you can also broil slices or sear slices in a pan with some butter. Serve warm with a little whipped cream or ice cream.
Reference:
Recipe adapted and inspired from Alice Medrich's "
Sinfully Easy Delicious Desserts
"