Easy pineapple salsa recipe with avocados, jalapeño, red onion, and fresh lime. Jump to the Spicy Pineapple Avocado Salsa Recipe or read on to see our tips for making it.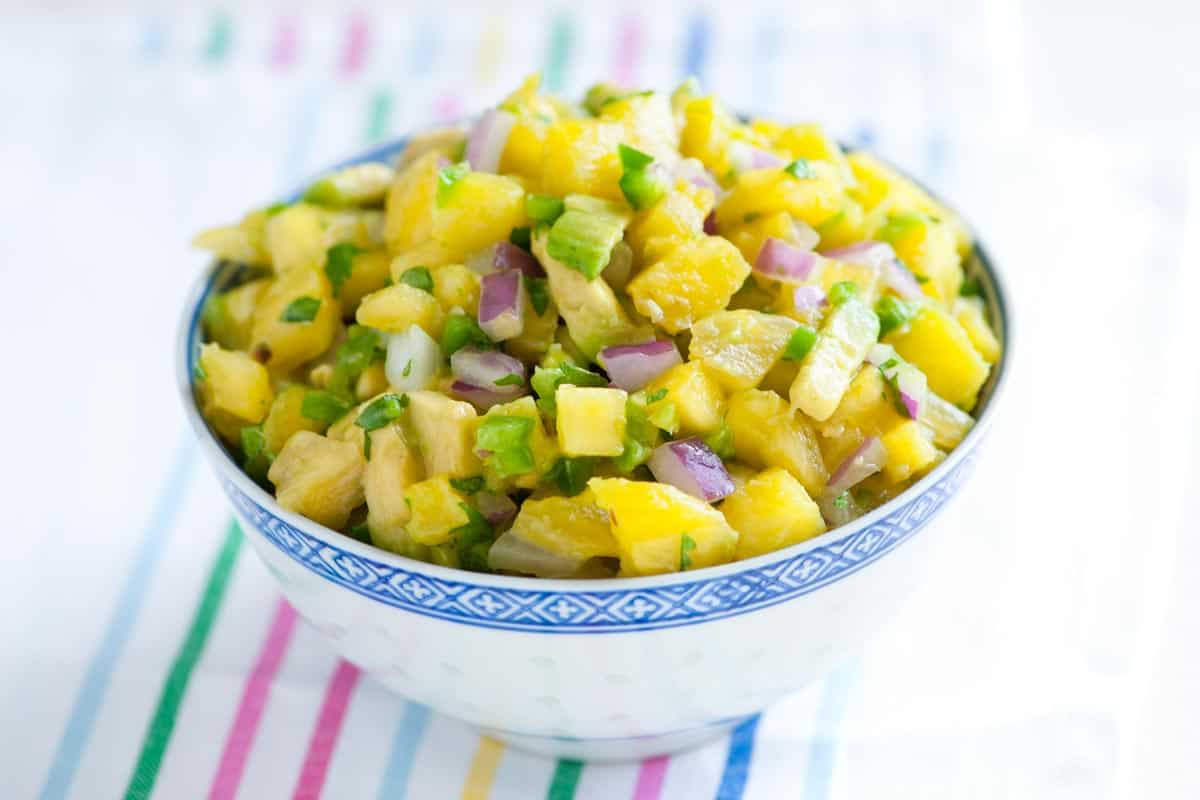 How to Make Salsa with Pineapple
This salsa is simple to make and comes together quickly.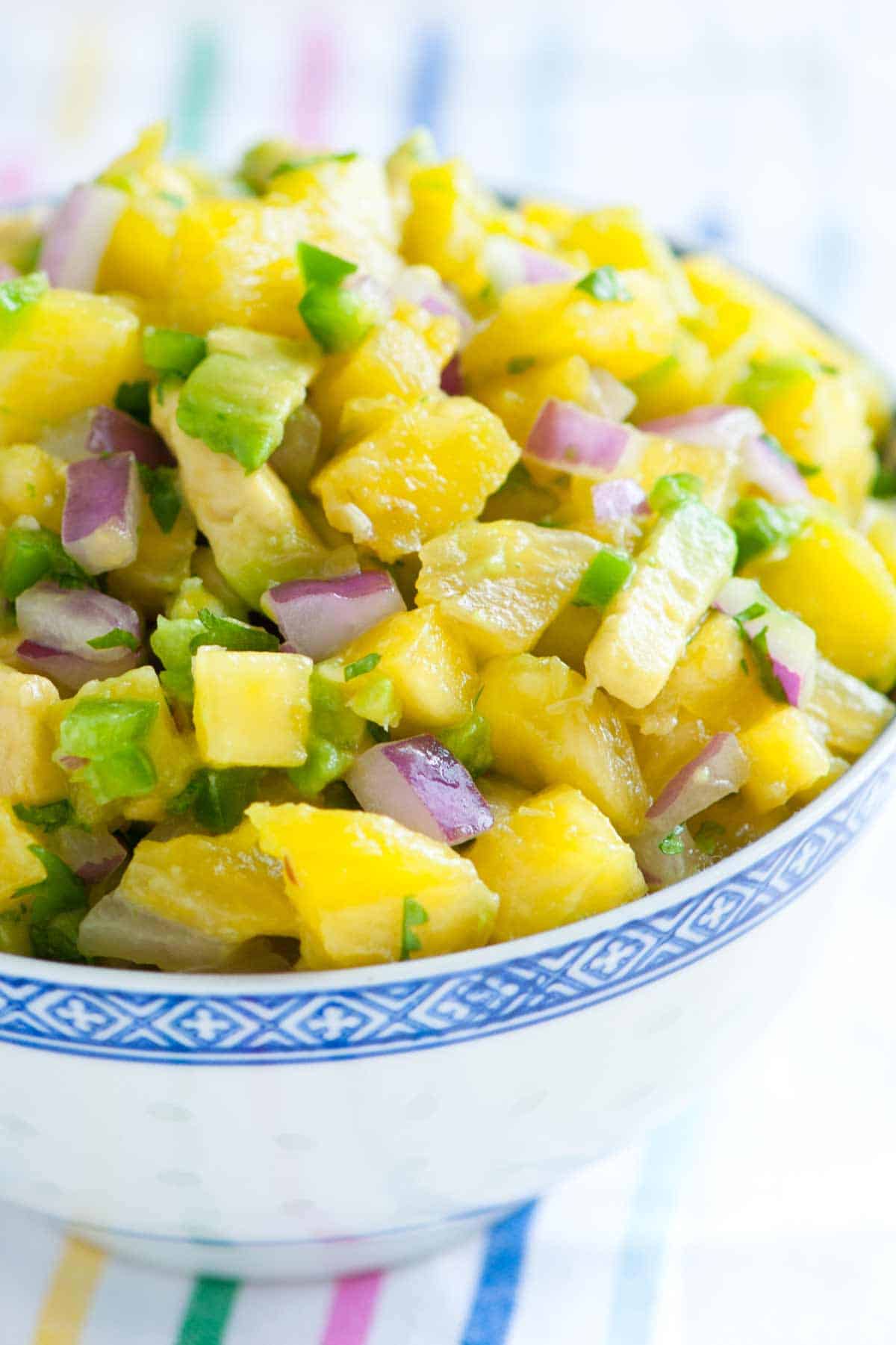 You will need a ripe pineapple (check below for our tips on choosing them) and a ripe avocado. We like everything to be cut pretty small. For the pineapple, you will need to peel and remove the core. When you cut pineapples, start by removing each end. Then, use your knife to cut away it's skin/peel – just follow the pineapple's curve from top to bottom.
Cut the pineapple into quarters and use your knife to cut away the inner fibrous core. From there, you can cut into small pieces for the salsa.
We also add onions to the salsa, but before we do, we like to "deflame" them. This tames down the "raw-ness" of the onion. Just add the diced raw onions to a bowl with warm water and set aside for about 5 minutes. Drain and rinse them and you're ready to add them to the pineapple salsa.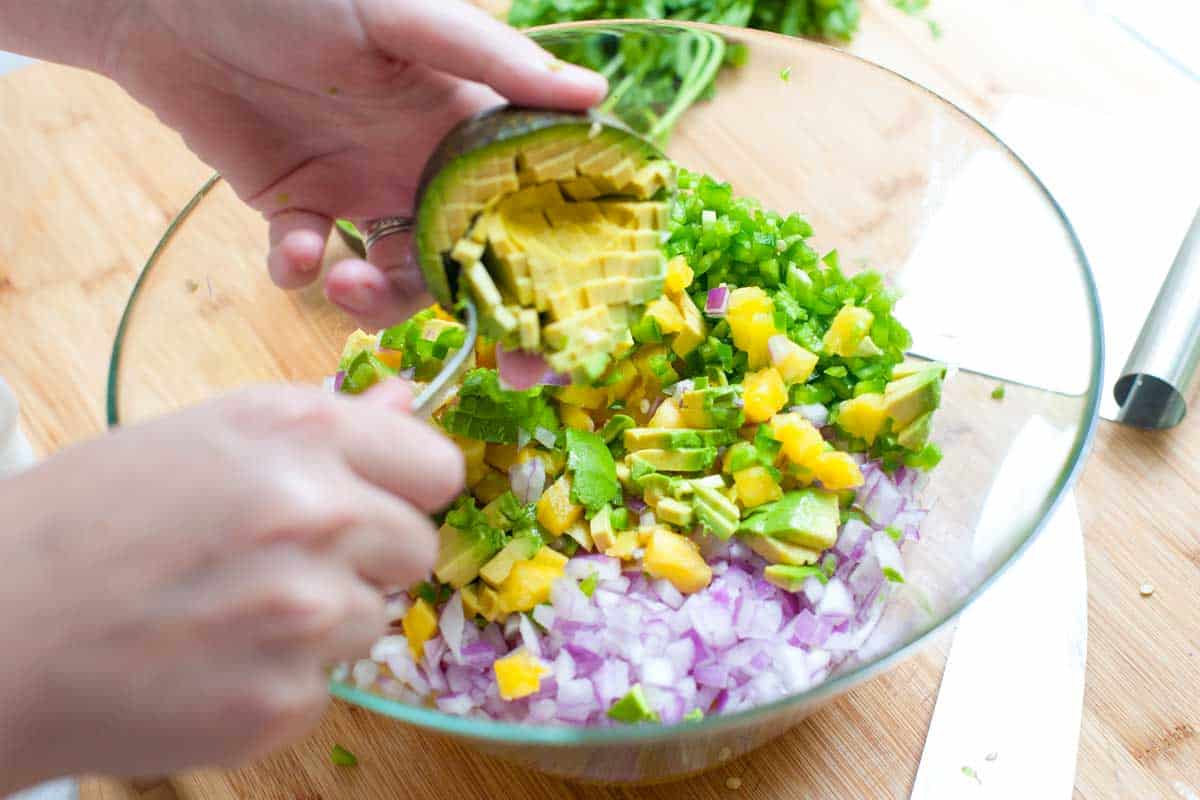 For the spicy part of this recipe, we use jalapeño peppers. Depending on how spicy you want your salsa you can add multiple peppers or not. Also, by removing the membrane (white part) and seeds, the pepper will be less hot. For a medium spice level, we add two jalapeños with their seeds and membrane removed.
Tip: How to Choose Pineapples
Look for a large pineapple with golden or yellow hues on its skin/peel. That indicates sweetness. Also, it's a good thing if you see "Golden Pineapple" on the label.
Give it a sniff — If you smell a hint of sweet pineapple, you're on the right track.
Check how it feels — The pineapple should be firm, but gives just a little when you feel it. Definitely put anything back that's bruised or soft.
You May Also Like
Recipe updated, originally posted June 2012. Since posting this in 2012, we have tweaked the recipe to be more clear. – Adam and Joanne
Spicy Pineapple Avocado Salsa
We love this easy pineapple salsa recipe with avocados, jalapeño, red onion, and fresh lime. Fresh pineapple is best in this salsa, but canned pineapple that has been drained will work in a pinch. If using fresh, when buying look for a large pineapple that has shades of yellow or gold on the skin and has a mild scent of sweet pineapple. Serve this pineapple salsa with chips or on top of burgers, grilled pork, chicken or with seafood.
Makes approximately 6 servings
You Will Need
1 cup finely chopped red onion (1/2 a large onion)
2 jalapeños, or to taste
1 medium pineapple, peeled, core removed and cut into 1/4-inch pieces (5 cups)
1 medium avocado, peeled and cut into 1/4-inch pieces
1 lime, zested and juiced
1/3 cup loosely packed cilantro leaves and tender stems, chopped
1/4 teaspoon sea salt
Directions
1Add chopped red onion to a small bowl and cover with warm water. Set aside for 5 minutes. Drain then rinse.

2Depending on how spicy you want the salsa to be, deseed and remove the white membrane of one or both jalapeños. Or for a mild-medium salsa remove the seeds and membrane for both peppers. Mince the jalapeños finely.

3Toss pineapple, avocado, red onion, jalapeños, lime zest, lime juice, cilantro, and the salt to a large bowl until well mixed. Taste then adjust with more salt if necessary.
Adam and Joanne's Tips
Nutrition Per Serving
Serving Size
1/6 of the recipe
/
Calories
63
/
Total Fat
3.6g
/
Saturated Fat
0.5g
/
Cholesterol
0mg
/
Sodium
222.8mg
/
Carbohydrate
8.4g
/
Dietary Fiber
2.5g
/
Total Sugars
3.9g
/
Protein
0.9g