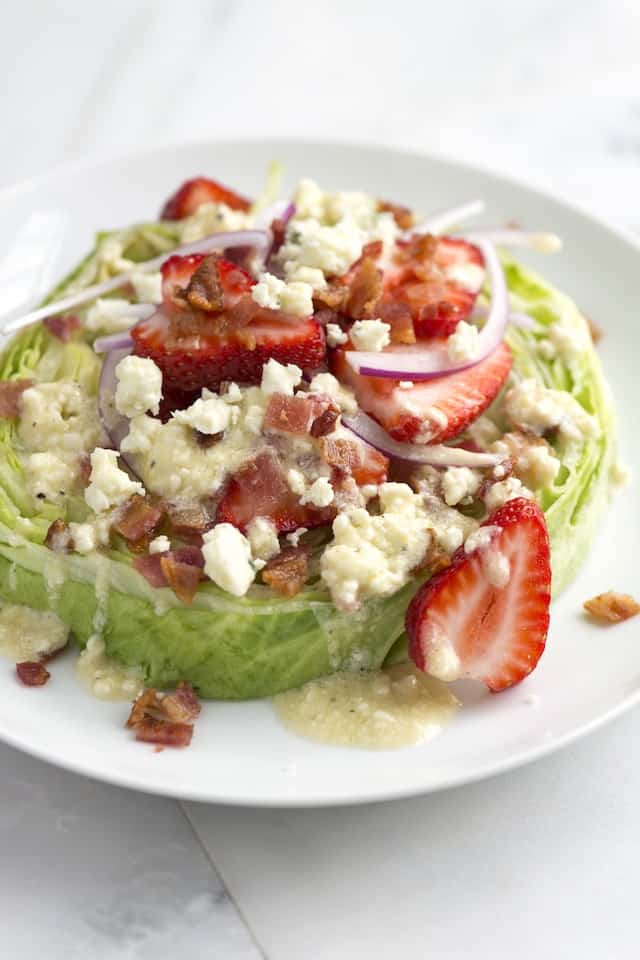 Walk into most grocery stores these days and you'll find bags upon bags of mesclun mixes and delicate baby greens. As much as we love the choice, you'll likely find us pushing the bags aside and reaching for heads of iceberg or romaine.
We love the crunch — especially during warmer summer months.
It's the crunch that makes this strawberry salad recipe …
The iceberg is light, but hearty — plus it stands up to the extra spoonfuls of blue cheese vinaigrette we douse it with. (Yep, douse — it's best this way).
For the dressing, we mash blue cheese crumbles into apple cider vinegar — the cheese breaks down just enough that it sort of melts in. That along with a little garlic and olive oil makes everything really punchy.
Since the dressing is so forward, you really need the crisp iceberg and lots of sliced strawberries to cool things off. Oh, and we add bacon. No explanation needed there, right?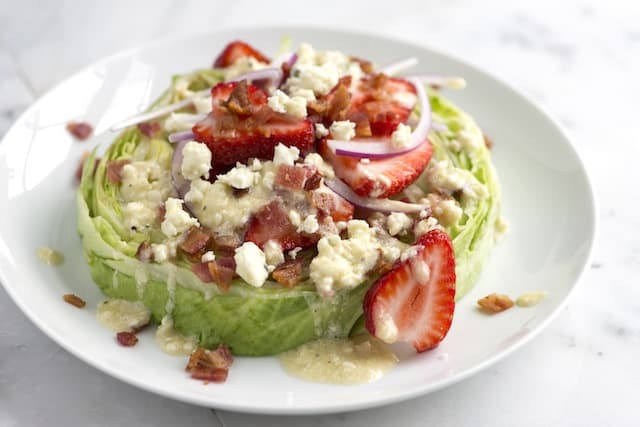 You'll find us munching on a big plate of this strawberry salad for dinner, but you could easily turn it into a starter. Or, make it your own and add some extras — grilled shrimp would be delightful.
You May Also Like
Iceberg Strawberry Salad with Blue Cheese Vinaigrette
With lots of crunch from iceberg lettuce this strawberry topped salad is perfect for dinner or served at the beginning of a meal. Think about adding some extra protein such as grilled shrimp or chicken. The vinaigrette is pretty punchy -- if you're not a big fan of tangy vinaigrettes, try topping the salad with a more traditional creamy blue cheese dressing.
Created By:
Joanne and Adam Gallagher
Yield:
4 main or 6 side salads
You Will Need
5 thick-cut bacon slices, cooked until crispy, crumbled
1-pound head (450 g) iceberg lettuce, trimmed and cored, sliced into 1-inch-thick rounds (should get about 4 to 5 rounds)
6 ounces (170 g) strawberries, hulled and sliced (9 strawberries)
1/4 medium red onion, thinly sliced
Tangy Blue Cheese Vinaigrette
1/2 cup (2 ounces or 55 g) crumbled blue cheese
1/2 teaspoon very finely minced garlic (about 1/2 medium clove)
Pinch sugar, plus more to taste
3 tablespoons cider vinegar (substitute white wine vinegar or champagne vinegar)
3 tablespoons olive oil
Salt and freshly ground black pepper, to taste
Directions
Place lettuce rounds onto plates or arrange all slices onto a larger platter. Top with crumbled bacon, strawberries and onion slices.
Prepare Vinaigrette
In a medium bowl, use a fork to mash the blue cheese, garlic and sugar into the cider vinegar until the blue cheese has melted into the vinegar. You don't need to mash until completely smooth, it's fine to have some small pieces of cheese left.
Add the olive oil and whisk until creamy. Adjust seasonings with more sugar, salt and/or pepper.
Drizzle dressing over stacked salad. If any blue cheese remains, it doesn't hurt to add a few extra crumbles on top.
Notes and Tips
For the bacon, we like to bake it. If you have one, inset a metal cooling rack into a rimmed baking sheet lined with aluminum foil. Arrange bacon slices on rack. Bake bacon in a 400 degree F (200C) oven for 15 to 20 minutes until crispy. If you do not have a cooling rack that fits inside a baking sheet, lay bacon slices directly onto baking sheet. You may also enjoy our tutorial for
How to Bake Bacon
.