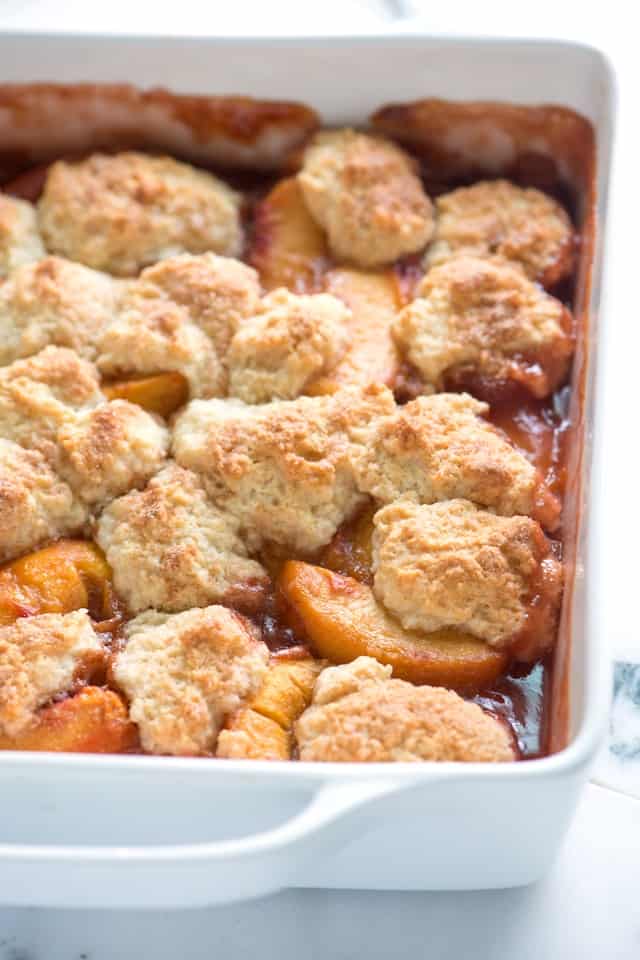 It's hard to express our love of casual, homespun desserts. This peach cobbler recipe is a new favorite with it's spiced peach filling and sweet biscuit top.
Cobblers, crisps and the like are perfect made in the summer when trees and bushes are brimming with sweet summer fruits. They are equally as impressive during the winter months when frozen fruits can brighten heavier meals and darker nights.
You May Also Like: For another casual dessert, try our Easy Apple Crisp. We've even included a recipe video to show how to make it.
Easy Peach Cobbler Recipe with Spiced Peaches
This peach cobbler recipe is extraordinarily simple. Fresh (or frozen and thawed) sliced peaches are tossed with tart lemon juice, sugar, cinnamon, nutmeg and a little flour to help thicken. You could also add a cup of berries — raspberries, blackberries or blueberries would be lovely.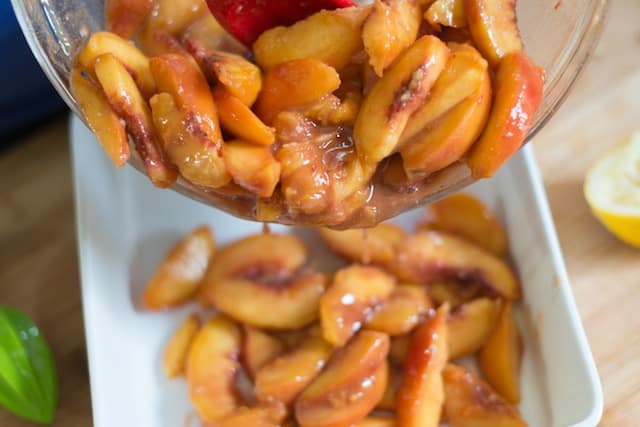 The peaches are given a head-start in the oven while we make a sweet biscuit topping. The topping is equally simple. Cold butter is cut into a mixture of flour, sugar, salt and baking powder. Then, milk is added to form a soft dough.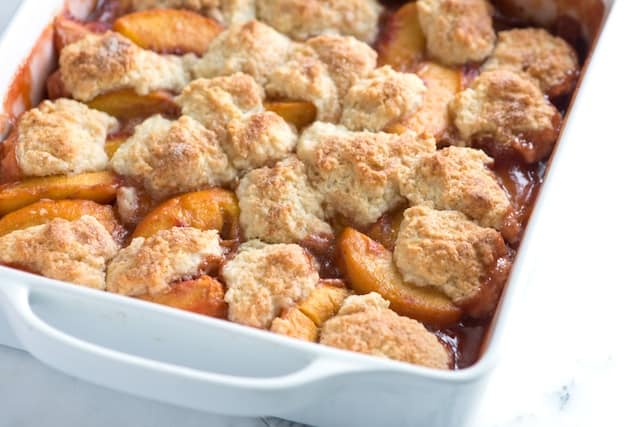 You could pat the dough down and use biscuit cutters to form perfectly round biscuits, but we like the cobbler to look as casual as possible. Instead, we simply dot dollops of dough over the, now warmed, peaches.
To finish things off, we sprinkle a little cinnamon-sugar over the biscuits before baking, adding a sweet crunch to the tops of the biscuits.
We probably shouldn't need to mention that cobblers, especially this one, take kindly to scoops of ice cream, whipped or simply poured cream. If you can find some, try cinnamon ice cream.
More Recipes with Peaches
Easy Peach Cobbler Recipe with Spiced Peaches
Spiced juicy peaches topped with a sweet biscuit topping. Peaches are the star here. The topping will not cover all the peaches. Instead it floats on top, between the peaches and their thickened juices. (If you prefer the top to be completely covered, simply double the topping recipe below). We do take the time to peel the peaches for this -- we prefer it this way. If you're short on time, skip it. The cobbler will still taste great.
Created By:
Joanne and Adam Gallagher
You Will Need
Spiced Peach Filling
2 to 3 pounds (900 to 1350g) ripe peaches, peeled and sliced, or 2 pounds thawed, frozen sliced peaches (5 cups sliced peaches)
1 cup fresh or thawed frozen berries, such as raspberries, blackberries or blueberries (optional)
2 tablespoons lemon juice
1/3 to 1/2 cup (65 to 100 g ) sugar, depending on sweetness of peaches
2 tablespoons all-purpose flour (we use Gold Medal unbleached all-purpose flour)
1 teaspoon ground cinnamon
1/4 teaspoon ground nutmeg
1/4 teaspoon kosher salt
Biscuit Topping
3/4 cups (105 g) all purpose flour
2 tablespoons sugar
1 teaspoon baking powder
1/2 teaspoon salt
2 tablespoons unsalted butter, cold, cut into small cubes
1/3 cup (80 ml) milk (whole or 2% reduced fat milk are best)
Cinnamon-Sugar Topping
2 teaspoons sugar
1/4 teaspoon ground cinnamon
Directions
Heat oven to 375 degrees F (190 C). Lightly butter or oil a 9-inch (23 cm) square baking dish (or 2-quart dish).
Prepare Peach Filling
Toss sliced peaches with berries (optional), lemon juice, sugar, 2 tablespoons of flour, cinnamon, nutmeg and the salt. Pour into baking dish. Prebake for 10 minutes.
Prepare Biscuit Topping
Whisk flour, 2 tablespoons of sugar, baking powder and the salt together. Using a pastry blender or your fingers, cut butter into flour until crumbly. Pour in milk. Stir with a fork until a soft dough forms. Dot tablespoon-sized dollops of biscuit dough over prebaked peaches, leaving some space in between each dollop. (As the cobbler bakes, the topping will spread out a little).
Combine sugar and cinnamon for topping. Sprinkle over biscuit dollops.
Bake
Bake cobbler 40 to 50 minutes or until juices are bubbling and topping is golden brown. Cool 10 to 15 minutes before serving.
Notes and Tips
How to Peel Peaches
: To peel fresh peaches, score an "X" into the bottom of each peach with a knife. Add to boiling water for 45 to 60 seconds then plunge into ice cold water. Peel skins from peaches.