Adam and I have a battle going on. It's about potatoes. You see, whenever we're in the grocery store I reach for sweet potatoes with the sole purpose of making these baked sweet potato fries. He, on the other hand, reaches for regular potatoes so we can make roasted potato wedges.
In truth, neither of us mind who wins — we love both options. It is fun to battle every once in a while, though.
Try Our Homemade Ketchup Recipe: How to make our seriously good homemade ketchup recipe. Make ketchup that's better than anything you can buy at the store!
How We Make Roasted Potato Wedges So They Don't Stick
We've been making a version of these oven fries for quite some time now. Over time, we've learned a few tricks for making them best. One of the biggest issues we've had personally when making roasted potato wedges is that they stick to the pan. Being forced to slowly peel potato wedges from your baking sheet is no fun.
Have you had this problem?
Tricks We've Tried to Prevent Sticking
It's pretty common. We've tried a few things to prevent it. First was parchment paper. That worked pretty well, but we didn't think the potato wedges browned as well. Second, was adding some of the fat (in our case, that's olive oil) to the pan instead of tossing with the potatoes. This worked well.
Third, we soaked the wedges in hot water, which removes some of the potato starch. Again, this worked. Finally, we found using a heavy nonstick baking sheet helps — if you have one, we recommend it.
In our recipe below, we've combined a few tricks in hopes that you won't find yourself slowly peeling roasted potato wedges from your baking sheet.
Here's What We Do
We soak the wedges in hot water for 10 minutes — you can thank Cook's Illustrated for that tip. Next, we dry them very well and toss them with some olive oil. Then, before tossing onto the baking sheet we spread a little extra olive oil over the pan itself.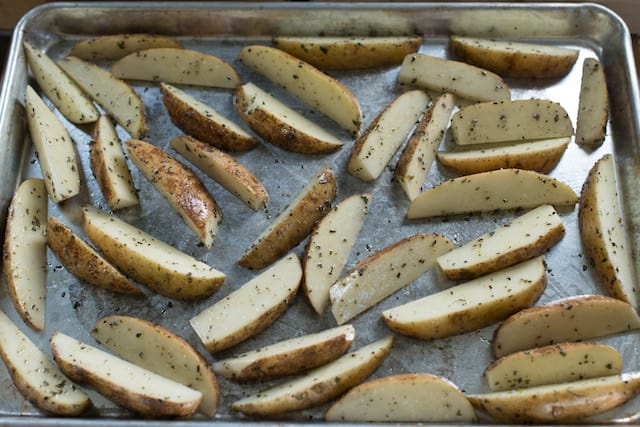 The wedges are baked in a hot oven for 20 minutes or so, turned and placed back into the oven until lightly browned, crisp on the outside and tender inside.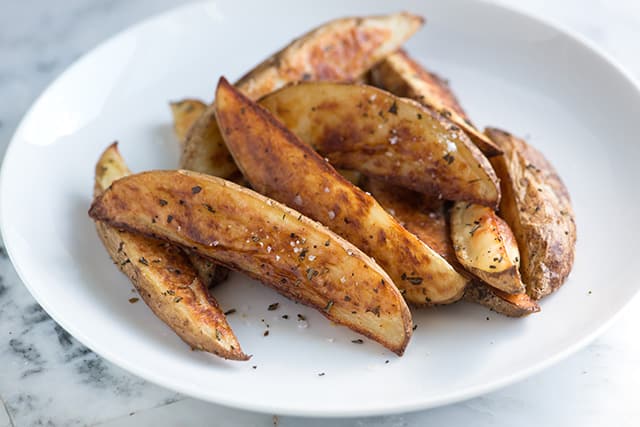 And that's it … I suppose Adam won the battle this time.
Interested in a few more vegetable sides to try? Take a look at these:
Or, take a look at these Potato Wedges tossed with Parmesan Cheese from Natasha's Kitchen and these Potato Wedges from The Pioneer Woman. Another option is to make this Garlic Roasted Potato recipe from Ina Garten — they sound wonderful.

Rosemary Roasted Potato Wedges
If you have one, a nonstick baking sheet works really well here. Baked potato wedges do have a tendency to stick to the pan, which can be annoying. The nonstick baking sheet not only helps with sticking, it's darker finish helps them brown a little more. If you don't have a nonstick baking sheet, you will still be okay if you use a pan that's heavier duty.

To prevent as much sticking as we can, we do two things: first, the cut potato wedges are soaked in hot water for 10 minutes, removing starch. Second, we use a good amount of olive oil (about 1 tablespoon per potato). Some is spread onto the baking sheet and the rest is tossed with the soaked and dried potatoes.
You Will Need
4 large baking potatoes, unpeeled
4 tablespoons (1/4 cup or 60 ml) olive oil
1 teaspoon kosher salt
1/2 teaspoon freshly ground black pepper
1 tablespoon minced fresh rosemary leaves
1/2 teaspoon finishing salt, like flaky sea salt (optional)
Directions
Heat the oven to 400º F. Evenly coat a large baking sheet with 1 tablespoon of the olive oil.
Prepare Potato Wedges: Scrub and rinse potatoes then cut each potato into 6 long wedges and add to a large bowl. Cover potatoes with hot water and soak for 10 minutes. Drain potatoes, spread out onto a clean dish towel and pat very dry.
Dry the bowl the potatoes were soaking in, add potatoes back to the bowl and toss with remaining 3 tablespoons of olive oil, salt, pepper and rosemary. Spread the potatoes in a single layer, cut side down on the baking sheet.
Bake Potatoes: Bake the potatoes, turning to other cut side after 20 minutes, until lightly browned, crisp on the outside and tender inside; 35 to 45 minutes.
Sprinkle with a little extra salt (if desired) and serve.