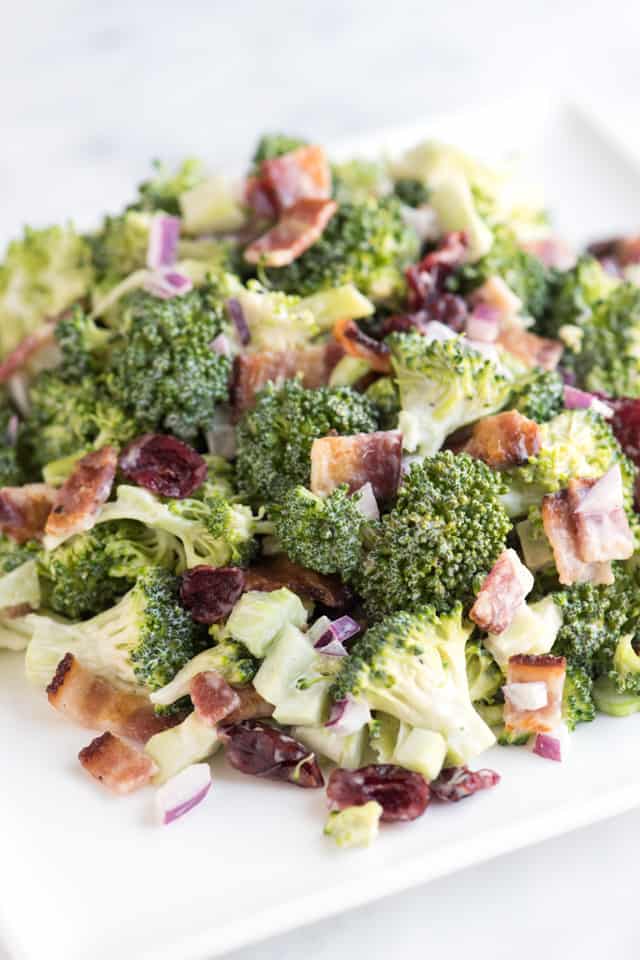 Crisp, green broccoli is tossed with salty bacon, sweet dried cranberries, red onion and a zesty dressing made with mayonnaise, Dijon mustard and apple cider vinegar. Think of this as an updated broccoli salad recipe.
Broccoli Salad Recipe with Bacon Inspired by Mom
This recipe started with a faint memory of something my Mom would make when I was a child. Raw broccoli, a sweetened mayo-based dressing, bacon and cheese.  I wasn't the biggest fan of vegetables as a child, but I do remember loving her salad– I imagine it was very similar to this broccoli salad recipe from Allrecipes — (I'm thinking the bacon, mayonnaise and cheese had a lot to do with that).
When we were brainstorming ideas for a new recipe, I told Adam all about Mom's broccoli salad. I think at first he thought I was nuts — neither of us are fans of raw broccoli.
After a little convincing and some trial and error, we came up with this. A zestier, brightly flavored broccoli salad that still has a few of the same elements as Mom's did. It's got broccoli, red onion, mayonnaise (instead of a sweetened version, ours is doctored up with zesty mustard), bacon and instead of cheese, we throw in a handful of dried cranberries.
You might recognize the dressing we've used, here. We lifted it straight out of Joanne's Favorite Coleslaw Recipe. The dressing is incredibly versatile. Make a double batch, it lasts for weeks in the fridge and can be tossed into this salad, coleslaw, used as a dip for vegetables and more!
We should probably take a moment to discuss the bacon-part of this salad. We love it — it adds a big hit of salty smoke. If you're not so far into the bacon camp as we are, try substituting with a lightly salted or roasted nut. Cashews, almonds or peanuts would be our first choice.
If you do love the idea of bacon in this salad as much as we do, you might want to consider baking your bacon. It's hands-off, takes around 15 minutes and, if you use a foil-lined pan, is a little less messy than making it on the stovetop. For a few extra tips, take a look at our article showing you how we bake bacon.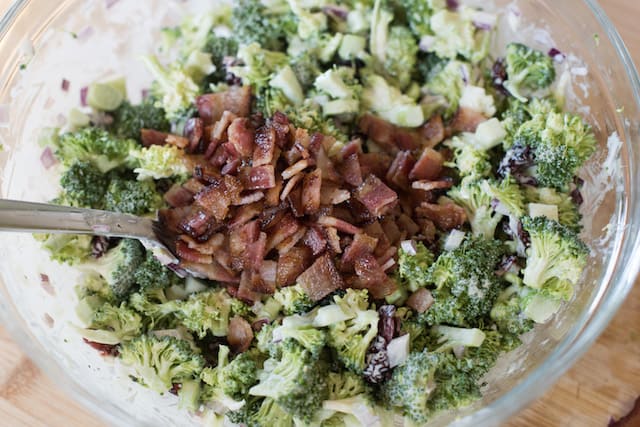 Quick Tip: Don't Throw Away all Those Broccoli Stems!
When I first started cooking for myself, whenever it came to chopping up broccoli, I'd slam my knife down just below the crown and throw away the stem. Now though, those stems are the best part!
Thankfully someone, somewhere down the line set me straight. Broccoli stems are excellent — especially in this salad. (Smitten Kitchen actually uses broccoli stems explicitly to make her broccoli salad or broccoli slaw)
Here's what you need to know. The end of the stem — let's say about half-an-inch from the bottom is probably going to be too hardy and woody. Cut that off and discard, you won't be needing that for the salad. The rest of the stem is usable. Depending on how hardy the stem is, it might be a good idea to run a vegetable peeler up and down the stem to remove the outer (sometimes tough) layer. Then, chop into small pieces. (Here's an article from the NY Times sharing what they do with the stems).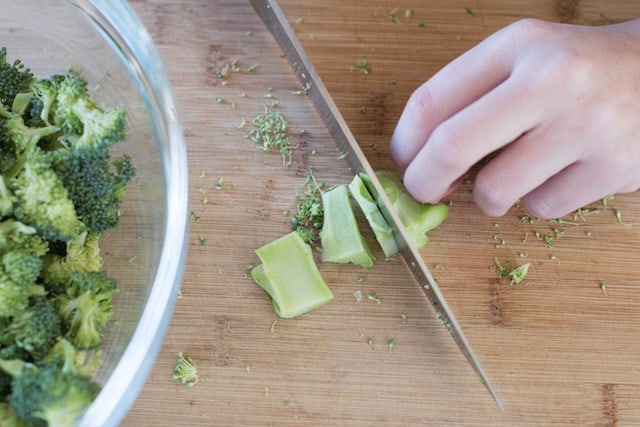 By the way, you may actually find you can't buy broccoli with the stem still attached — it's a 50-50 chance as to whether we do. I suppose all those tossed stems from the likes of me and other unknowing cooks made an impact in the market. If you are lucky enough to find broccoli with the stem attached, snap it up and give it a try.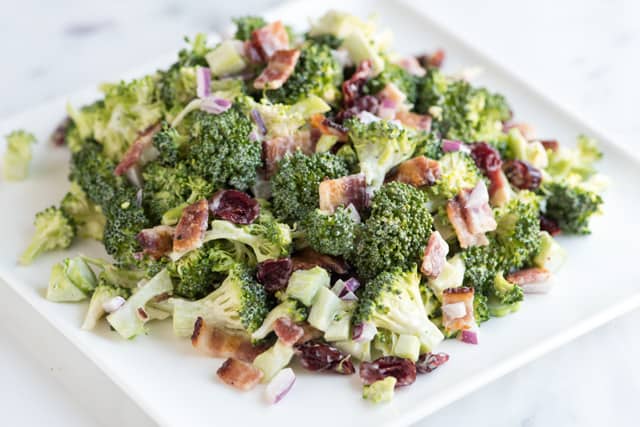 Once we settled on our recipe for broccoli salad, we thought we were done eating broccoli for a while. Instead, we found ourselves making it night after night. That has to be a good sign, right?
You May Also Like These Recipes
If you're looking for more tasty side dishes, you might enjoy the following:
Broccoli Salad Recipe with Bacon
Crisp, green broccoli gets tossed with salty bacon, sweet dried cranberries, red onion and a zesty dressing made with mayonnaise, Dijon mustard and apple cider vinegar. For the bacon, we recommend baking it instead of cooking it on the stovetop -- it is more hands-off that way. Or, if you are not so sure about adding bacon, try substituting with a roasted or lightly salted nut -- try cashews, almonds or peanuts.
Yield:
Makes about 6 servings
You Will Need
4 slices thick-cut bacon
1/3 cup (40 grams) finely chopped red onion (about 1/4 of a medium onion)
1 pound broccoli (5 cups small florets and chopped stems)
1/2 cup (65 grams) dried cranberries
1/2 cup mayonnaise, try homemade mayonnaise
1 tablespoon apple cider vinegar
1 tablespoon Dijon mustard
1/2 teaspoon kosher salt
1/8 teaspoon freshly ground black pepper
Directions
Cook the bacon until crisp (see note below).
In a small bowl, cover chopped red onion with warm water and allow to sit for 10 minutes then drain. This tones the raw onion flavor a little.
In the meantime, separate the broccoli crowns from their thick stem. Remove the woodiest part of the stem — usually 1/2-inch from the bottom — and discard (or save for stock). Chop the remaining part of the stem into bite-size chunks. (If the stem is really hardy, use a vegetable peeler to remove the outer layer and then chop).
Snap the florets from the broccoli crown and pull them apart so that they are bite-size. Then chop the thinner stems, as well. Rinse broccoli then pat or spin dry.
Drain the red onion and toss with the broccoli and cranberries in a large bowl.
In a separate bowl, stir the mayonnaise, cider vinegar, mustard, salt and pepper together. Taste for acidity and seasoning then adjust as desired.
Pour two-thirds of the dressing over the broccoli and onion then mix well. If the salad seems dry, add a little more of the dressing.
Chop the cooked bacon into small pieces — get close to the size of the cranberries--then toss with the broccoli salad. Let stand at least 15 minutes before serving or keep refrigerated (it should last 2 to 3 days, but we never have been able to keep our hands off of it for that long).
Notes and Tips
Cooking Bacon:
For this salad (and almost all other dishes that need a few slices of bacon), we like to use our oven to cook the bacon. Baking bacon is hands-off and results in crisp bacon slices, perfect for this salad. Bake bacon slices in a 400º F oven until crisp, 12 to 18 minutes. Take a look at our "
How to Bake Bacon
" article for more tips.
Make Double the Dressing:
Leftover dressing can be used as a spread for sandwiches, dip for vegetables, served alongside the coleslaw or with grilled or roasted vegetables, chicken or meats.