Adam and I love to entertain.  If it was not for our 12ft X 20ft living area, we would entertain more often.  We just love the idea of cocktail parties and mini get-togethers that involve appetizers or mini snacks.  To us, a bunch of smaller, tasty snacks is so much more interesting than one big meal. It's so much fun!
Throw Shrimp Salad on Endive Leaves for an Instant Appetizer
Not only does the leaf look kind of cool, it's the perfect container for a big spoonful of shrimp salad.  The combination of endive, which is slightly bitter, the creaminess of the dressing and the sweetness of the shrimp is pretty awesome, too. We've only tried this recipe with shrimp, but think it would work wonders for lobster, crab or even chicken.  Oh, and bonus … the dressing recipe can double as a delicious veggie dip.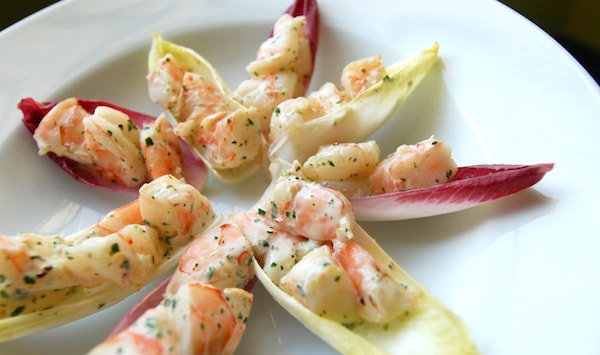 If you enjoyed this recipe, check out a few more of our popular appetizers:
Shrimp Salad on Endive Appetizers
Generously spoon creamy shrimp salad on top of crisp endive leaves for the perfect appetizer. Try replacing the shrimp with lobster, crab or even chicken.
Yield:
Makes 20 to 24 appetizer servings
You Will Need
Roasted Shrimp with Lime
1 pound shrimp, shelled and deveined
2 tablespoons olive oil
1/2 teaspoon salt
1/8 teaspoon pepper
2 tablespoons lime juice
Shrimp Salad Dip/Dressing
1/2 cup sour cream
2 tablespoons mayonnaise
1 teaspoon lime zest
1 tablespoon lime juice
1 tablespoon chopped tarragon leaves
2 teaspoons chopped mint leaves
3 tablespoons chopped parsley
pinch salt
Shrimp Salad on Endive
3 endive
1 pound roasted shrimp with lime
1/3 – 1/2 cup shrimp salad dressing
Directions
Roasted Shrimp with Lime
Preheat oven to 425 degrees F. Toss shrimp with olive oil, salt and pepper then bake in the oven for 4-6 minutes (depending on shrimp size) or until light pink and the edges are slightly curled.
Remove the shrimp from the oven and immediately toss with lime juice, set aside to cool.
Shrimp Salad Dip/Dressing
In a mini blender, combine all ingredients and blend. This can be used as a vegetable dip or as the dressing for shrimp, lobster or chicken.
Shrimp Salad on Endive
Chop the roasted shrimp into small pieces then toss with the dressing. Slice the end of each endive and separate the leaves. Fill each leaf with a spoonful of shrimp salad and present on a serving platter.