How to make the ultimate meat lasagna with a hearty tomato and meat sauce made with sausage and ground beef. Our readers have said this is the best lasagna they've ever made.
Watch the Video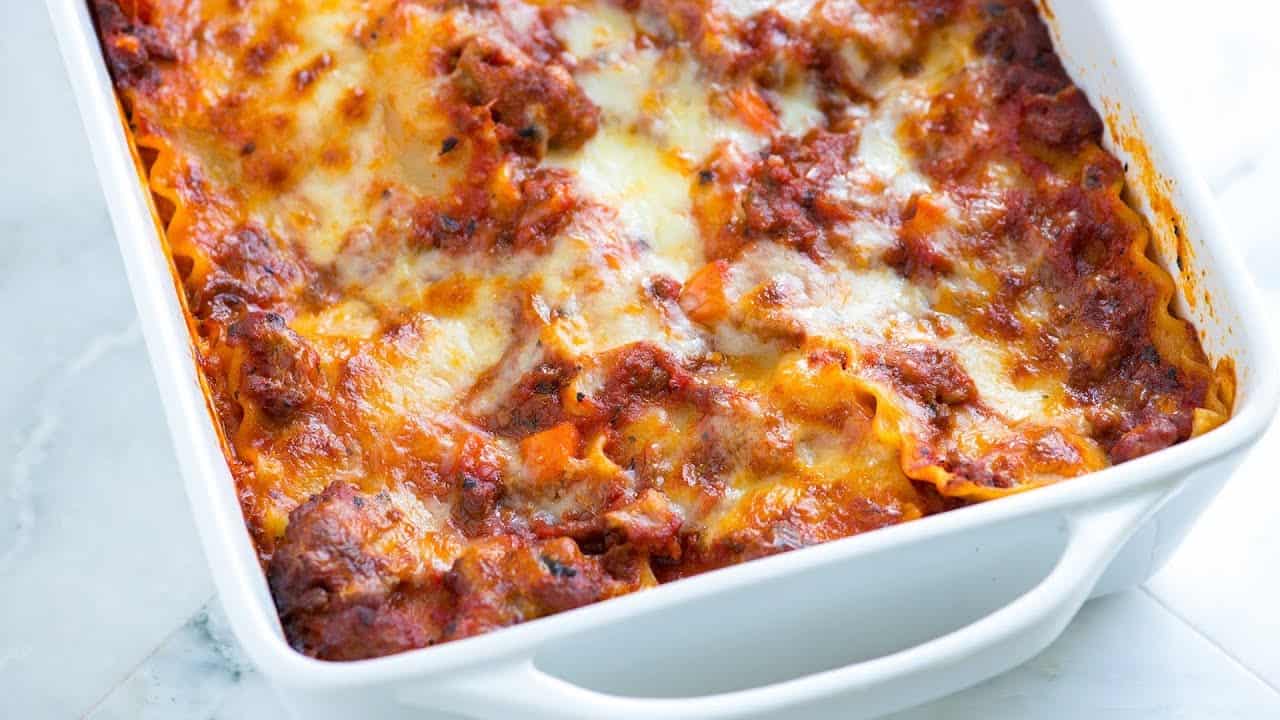 How to Make the Best Meat Lasagna
The star of this lasagna recipe is the meat sauce. We brown sausage and lean ground beef and stir it into tomato sauce. We love the combination of sausage and beef. By combining the two, the lasagna becomes rich and immensely satisfying. By the way, if you'd prefer a meatless lasagna recipe, try our five cheese lasagna.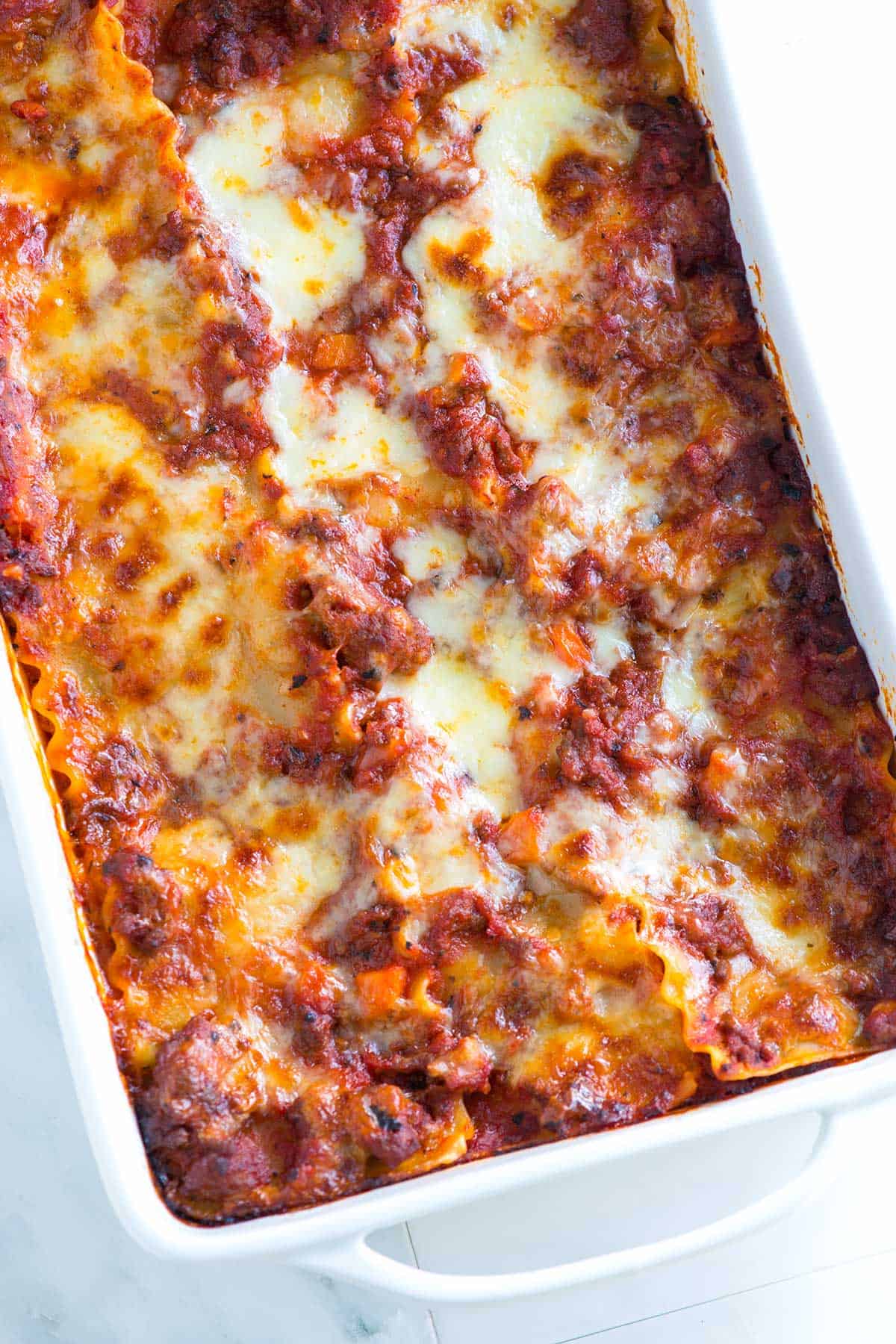 For a quicker, lighter meat sauce, try using ground turkey or chicken. We use ground turkey to make our Homemade Spaghetti Meat Sauce and love it.
How to Make the Meat Sauce
Here's the thing. We like store-bought pasta sauces. That's why we 100% believe it is perfectly fine to use your favorite jarred sauce to make lasagna. It cuts time and tastes great.
With that said, we also really love dedicating a sleepy Sunday afternoon to homemade sauce. You can relax, read, watch a movie, or whatever else while the sauce slowly bubbles away on the stove.
In the recipe below, we've shared two versions of our recipe. We love them both. The first shares how to make a meaty tomato sauce from scratch, the second takes a well-deserved shortcut and uses jarred marinara sauce. Choose either one or make both. It's entirely up to you.
Once the sauce is made — which could be done in advance (see our tips below) — it's time to assemble.
When layering lasagna, we start with sauce on the bottom, add noodles then add a mixture of ricotta cheese, egg, and parmesan. Add another layer of the meat sauce and add noodles. Repeat until all the ingredients are used up.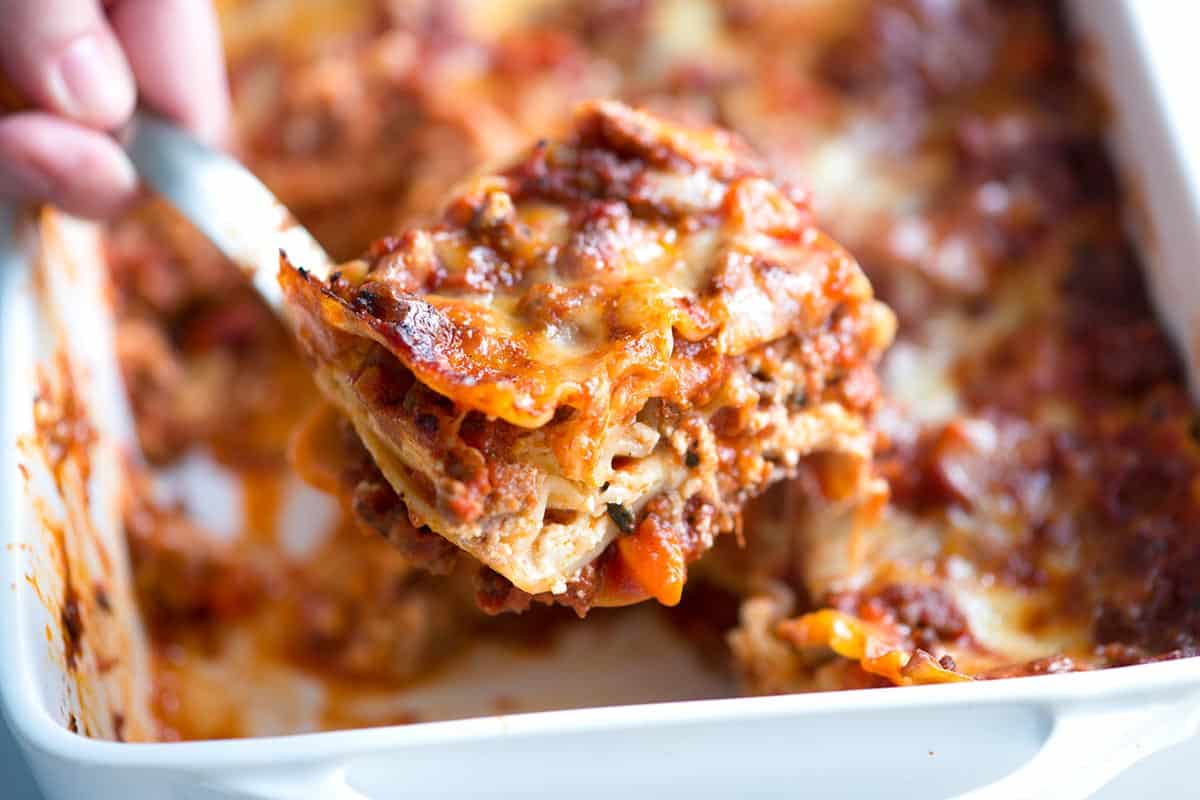 Here's another sausage pasta recipe: Try our Easy Fettuccine Alfredo Recipe with sausage and spinach.
Make Ahead Tips
Lasagna is the perfect make-ahead meal. Here's how to do it:
The meat sauce can be made in advance and should last in your refrigerator up to 3 days and in your freezer for about three months. We recommend using freezer-safe glass containers, or double layers of freezer bags to store sauces. To thaw, leave it overnight in the refrigerator.
Baked lasagna freezes well. Let it cool completely on a rack before freezing, and then wrap it very well with foil (we use two layers). Defrost the frozen lasagna overnight in the refrigerator and then bake at 400°F for about 1 hour.
Consider using no-boil noodles. Now that no-boil noodles are more readily available at larger grocery stores, we love using them to make lasagna — especially if we plan to make it ahead of time. The no-boil noodles don't tend to become as soft or mushy after freezing or reheating compared to boiled noodles.
More Lasagna Recipes
We love lasagna — and have quite a few variations on Inspired Taste.
For another recipe that uses ground beef, try our favorite homemade chili!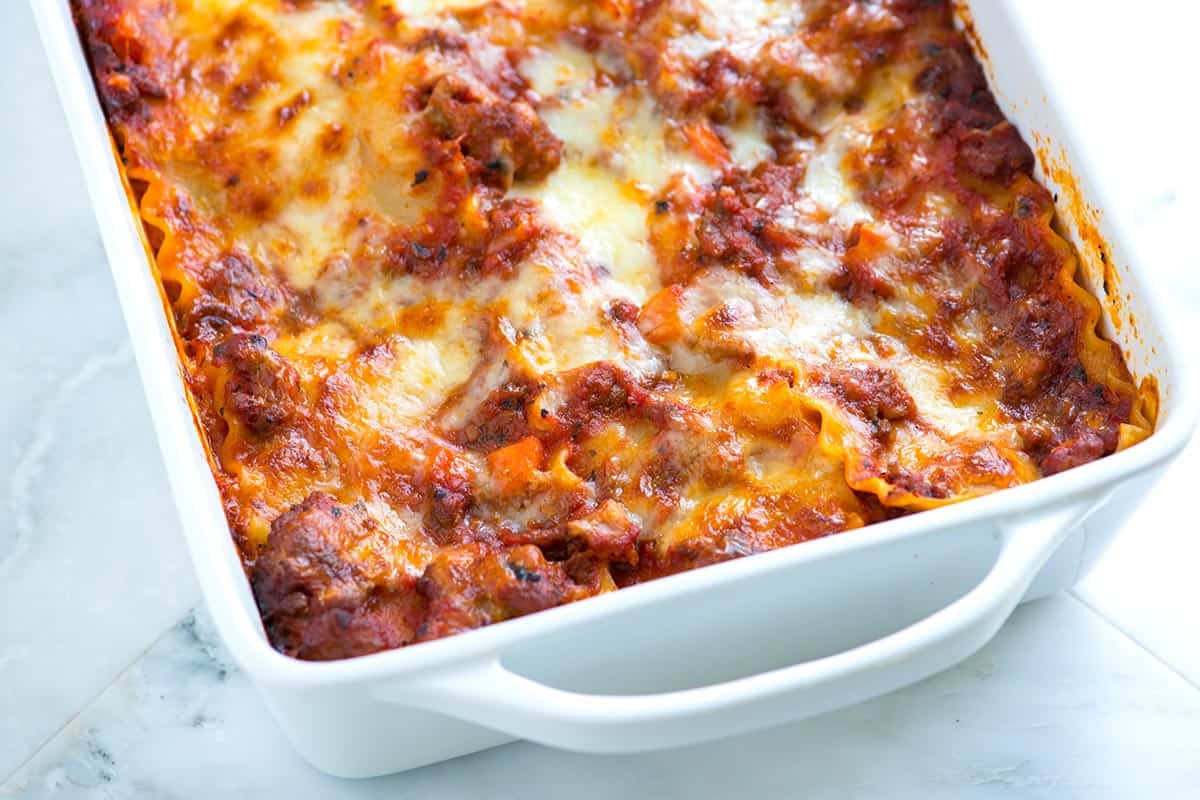 Cheesy Sausage and Beef Lasagna
This is the ultimate lasagna recipe. You have two choices here. If you're up for it, you can make your own sauce, which takes about 2 hours. Or, to save time, you can substitute your favorite store-bought sauce. We have done both. It's all up to you. Our homemade sauce will make more than what's needed for one lasagna. Since it takes so long to make the sauce, we always make sure we have enough for a second lasagna or to use, as is, over pasta for another night. You can save the extra sauce in the refrigerator up to 3 days or in the freezer up to 3 months.
Makes approximately 10 servings
Watch Us Make the Recipe
You Will Need
Meat Sauce
1 pound sweet Italian sausage
1 pound lean ground beef
1 cup (150 grams) finely diced onion
1/2 cup (75 grams) finely diced carrot
2 garlic cloves, minced
1/3 cup (75 grams) tomato paste
2 teaspoons dried basil
1 teaspoon dried oregano
1 1/2 cups water
2 (28-ounce) cans crushed tomatoes
1 to 2 teaspoons fine sea salt
1/2 teaspoon ground black pepper
1 to 2 teaspoons sugar (optional, see notes)
Assembling Lasagna
1 tablespoon olive oil
12 unbroken lasagna noodles
16 ounces part-skim ricotta cheese or cottage cheese
1/2 cup grated Parmigiano-Reggiano cheese
1 large egg, beaten
1 pound part-skim mozzarella cheese, grated
Directions
Make Meat Sauce

1If you have sausages with casings, you will need to remove the casings. To do so, take a knife and cut down the length of the sausage. The casing should peel away easily. If you purchased sausage meat without casings, continue to the next step.

2Place a heavy large pot over medium-high heat. When hot, add the sausage and beef and cook until browned, about 10 minutes. As the meat cooks, use a wooden spoon to break the meat apart into small crumbles.

3Stir in the onion and carrots. Cook, stirring occasionally until softened and starting to brown, about 8 minutes.

4Stir in the garlic, basil, oregano, and tomato paste. Cook for 1 minute or until fragrant and the redness of the tomato paste has turned more orange.

5Pour in the water then use a wooden spoon to scrape any bits of meat that have stuck to the bottom of the pot — there's lots of flavor there. When the pot is almost scraped clean of stuck bits, stir in the canned tomatoes.

6Bring the sauce to a low simmer. Taste then season with salt, pepper, and sugar as needed. We usually end up adding 1 to 2 teaspoons of salt, 1/2 teaspoon of ground pepper and little to no sugar (see notes about sugar). Gently simmer the sauce, uncovered for 1 1/2 hours. (Keep the sauce at a very low simmer). Skim off any fat floating on top and adjust the seasoning as necessary.

7The sauce can be prepared in advance and refrigerated for up to 3 days, or frozen for up to 3 months. This recipe yields about 9 cups of sauce. You will need 4 to 5 cups of sauce for the lasagna. You can save the sauce for a second lasagna or use to top pasta another day.
Prepare Lasagna

1Heat oven to 375 degrees F. Bring a large pot of salted water with one tablespoon of olive oil to a boil.

2Add lasagna noodles to the boiling water. Return to a boil, stirring frequently. Cook the pasta, according to package directions, this is usually about 10 minutes. Drain.

3In the meantime, stir ricotta with Parmigiano-Reggiano, and the beaten egg.

4To assemble the lasagna, ladle about 3/4 cup of the meat sauce into the bottom of a 13-inch by 9-inch baking dish. Arrange noodles lengthwise and side by side and cover the bottom. (If the noodles are short on one end, you may need to cut an extra noodle and place into the dish to cover where the other noodles have not).

5Next, spread about half of the ricotta cheese mixture over the noodles. Sprinkle with a third of the shredded mozzarella cheese then top with about 1 1/4 cups of meat sauce. Add another layer of noodles and repeat. Add a third layer of noodles then top with remaining sauce and a final layer of shredded mozzarella cheese.
Bake Lasagna

1Cover loosely with aluminum foil and bake 30 minutes, uncover then bake 20 minutes until cheese is crusty around the edges. Let rest at least 15 minutes.
Adam and Joanne's Tips
Make Ahead: Cover and refrigerate unbaked lasagna up to 2 days. If baked, let it cool completely on a rack before freezing, and then wrap it very well with foil (we use two layers). Defrost the frozen lasagna overnight in the refrigerator and then bake at 400 degrees F for about 1 hour. The meat sauce can be made in advance and should last in your refrigerator up to 3 days and in your freezer for about three months.
Meat Sauce with Jarred Marinara Sauce: Cook sausage, beef, onions and carrots as shared above. Add garlic then cook about 1 minute until garlic becomes fragrant. Next, add 2 (24-ounce) jars of marinara sauce and use a wooden spoon to scrape up the brown bits that are stuck to the pot. Then, add sausage and beef back to the pan with onions and carrots. Simmer the sauce 20 to 30 minutes until carrots are tender. Skim off any fat floating on top and adjust the seasoning as necessary.
Nutrition facts: The nutrition facts provided below are estimates. We have used the USDA Supertracker recipe calculator to calculate approximate values.
If you make this recipe, snap a photo and hashtag it #inspiredtaste — We love to see your creations on Instagram and Facebook! Find us: @inspiredtaste
Nutrition Per Serving
Calories
597
/
Protein
40 g
/
Carbohydrate
37 g
/
Dietary Fiber
4 g
/
Total Sugars
7 g
/
Total Fat
32 g
/
Saturated Fat
14 g
/
Cholesterol
112 mg
/
Sodium
1582 mg