If you've been searching for a baked chicken breast recipe that guarantees chicken that's juicy, tender and flavorful then let us introduce you to this lemon garlic baked chicken breast recipe! Click here to jump to the Lemon Garlic Baked Chicken Breast recipe or read on to see how we make them.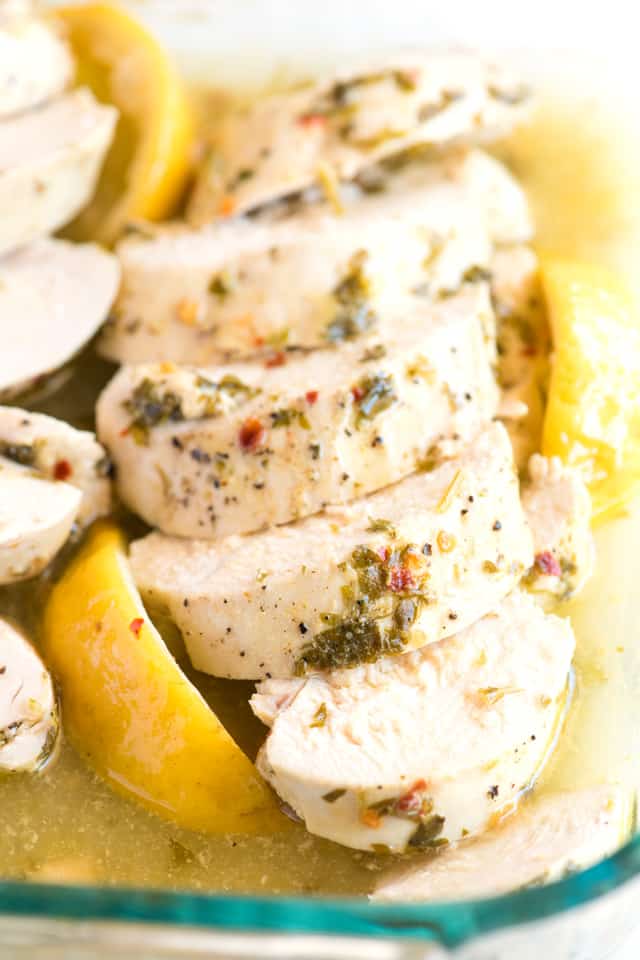 It's no secret that we love sharing chicken recipes with you! If you haven't seen our recipes for Lemony Chicken Breasts with Cucumber and Feta Salad or Baked Chicken with Roasted Red Peppers yet, you should. And if you love chicken thighs, take a look at our Oven Baked Chicken Thighs — it's insanely good.
When it comes to skinless, boneless chicken breasts, there are three secrets for making sure they come out juicy, tender and full of flavor. Read on to find out how to make juicy, tender and flavorful baked chicken breasts!
3 Secrets You Need to Know for This Flavorful Baked Chicken Breast Recipe
Here we go!
Secret #1: Marinate!
In our recipe below, we share a marinade made of fresh lemon, garlic and Dijon mustard.
We've shared this marinade recipe before — see our Easy, No-Fail Lemon Chicken Marinade Recipe.
It's best to marinate chicken breasts 1 to 2 hours before baking. There isn't a need to go longer than that.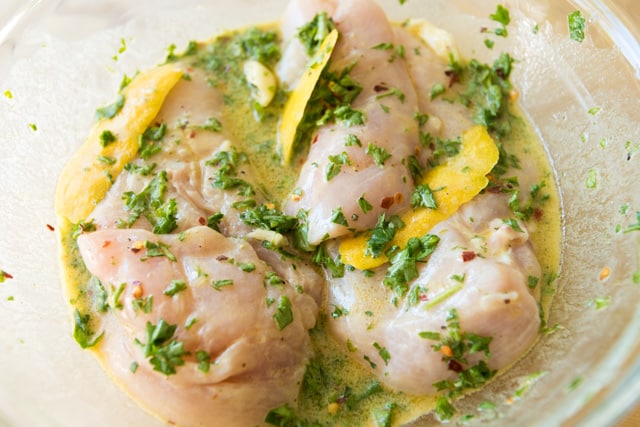 This tops our list as our favorite marinade. It's a magical mixture of fresh lemon, garlic, Dijon mustard and parsley. This works wonders with all cuts of chicken as well as pork, by the way. A definite keeper!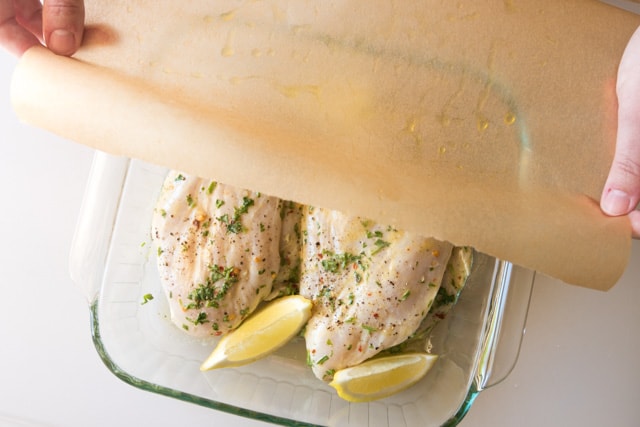 This brings us to Secret #2
After marinating, we cover the chicken with parchment paper — aluminum foil is a good alternative.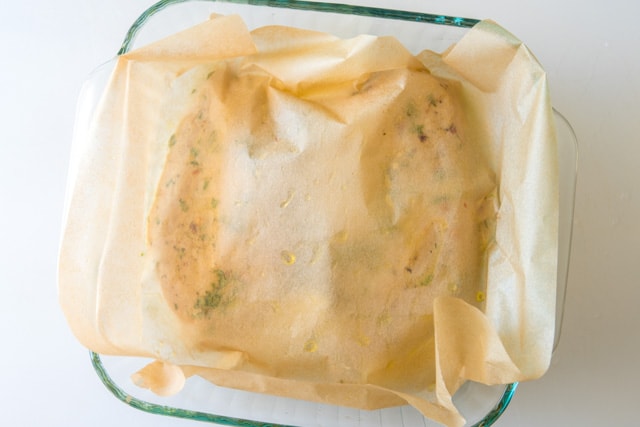 By loosely covering the chicken, the chicken breasts roast and braise at the same time. This means the chicken roasts in it's own juices, keeping the chicken breasts juicy and never dry!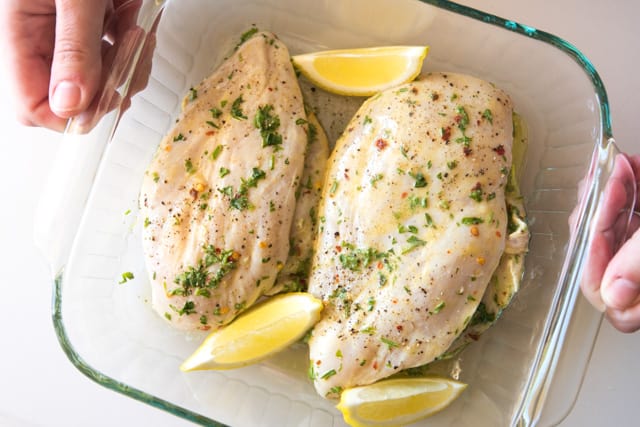 Secret #3 — Don't overcook.
This is where an internal thermometer comes in handy. You only want to bake the chicken breasts until the thermometer reads 165 degrees F. If you bake it past that, they will most certainly be overcooked, which means they will be dry and flavorless.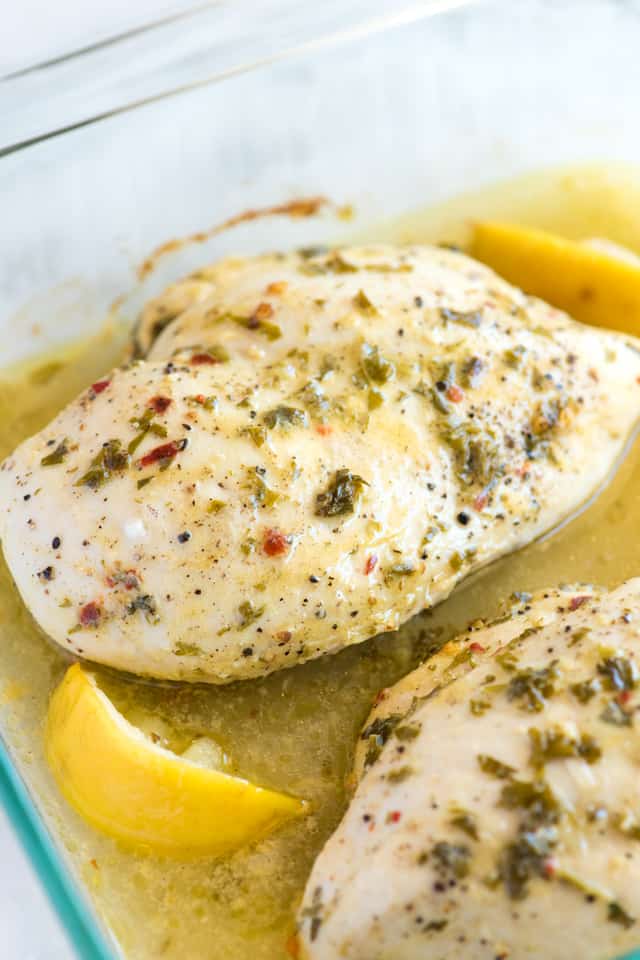 Investing in a thermometer is the absolute best way to guarantee you won't overcook the chicken. Ours cost us less than $15 and in my opinion, it's one of the best purchases we've ever made for our kitchen. Here's one with outstanding reviews on Amazon!
And that's it. Simple, right?
For juicy, tender chicken breasts remember these three things: marinate first, bake loosely covered, and use a meat thermometer.
Do those three things and you can say goodbye to dry, flavorless chicken and hello to lean, juicy chicken breasts that you will love!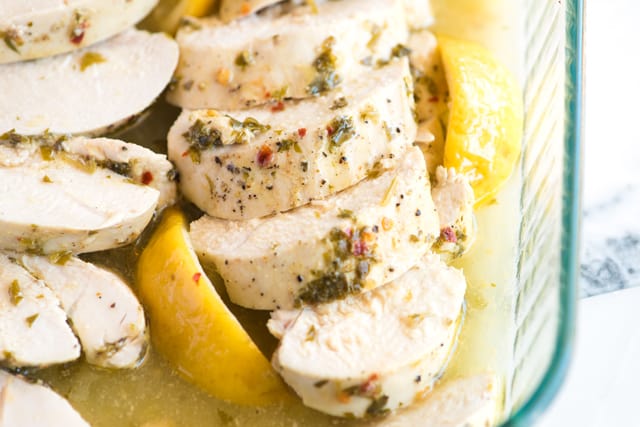 Lemon Garlic Baked Chicken Breast Recipe
For juicy, tender chicken breasts remember these three things: marinate first, bake loosely covered, and use a meat thermometer.
We marinate the chicken breasts in a magical mixture of fresh lemon, garlic, Dijon mustard and parsley before baking in the oven. If you're short on time, marinate as close to an hour as you can. If you're flexible, go for a whole two hours. The flavors will intensify. And since we want to keep things safe, it's best to marinate the chicken in the refrigerator (no matter how long you do it for). Equipment we use: We highly recommend using an internal thermometer when cooking meats. Here's
one that is inexpensive and with outstanding reviews on Amazon
.
Yield:
2 to 4 Chicken Breasts
You Will Need
For the Chicken:
2 to 4 boneless, skinless chicken breasts
Olive oil
Salt and freshly ground black pepper
Lemon wedges, optional
For the Marinade:
3 cloves garlic, crushed with the side of a large knife or minced
Zest of 1 lemon, peeled or finely grated
1/4 cup fresh lemon juice (1 to 2 lemons)
2 tablespoons olive oil
1 tablespoon Dijon mustard
1/2 teaspoon coarse salt
1/4 teaspoon to 1/2 teaspoon red pepper flakes, depending on how spicy you like things
1/2 teaspoon freshly ground black pepper
1/4 cup chopped fresh parsley
Directions
Make Chicken Marinade: Whisk lemon juice, olive oil, mustard, salt, red pepper flakes, and black pepper together until the salt has dissolved. Stir in the garlic, lemon zest and parsley (if using). Refrigerate and use within 1 to 2 hours.
Prepare Chicken Breasts: Add chicken breasts to the marinade and marinate for 1 hour and up to 2 hours in the refrigerator.
Prepare the Oven and Baking Dish: Position oven rack in the middle of the oven and heat the oven to 400 degrees F. Oil a baking dish large enough to fit the chicken breasts arranged in one layer. Oil one side of a sheet of parchment paper that is large enough to cover the baking dish.
Bake the Chicken Breasts: Transfer chicken breasts to the prepared baking dish and remove any large pieces of garlic that might be stuck to the chicken. Season the chicken with salt and pepper, scatter lemon wedges around the chicken then cover with parchment paper — oiled side down towards the chicken. Loosely tuck the parchment paper around the chicken.
Bake until the chicken is opaque all the way through and an internal thermometer reads 165 degrees F when inserted into the thickest part of the breast. Check for doneness around 25 minutes then go from there. Most chicken breasts will take 35 to 40 minutes.
Let chicken rest about 10 minutes then serve drizzled with some of the liquid left in the baking dish or slice the chicken and place back into the baking dish with all the leftover cooking liquid (our favorite).
Notes and Tips
A note about salt: We use kosher salt in our recipes. It's much easier to pick up with our fingers and gives us better control of our seasoning. Use what you have, but keep in mind that kosher salt has larger flakes compared to table or fine sea salt. If using a finer salt, you will need to reduce the amount of salt called for in our recipe by 25% to 50%.