Garlic basil marinated chicken baked alongside fresh tomatoes and finished with mozzarella cheese! This garlic basil baked chicken breast recipe is easy and absolute perfection. Jump to the Garlic Basil Baked Chicken Breast recipe now or read on to see how we make it!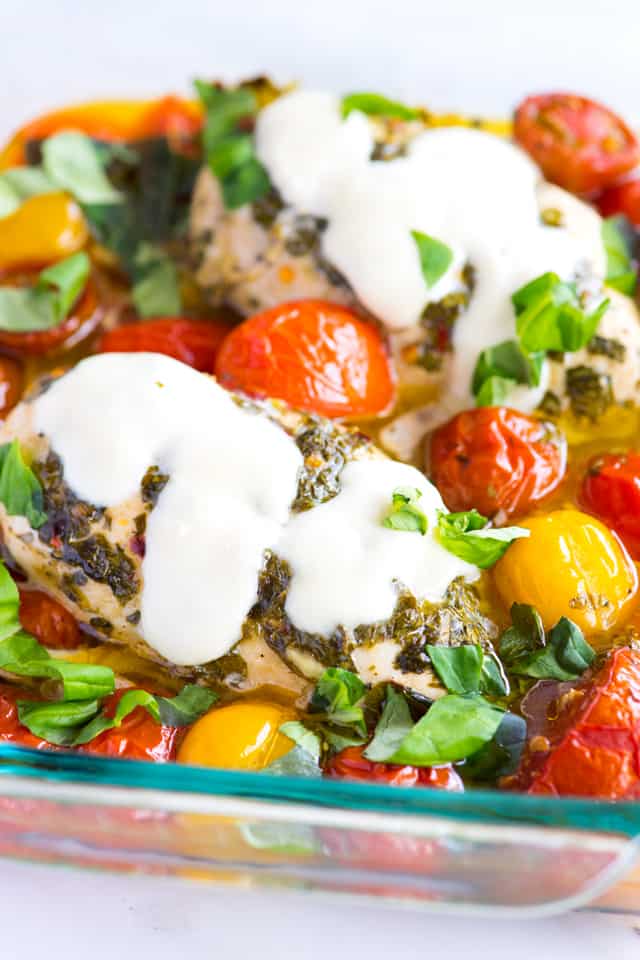 Chicken breasts are marinated in a simple, yet magical combination of red wine vinegar, olive oil, garlic and fresh basil, and then baked alongside lots of tomatoes and even more basil. Just before serving, we add a few pieces of torn fresh mozzarella cheese.
This baked chicken breast recipe with tomatoes has quickly moved up to one of my favorite ways to cook chicken!
It really comes down to three things: marinate, bake loosely covered, and use a meat thermometer.
If you're on the lookout for more chicken breast recipes, take a look at these: Lemon Garlic Baked Chicken, Lemony Chicken with Cucumber Feta Salad, and Baked Chicken with Roasted Red Peppers.
How to Make it: Baked Chicken Breast Recipe with Tomatoes, Basil and Mozzarella
We start with the marinade — it's a simple combination of red wine vinegar, olive oil, garlic and basil. Fresh basil is key — dried just won't do it, here.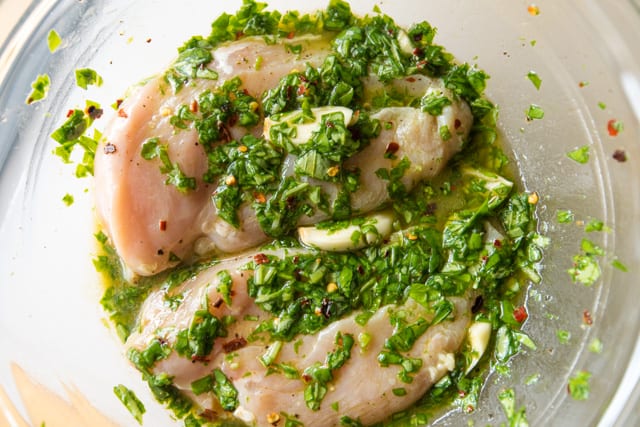 We only marinate chicken breasts 1 to 2 hours — you really don't need to go longer than that.
After the chicken has marinated, we move on to the tomatoes. If you can, use multi-colored tomatoes — they make for a beautiful presentation at the end!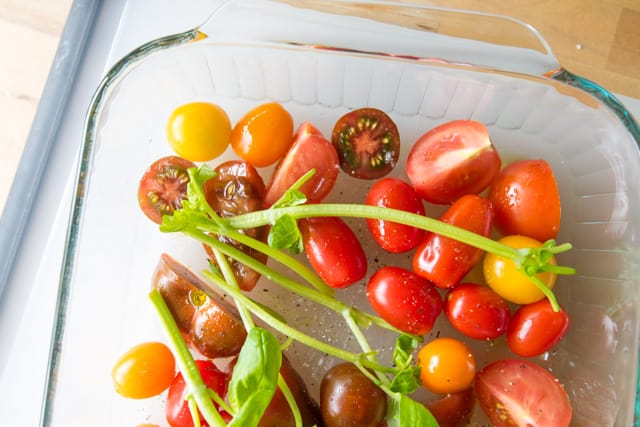 A variety of cut tomatoes and cherry tomatoes is nice, too. The cut tomatoes give up their juices quickly and the cherry tomatoes stay intact. They are tossed with olive oil and a little salt/pepper and are added with the basil stalks leftover from when we removed all the leaves.
You won't end up eating them, but they are really fragrant so why wouldn't we make use of them?
We actually use basil stalks often — especially when making tomato sauces. We add basil stalks to this slow cooker tomato sauce. It's delicious!
In goes the chicken — we just nestle them in. The tomatoes will build up the sides — that's perfect.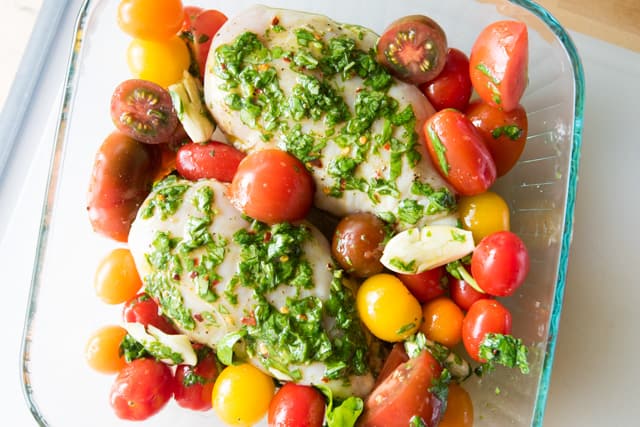 Then we bake — remember, bake loosely covered and get your meat thermometer ready. We're looking for 165 degrees F, no more than that!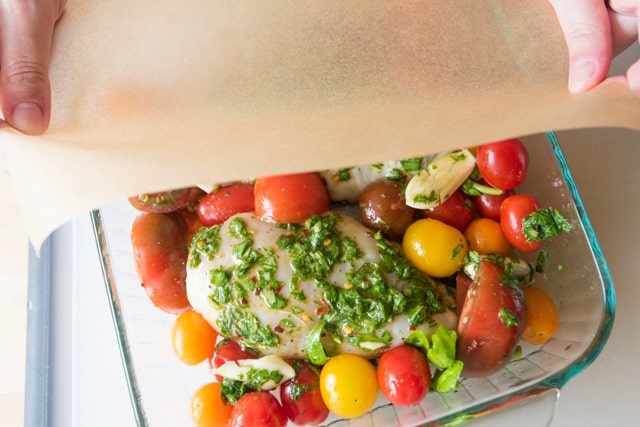 Add Cheese Just Before Serving
After 35 to 40 minutes the chicken should be done and it's time to add a little mozzarella — because let's be honest. Basil + tomatoes + mozzarella is amazing!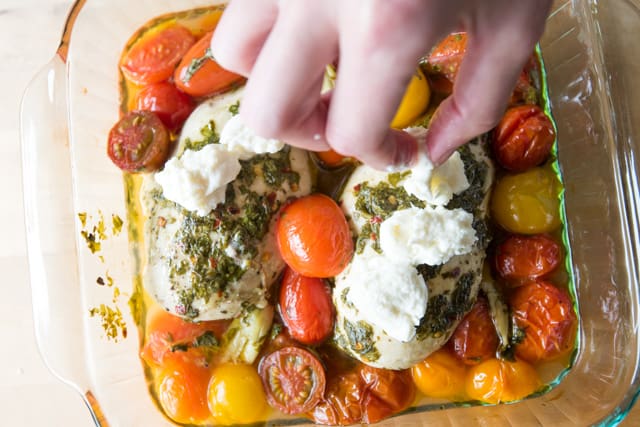 Oh, and that juice at the bottom of the baking dish? It's pure gold! I would happily spoon it into my mouth everyday. A big piece of focaccia bread to sop it all up would be a nice idea, too.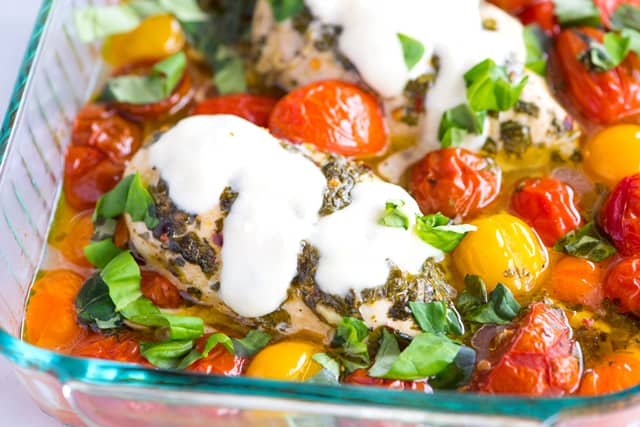 As I mentioned above, this baked chicken breast recipe has quickly moved up to one of my favorite ways to cook chicken and I'm betting it will for you, too. Enjoy!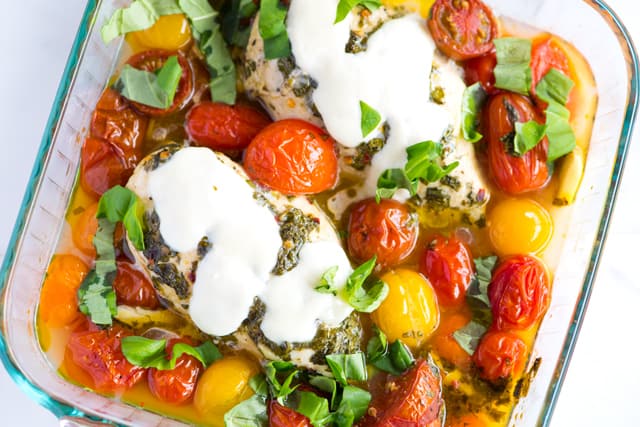 Garlic Basil Baked Chicken Breast Recipe with Tomatoes
For juicy, tender chicken breasts remember these three things: marinate first, bake loosely covered, and use a meat thermometer.
In our photos, we show baking 2 chicken breasts, but the marinade shared below is enough for 4 chicken breasts. The chicken does not need to be completely immersed in the marinade, just coated by it. If you plan to double the recipe, simply double the amount of chicken, tomatoes, and the mozzarella. We marinate the chicken breasts in a magical mixture of red wine vinegar, garlic, and basil before baking in the oven. If you're short on time, marinate as close to an hour as you can. If you're flexible, go for a whole two hours. The flavors will intensify. And since we want to keep things safe, it's best to marinate the chicken in the refrigerator (no matter how long you do it for).
Equipment we use:
We highly recommend using an internal thermometer when cooking meats. Here's
one that is inexpensive and has outstanding reviews on Amazon
.
You Will Need
For the Chicken:
2 boneless, skinless chicken breasts
Olive oil
Salt and freshly ground black pepper
2 cups tomatoes, cut to rough 1-inch chunks (leave cherry tomatoes whole)
1/4 cup torn fresh mozzarella cheese
Basil leaves for serving
For the Chicken Marinade:
2 tablespoons red wine vinegar
2 tablespoons olive oil
1/2 teaspoon coarse salt
1/4 teaspoon to 1/2 teaspoon red pepper flakes, depending on how spicy you like things
1/2 teaspoon cracked black pepper
3 cloves garlic, crushed with the side of a large knife or minced
1 bunch fresh basil
Directions
Make Chicken Marinade: Remove basil leaves from stalks and set the stalks aside. Roughly chop the basil leaves so that you have about 1/4 cup.
Whisk red wine vinegar, olive oil, salt, red pepper flakes, and black pepper together until the salt has dissolved. Stir in the garlic and basil. Refrigerate and use within 1 to 2 hours.
A+J's tip: If you are doubling the recipe, there is no need to double the marinade. This marinade will be enough for 4 chicken breasts.
Prepare Chicken Breasts: Add chicken breasts to the marinade and marinate for 1 hour and up to 2 hours in the refrigerator.
Heat the Oven and Prepare a Piece of Parchment Paper: Position oven rack in the middle of the oven and heat the oven to 400 degrees F. Lightly oil one side of a sheet of parchment paper that is large enough to cover the baking dish. (Aluminum foil can also be used).
Prepare the Tomatoes and Chicken: Add the basil stalks set aside from earlier to a baking dish large enough to fit the chicken breasts arranged in one layer. Add the tomatoes then toss with about 1/2 a tablespoon of olive oil and a pinch of salt and pepper.
Nestle the chicken breasts down into the tomatoes, allowing the tomatoes to gather up the sides of each chicken breast. Throw the garlic cloves from the marinade into the baking dish then cover the dish with parchment paper. Loosely tuck the parchment paper around the chicken.
Bake the Chicken and Tomatoes: Bake until the chicken is opaque all the way through and an internal thermometer reads 165 degrees F when inserted into the thickest part of the breast. Check for doneness around 25 minutes then go from there. Most chicken breasts will take 35 to 40 minutes.
Scatter mozzarella on top of each breast then broil on high for about a minute or until the cheese melts.
Serve the chicken with the baked tomatoes, juices from the bottom of the baking dish, and torn basil leaves.
Notes and Tips
A note about salt: We use kosher salt in our recipes. It's much easier to pick up with our fingers and gives us better control of our seasoning. Use what you have, but keep in mind that kosher salt has larger flakes compared to table or fine sea salt. If using a finer salt, you will need to reduce the amount of salt called for in our recipe by 25% to 50%.

Affiliate Links: After multiple questions about what equipment we use in our own kitchen, we have updated this recipe with links to some of the equipment (or similar) that we use. Some links are affiliate links, this just means that if you were to buy one of our suggestions, Inspired Taste would get a small kick-back from Amazon. Even if we didn't, we'd still send you to all options.