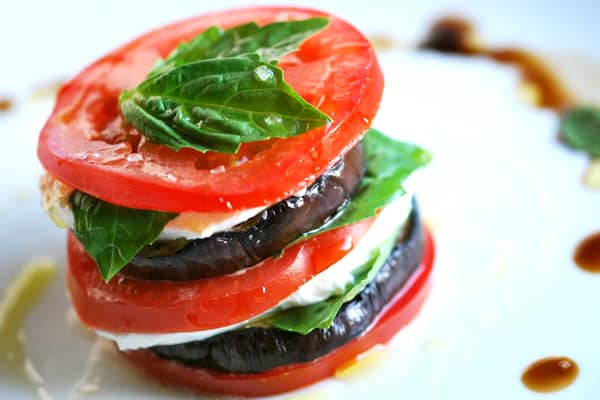 If there is one thing Adam would add to our home, it would without a doubt, be a BBQ (I wouldn't mind one either).  Unfortunately though, we have no outdoor space to host a BBQ, therefore we are left to live off of the grills of our family and friends (thanks, guys).  We do however, have a cute little indoor electric grill, of course this is no match for one outdoors, but for now, will do.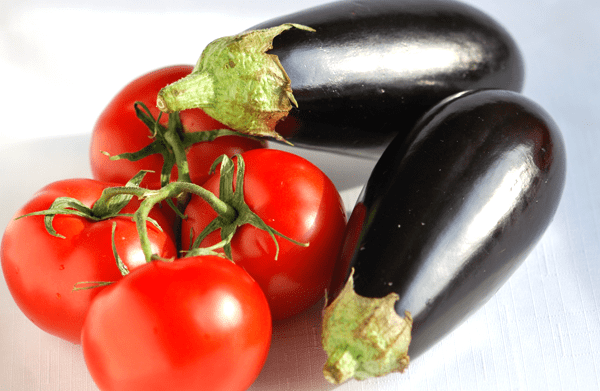 Given the weather and extra long sunny days, we have been in the mood to grill more and more.  Last week, we decided to pretend our kitchen was outside and our baby electric grill was a large shiny new BBQ grill and grilled up some delicious Japanese eggplant (just a smaller, cuter regular eggplant that tends to be a tad more subtle in flavor) to serve with vine ripened tomatoes, fresh basil and buffalo mozzarella.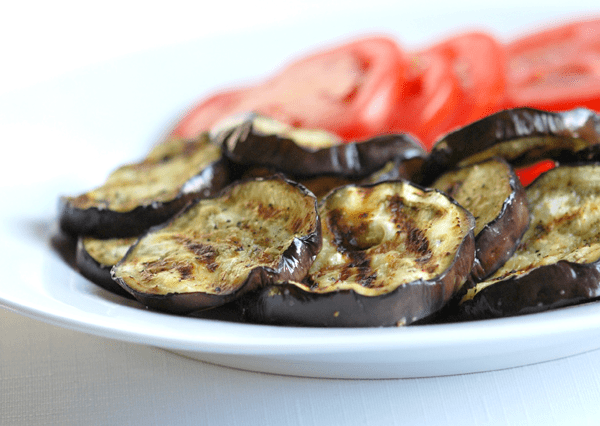 Felling a bit fancy, we stacked the eggplant, mozzarella, tomato and basil leaves one after another for our take on a savory Napoleon, which is usually layers of puff pastry and pastry cream, absolutely nothing like eggplant, but I suppose it was a play on words.  Once we had our desired height and number of layers, we lightly drizzeled a bit of sweet balsamic vinegar and fruity olive oil then sprinkled some course sea salt on top.  You could certainly serve this as a plated salad on a platter instead of individual "Napoleons," we just felt like having a bit of fun.
Eggplant and Tomato Napoleons
You Will Need
2 medium Japanese eggplants
3 tablespoons olive oil
2 vine ripened tomatoes
6-8 1/4-inch slices fresh mozzarella
12-15 basil leaves
balsamic vinegar
1 tablespoon  olive oil
course sea salt
fresh ground pepper
Directions
Preheat a grill to medium-high heat.
Slice the eggplant into 1/2-inch rounds then drizzle  with 3 tablespoons of the olive oil and lightly sprinkle with salt and pepper.  Place the eggplant onto the preheated grill, grill the eggplant until tender and grill marks appear, about 4-5 minutes on each side.
Slice the tomatoes into 1/2-inch rounds.  To prepare one Napoleon, on a serving plate, start with a slice of tomato, then layer with grilled eggplant, a basil leaf and then another tomato, continue until your desired height.  Lightly drizzle olive oil over the napoleon and plate in a circular motion, repeat with balsamic vinegar then sprinkle with a pinch of course sea salt.