Until recently, we were the very first in line to get the boxed (always organic and always low-sodium) stocks from the store.  The thought of making stock was too much, we didn't care and frankly were more interested in the rest of the recipe to think about it.  We knew deep down, we were very wrong, but just never really felt like thinking about it.  That is, until last week when we finally decided on a whim to give it a try – since that day, we have made 2 different stocks in our kitchen and have plans for more, so you could say we are converts.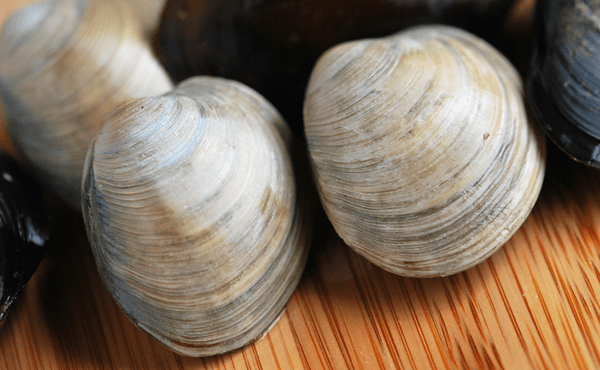 Inspiration came from watching Anne Burrell on Food Network make her Pacific Cod and Clam Cacciucco Recipe, she made the concept of stock so easy and our favorite, cheap!  While her recipe really looks divine, we , as usual went our own way and came up with a variation by replacing the tomato broth with a cream based broth and we added a favorite, mussels alongside littleneck clams (you know how much we love those mussels, see Mussels in White Wine Broth).

We started with making our own fish stock.  The base consisted of smokey thick cut bacon, the same thick cut bacon that changed my dislike of bacon forever (see: Bacon, Avocado and Tomato Crostini).  Then we added in onions, sweet carrots, celery, lots of thyme, bay leaves and the cutest little bundle of peppercorns you have ever seen.   Fish bones and skeleton were then added along with shrimp shells to get that light fishy flavor into the stock (side note:  those fish bones cost us a mere $1.00 per pound, not bad for the incredible flavor you get out of them).

The stock only took us about 45 minutes from start to finish, and most of that time consisted of sitting and reading a magazine while it cooked, so that wasn't too hard.  Once the stock was done, we used about half for a broth  to go with some cod fillets, mussels, clams and shrimp along with some thinly sliced onions, fennel and celery (the remaining stock was cooled, placed into freezer safe containers and sits in our freezer frozen for next time).  We finished the Seafood Stew with cream (never a bad idea), served in a big bowl and dunked lightly toasted French bread into our bowls, making sure we had the opportuinty to get every drop of the broth.  All in all, the dish took us about 1 hour and a half, maybe a bit longer, but we were taking photos too, so it isn't the quickest dish to make, but if your up for it, absolutely worth it!
You Will Need
Fish Stock
tablespoon olive oil
2 slices thick cut bacon
2 medium onions, halved
2 carrots, peeled and halved
2 celery stalks, halved
1 cup dry white wine
2 cloves garlic, smashed
1 1/2 – 2 pounds white fish skeletons/bones, such as cod
shells from 1/2 pound of shrimp
6-7 thyme sprigs bundled and tied with twine
2 bay leaves
10 peppercorns, tied with twine in cheesecloth
10 cups cold water
salt
Seafood Stew
1 tablespoon olive oil
1 tablespoon butter
1 medium onion, thinly sliced
1 fennel bulb, thinly sliced
2 celery stalks, thinly sliced
1 garlic clove, finely minced
1 pound cleaned cod fillets cut into 4 pieces
12 littleneck clams
12 mussels
1/2 pound large shrimp, shelled and deveined (shells reserved for fish stock)
4-5 cups fish stock
bok choy, roughly chopped (substitute any leafy green)
1/4 cup heavy cream
salt and pepper
French bread, grilled or toasted
Directions
Fish Stock
Rinse the fish bones and cut out gills and discard, if any.
In large stockpot or Dutch oven over medium heat add the bacon and begin to cook. After about 2 minutes, add the onions, carrots and celery then cook for another 2 minutes, stirring every once and a while. Add the garlic, fish skeletons, shrimp shells, thyme bundle, bay leaves and peppercorn bundle, cook for another 30 seconds then add the white wine and use a wooden spoon to scrape all the browned bits from the bottom of the pan (this is called deglazing and helps you get all that flavor from the bottom of the pan back into your stock). Next, add the water and bring to a boil, then reduce heat to medium-low; simmer, uncovered for 30 minutes. Check the stock every once and a while and skim any foam that arises to the surface with a spoon. Check for seasoning, add salt to taste.
Remove stock from the heat and cool slightly then strain the fish stock through a large sieve or colander lined with several layers of damp cheesecloth, removing all bones, vegetables and seasonings, which can be discarded. Use the fish stock immediately or refrigerate in a tightly covered container up to 2 days or you can freeze the stock for several months.
Seafood Stew
Heat a straight sided saute pan, lightly coated with olive oil, over high heat. Season the cod with salt, add it to the pan and brown it on all sides. Remove the cod from the pan to a plate and reserve.
Place the pan back over medium heat and add the butter along with the onions, fennel and celery, sprinkle with a pinch of salt and freshly ground black pepper and cook for about 6-8 minutes or until translucent. Next, and add the mussels along with about 4 cups of fish stock, cover and cook for about 4 minutes then open the lid and add the clams, cover again and cook until all the clams and mussels are open, another 3 to 4 minutes. Add the shrimp and cod along with the greens. Cover and cook until the cod and shrimp are cooked through and the greens are wilted. If at any point the soup has cooked down too much, add more fish stock. Turn off the heat, add the cream and season to taste with salt and freshly ground black pepper. Serve in a large bowl with bread for dipping.