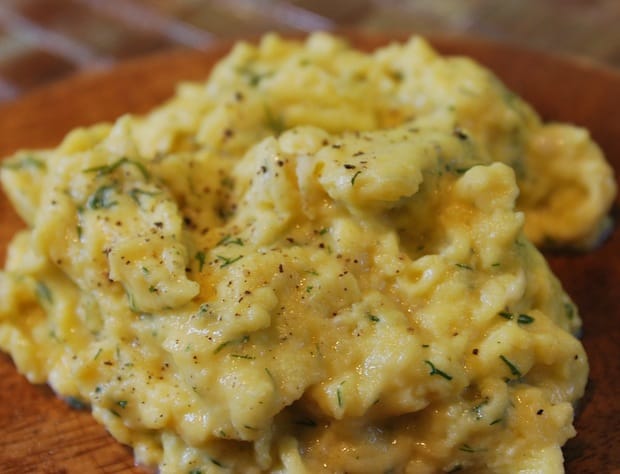 I am happy to eat eggs most ways and at most times in the day, but this is definitely one of my favorite ways to make them.  I gently scramble eggs that have mascarpone cheese and dill added to them, creating really creamy eggs.  The cheese melts into the eggs when the mixture goes over the heat.  This is great to add to a brunch or served alongside some smoked salmon and toast.  Or if you are like me, eaten with a spoon out of the pan.

Created By:
Adam and Joanne Gallagher
You Will Need
6 Eggs
1 tablespoon of finely chopped dill
1 tablespoon of mascarpone cheese
1/2 tablespoon of unsalted butter
1/2 teaspoon of salt
1/4 teaspoon of pepper
Directions
In a medium mixing bowl, combine the eggs with dill, salt and pepper.  Whisk the eggs  in a circular pattern, bring your whisk or fork up and out of the bowl at an angle repeatedly until the eggs are evenly colored and frothy, this takes between 1-2 minutes.  Add the mascarpone cheese to the eggs, the mixture will look lumpy, but the cheese will melt over the heat, just stir so the cheese is broken up slightly.
Melt the butter in a frying pan over medium heat.  When the butter is melted, add the eggs.  Wait between 20 and 30 seconds before stirring the eggs, so the eggs start to set slightly.  Then, using a spatula, push the eggs to the middle of the pan, at the same time you can slightly tilt the pan so the runny parts can be distributed around the pan.  Continue until light and fluffy.  Serve immediately.