How to make whole wheat pancakes that are light, fluffy and delicious! If you're looking for whole wheat pancakes with 100% whole wheat flour, this recipe one will do it for you. Jump to the Whole Wheat Pancakes Recipe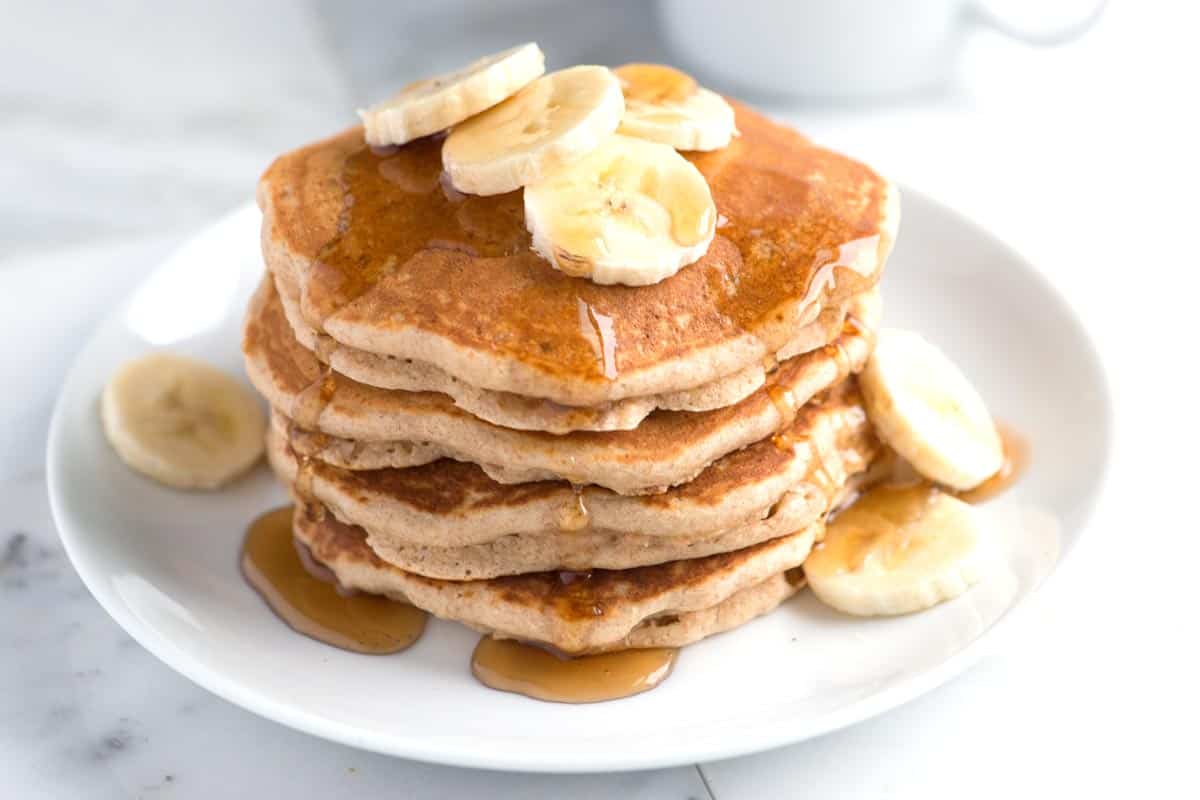 How to Make Light and Fluffy Pancakes with Whole Wheat Flour
Not too long ago, we shared our essential pancakes. Based on your reviews, you love it, but a few of you have asked about using whole wheat flour to make them instead of all-purpose. It's simple and makes extra light and fluffy pancakes. Since it uses all-purpose flour, we became curious to see what would happen if we replaced some or all of that flour with whole wheat flour. After a few tries, we realized it works beautifully.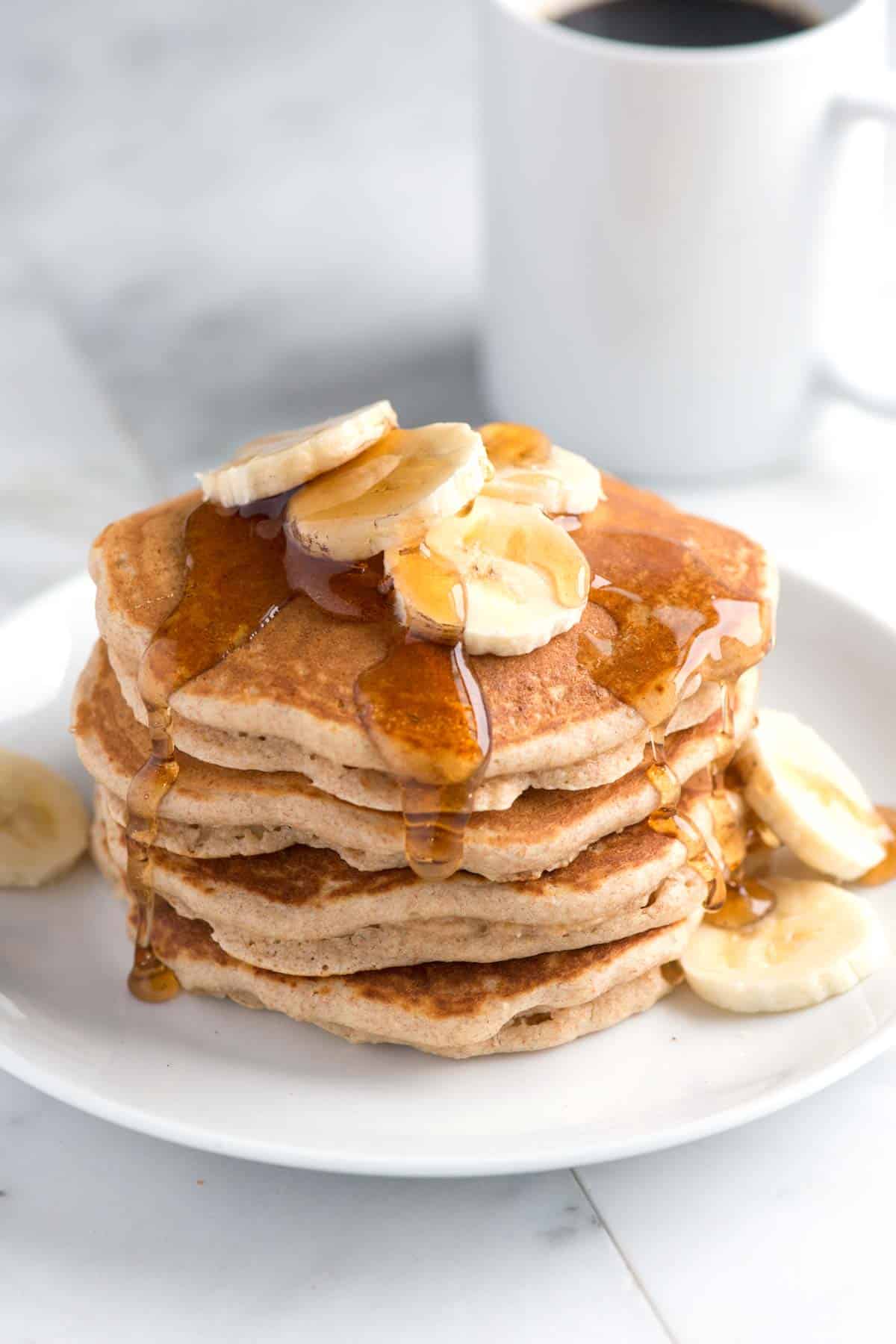 – This Recipe is Sponsored by Gold Medal Flour –
If you're looking for whole wheat pancakes with 100% whole wheat flour, this recipe one will do it for you. Sometimes whole wheat flour can make pancakes heavy, but with this recipe, they stay light, fluffy and taste great! We absolutely love the nutty flavor of the flour!
You can also use half whole wheat and half all-purpose flour. If you're not used to using whole wheat flour in your kitchen, we suggest you use 50% whole wheat and 50% all-purpose flour.
In fact, even though we're used to whole wheat ourselves, we prefer using two flours instead of only using whole wheat. The pancakes are a little lighter, fluffy and taste amazing. Either way, they turn out beautifully. Just look at how fluffy they are! We use the same blending method to make these nutty Buckwheat Pancakes. A 50-50 blend of buckwheat and whole wheat or all-purpose flour makes them light, fluffy, and delicious.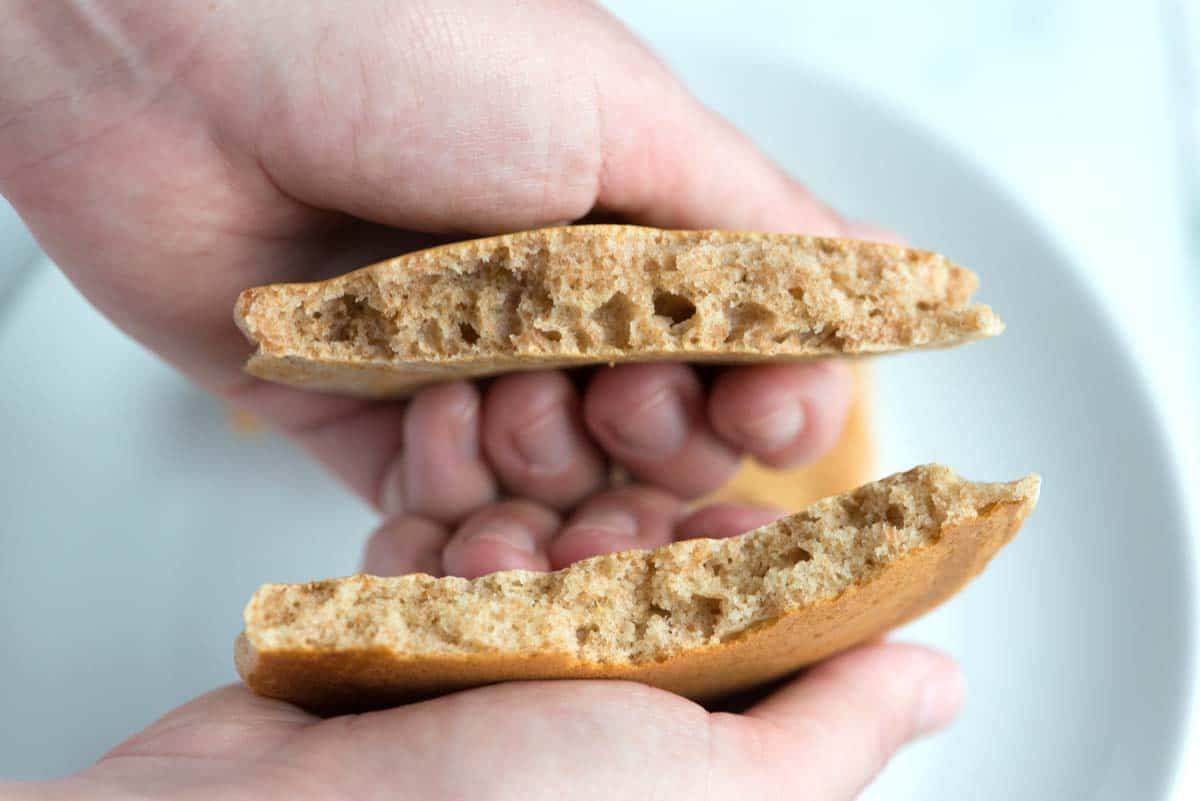 For more easy pancake recipes, take a look at these
Disclosure: This recipe has been shared in partnership with Gold Medal Flour. We're pretty excited about it because it's been our flour of choice for quite some time (my Mom's, too). This recipe is part of an ongoing relationship with Gold Medal. Last month, we shared our Fluffy Pumpkin Pancakes with Butter Pecan Topping.
Easy Delicious Whole Wheat Pancakes
Whole wheat flour makes pancakes taste nutty and delicious. This recipe is quite flexible. We love using a combination of whole wheat and all-purpose flour. The pancakes are lovely, light and fluffy.
For 100% whole wheat pancakes, simply use all (1 1/2 cups) whole wheat flour and no all-purpose flour. We have noticed that whole wheat flour absorbs liquid a little more than all-purpose flour. Because of this, you might find that you need to add a little extra milk to the pancake batter before cooking the pancakes.
Makes approximately 8 pancakes
Watch Us Make the Recipe
You Will Need
3/4 cup (100 grams) whole wheat flour
3/4 cup (100 grams) all-purpose flour
2 tablespoons sugar
1/2 teaspoon ground cinnamon
1 tablespoon baking powder
1/2 teaspoon fine sea salt
1 1/4 to 1 1/2 cups (295 to 350 ml) milk, dairy or non-dairy
1 large egg
4 tablespoons unsalted butter, melted, plus more for the skillet or substitute coconut oil
1 1/2 teaspoons vanilla extract
Directions
Make Batter

1Whisk flours, sugar, cinnamon, baking powder and the salt in a medium bowl, set aside.

2Warm the milk until lukewarm, not hot (you should be able to keep your finger submerged for 10 seconds).

3Whisk milk, butter, egg, and the vanilla together until blended.

4Make a well in the center of the flour mixture. Pour milk mixture into the well and stir with a fork until mixed and only small clumps of flour remain. Do not over mix batter. Note: The batter will be quite thick. If it is unreasonably thick, add 1 to 2 tablespoons more milk to thin it out a little.
Cook Pancakes

1Heat a large skillet (or use griddle) over medium heat. The pan is ready if when you splatter a little water onto the pan surface, the water dances around the pan and eventually evaporates.

2Lightly brush skillet with melted butter. Spoon a 1/4-cup of the batter onto the skillet and gently spread into a 4-inch circle. (If the batter is thick, you may need to use the back of a spoon to spread the batter into a circle).

3When the edges look dry and bubbles start to appear and pop on the top surfaces of the pancakes, turn over, about 2 minutes. Once flipped, cook 1 to 2 minutes or until lightly browned and cooked in the middle. Serve warm with syrup, bananas or other toppings.
Adam and Joanne's Tips
Nutrition Per Serving
Serving Size
1 pancake
/
Calories
172
/
Protein
5 g
/
Carbohydrate
22 g
/
Dietary Fiber
2 g
/
Total Sugars
5 g
/
Total Fat
8 g
/
Saturated Fat
4 g
/
Cholesterol
42 mg