Over the weekend, we had a mini birthday celebration for Adam's brother. It was informal, but in true Adam-and-Jo-style, we felt we needed to bring a little something to the party. Whenever our family gets together there is always a surplus of food, so we usually opt to being some type of appetizer, something that you can just pop in your mouth while watching and gawking over our adorable baby niece (who, by the way, turns one in two weeks!).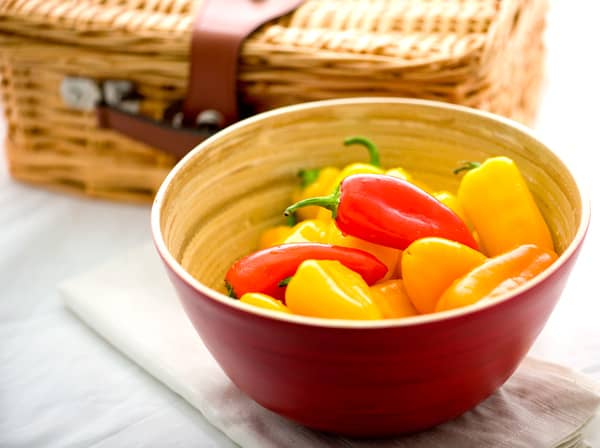 Just pop, no plates, no mess, lots of flavor.
Sweet pepper poppers anyone?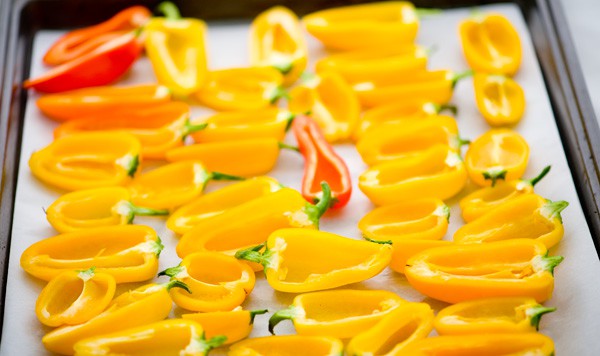 You could, of course, use jalapenos, but with so many on our family, there is always someone who just does not enjoy lots of spice.  We wanted a crowd pleaser, so, cheese-filled, bacon-stuffed, buttery-breadcrumb-covered sweet peppers seemed to be a darn good fit.
These were inspired by Steamy Kitchen's Baked Jalapeno Bacon Poppers, the moment we saw them, we knew a version would be flying out of our kitchen. As Jaden, from Steamy Kitchen suggests, a variation of these would be to substitute the sweet peppers for jalapenos, which will give you a spicier popper – just be sure to remove all seeds and white membrane.
You Will Need
12 mini sweet peppers
3 slices bacon
1/2 cup (75g) diced onion
4 ounces (112g) cream cheese at room temperature
4 ounces (112g) goat cheese at room temperature
1 teaspoon garlic (about one clove)
2 tablespoons finely sliced green onion (use both green and white parts)
1 lemon, juice and zest
1/8 teaspoon red pepper flakes (use more for a spicier popper)
1/4 teaspoon dry oregano
1/4 teaspoon kosher salt
3 tablespoon melted butter
3/4 cup (45g) panko breadcrumbs (sometimes called Japenese bread crumbs)
3 tablespoons finely minced fresh parsley
Directions
Preheat the oven to 375° F (190° C).
Slice each pepper in half lengthwise then use a spoon or your fingers to scoop out any seeds and membrane to make space for your filling.
Cut the bacon crosswise into ¼-inch-thick strips (also called lardons) then add the bacon to a pan over medium heat and cook until golden. Remove the bacon from the pan onto a paper towel.
Add onions to the pan used to cook the bacon; additional fat should not be necessary since fat rendered while cooking the bacon will be left in the pan. Cook the onions, stirring occasionally until translucent. Add the garlic and cook for about 30 seconds. Remove the garlic and onions, set aside.
Combine both cheeses. Add the bacon, onions, garlic, sliced green onions, the zest and juice of a lemon, red pepper flakes, dry oregano and salt. Stir to combine.
In another bowl, combine breadcrumbs and parsley with the melted butter.
Spoon the cheese mixture into each pepper half, place filling side down into the buttery breadcrumbs then place filling side up onto a baking sheet.
Bake the sweet pepper poppers for about 20 minutes or until the peppers have softened and the breadcrumbs are crusty and golden brown.
Serve then watch the poppers disappear.