Something happened last weekend. Something a little absurd, something that Adam has not yet allowed me to live down, something involving a very large chocolate cake.
We ended our work week last week with the plan to make a cake – not for any particular reason, just because. The plan was to make a light batter with yogurt or buttermilk and use up some frozen raspberries that have been sitting in our freezer for the past few weeks. Maybe some sort of upside down cake, something more fruit forward. Saturday morning came around, I went into the kitchen, one thing led to another and in the midst of defrosting the raspberries and measuring out the flour, I somehow ended up making a chocolate cake. This could still be fruit forward, I thought to myself, maybe a raspberry buttercream frosting?
[Note: Adam is still under the impression an upside-down raspberry cake would be coming out of our oven]
The cakes were cooling, so I started to make the raspberry buttercream, but then, once again, one thing led to another, I neglected to think about how, maybe I should not add all the juice from the thawed raspberries to the frosting and ended up with a super sweet (from adding additional powdered sugar) wet mess. Not to be deterred, I rummaged through the freezer for a second try –no more raspberries–so I took to the cabinets to find — well, nothing but cocoa. Chocolate Buttercream it is!
[Adam is still under the impression that a light, raspberry cake would be coming his way]
When it came to frost, I had an ingenious plan — use some jam in the middle — that will make it fruit forward, maybe Adam won't notice the two-tiered chocolate cake with decadent chocolate frosting that could stand in as the cake for a medium-siced birthday party, preventing him from learning of my tribulations in the kitchen that morning. Jam it was, lingonberry jam to be precise, not too sweet with a touch of texture; great idea Joanne, he will never notice.
That is when it happened; he finally wandered into the kitchen (maybe the light dusting of cocoa powder on Marmalade's fur tipped him off). "What is that?" he said, "What happened to the raspberries?," "and why is there cocoa powder everywhere?"
Fortunately, after sheepishly cutting him a slice, quietly explaining that practically everything I attempted failed and that I absolutely love him, he helped me clean up the kitchen and take a beautiful photo. And hey, how upset can you be when you are being served chocolate cake!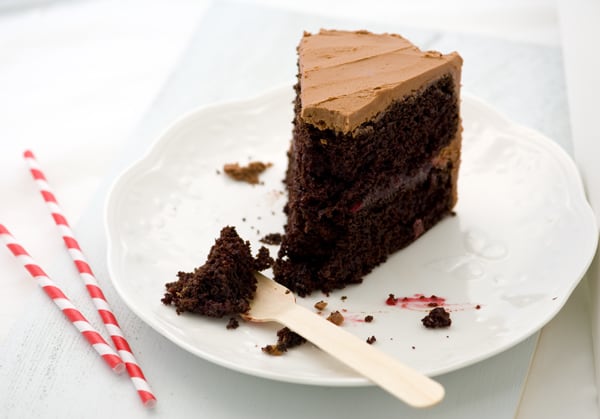 Chocolate Cake with Chocolate Buttercream
A simple and moist chocolate cake with rich chocolate buttercream.
Created By:
Joanne and Adam Gallagher
You Will Need
FOR THE CAKE
1 3/4 cups all-purpose flour, plus more for pans
2 cups sugar
3/4 cups cocoa powder
2 tsp. baking soda
1 tsp. baking powder
1 tsp. kosher salt
1 cup buttermilk, shaken
1/2 cup vegatable oil
2 extra-large eggs, at room temperature
1 tsp. pure vanilla extract
1 cup freshly brewed hot coffee
3-3.5 cups chocolate buttercream frosting
1/2 cup lingonberry jam (can substitute for jam of choice)


FOR THE FROSTING
8 oz. unsweetened chocolate, chopped
1 cup unsalted butter (2 sticks), softened
3.5-4 cups (just less than 16 oz. bag) powdered/confectioner's sugar, sifted
1/2 tsp. salt
1 tbsp. vanilla extract
3 tbsp. milk
Directions
Preheat the oven to 350 degrees F and butter then flour 2 (8-inch) round cake pans. To flour the pan, after buttering, add a little flour and tap the pan until there is a light coating of flour on the bottom and up the sides of the pan, discard any extra flour.
Use a dry mesh strainer to sift the flour, sugar, baking soda, baking powder and salt into a bowl, mix either with the paddle attachment of an electric mixer or and handheld mixer until thoroughly combined.
Combine the buttermilk, oil, eggs and vanilla in a separate bowl then slowly add to the dry ingredients. Next, slowly add the coffee and stir until just combined – be sure to scrape down the sides and bottom of the bowl with a rubber spatula.
Pour the cake better into the prepared pans and bake for 35 to 40 minutes or until a toothpick or cake tester comes out clean. Remove from the oven and cool in the pans for about 30 minutes, then turn them out onto a cooling rack to cool completely.
Make the frosting. Melt 8 ounces of milk chocolate either over a double boiler or in the microwave. To melt the chocolate in the microwave, place ¾ of the chocolate in a small microwave-safe bowl in the microwave for 20 seconds. Stir the chocolate and continue to microwave for 20 seconds at a time, stirring in between, until the chocolate is smooth and shiny. Add the remaining ¼ of the chocolate and stir until smooth. Set aside to cool.
In the bowl of an electric mixer fitted with the paddle attachment, combine the softened butter, vanilla and salt. Beat on medium-low speed for about 2 minutes. Reduce the speed to low and slowly add the powdered sugar. Stop the mixer occasionally and scrape down the sides of the bowl.
Add the milk and increase the mixer to medium speed and beat for another 2 minutes. Reduce the speed to low and slowly add the melted chocolate (should be at room temperature) and beat until combined, then increase the speed to medium and beat for one more minute.
Fill a re-sealable plastic bag with the corner cut off or a pastry bag with frosting. Then, carefully squeeze the frosting around the outer perimeter of your cake; this prevents the jam from oozing out. Next, fill the center of your cake with jam. Place the second layer on top, rounded side up, and spread the frosting evenly on the top and sides of the cake.
Notes and Tips
If the frosting is dry, add more milk, 1 teaspoon at a time, until it is creamy but still holds peaks.