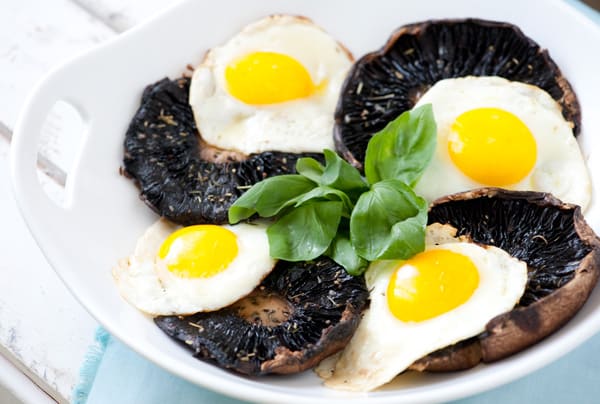 I can't believe Joanne and I are finally able to share this recipe with you. You see, we have wanted to share this recipe with you for a looooong time now. It's hands down our favorite go-to breakfast recipe, one we make all the time on weekends. It's healthy and if you haven't experienced the aroma from roasting portobello mushrooms in the oven, you haven't lived. (Maybe that was a bit dramatic, but let's go with it)
The trouble is, to share this recipe, a lot of ducks needed to be in a row for it to make it all the way to being a blog post. Here are the ducks that magically aligned for us this past weekend…
Duck #1: We had the chance to sleep in – we aren't morning people – all you morning people out there need to share how you do it.
Duck #2: We didn't have anything to do or anywhere to be (YAY! – not something that occurs too often)
Duck #3: We brewed and consumed lots of coffee….we were a little buzzed
Duck #4: We had portobello mushrooms and fresh eggs in the refrigerator from our shopping spree the day before.
Duck #5: We thought ourselves to be patient enough to take photos of our breakfast before being able to eat it, this was a close one, but we endured.
Duck #6: The camera was charged….a result of having our new organized little studio.
Duck#7: Did I mention we were really buzzed on coffee? Thank goodness we have a sturdy tripod.

Roasted Portobello with Eggs
A simple breakfast of roasted portobello and egg.
You Will Need
4 Portobello Mushroom Caps
4 Eggs
1 tbsp. Olive Oil
1/4 tsp. Salt
1/8 tsp. Pepper
Directions
Lightly brush any dirt from the mushroom caps with a damp towel.
Season the mushrooms with olive oil, salt and pepper.
Bake the mushrooms bottom-up in a 375 degree F. oven for 15-20 minutes or until tender.
Cook eggs as desired and place on top of the baked mushrooms.