How to roast vegetables in the oven, so they are tender on the inside and caramelized on the outside. Easy, no-fuss and adaptable recipe based on what you have in your kitchen.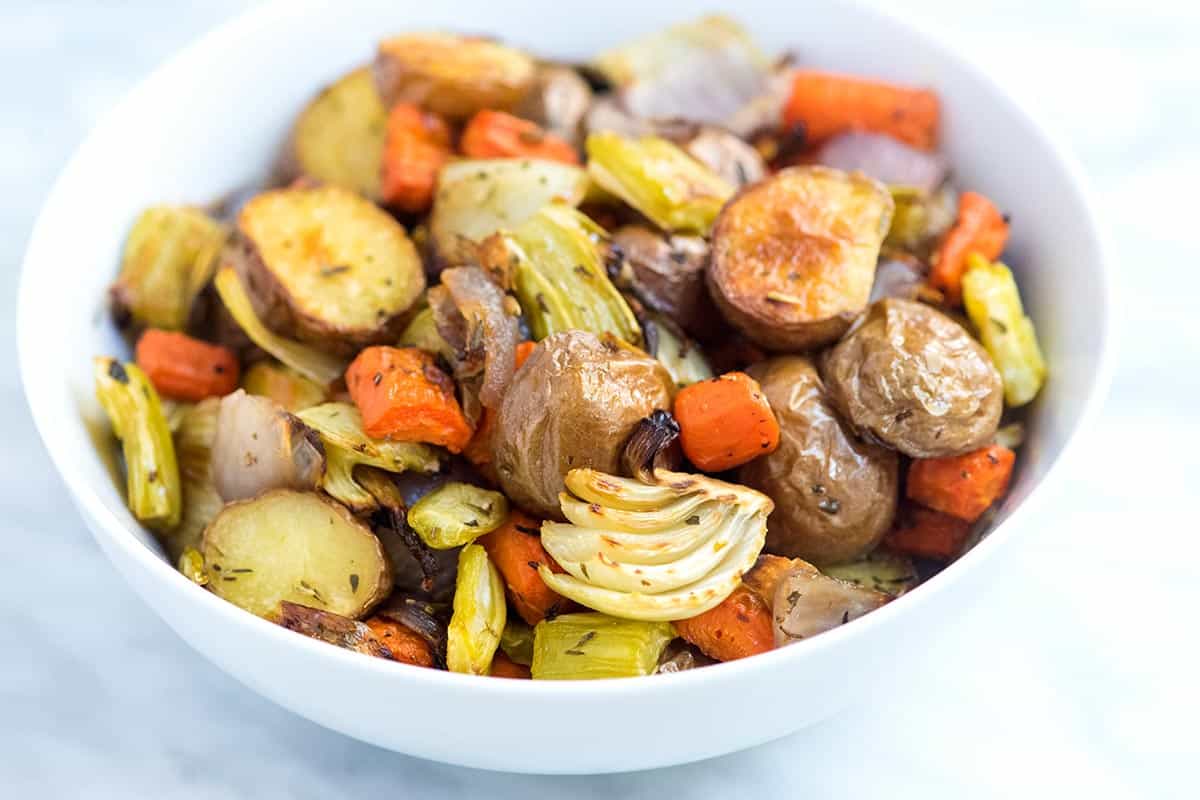 You cannot go wrong with roasted vegetables. They are the perfect side dish and make the best leftovers for a quick lunch the next day. You can even turn them into breakfast by adding an egg on top. We love serving these alongside our Whole Roasted Chicken, Juicy Pork Chops or this Oven Baked Salmon with Capers.
How to Roast Vegetables in the Oven
In our photos, we're roasting root vegetables (or similar hearty vegetables). You can roast any kind of vegetable. Less hearty vegetables like zucchini or mushrooms will take less time to cook. We love these roasted veggie tacos with zucchini, tomatoes and bell peppers.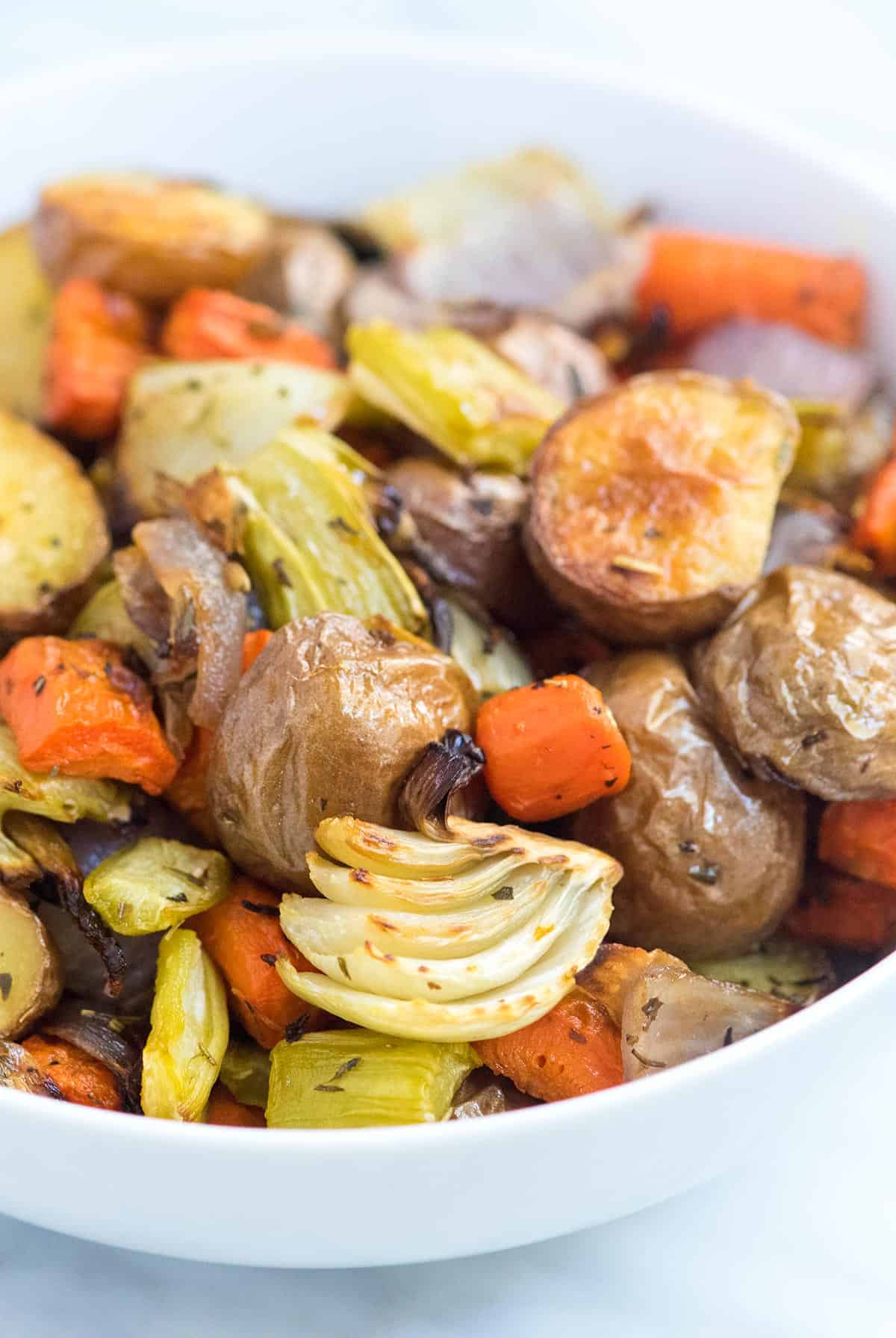 Keep hearty veggies, like beets and carrots, together on one pan and less hearty veggies, like mushrooms and bell peppers, on another.
In our photos, we have carrots, potatoes, onion, fennel and broccoli stems. The fennel smells incredible while it roasts and tastes even better. For tips on how to cut fennel, take a look at our recipe for braised fennel. In that article, we share photos for removing the tough core. Broccoli stems are also really fun to roast. Before chopping into chunks, peel the tough outer peel from the stems and remove about 1/2 inch from the bottom. Both of these are too tough.
When it comes to the pan, you have three options: unlined, foil-lined or use parchment paper. We've done all three in our kitchen, but for the most color on the vegetables, an unlined pan is best. For the simplest cleanup, foil or parchment is best.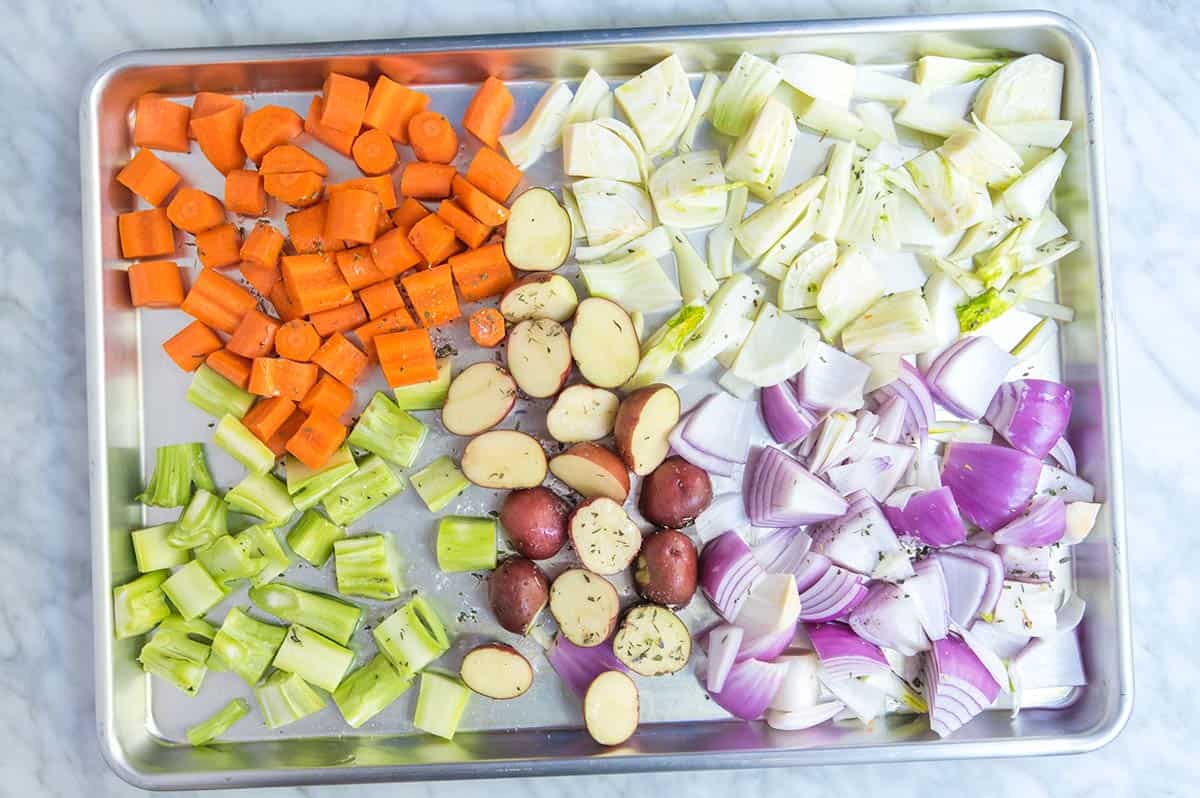 For a baking sheet full of veggies, we add two tablespoons of oil. Olive oil, grape seed, avocado, walnut oil or coconut oil all work well. We love using coconut oil when roasting sweet potatoes or squash.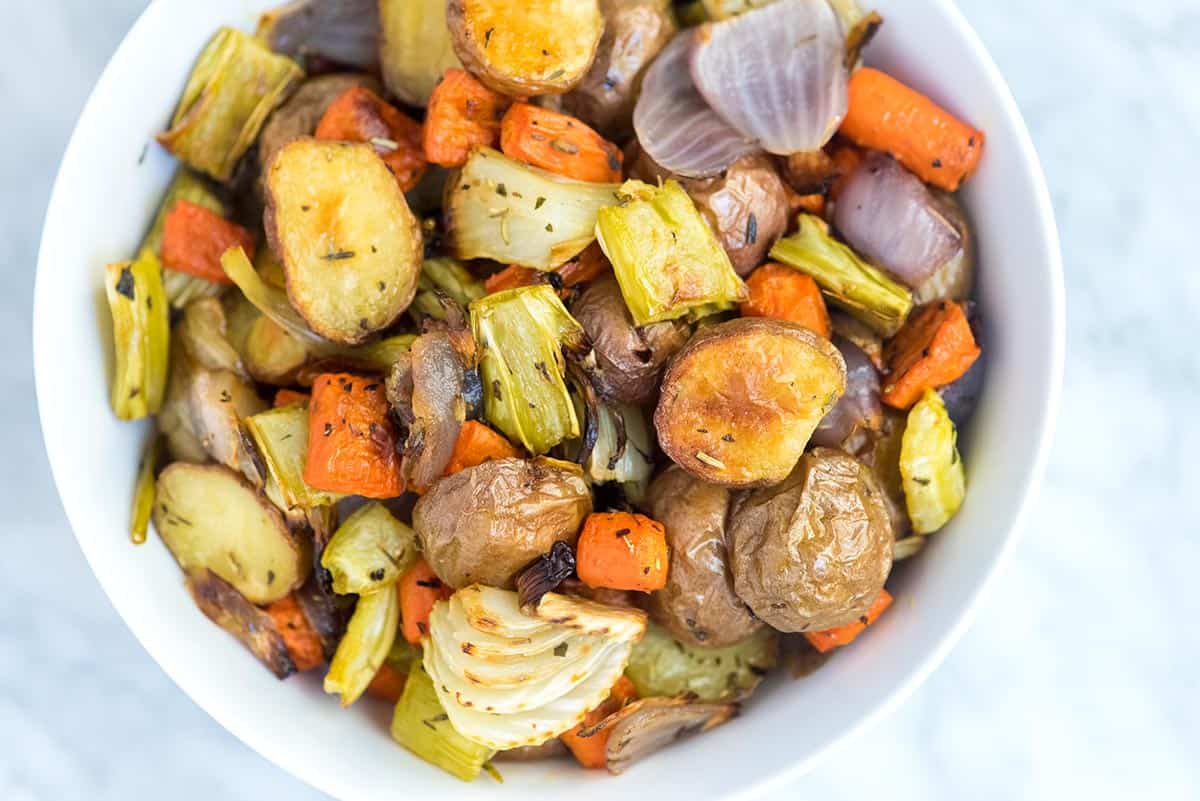 When it comes to flavorings, I usually throw a generous teaspoon of dried herbs — herbs de Provence being my current favorite.
Fresh herbs work too. Toss rosemary and thyme around the veggies at the beginning of roasting. Delicate herbs like parsley, mint, tarragon, dill or cilantro are better stirring in at the end.
What to serve them with
In need of some ideas for dinner? Try serving these roasted veggies with one of the following dinner ideas. They all have rave reviews!
Our Favorite Oven Roasted Vegetables
More of a method than a recipe, you can swap vegetables in or out. The oven temperature and timing assumes hearty root vegetables (or similar). Less hearty vegetables like yellow squash, zucchini or bell peppers will roast quicker. Keep heartier veggies, like beets and carrots, together on one pan and less hearty veggies, like mushrooms and bell peppers, on another.
You Will Need
2 to 3 pounds hearty vegetables such as potatoes, carrots, winter squashes, beets, turnips, onion, fennel and broccoli stems
2 tablespoons oil such as avocado, grape seed or sunflower oil
1/2 teaspoon fine sea salt
1 1/2 teaspoons dried herbs or 2 tablespoons chopped fresh herbs
Flaky sea salt, as need for serving
Directions
1Position an oven rack towards the lower third of the oven. Heat the oven to 425 degrees Fahrenheit.

2Prepare vegetables by peeling and trimming as needed. Then cut into 1-inch pieces — see notes below for how we prepare most vegetables for roasting.

3Scatter vegetables onto a baking sheet and toss with the oil, herbs, and salt. Spread into one layer — if the veggies are too crowded and piling on top of one another, use two baking sheets.

4Roast, stirring a few times during cooking until well browned and tender, 30 to 60 minutes. Serve with a light sprinkle of flaky sea salt as needed.
Adam and Joanne's Tips
Foil or parchment paper? Vegetables roast best when placed onto an unlined baking sheet, which means a little more clean-up. Lining with foil is an option. The veggies roast almost as well and the clean-up is easy. Parchment paper is also an option. Keep in mind that the vegetables will not brown as much when compared to roasted on an unlined pan.
Potatoes: Keep the skins on when roasting thin-skinned potatoes or sweet potatoes. Peel baking potatoes. Cut into 1-inch pieces or if the potatoes are small, half or quarter them.
Winter squashes: Not all squashes need peeling, especially those with thinner skins like delicata or acorn squash. Peel thicker skinned squash like butternut or kabocha.
Beets, carrots, and turnips: Peeling is optional. We peel when it seems the vegetables are too dirty to scrub clean. Otherwise, the peel is delicious.
Broccoli stems: Broccoli is excellent when roasted. Peel the tough outer peel and discard about 1/2-inch from the bottom. Cut the rest into 1-inch pieces and roast. To roast the florets, toss them on to the baking sheet a third of the way through roasting.
Fennel: Cut the fennel bulb in half then make two angled cuts in the center of the bulb to remove the core from each half. The core can be tough, even after roasting. Cut the cored fennel into 1-inch pieces.
Onion: Onions roast quickly. Prevent over-browning by cutting into slightly larger chunks than the rest of the vegetables — closer to 1 1/2 inches.
Nutrition facts: The nutrition facts provided below are estimates. We have used the USDA Supertracker recipe calculator to calculate approximate values. Keep in mind that the calculations may change based on what vegetables you roast. We estimated based on what's in our photos (potatoes, carrots, broccoli stems, onion, and fennel).
If you make this recipe, snap a photo and hashtag it #inspiredtaste — We love to see your creations on Instagram and Facebook! Find us: @inspiredtaste
Nutrition Per Serving
Serving Size
about 3/4 cup
/
Calories
189
/
Protein
4 g
/
Carbohydrate
30 g
/
Dietary Fiber
6 g
/
Total Sugars
8 g
/
Total Fat
7 g
/
Saturated Fat
1 g
/
Cholesterol
0 mg