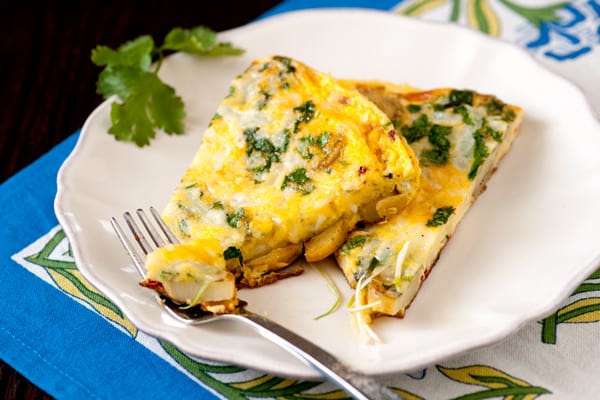 The other day, when taking a glance into our refrigerator, we seemed to have a random assortment of leftovers and half-used ingredients. We had an odd amount of fingerling potatoes, cilantro that was on the verge of wilting, a lonely yellow pepper hidden in the back of our vegetable drawer and a half used can of chipotles peppers in adobo sauce.
Chipotles in Adobo Sauce can be found in the international section of your grocery store, usually in a small can, and are smoked jalapenos in a red, tomato-based, sauce with various seasonings. They are a staple in our kitchen, we actually used them a while ago to flavor mayonnaise for our Agave Salmon Burgers with Chipotle Mayo. They pack a punch, but when used in moderation, will add a beautiful smokey flavor to whatever you add them to.
With all of our random leftovers, we decided to make a fritatta, which we would describe as something in between an omelet and a quiche, without the pastry shell. In general, you cook a fritatta in a skillet, in this case, we used our 10-inch cast iron pan. For a 10- to 12-inch pan, go for about 6 eggs. You can add whatever you wish, asparagus, leeks, bacon, various cheeses, potato, and so on, just keep the toppings to around 1-2 cups.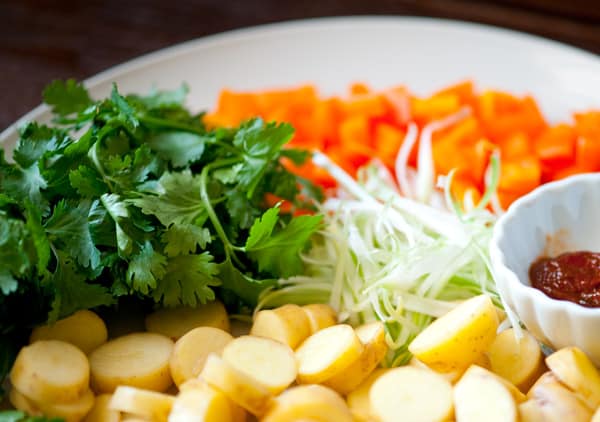 Potato Fritatta with Chipotle
Created By:
Joanne and Adam Gallagher
You Will Need
6 eggs, beaten
1/3 cup shredded montery jack cheese (substitute for favorite cheese)
2 whole chipotle peppers in adobo sauce, finely minced
2 tablespoons chopped cilantro
1/8 teaspoon salt
2 tablespoons butter
1/2 cup sliced potatoes, 1/4-inch slice
1 whole yellow bell pepper, 1/4-inch dice
Directions
Preheat oven to broil setting.
In medium size bowl, using a whisk or fork, blend together eggs, cheese, chipotles, cilantro and salt.
Heat a 10- to 12-inch cast iron pan or oven safe, non-stick saute pan over medium high heat.
Add butter to pan and melt. Add potato to pan and saute for 3 to 4 minutes or until tender. Next, add the bell pepper and saute for another 2 to 3 minutes.
Pour egg mixture into pan and stir with rubber spatula. Cook for 4 to 5 minutes or until the egg mixture has set on the bottom and begins to set up on top.
Place pan into oven and broil for 2 to 3 minutes, until lightly browned and fluffy. Remove from pan and cut into 6 servings. Serve immediately or cool and serve at room temperature.