How to make steak and eggs with roasted asparagus. Perfect for brunch or dinner. Jump to the Steak and Eggs with Roasted Asparagus Recipe or read on to see our tips for making it.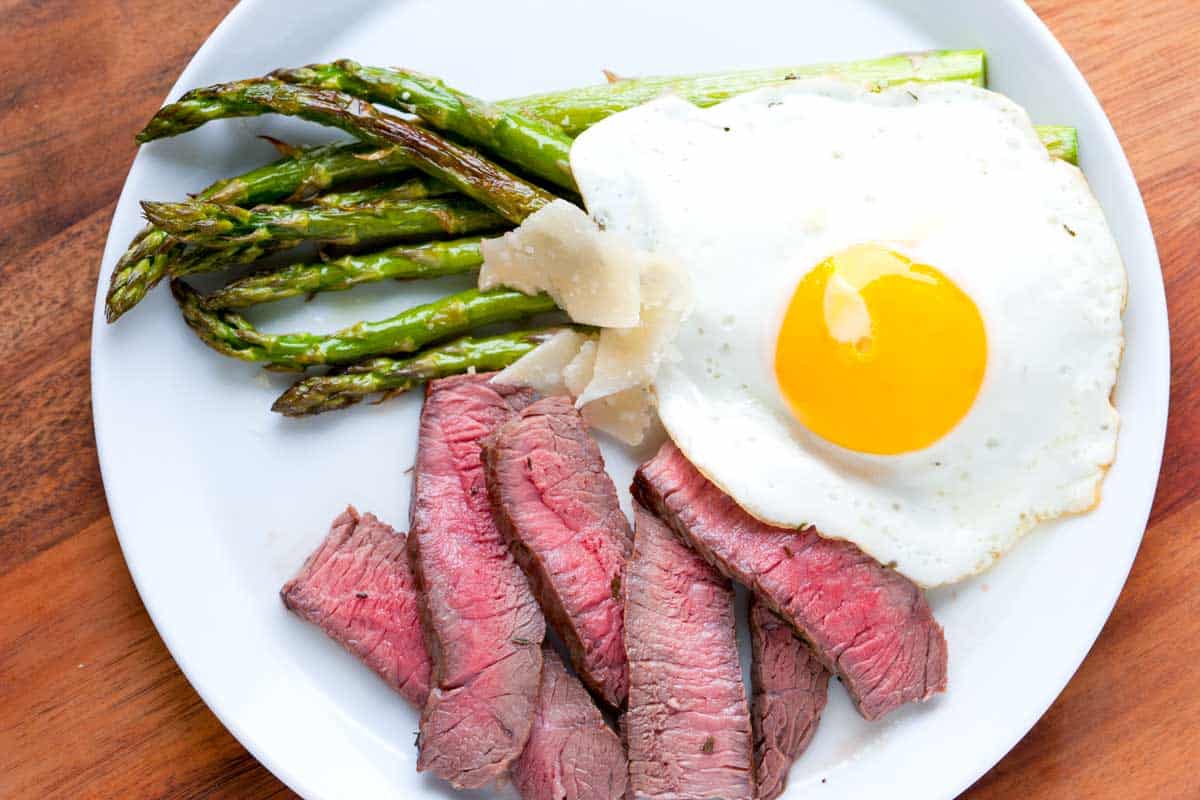 Simple and quick. This is our kind of meal. Cook it for one, two or more. Roasted asparagus is so easy to make and is the perfect side to sop up runny egg yolk. If asparagus isn't your thing, try homemade biscuits or don't even worry about it and just have the steak and eggs!
YOU MAY ALSO LIKE: How to make an omelet filled with perfectly roasted asparagus and fresh goat cheese. Jump to the Asparagus and Goat Cheese Omelet Recipe.
How to Make Steak, Eggs and Roasted Asparagus
Everything comes together within 20 minutes, the asparagus will take the most time to cook, but wow is it easy.
You can read all about roasting asparagus, by clicking here. Or just trust me when I say it is very simple and pretty much one of our favorite ways to cook it.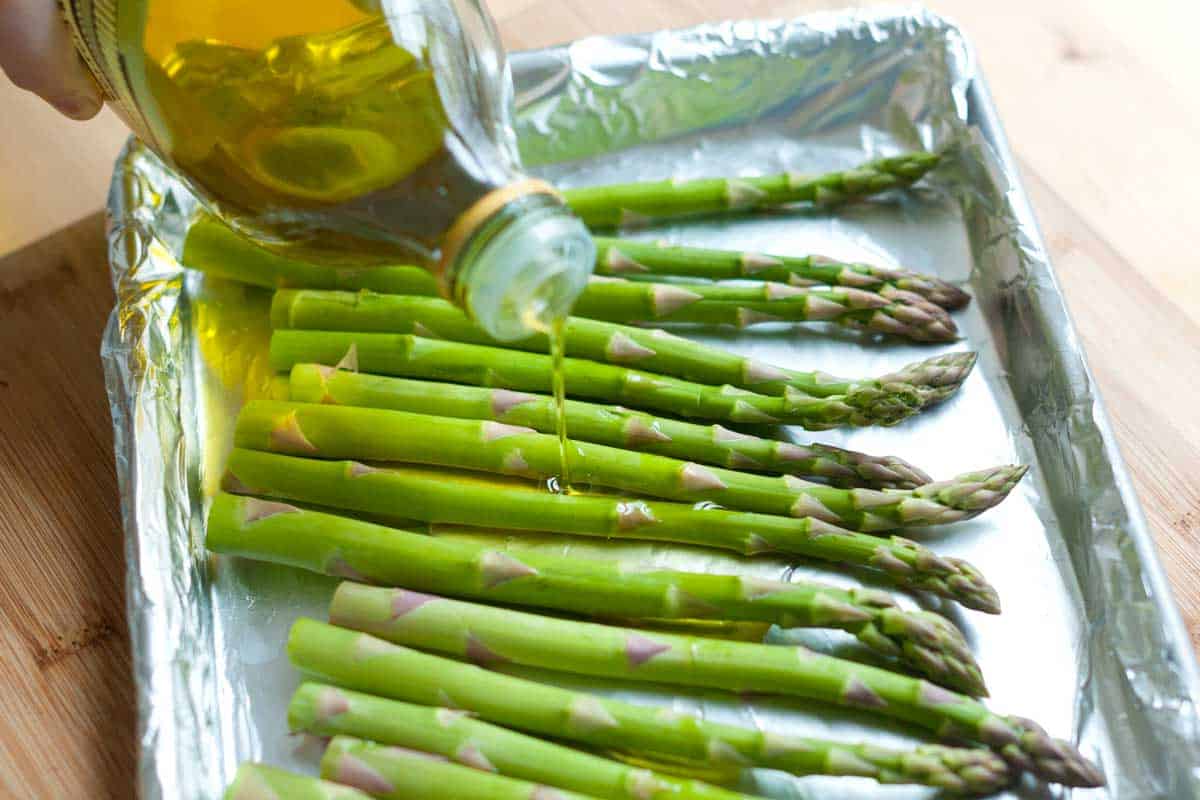 For the steaks, rub them with salt, dried thyme and olive oil. Heat a cast iron pan (or other oven-safe heavy-bottomed pan) over medium-high heat. You want the pan to be nice and hot so the steaks quickly sear. Once hot, add the steaks and sear 1 to 2 minutes on each side. Slide the pan with steaks into the oven and cook another 2 to 3 minutes or until done.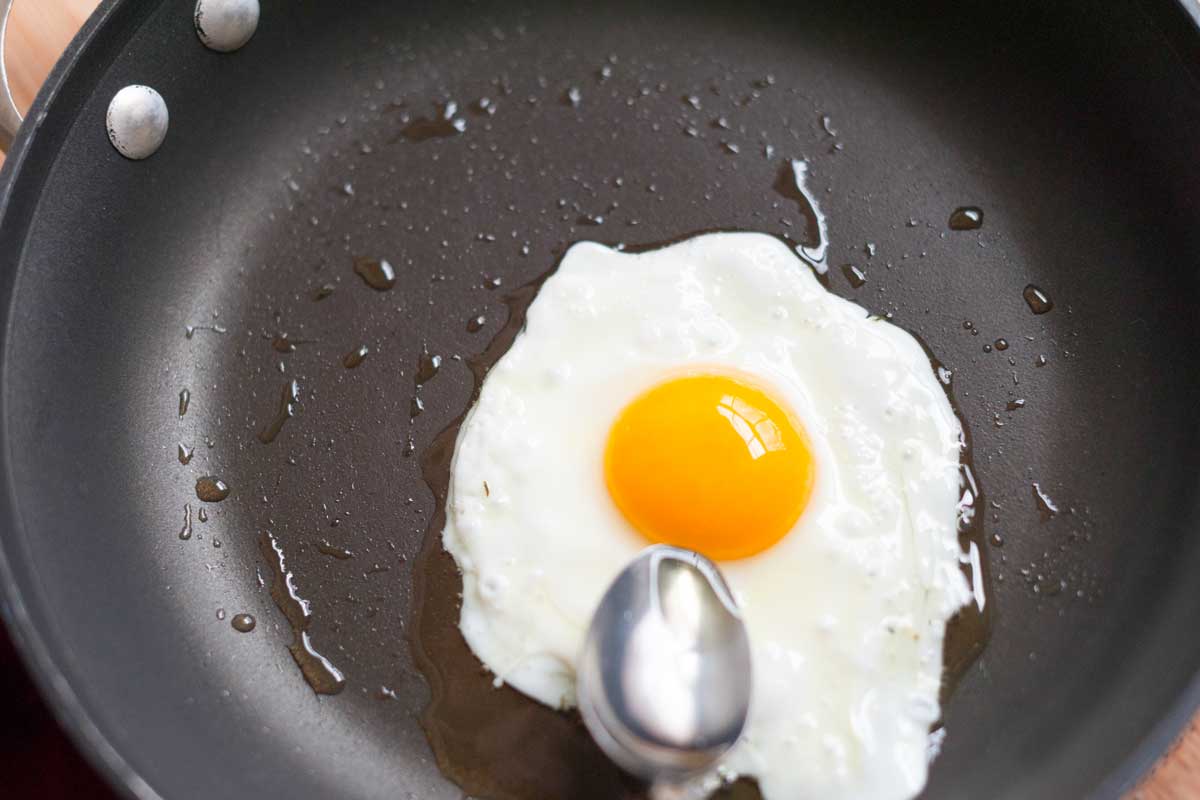 While the steaks finish cooking, you can fry the eggs. The key here is to leave the egg yolk runny so it can run all over the asparagus and steak. The sauce is literally built into the dish.
YOU MAY ALSO LIKE: Learn how to make scrambled eggs that are soft, creamy and delicious. Jump to our Soft and Creamy Scrambled Eggs Recipe.
Recipe updated, originally posted February 2012. Since posting this in 2012, we have tweaked the recipe to be more clear. – Adam and Joanne
Steak and Eggs with Roasted Asparagus
Make this for breakfast, lunch or dinner. We like to use sirloin for this, but you could use NY strip, rib eye or another cut of steak. Roasting asparagus is quick and easy — if the stalks are thick and woody, consider using a vegetable peeler to peel away the outer tough layer of the stalks.
You Will Need
1 bunch asparagus, rinsed and ends cut off
2 (6-ounce) 3/4-inch thick top sirloin steaks
2 teaspoons dried thyme
2 large eggs
Olive oil
Salt and fresh ground black pepper
Parmesan shavings for serving
Directions
Roast Asparagus

1Heat the oven to 400 degrees F. Line a baking sheet with aluminum foil. Rinse asparagus and pat dry. Trim about 1/2-inch from the stalky ends then discard. Place onto the baking sheet. Toss with olive oil then lightly season with salt and fresh ground black pepper. Spread into a single layer. Bake until tender, 12 to 20 minutes depending on the thickness of your asparagus.
Cook Steak

1Heat a heavy-bottomed oven-safe pan over medium high heat (we love using our cast iron pan). Season steaks with salt, a generous amount of pepper and the dried thyme. Use your fingers to rub the seasoning and about 1 teaspoon of olive oil onto both sides of the steaks. Add steaks to the preheated pan and cook 1-2 minutes on each side then slide into the oven and cook 2-3 minutes for medium to medium-well. Remove from oven and rest 5 minutes before slicing into thin strips.
To Finish

1While the steak rests, fry the eggs. Heat a frying pan over medium heat, add 1/4 teaspoon of salt and a tablespoon of olive oil. Wait 20 seconds then add eggs, one by one, to the pan. While the eggs cook, use a spoon to drizzle the hot olive oil over the whites of each egg. Cook until the egg whites are firm, but the yolk is still runny.

2Serve by placing sliced steak next to the roasted asparagus, and then top with an egg and parmesan shavings.