We've been on a veggie kick lately – our Cheddar Roasted Broccoli was probably our most recent favorite. Here's another easy side: Start with one or two fennel bulbs  (we recommend using one bulb if it's for two people). Usually, you will find them in the store with stalks and fronds in tact, the fronds are those wispy green things at the top of the fennel. Use those as you would a fresh herb (use in recipes where dill would be called for, egg salad is a great option). The stalks could be kept for homemade stock, but, to be honest, we usually toss it, the bulb is really where it's at.
Once you have removed the stalks, cut the fennel bulb in half, lengthwise. Then, make two angled cuts in the center of the bulb to remove the core — even with braising the core can be a bit tough. Again, if you wanted to, you could save the core for stock.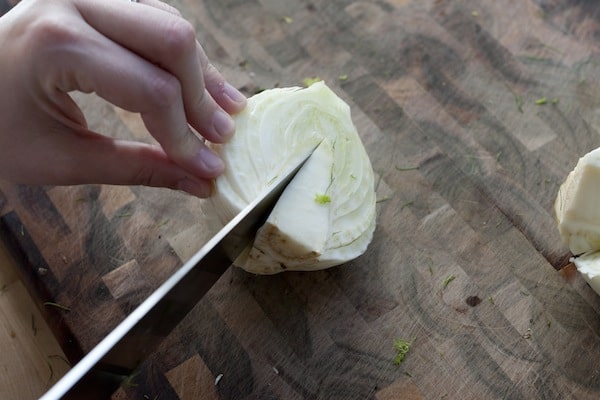 Next, slice each half into wedges – since we never cut the ends, the layers will stay together.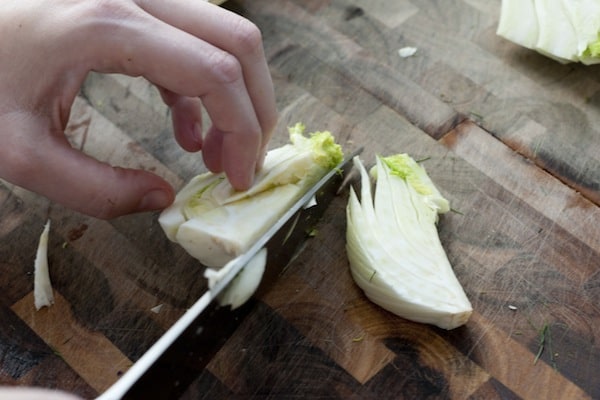 Heat a large pan over medium-high heat, add olive oil to coat the bottom of the pan, then lay the fennel wedges down. Allow them to  sear for about 2 minutes.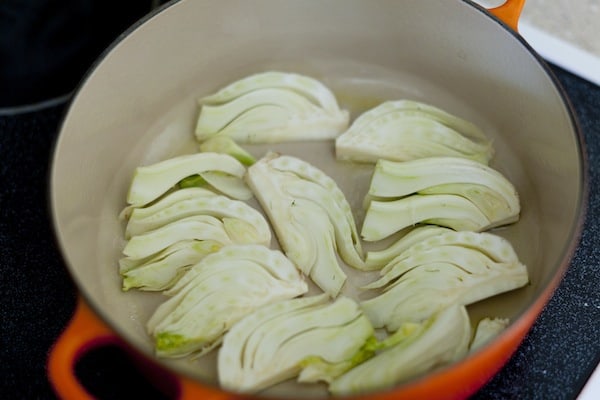 Now, flip each wedge and sear the other side for about 2 minutes.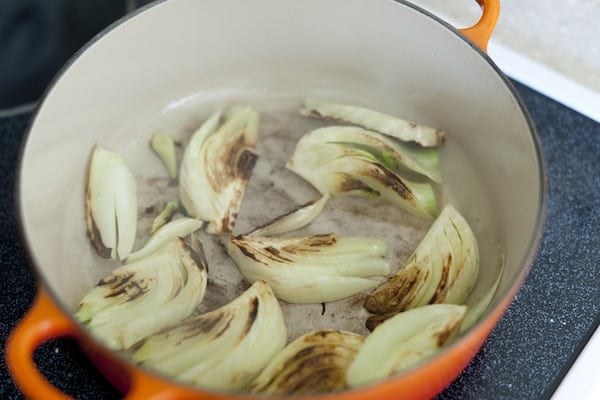 Add the zest and juice of half an orange — oranges and fennel were born to be together, why would we step in their way?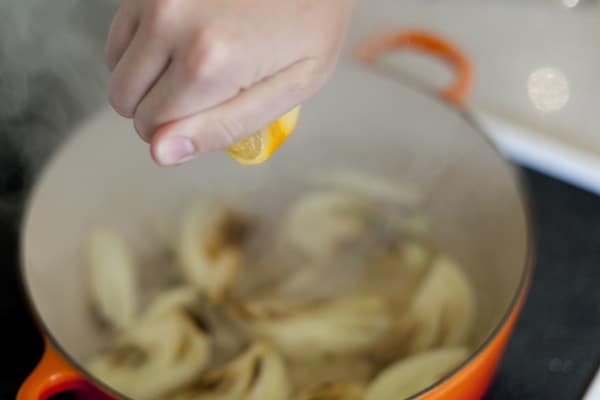 Next, pour in about 3/4 cup of water (you could also use stock) and cover with a lid for about 8 minutes or until the fennel is tender.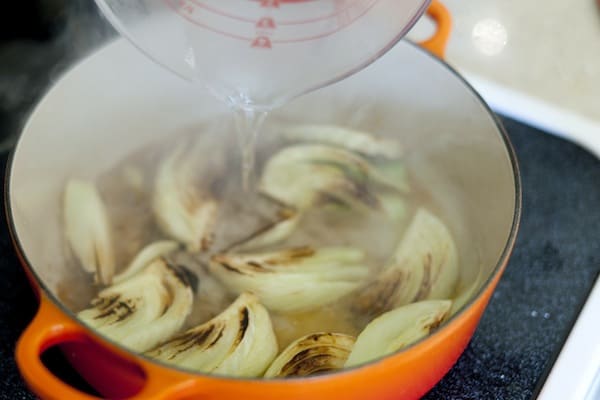 Serve by sprinkling a few of the fennel fronds over the braised fennel.
Or, see what some of our favortie bloggers have to share:
Carrot and Fennel Soup Recipe from 101 Cookbooks
Figs and Fennel from Alexandra's Kitchen
Chinese Vegetable Recipe (Choy Sum) from Rasa Malaysia
Braised Fennel
Created By: Joanne
Serves: 2
Ingredients
1 whole fennel bulb
1 tablespoon olive oil
1/4 teaspoon salt
1/8 teaspoon ground pepper
1/2 orange zested and juiced
3/4 cup water or chicken stock
Method
Cut off and discard stems/stalks from fennel bulb, reserving fronds (wispy green tips).
Roughly chop about 1 tablespoon of fronds, discard the remainder.
Cut the fennel in half lengthwise then remove the core by making two angled cuts.
Cut the halves into 1/2-inch thick wedges and sprinkle both sides with salt and pepper.
Heat olive oil in a large heavy skillet over medium-high heat. Add fennel wedges and brown, turning over once, about 2 minutes on each side.
Reduce heat to low, add water and cook, covered, until fennel is tender, 8-10 minutes. Serve hot and sprinkle with reserved fennel fronds.