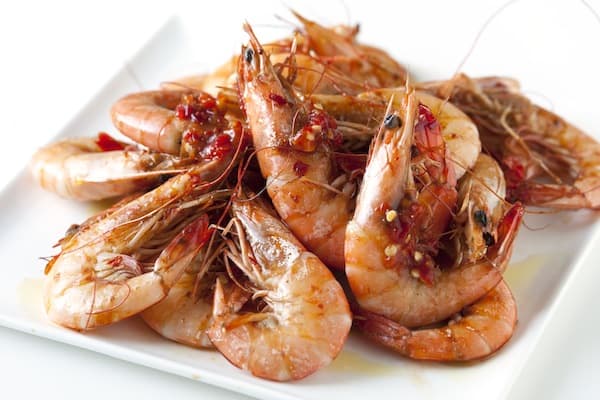 It doesn't happen too often around here, but every once and a while, we can find head-on shrimp. If we see them, we buy them – it is the perfect "Adam and Joanne" meal, quick, easy and a little messy. It just so happened that right next to the seafood counter, there were wine bottles for sale — our explanation for the image below.
A little bit about head-on shrimp – we love it, we bake the shrimp with the head still intact, then eat the shrimp by peeling the shell, ripping the head off and sucking out any juices from the head (it's delicious). If that really isn't something you're in to, just buy shrimp without the head and follow the recipe below, it will still be tasty. For this, we did not devein the shrimp, but we are cool with that, if you want to, add in the step.
All you need for this is melted butter (you could use olive oil, too), soy sauce and a fresh chili paste. You can usually find a small jar of it in the international aisle of your grocery store and larger jars (like ours) in an Asian or international store. Look for a jar with "Sambal" on the label — there are lots of varieties, but any that we have tried or found have been great.
How to make Baked Chili Shrimp
Start by adding melted butter to the shrimp.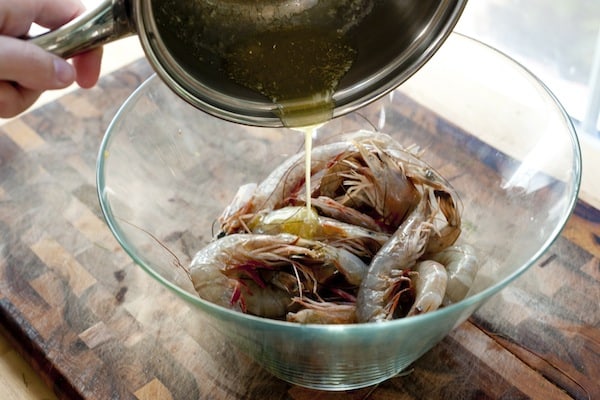 Then, soy sauce (we always use low-sodium soy sauce, but that is just our preference).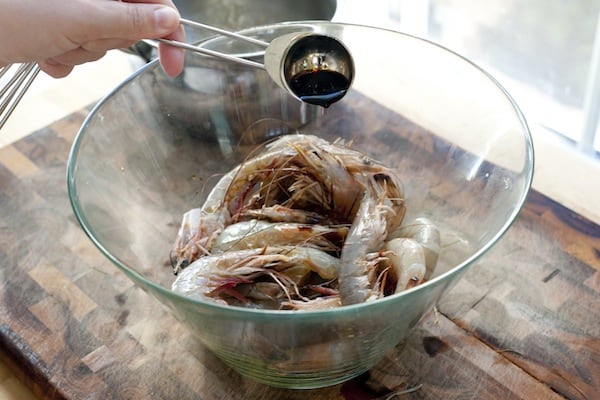 And finally, some fresh chili paste — we love this stuff, we use it on almost everything.
Toss and spread on to one layer on a baking sheet. When we did this, our shrimp were cooler than the butter, so the butter solidified — don't worry if this happens to you, it will melt once you place the shrimp into the oven.
Bake in a 450°F oven until the shrimp are cooked through, stirring occasionally, 8 – 10 minutes.
An easy and delicious shrimp recipe with just enough kick from the hot sauce.
You Will Need
1/4 cup butter, melted
1 tablespoon soy sauce
1 tablespoon fresh chili paste (look for Sambal on the label)
1 pound uncooked large shrimp
Directions
Preheat oven to 450 degrees F.
Combine melted butter, soy sauce and chili paste in a large bowl.
Add shrimp and toss until well coated.
Bake until shrimp are cooked through, stirring occasionally, 8-10 minutes.