We are big fans of homemade salad dressing. It's quick, easy and so flexible. Our basic recipe is to combine vinegar + Dijon mustard + something sweet + olive oil. For this, we went with apple cider vinegar and maple syrup then instead of using regular olive oil, we used a smoked olive oil. It adds a great backbone to the dressing and works so well with the bacon. If you haven't tried a smoked olive oil, you really must, we recently stumbled upon it and have come to love it.
After trying a few smoked olive oils, we have found a favorite. We like "smoke" but found a couple to be too strong for us, and difficult to incorporate into our cooking style. We finally came across one that we love and actually use all the time. It can be bought online from enFuso for under $20. We already have added it to our Christmas list for a few of our foodie friends. Plus, we loved it so much we asked Anne from enFuso to help us out with a giveaway. enFuso is a lovely small family-run business, with great products and a lot of heart, here is how to enter the giveaway:
enFuso Giveaway
Enter to win a basket of goodies including enFuso smoked olive oils by clicking here!
How to make a smoky salad dressing
Start by grating about half of a garlic clove into a bowl. We like to use our microplane for this because it makes sure there won't be any chunks of raw garlic in our salad, which can totally ruin your palate. If you don't have a microplane, try to mince the garlic really well before adding it to the bowl.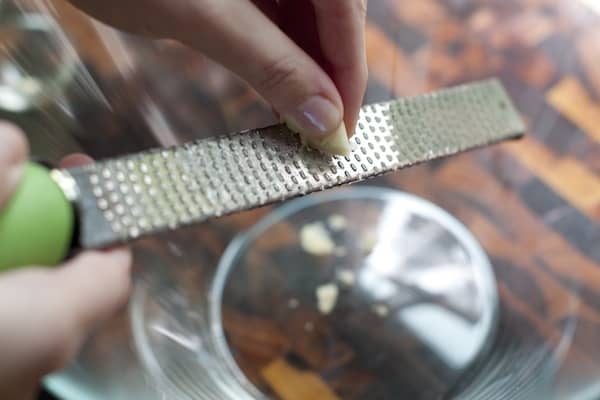 Next, add some apple cider vinegar. This is probably my favorite vinegar for fall dressings — it works so well when added to salads with squash, bacon or anything warm. It's slightly sweet, not heavy and has great flavor. Bonus, it's cheap!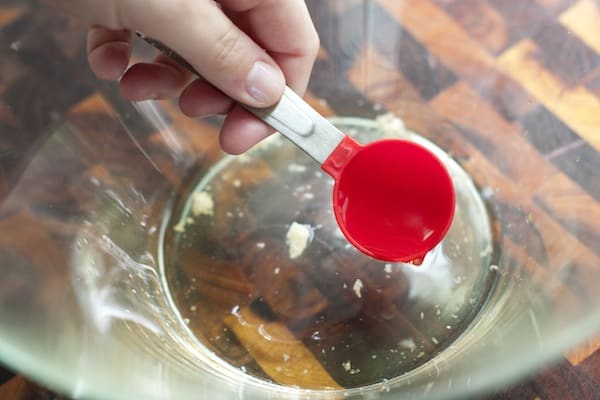 Then, pour in some maple syrup for a touch of sweetness for balance.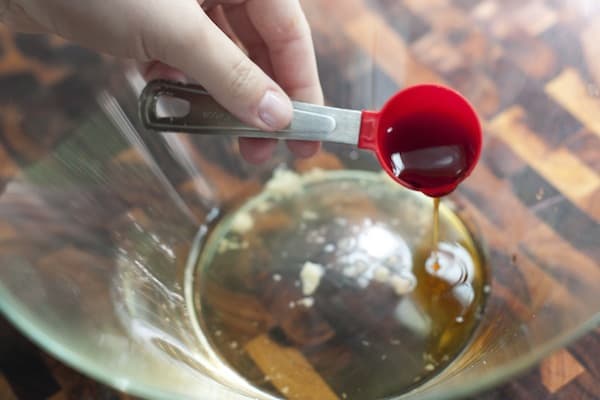 Then, some Dijon mustard — you don't need a lot, but this really adds great flavor and helps the vinaigrette come together or emulsify.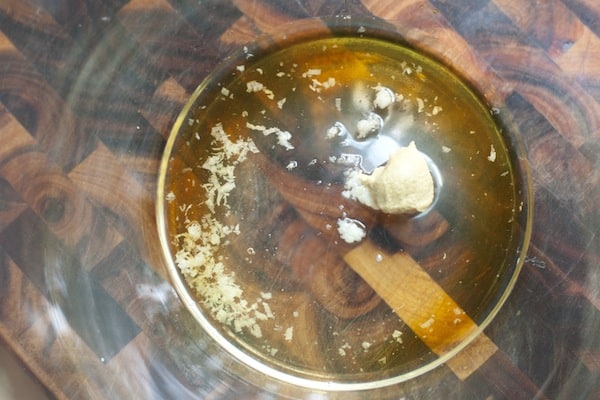 Finally, while whisking, slowly pour in some smoked olive oil until the dressing comes together. (You can substitute the smoked olive oil for regular olive oil).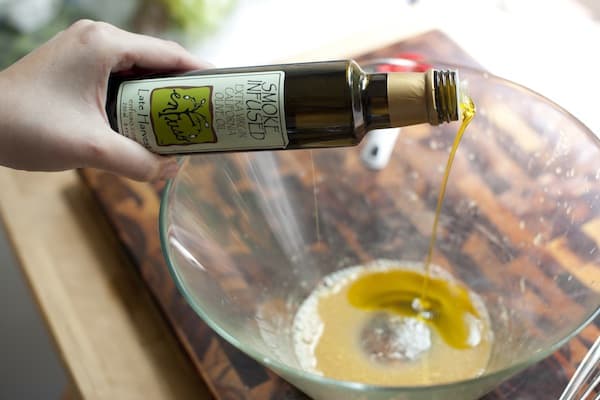 Taste the dressing and make sure you are happy with seasoning, we like to add in a healthy pinch of salt when making a vinaigrette in order to season the salad ingredients as well as the dressing, freshly ground pepper is a nice touch, too.
How to make the salad
For the salad, gently toss fresh greens (we used butter lettuce and baby romaine) in the dressing then top with some cooked bacon (see how we cook bacon) and a warm poached egg (see a step-by step tutorial for how to poach an egg). When you break into the poached egg, the yolk runs out over the lettuce and bacon adding a wonderful creamy element, it's so good you may just want to add a slice of bread to sop up anything left on the plate.
Enjoy!
-Adam
Here are a few more:
Miso Salad Dressing from use real butter
Ridiculously Easy Vegan Buttermilk Salad Dressing from Fat Free Vegan Kitchen
Homemade Greek Salad Dressing from a Veggie Venture
Lemon Rosemary Vinaigrette from Sarah's Cucina Bella

Smoky Green Salad with Bacon
A California smoked olive oil adds just a hint of smoke to this dressing made with apple cider vinegar and maple syrup. If you do not have access to a smoked olive oil, using regular olive oil will work just fine. When you toss your salad with the dressing, remember to do this lightly to prevent bruising the lettuce leaves.
You Will Need
2 handfuls lettuce (suggested: mixed greens, butter lettuce, romaine)
4 cooked bacon slices
2 warm poached eggs
1/2 garlic clove, grated or finely minced
1 teaspoon Dijon mustard
2 tablespoons apple cider vinegar
1 tablespoon maple syrup
3 tablespoons smoked olive oil (suggested brand: enFuso)
salt and pepper
Directions
Add lettuce to a large bowl.
To make the dressing, add garlic, mustard, apple cider vinegar and maple syrup to a small bowl and whisk until blended. While whisking, slowly add the olive oil until it is incorporated and the dressing has emulsified.
Add about half of the dressing to the lettuce and lightly toss so you do not bruise the lettuce leaves. Add more dressing to your liking.
Divide the salad into two and top each with bacon and a warm poached egg.