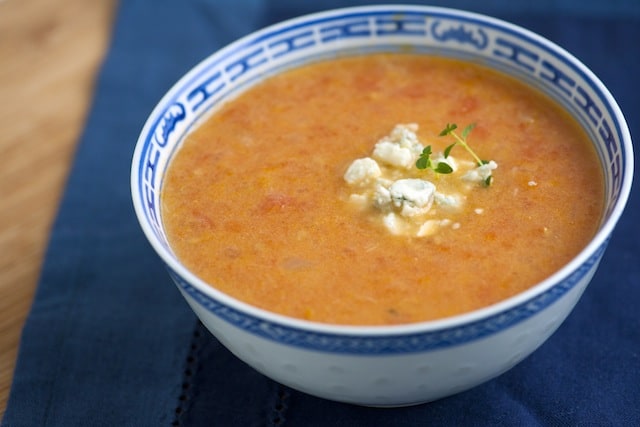 Remember this recipe for Cardamom Roasted Tomato Pasta? It was light and so delicious from cardamom and roasted lemon peel that we decided to roast tomatoes again, but this time with thyme and lemon. It was a huge success. We thought about calling this "adult soup" since its quite a bit different from the more common hearty tomato soup with basil. This soup is much lighter, almost fresh in taste. It's simple on the palate and wonderful with a few crumbles of blue cheese on top.
To make the soup, we used our new favorite kitchen gadget, the OXO Food Mill on it's coarsest setting. You could always use a blender, but the texture you get from using the food mill is so much better. If you don't have a food mill at home, add it to your kitchen wish list, you won't regret it!
P.S. Arianna from OXO was so kind, she helped us out with a giveaway. So, head on over here: OXO Food Mill Giveaway for a chance to win one. Then, you can make this soup! Woohoo! You can enter once a day between now and January 21th 2012, giving you lots of chances to win.
How to make Tomato Soup with Lemon and Thyme
We love these step-by-steps — just look at those colors *sigh*
Start by quartering a bunch of tomatoes, throw in some thyme sprigs, garlic cloves and a few strips of lemon zest. If you have one at home, use a vegetable peeler to remove the lemon zest, it's quicker. You don't need to remove the skin from the garlic cloves, since we're using a food mill, the skin will be stopped before they get to the final soup. If you're using a blender, you might want to remove the skins now.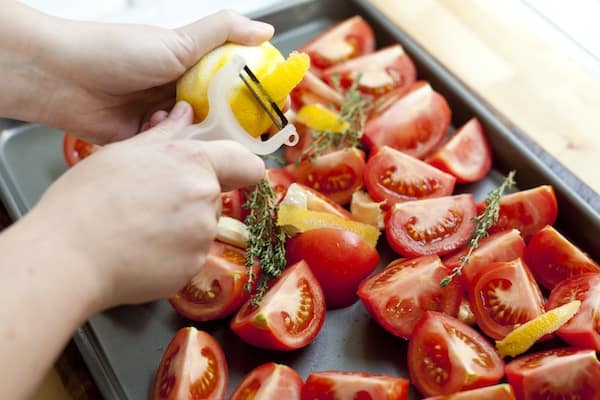 Drizzle some olive oil on top.
Now, add some salt. We used 1 tablespoon — I know, it looks like a lot, but that is a lot of tomatoes and tomatoes love salt.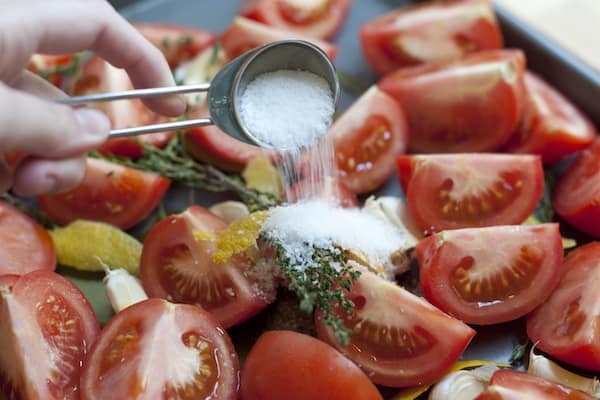 Get in there and toss everything together.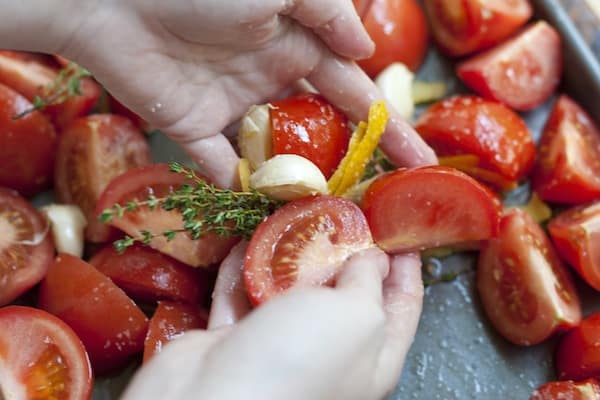 Roast them in the oven until the tomatoes begin to caramelize around the edges. Then, remove the thyme sprigs and lemon strips then discard.
Heat a large pot over medium heat and saute two onions, cut into a large dice. You can be rough with the size here, we will be passing everything through the food mill (or blending) in the end. Once the onions have softened, add the roasted tomatoes and garlic cloves.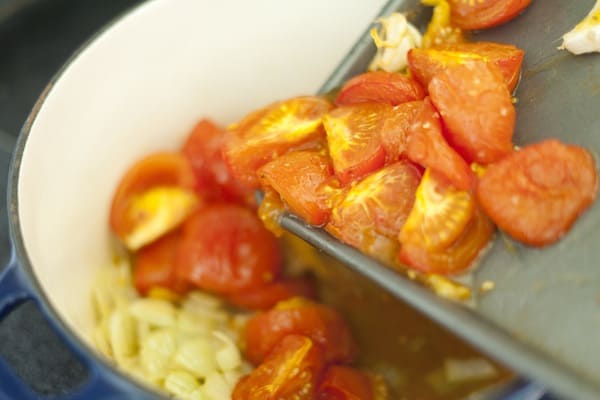 Add some chicken stock and a large can of tomatoes. We initially didn't want to add the can, but it really does add some "umph" to the soup and we like "umph."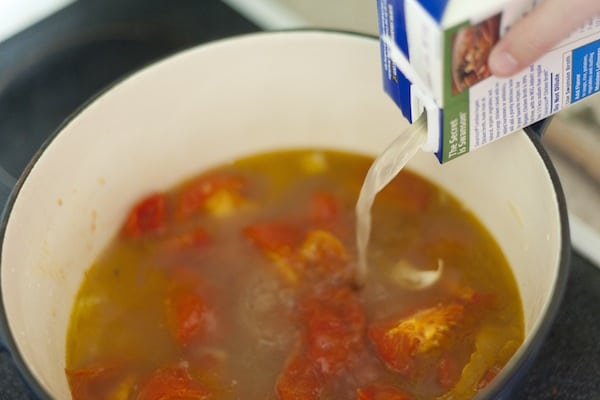 Simmer for about 30 minutes to develop the flavors even more. Then, working in batches, pass everything through a food mill. Or, use a blender.
See the texture I was talking about earlier, you really can't get that without a food mill.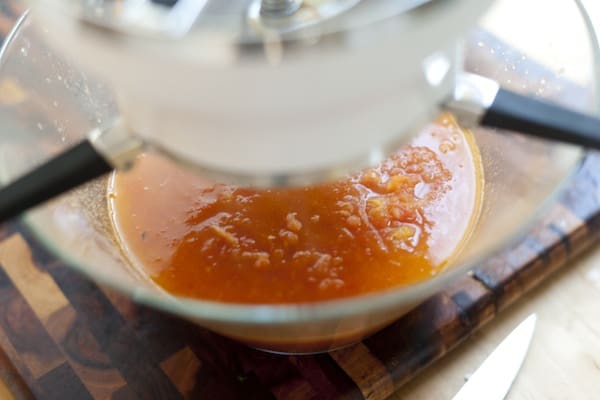 This one is important — When using a food mill, don;t forget to scrape underneath the mill when you're done. You don't want to miss all that good stuff.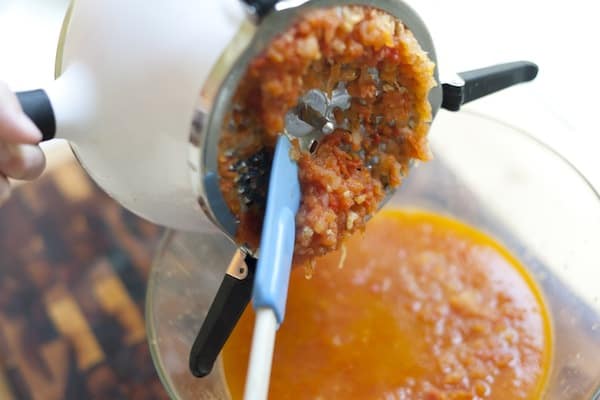 Now, add the soup back to the pot and pour in some half and half. This rounds out the flavors a bit.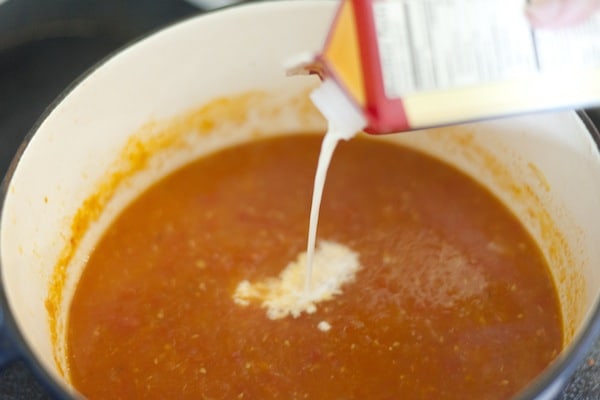 Serve as is, with croutons, or with some crumbled blue cheese on top.
A few more from around the web:
Simple Cauliflower Soup Recipe from Becks & Posh
Cream of Broccoli Soup Recipe with Coconut Milk from Gluten Free Goddess
Smoked Paprika and Chickpea Soup from Leite's Culinaria
Mom's Turkey Soup from Simply Recipes

Tomato Soup with Lemon and Thyme
A brightly flavored tomato soup with lemon and thyme. When zesting the lemon, use a vegetable peeler for 1/4-inch wide strips of zest. If you have one on hand, a food mill, using the coarsest blade, is perfect for a nice thick texture, however, you can use an immersion blender or blender as a substitute.
You Will Need
3 pounds ripe tomatoes, quartered
4 sprigs fresh thyme (substitute 2 teaspoons dried thyme leaves)
4 whole garlic cloves, skins removed
4 strips lemon zest, each 1/4-inch wide and 2 inches long
4 tablespoons olive oil
1 tablespoon salt
2 cups chopped onions (about 2 onions)
1 (28-ounce) can diced tomatoes with juice
4 cups (1 quart) chicken stock
1/4 cup half and half
salt and pepper to taste
Directions
Preheat oven to 400 degrees.
Toss tomatoes, garlic, thyme sprigs, lemon zest, 2 tablespoons of olive and 1 tablespoon of salt together.
Spread tomatoes in 1 layer on a baking sheet and roast for 45 minutes or until the edges of the tomatoes begin to caramelize. Once roasted, remove then discard thyme sprigs and lemon zest.
In a large stockpot over medium heat, saute the onions with the remaining 2 tablespoons of olive oil for 5-10 minutes until the onions begin to brown.
Add the oven-roasted tomatoes and garlic, including the liquid on the baking sheet, canned tomatoes and chicken stock. Bring to a boil and simmer uncovered for 30 minutes.
Pass soup through a food mill fitted with the coarsest blade or blend using an immersion blender or blender.
Add back to the pot then add half and half. Taste for seasoning and serve hot.