This creamy asparagus soup is guilt-free and tastes amazing. At 150 calories per servings, this simple soup is low in calories, plant-based, and it cleverly reduces ingredient waste. Jump to the Guilt-Free Asparagus Recipe or read on to see our tips for making it.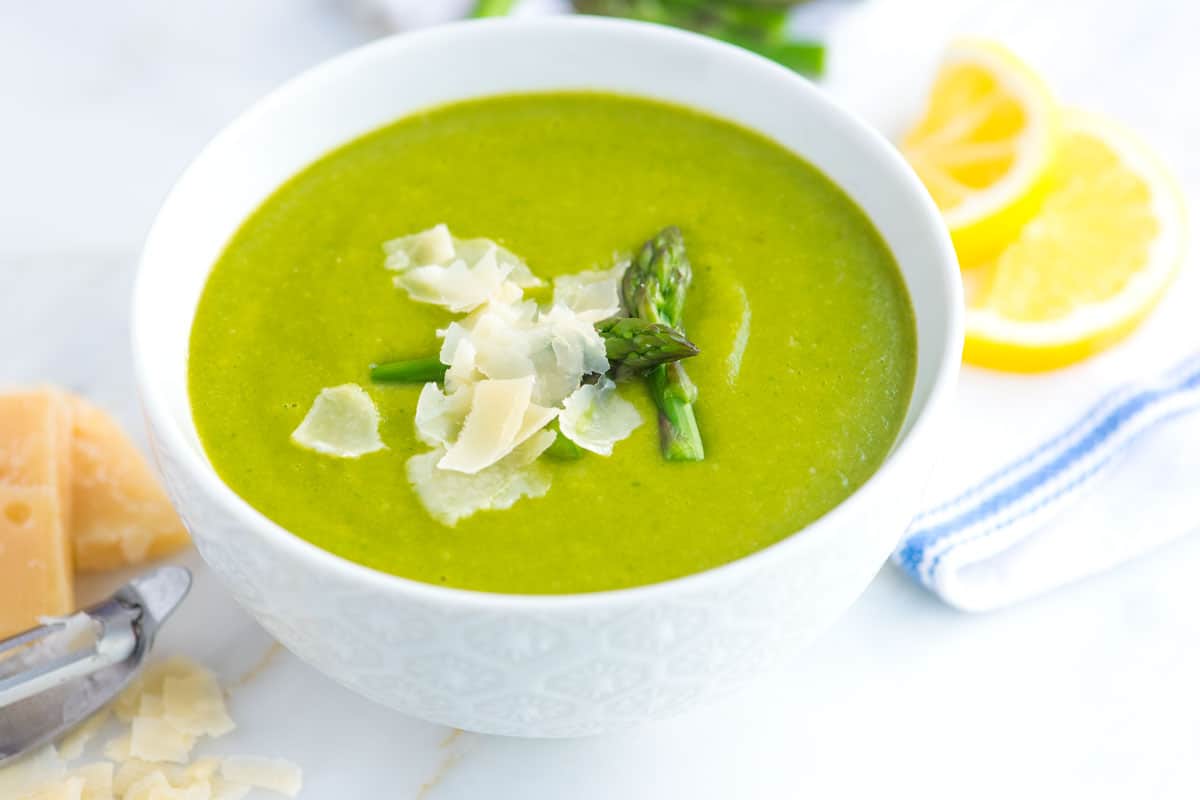 How To Make Creamy Asparagus Soup Without The Cream
It's finally feeling like Spring around here and that means it's time for asparagus. We've been dreaming up this simple asparagus soup for some time now. We wanted it to be light, healthy, and scream Spring.
As much as I love luxurious cream-based soups, I don't always want the extra calories that go with them. For this lighter asparagus soup, we wanted to leave out the cream.
That doesn't mean the soup isn't ultra-creamy, though. To make it rich and creamy, we take a tip from our creamy vegetable soup and add potatoes. Just two medium potatoes makes this blended asparagus soup ultra-creamy and satisfying.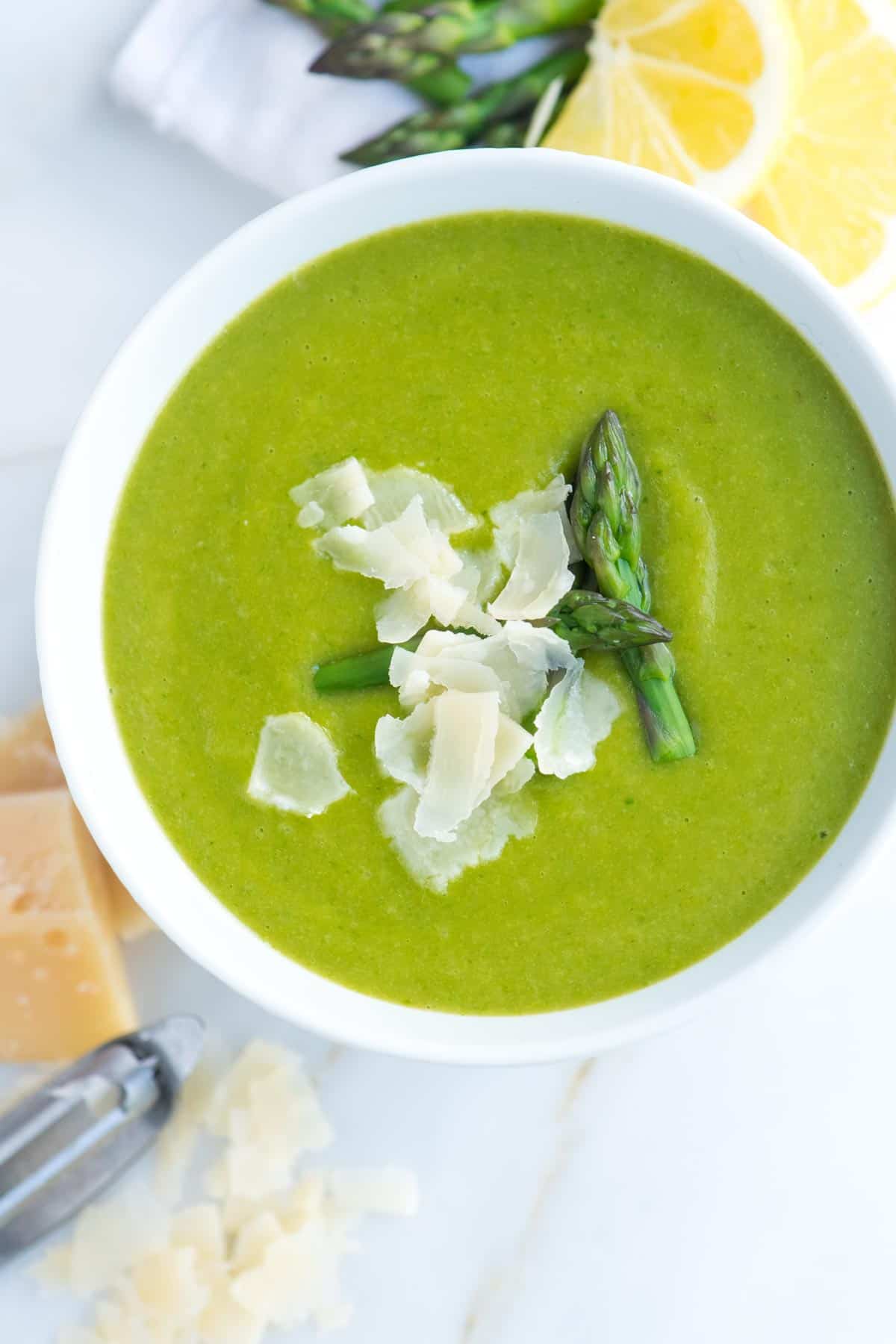 The soup is also vegetarian (and if you leave out the parmesan cheese when serving, it's vegan). Instead of using chicken stock — our usual go-to for blended soups — we make a quick broth using the trimmings of the asparagus.
I'd usually tell you to toss them since they are pretty tough and don't become very tender compared to higher up the stalk. This time I want you to save them and use them to make a broth. This means that we're reducing waste in the kitchen and taking advantage of the fact that even though the asparagus ends are tough, they still taste like asparagus.
By simmering the asparagus trimmings along with a garlic clove, bay leaf, and the dark green tops of a leek (also something we'd usually ask you to toss), we make a delicate and fragrant broth that's perfect as the base for the soup. It's also excellent for cooking rice, grains, and risotto by the way.
The last trick up our sleeves for this bright green asparagus soup is to add spinach. It doesn't add a ton of flavor, but it does keep the soup vibrant and green when blended.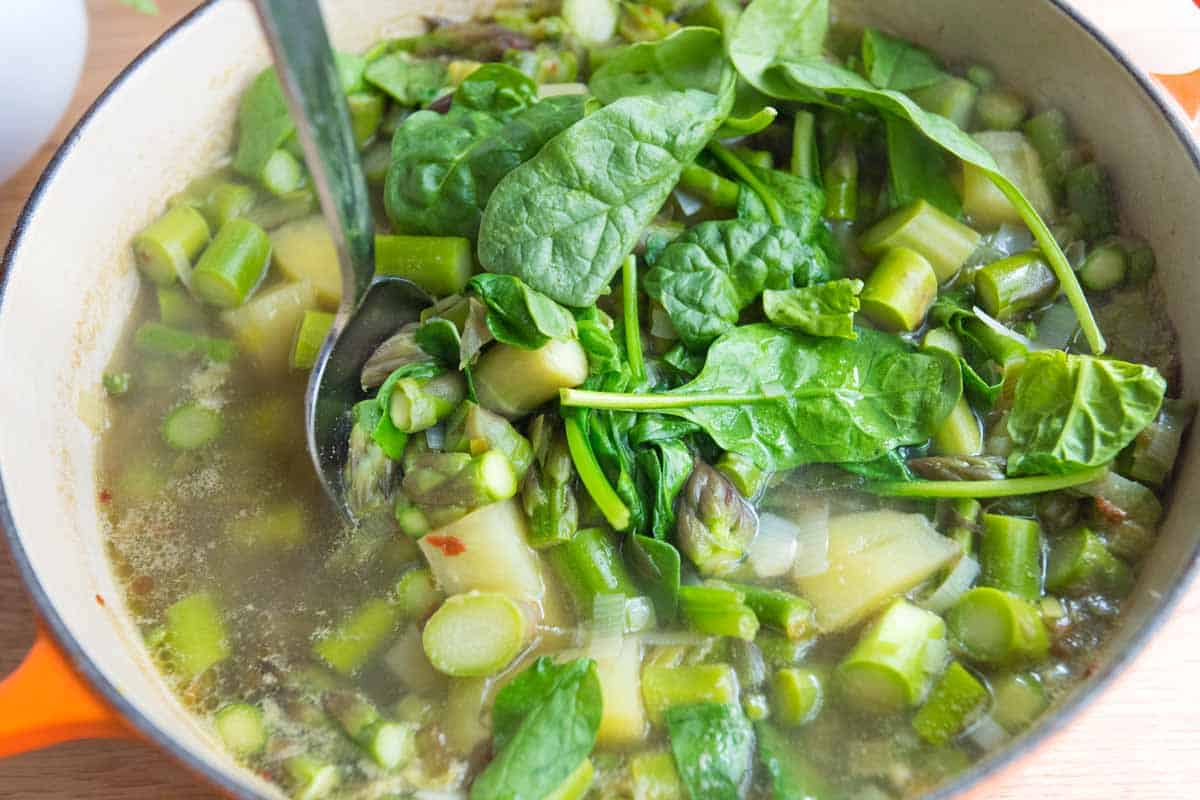 More Easy Asparagus Recipes
If you love asparagus as much as we do, definitely take a look at these recipes:
Guilt-Free Asparagus Soup
This simple asparagus soup is delicious, vegetarian, and minimizes waste. Instead of using stock to make the soup, we make a quick asparagus broth using the asparagus and leek trimmings. The broth is delicate and fragrant and is the perfect way to make use of trimmings instead of throwing them away.
Makes approximately 6 servings
You Will Need
Asparagus Broth
Trimmed stems from 2 pounds asparagus, roughly chopped
Green tops of 1 large leek, rinsed of sand and grit
1 medium carrot, chopped
1 garlic clove, halved
1 bay leaf
Salt to taste
1/4 teaspoon fresh ground pepper
9 cups water
Asparagus Soup
2 tablespoons extra-virgin olive oil
1 leek, white and light green parts only, rinsed of sand and grit and sliced
1 garlic clove, minced
2 medium russet potatoes, peeled and diced (about 1 pound)
Salt to taste
6 to 7 cups asparagus broth (from recipe above)
2 pounds asparagus, woody ends trimmed and used for broth
3 cups baby spinach
Half of a lemon, cut into wedges
Fresh ground black pepper
Fresh shaved or grated parmesan cheese for garnish, optional
Directions
Make Broth

1In a large soup pot or Dutch oven, combine all of the ingredients for the broth and bring to a boil. Reduce the heat, cover and simmer for 25 minutes. Season to taste with salt bit by bit until you begin to taste the ingredients in the broth, but before it tastes salty. Strain.
Make Soup

1Heat the olive oil in a large, heavy soup pot or Dutch oven over medium heat. Add sliced leek as well as 1/4 teaspoon of salt and cook, stirring often, until the leek has softened and smells sweet, about 5 minutes.

2Stir in the garlic and cook for one more minute. Toss in the potatoes and pour in about 6 cups of the asparagus broth (save the remaining broth for thinning the soup later). Bring to a boil, reduce the heat to a simmer, and then cover and simmer until the potatoes fall apart when pierced with a fork, about 20 minutes.

3Meanwhile, cut tips from 12 asparagus spears 1 1/2 inches from the top. Reserve these for a garnish when serving. Roughly chop the rest of the asparagus. When the potatoes are ready, stir in the chopped asparagus (not the reserved tips) and simmer until tender, but still bright green.

4Remove from the heat and stir in spinach until wilted, but still bright, about a minute.
To Finish

1Blend the soup — it doesn't need to be ultra-smooth, some texture is nice. An immersion blender makes quick work of this or use a blender. If you use a regular blender, it is best to blend in batches and not fill the blender as much as you usually would since the soup is so hot. Remove the center insert of the lid and cover it with a kitchen towel while blending — this helps some of the steam release and prevents the lid from popping off (which can be a big, hot mess).

2Return the blended soup to the pot and heat through. Taste and adjust with additional salt and pepper. If the soup seems too thick, thin out with more asparagus broth a 1/4 cup at a time.

3Just before serving, toss the reserved asparagus tips into an inch or two of boiling salted water and cook until tender, but still bright green, about 3 minutes. Rinse with cold water to stop the cooking.

4Ladle the soup into bowls and garnish with two asparagus tips and parmesan cheese. Serve with a lemon wedge for squeezing over the top.
Adam and Joanne's Tips
Make-ahead: The broth and the soup can be made a day in advance. Keep in mind that the color of the soup may dull slightly overnight. It will still taste delicious.
Leftover broth: Any leftover broth can be used in other soups, for cooking rice or grains or in risotto.
Nutrition Facts: The nutrition facts provided below are estimates. We have used the USDA database to calculate approximate values. We did include 1 tablespoon of parmesan cheese in the calculations for each serving (there are 6 servings total). We omitted salt from the calculations since you will need to add to your tastes.
If you make this recipe, snap a photo and hashtag it #inspiredtaste — We love to see your creations on Instagram and Facebook! Find us: @inspiredtaste
Nutrition Per Serving
Calories
149
/
Protein
6 g
/
Carbohydrate
20 g
/
Dietary Fiber
4 g
/
Sugars
3 g
/
Total Fat
6 g
/
Saturated Fat
2 g
/
Cholesterol
3 mg