Sweet, earthy and sticky. This chicken is so good.
Start by buying a whole chicken that has been quartered. Try to go for the chicken that still has the bone in and the skin on. You could even do this with just drumsticks, chicken thighs or breast, just remember the drumsticks will cook quicker than the breasts, so keep a close eye.
The glaze comes together in under 5 minutes, you'll just need dried lavender, dried thyme, dried rosemary, 1/2 cup of honey and a 1/4 cup of balsamic vinegar. We buy most of our spices online and have found most places sell food grade dried lavender. We have bought lavender from The Spice House and Spices Inc before and have been happy. Lavender is a strong flavor, but stands up really well to something sweet, like honey. We first tried honey and lavender together when we stopped in to the Red Fox Inn in Virginia, where we ended up ordering a quail with lavender honey glaze, that quail ultimately became the inspiration for this chicken. It's funny how that happens, we must have eaten that quail years ago, but I guess that flavor combo stuck with us all this time!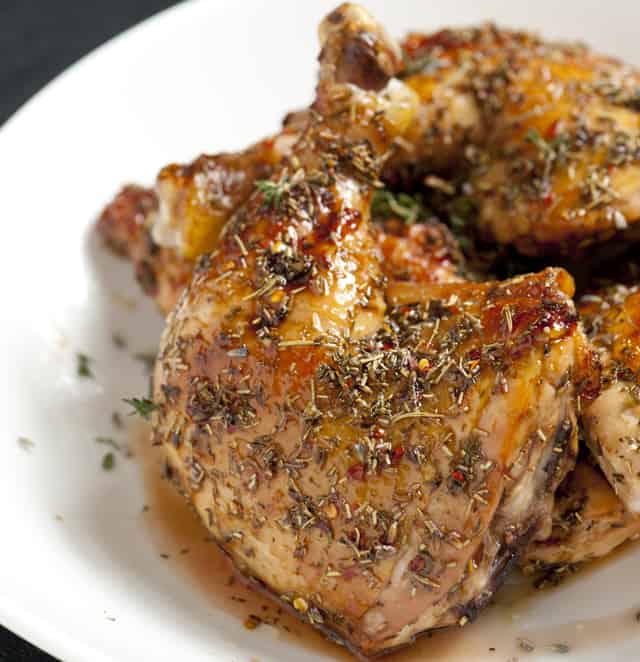 Isn't it pretty, I could eat the whole plate of chicken right now…. maybe with some mashed potatoes and green beans?
We made these for an entire gluten-free menu featured in maché magazine's Holiday Issue, see the whole menu by clicking here!
Joanne

Lavender Honey Chicken
Lavender is a pretty intense flavor, but when you match it with something floral and sweet like honey, it really works. You can find food-grade lavender by searching on Google. We have bought our lavender online from the following stores and have been really pleased:
The Spice House
and
Spices Inc.
Created By:
Joanne and Adam Gallagher
You Will Need
1 whole chicken, quartered
1 tablespoon salt
2 teaspoons dried lavender
1 tablespoon dried thyme
1/2 teaspoon crushed red pepper flakes
1 tablespoon dried rosemary
1/2 cup honey
1/4 cup balsamic vinegar
Directions
Preheat oven to 400 degrees F and position racks towards the middle of the oven.
Season chicken quarters with salt and arrange in one layer onto a baking sheet or two. Bake in the oven for 20 minutes.
In the meantime, combine lavender, thyme, rosemary, honey and balsamic vinegar in a small bowl. Baste the chicken with the lavender honey marinade every 5 minutes for an additional 15-20 minutes or until completely cooked though and a thermometer inserted into the thickest part of the chicken reads 165 degrees F. Remove chicken from the oven, loosely cover with aluminum foil and allow to rest for 5 minutes before serving.