How to make creamy roasted parsnip puree that will rival mashed potatoes. Jump to the Creamy Roasted Parsnip Puree Recipe or read on to see our tips for making it.
Thanks to my English mother, I grew up eating parsnips. Usually she'd roast them and just leave it at that. I love roasted parsnips — especially when roasted alongside carrots, but I also love taking the extra step of pureeing them.
YOU MAY ALSO LIKE: Maple syrup perfectly balances the bitterness of endive in this simple side. Jump to the Maple Roasted Endive Recipe.
Roasted parsnips become ultra smooth and creamy when pureed. You could just leave them plain, but to make them extra silky, we add a splash of cream and love a touch of nutmeg swirled in at the end.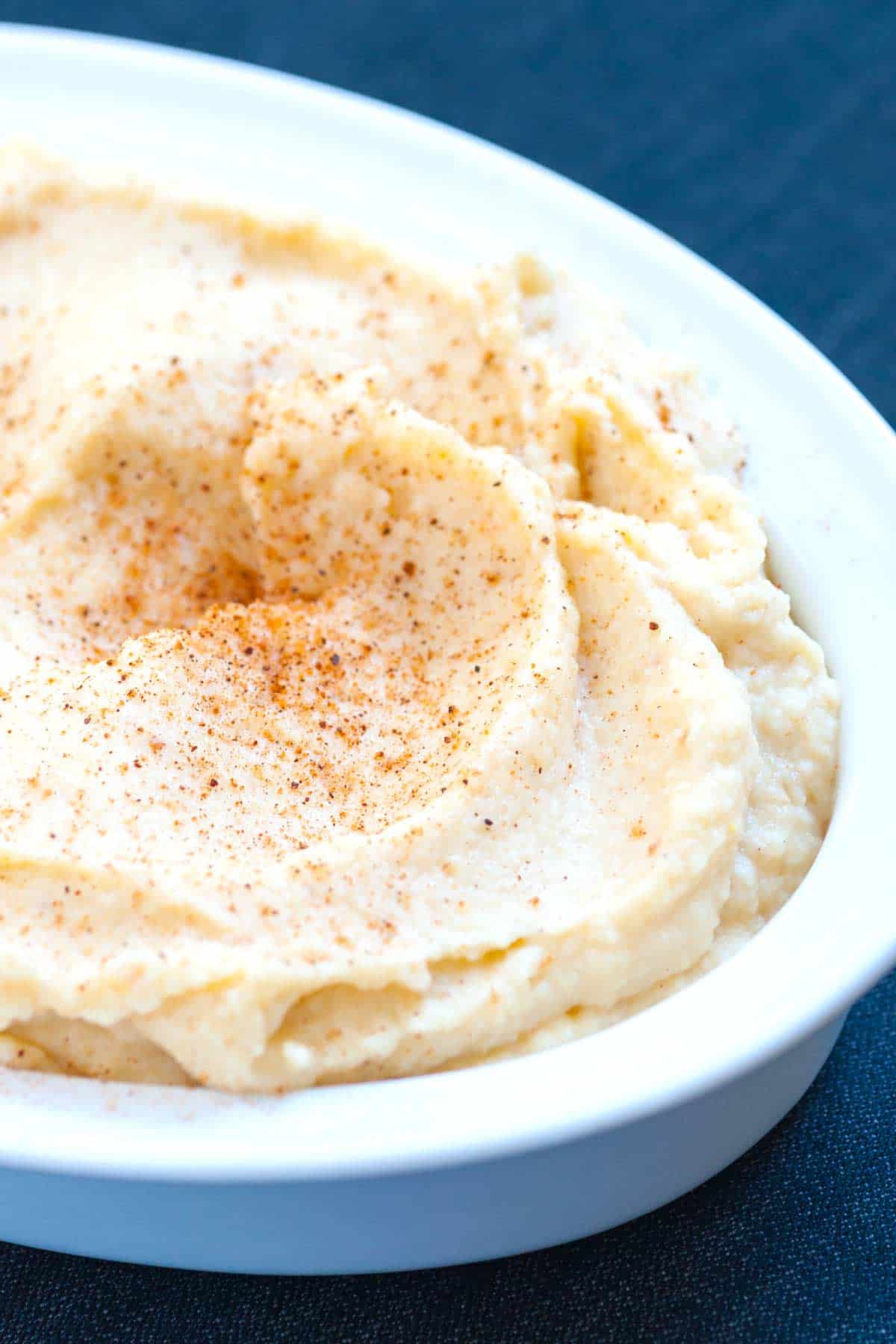 Serve this as a replacement for mashed potatoes. I especially love this with roasted pork tenderloin or roast chicken.
YOU MAY ALSO LIKE: This is our favorite homemade mashed potatoes recipe (skin-on or peeled). Learn which potatoes to use and how to cook them so that they are creamy and delicious. Jump to the Homemade Mashed Potatoes Recipe.
Recipe updated, originally posted January 2012. Since posting this in 2012, we have tweaked the recipe to be more clear. – Adam and Joanne
Creamy Roasted Parsnip Puree Recipe
Parsnips are such a wonderful vegetable, think the sweetness of a carrot and the creaminess of a potato. Make this ahead of time and keep in the fridge for up to 3 days, just reheat just before serving.
You Will Need
2 pounds parsnips, peeled and cut into 1-inch pieces (8 medium)
2 tablespoons extra-virgin olive oil
1 1/4 cup water or chicken stock, see our homemade stock recipe
1/2 cup cream or half-and half
1/8 teaspoon nutmeg
Salt and fresh ground black pepper
Directions
1Heat oven to 400 degrees F and position an oven rack in the middle of the oven.

2In a medium bowl, toss parsnips with olive oil and 1/2 teaspoon of salt. Arrange parsnips in one layer onto a baking sheet — or use two baking sheets. Bake in the oven for about 30 minutes, turning once, until lightly golden brown.

3Add roasted parsnips to a food processor (or use a food mill) with water/stock, cream and nutmeg. Puree until your desired consistency, add more water if necessary. Stir in a few grinds of pepper and season with salt to taste.