For this easy cauliflower soup recipe, we roast a whole head of cauliflower until golden brown and then blend it with onion, parmesan cheese, and broth until silky smooth. This healthy soup is creamy, decadent, and delicious!
Watch the Video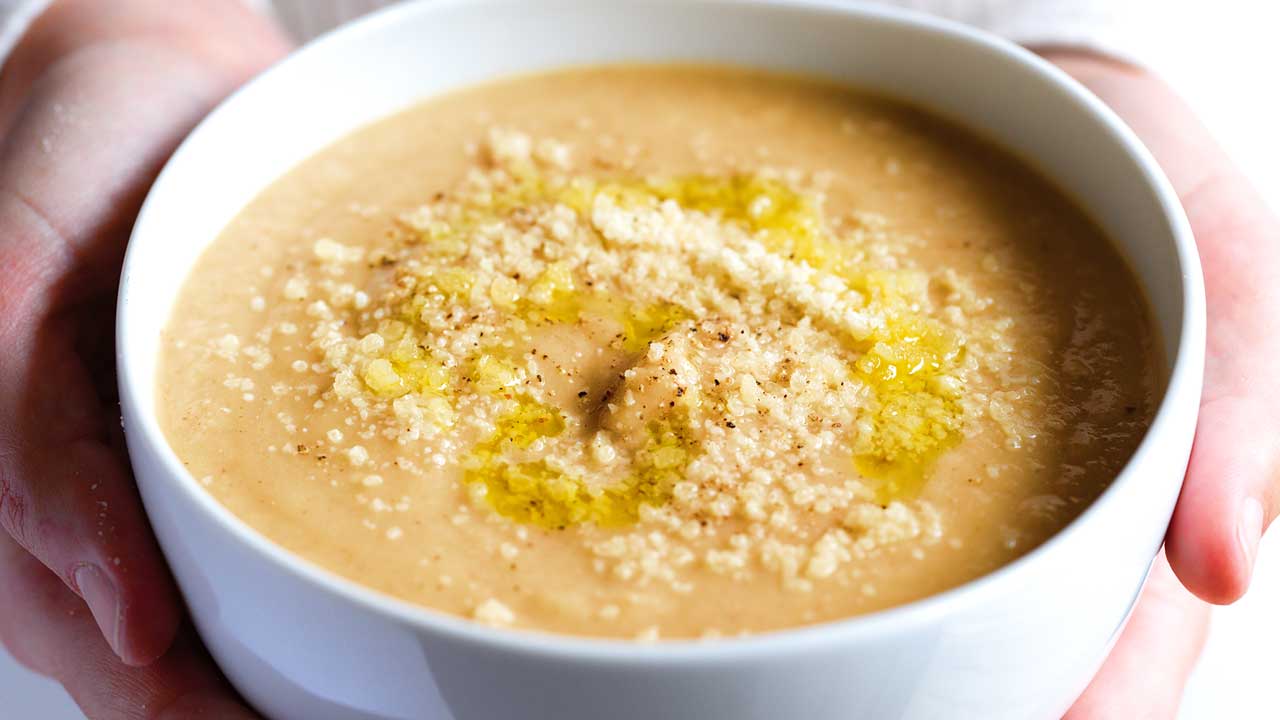 Related: Our creamy broccoli cheddar soup is packed with broccoli flavor and is extra cheesy.
Our Best Cauliflower Soup
We love cauliflower. It's so versatile, which is why we have so many cauliflower recipes shared on Inspired Taste. A few favorites include this herby cauliflower rice, these cauliflower tacos, and this cauliflower soup. This roasted cauliflower soup is surprisingly easy to make, is rich and creamy, and easily adapts to vegan or vegetarian diets.
Cauliflower Soup Recipe Ingredients
We don't add any cream to this recipe. There is a little butter, but not too much, and you can swap that for olive oil or a plant-based butter if you needed to. The cheese is also optional, but I must admit that I do love the combination of cauliflower and parmesan. Here's a brief explanation of what you will need to make the roasted cauliflower soup:
Cauliflower – For a generous 4-serving soup, we use one large head of cauliflower and roast it, cut it into slices with olive oil, garlic cloves, and fresh thyme.
Onion and celery – Once the cauliflower has finished roasting in the oven, we cook onion and celery with a pinch of red pepper flakes and salt, adding more nutritious vegetables to the soup and flavor.
Broth – We love to use a light broth so that the cauliflower shines. I especially love this easy chicken broth and this delicious veggie broth.
Butter – We don't add cream to our cauliflower soup, but we add some butter. Use a good-quality European-style butter or your favorite plant-based butter.
Lemon juice – A squeeze of fresh lemon juice really brings this soup together. We highly recommend it.
Cheese – I love adding parmesan cheese to my cauliflower soup, but you can substitute for another kind of cheese or leave it out altogether.
Find the full recipe with measurements below.
How to Make Roasted Cauliflower Soup
This cauliflower soup starts with roasting a whole head of cauliflower. We don't pay too much attention to how well we chop the cauliflower. Slicing it into cauliflower steaks or slabs is the quickest way. Then we toss them with olive oil, salt, thyme, and whole garlic cloves — you can leave the peel on for now. As the garlic roasts in the oven, it softens and becomes sweet.
The cauliflower and garlic roast in a hot oven for 20 to 25 minutes, so it's pretty quick. When it is nearly finished roasting, you can prepare the remaining ingredients.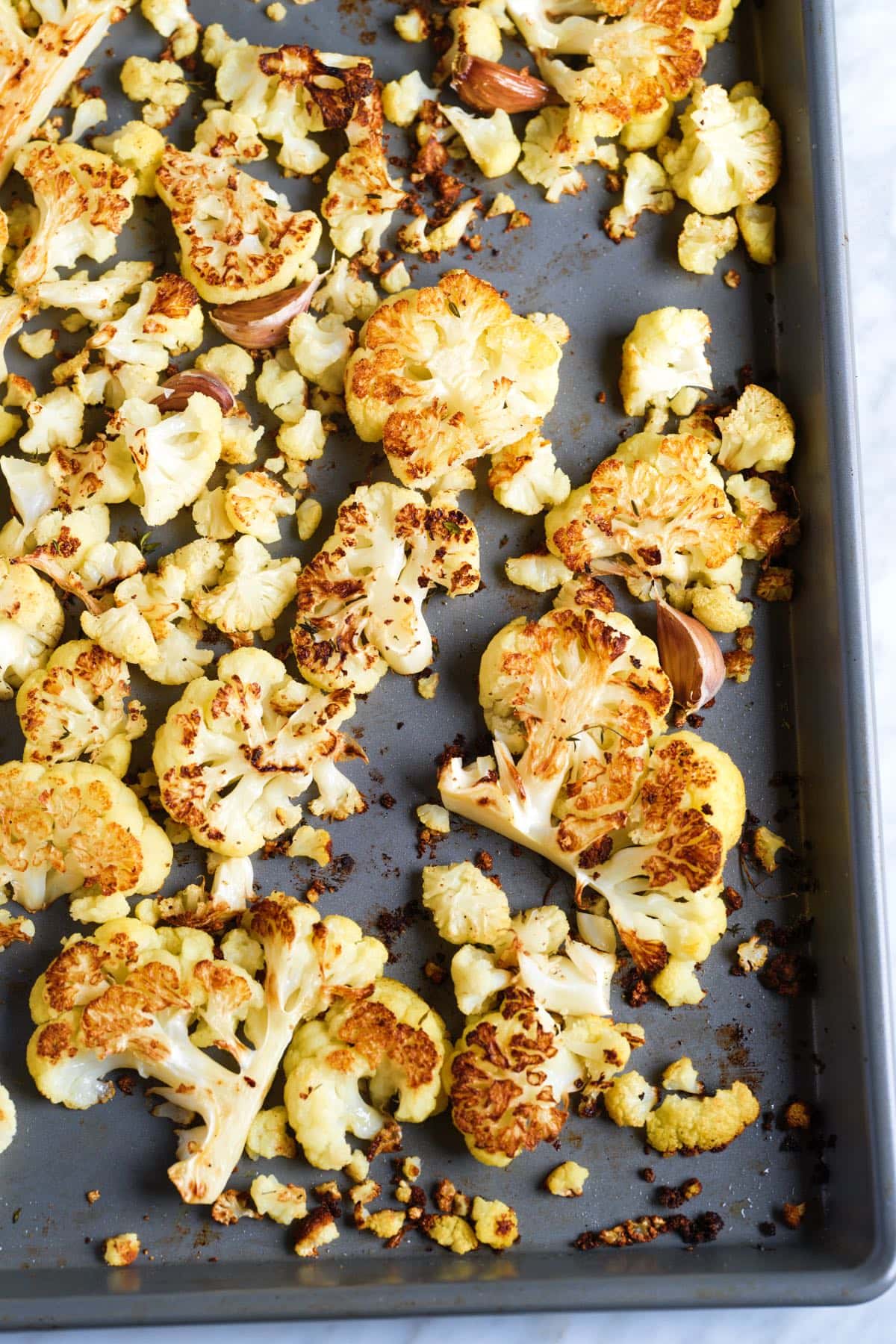 Just as the cauliflower is finishing in the oven, in a soup pot, cook roughly chopped onion and celery in butter (or olive oil) until soft. Then, pour in broth and add the roasted cauliflower. I have two favorite broths for this: rich veggie broth or chicken broth.
The garlic will have softened tremendously. You can easily squeeze the soft garlic cloves to add the roasted garlic flesh to the pot.
Let the soup simmer for 10 minutes, then blend it into a smooth, decadent soup. I love adding some fresh lemon juice and parmesan cheese, but you can adjust the seasoning with fresh herbs, another kind of cheese, or leave it plain.
You can see from the photos that the cauliflower soup is super creamy. It's so creamy without the addition of heavy cream! We love it so much.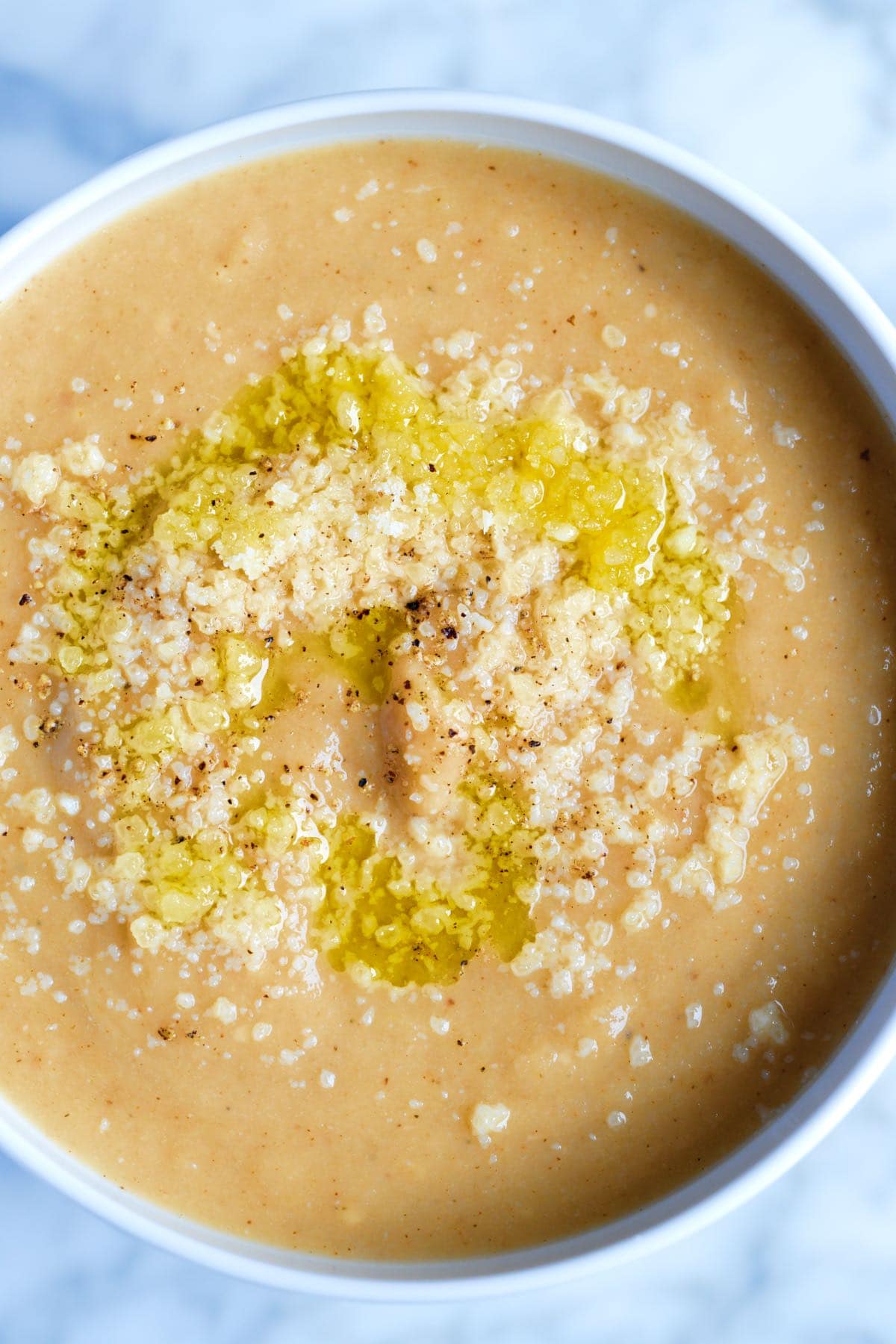 Make-Ahead and Freezing Instructions
This soup lasts in your refrigerator for up to five days. It can also be frozen for up to one month, probably longer.
More Delicious Cauliflower Recipes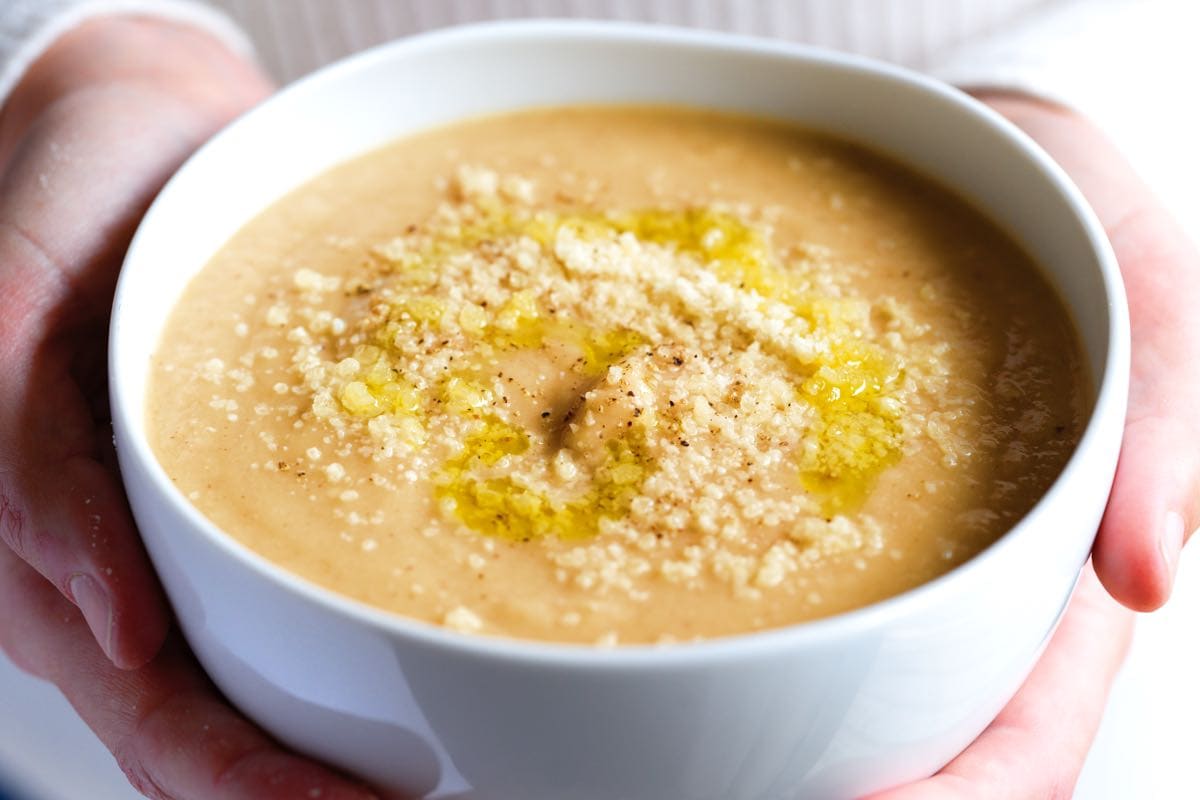 Easy Roasted Cauliflower Soup
For this easy cauliflower soup recipe, we roast a whole head of cauliflower until golden brown and then blend it with onion, parmesan cheese, and broth until silky smooth. This healthy soup is creamy, decadent, and delicious! For more crunch, try serving this soup topped with our homemade garlic croutons.
Serves 4 (Makes 6 to 7 cups of soup)
Watch Us Make the Recipe
You Will Need
1 large head cauliflower, about 2 pounds
4 tablespoons olive oil
1 teaspoon fresh thyme leaves or 1/4 teaspoon dried thyme
4 garlic cloves, left unpeeled
1/2 large onion, chopped, about 1 ¼ cups
1 stalk celery, chopped, about 1/2 cup
Pinch crushed red pepper flakes, optional for heat
4 cups (32 ounces) vegetable broth or chicken broth
2 tablespoons unsalted butter or vegan butter
1 tablespoon fresh lemon juice, or more if needed
1/4 cup grated parmesan or cheddar cheese, plus more for serving, optional
Directions
Roast Cauliflower and Garlic

1Heat the oven to 425° Fahrenheit and prepare a baking sheet. We roast the cauliflower directly on the baking sheet, but for easy cleanup, line it with parchment paper or a silicone baking mat.

2Remove the larger leaves from the cauliflower, and leave the core intact. (You can save the leaves for blending into the soup later).

3Slice the cauliflower in half and cut it into 3/4-inch thick slices.

4Drizzle two tablespoons of olive oil onto the baking sheet, then arrange the cauliflower on top of the oil.

5Add the unpeeled garlic cloves (they will roast in their peels) and the thyme, then drizzle over two more tablespoons of olive oil. Move the cauliflower slices around, so they each have a chance to touch some oil.

6Roast for 20 minutes or until the bottom of each slice looks well browned. Flip each piece, and then roast for 5 minutes more.
Make Soup

1Melt two tablespoons of butter in a deep soup pot over medium heat. Then, stir in the onions, celery, pinch of red pepper flakes, and 1/4 teaspoon salt. Cook until softened, about 5 minutes.

2When they are cool enough to handle, squeeze the garlic from inside each garlic clove, and place them into the soup pot. Discard the garlic peel.

3Transfer the roasted cauliflower to the pot, and then pour in the broth. If you saved any cauliflower leaves from earlier, add them to the pot. Bring to a simmer, and cook for 10 minutes.

4Turn off the heat, and add the cheese and two tablespoons of lemon juice.

5Blend the soup until smooth. An immersion blender is the easiest, or you can use a blender. If you use a regular blender, it is best to blend in batches and not fill the blender as much as you usually would since the soup is so hot. We like to remove the lid's center insert and cover it with a kitchen towel while blending. This helps to release some of the steam and prevents the blender lid from popping off (which can be a big, hot mess).

6If the soup is too thick, add 1/4 cup to 1 cup of water. Add enough water to achieve your preferred thickness. The water will not water down the flavor of your soup, but if you are concerned or have more on hand, you can use stock or broth.

7Taste the soup, and then add more lemon juice, salt, and pepper until the flavor pops — it should make you smile.

8Serve with more cheese, a few grinds of black pepper, and a drizzle of olive oil on top.
Adam and Joanne's Tips
Vegetarian Adaptations: Use vegetable broth, a vegetarian-friendly cheese or leave it out altogether.
Vegan Adaptations: Use vegan broth, vegan butter and vegan cheese or a couple tablespoons of nutritional yeast instead (my preference).
Nutrition facts: The nutrition facts provided below are estimates. We have used the USDA database to calculate approximate values.
If you make this recipe, snap a photo and hashtag it #inspiredtaste — We love to see your creations on Instagram and Facebook! Find us: @inspiredtaste
Nutrition Per Serving
Serving Size
1/4 of the recipe (1 of 4 servings)
/
Calories
288
/
Total Fat
23.2g
/
Saturated Fat
7.5g
/
Cholesterol
23.4mg
/
Sodium
686.7mg
/
Carbohydrate
18.1g
/
Dietary Fiber
5.2g
/
Total Sugars
7.5g
/
Protein
6.8g