How to make this easy and delicious shrimp pasta with tomatoes and basil in 15 minutes flat. Jump to the 15 Minute Shrimp Pasta Recipe with Tomato and Basil or read on to see our tips for making it.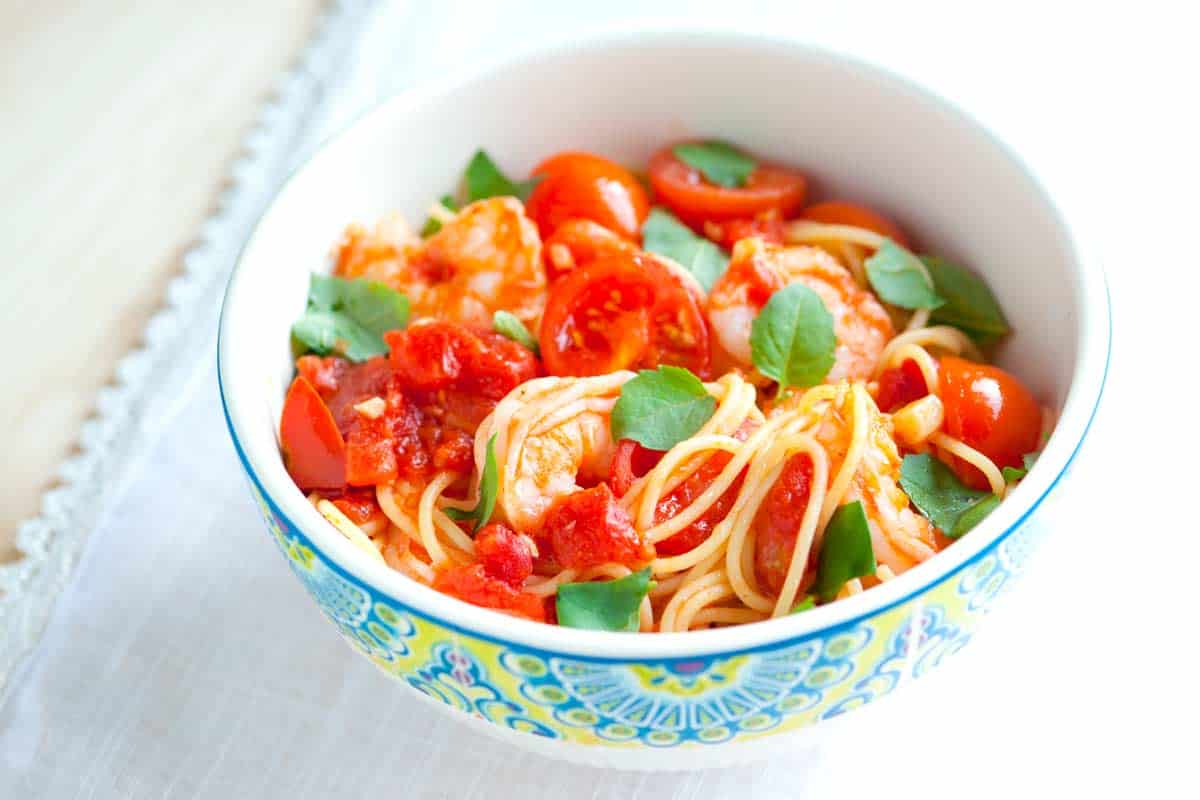 YOU MAY ALSO LIKE: How to make baked ziti with shrimp, spinach, and feta cheese. Easy and delicious. Jump to the Baked Ziti Recipe with Shrimp.
How to Make Tomato Basil Shrimp Spaghetti in 15 Minutes
I love this easy dinner. It comes together so quickly. In fact, in the time it takes to cook the pasta, the shrimp and sauce are done.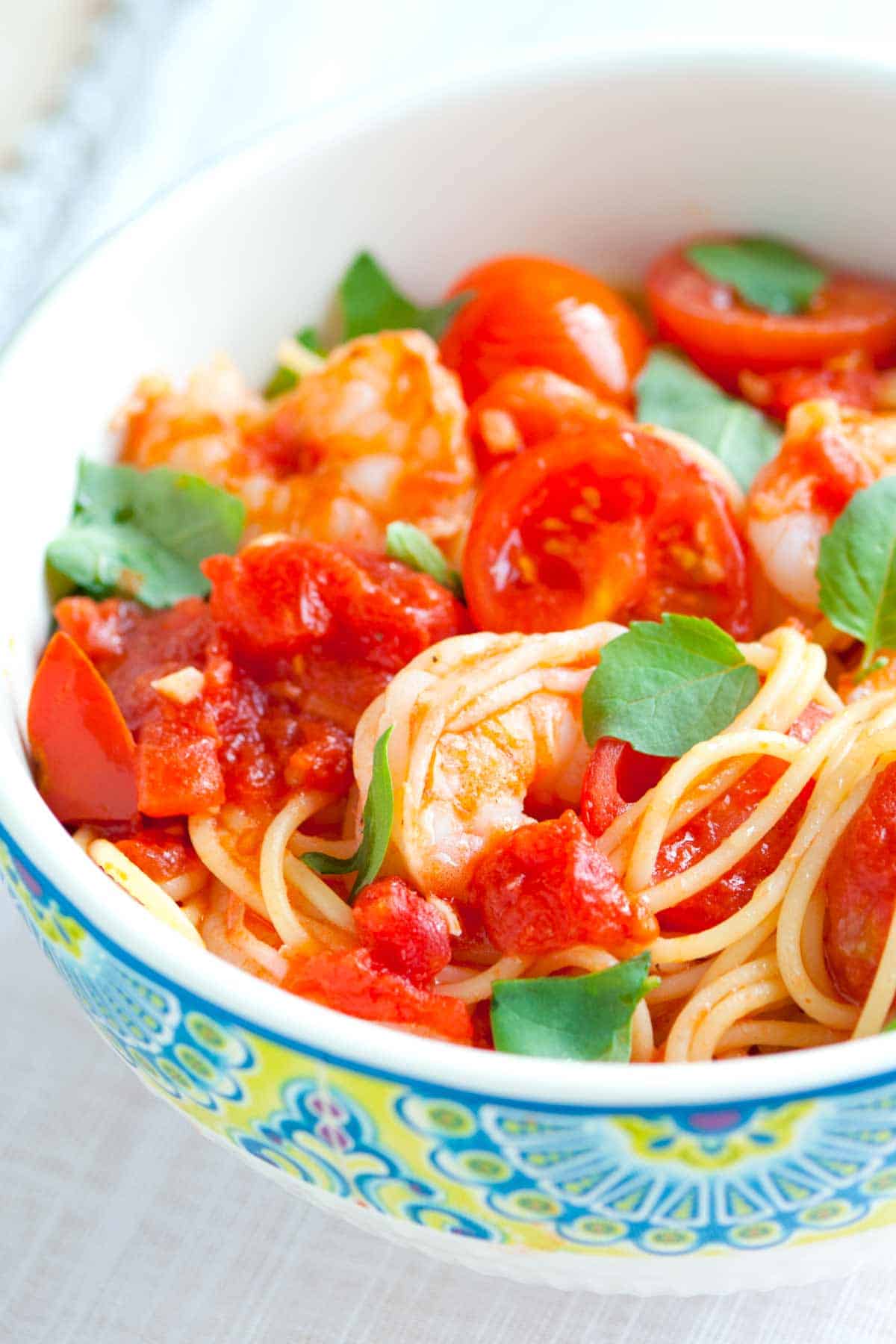 Start by getting your pasta cooking. We love using angel hair or a thin spaghetti, but any shape will wrk for this. While the pasta is cooking, make the shrimp. Cook garlic in some olive oil in a skillet. When it becomes fragrant, add the shrimp.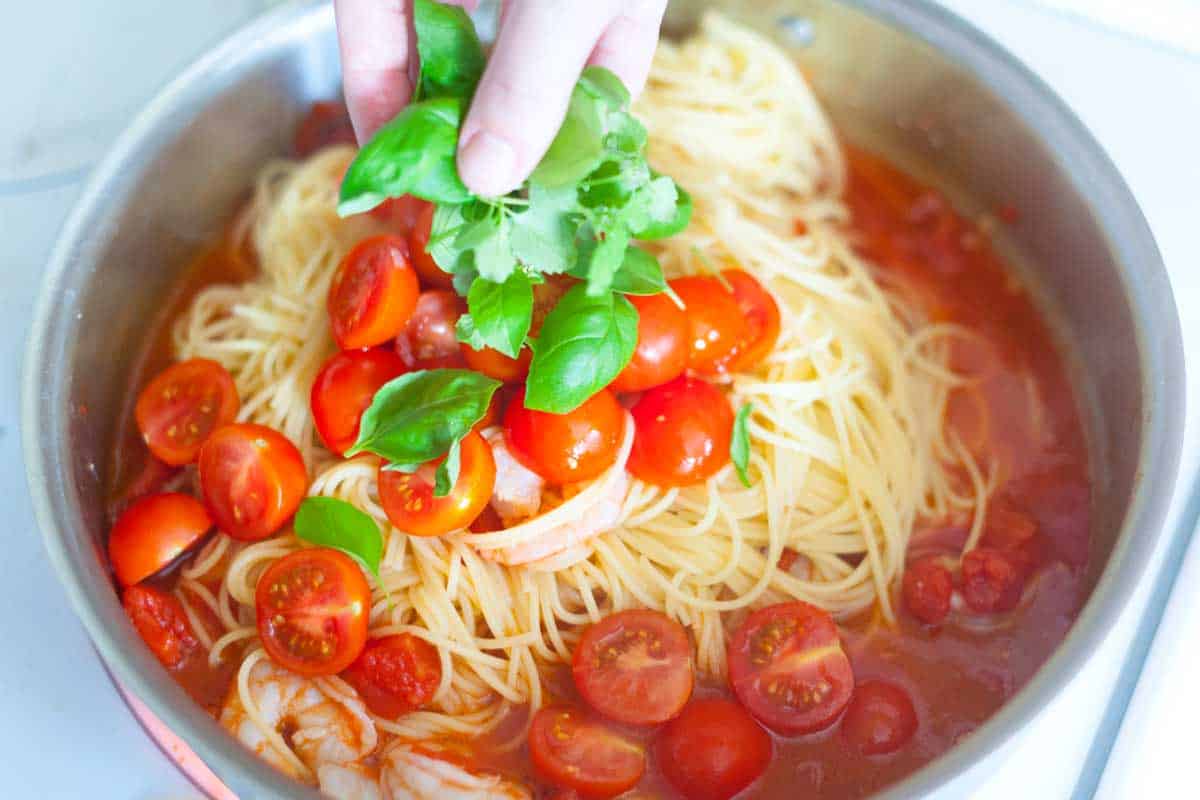 Just as the shrimp start to turn translucent in the middle, add a whole can of diced tomatoes, fresh cherry tomatoes and a handful of basil leaves. Bring it to a simmer then toss in the cooked pasta and cook until coated. The pasta will absorb the flavors of the sauce, the basil will wilt and the fresh cherry tomatoes will warm through.
YOU MAY ALSO LIKE: How to make brown butter kale pasta with feta cheese and golden raisins. Jump to the Brown Butter Kale Pasta Recipe.
Recipe updated, originally posted March 2012. Since posting this in 2012, we have tweaked the recipe to be more clear. – Adam and Joanne
15 Minute Shrimp Pasta Recipe with Tomato and Basil
This light pasta comes together in minutes and is flavored with garlic, tomatoes and fresh basil. When you choose the pasta, go for something thin like angel hair or thin spaghetti.
You Will Need
8 ounces dry pasta, like angel hair or thin spaghetti
1 tablespoon extra-virgin olive oil, plus more for serving
3 garlic cloves, minced
1 pound large shrimp, peeled and deveined
1 (16 ounce) can diced tomatoes
1 cup cherry tomatoes, halved
1/2 cup loosely packed basil leaves
Salt and fresh ground black pepper
Directions
1Cook the pasta in boiling salted water until it is tender but not mushy. Drain.

2Pat the shrimp dry then season with salt and pepper. Heat a large skillet over medium-high heat. Add the olive oil and garlic and cook until fragrant, about 1 minute. Add the shrimp in one layer then cook, flipping once, until they turn translucent in the middle, 2 to 3 minutes.

3Stir in the canned tomatoes and use a wooden spoon to scrape any bits of garlic stuck to the bottom of the skillet. Cook until the juices from the tomatoes have reduced slightly, about 2 minutes. Taste the sauce and adjust with salt and/or pepper.

4Add the cooked pasta, halved cherry tomatoes and half of the basil to the pasta. Toss well and cook until the cherry tomatoes are warmed through and the sauce begins to coat the pasta, another 2 to 3 minutes. Serve in bowls with basil and a drizzle of olive oil on top.