Guilt-Free Garlic Parmesan Zucchini Noodles Pasta
My favorite way to cook zucchini noodles! See how to make our 20-minute zucchini noodles pasta recipe with garlic, tomatoes, basil, and parmesan cheese. Low-carb, keto-adaptable, and vegetarian-adaptable! Jump to the Zucchini Noodles Pasta Recipe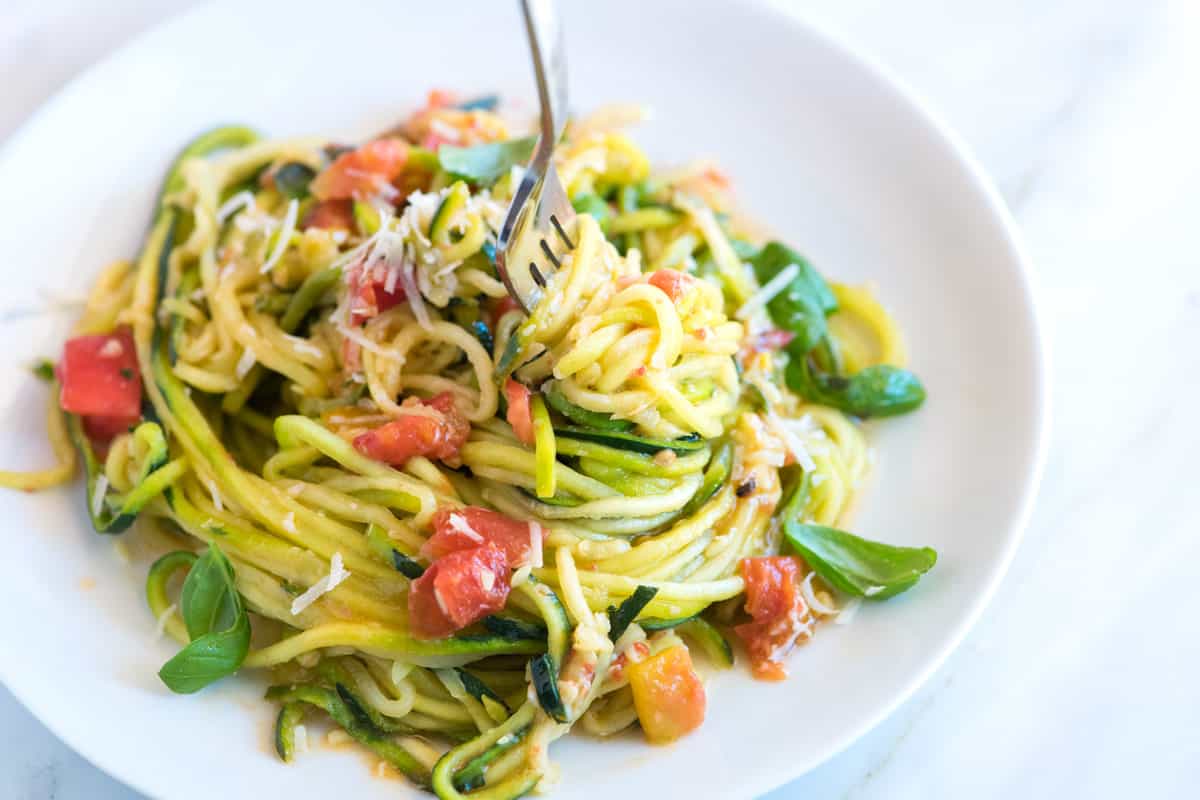 Guilt-Free, 20 Minute Zucchini Pasta
We are in love with this easy recipe. There's fresh zucchini, tomatoes, basil, parmesan, and lots of garlic. The best part? It only takes 20 minutes to make. It's low on calories and carbs, while having maximum flavor!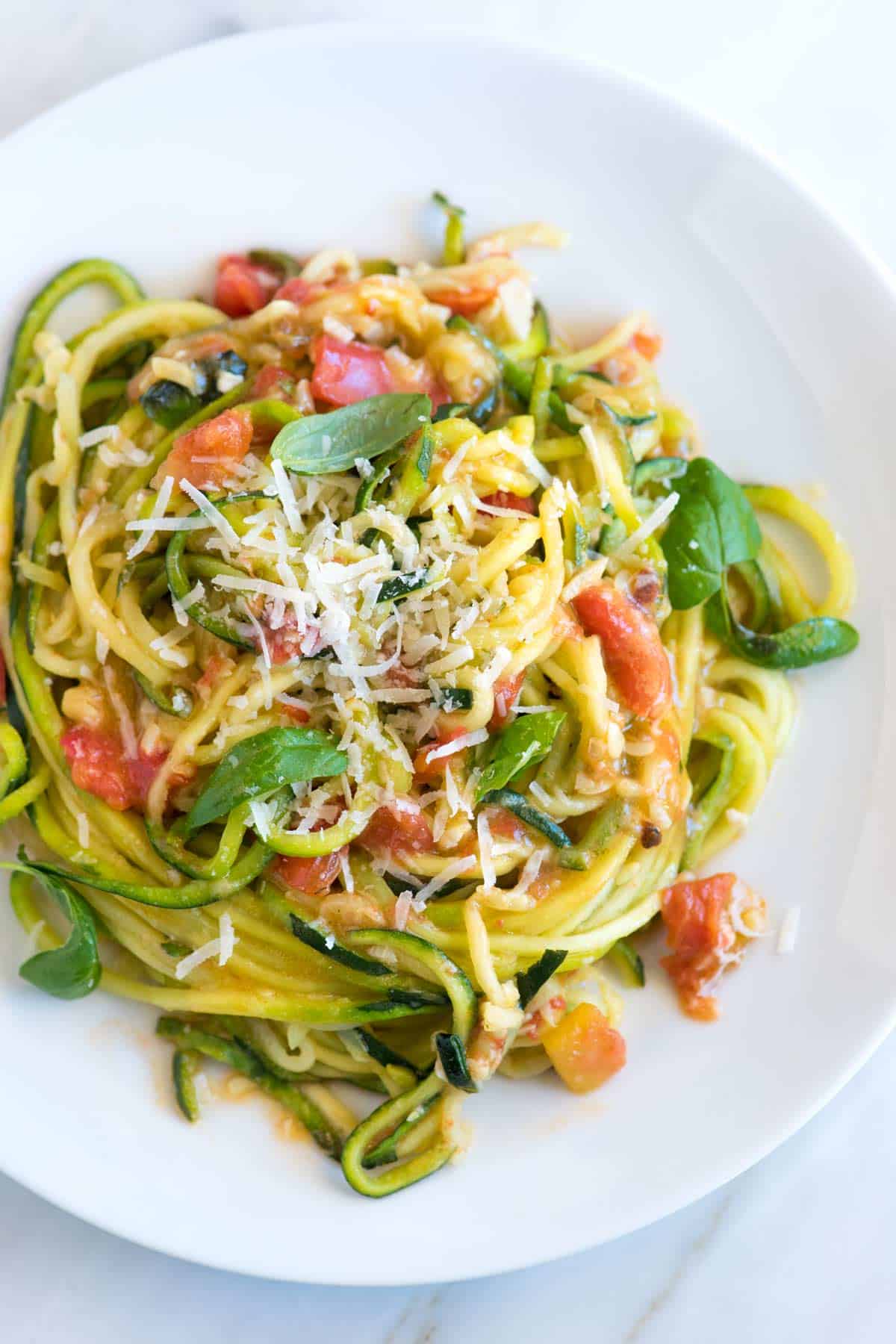 This is such a quick and easy recipe. It's adaptable, too. We love this with 100% zucchini noodles (basically, spaghetti made from zucchini), but a combination of real spaghetti or pasta and zucchini is great.
This pasta recipe is all about fresh ingredients. The zucchini should be firm and the tomatoes sweet. If you have a hard time finding good, flavorful tomatoes, it is better to use canned. We love canned San Marzano tomatoes as well as the options from Muir Glen.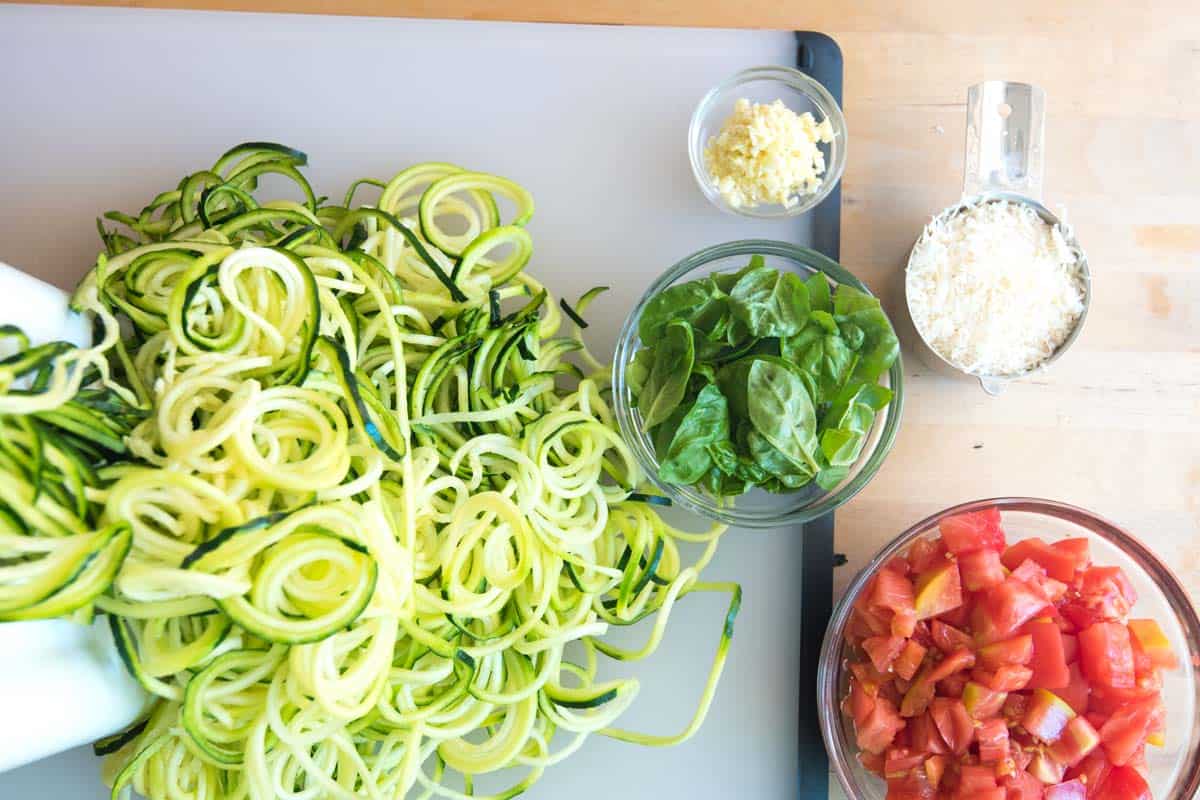 How to Make Zucchini Noodles With and Without a Spiralizer
Zucchini noodles are spaghetti-like strands of zucchini. You can make them a variety of ways. Here's how to make them:
The easiest way to make zucchini noodles is to use a spiralizer. They make long, curly noodles in minutes. This is a great tool to add to your kitchen. We purchased ours on Amazon for less than $30. There are a variety of brands and price points to choose from. Some food processors come with a spiralizer attachment now, too.
No spiralizer, no problem! You can also use a julienne vegetable peeler. These come in at under $10 and might even be hiding in your kitchen gadget drawer right now.
Most mandoline slicers will make noodles, too.
You can also use a standard vegetable peeler and make wide noodles.
Depending on where you shop, you might even find that you can buy previously spiralized zucchini. I've seen them for sale in Whole Foods, Trader Joe's, and even some Safeway stores.
Once you've got noodles, you're ready to cook them.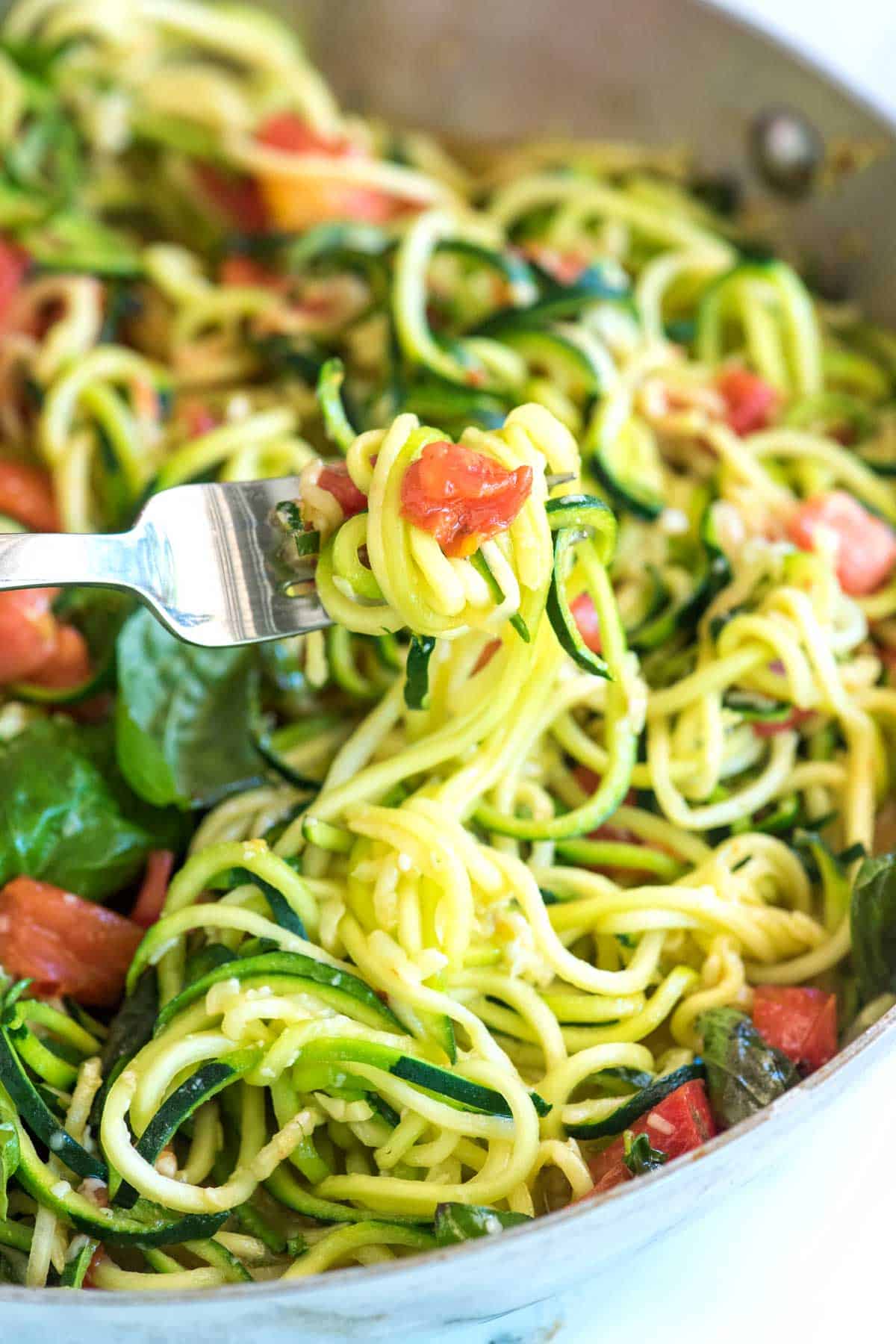 Our Best Tips for Cooking Zoodles So That They Are Delicious and Not Soggy
Zucchini is mostly made up of water so cooking it can be tricky. Here are our tips for cooking it well and making sure it's not soggy.
Don't peel the zucchini. Peeled zucchini noodles are mushy and have little crunch. Plus, it adds a step and we're looking for dinner on the table fast.
Don't salt the zucchini ahead or time or while it cooks in the pan. Salt draws out water from the zucchini. This will make it less crunchy when it's cooked. Since salt makes things taste good, we prefer to salt the sauce and not the zucchini.
Don't overcook. The noodles should be cooked to al dente (just like pasta). This means they will look wilted, but still have a crunch.
Since zucchini has a tendency to become watery, we do our best to reduce this as much as possible in our recipe. Even so, you will still find some water left at the bottom of the serving bowl. This is okay with us. The liquid mixes with tomato, garlic, cheese, and olive oil, so it's delicious. By the way, if you are looking for more ways to use up zucchini, here's our parmesan basil zucchini chips recipe for you. They are addictive.
What Our Readers Are Saying
If you don't believe that our recipe helps you achieve perfect zucchini noodles pasta at home, take a look at what our readers are saying about the recipe! More reviews are in the comments section below.
"Wow! It's delicious. This recipe is at the top of the favorites list!" – Pam

"I was surprised how delicious this actually was!! I followed recipe exactly and it turned out perfect." – Marissa

"Oh. My. Goodness! Its amazing! What a super way to introduce the family to disguised healthy eating with flavor that is the embodiment of summer. This year I planted even more zucchini and Zoodles will be part of our lives forever!" – Shannon
More Veggie Recipes
Guilt-Free Garlic Parmesan Zucchini Noodles Pasta
We're in love with this easy zucchini pasta recipe. There's fresh zucchini, tomatoes, basil, parmesan, and lots of garlic. Plus, it only takes 20 minutes to make. Make this with 100% zucchini noodles or swap half of the zucchini for regular spaghetti for a heartier meal.
These noodles can be made without the parmesan cheese. Swap for your favorite vegetarian-friendly cheese or use nutritional yeast.
Watch Us Make the Recipe
You Will Need
4 medium zucchini (about 2 pounds)
3 tablespoons extra virgin olive oil
1 tablespoon minced garlic (3 to 4 cloves)
1/4 to 1/2 teaspoon crushed red pepper flakes, depending on how spicy you like the pasta
2 medium tomatoes, chopped, see note (about 12 ounces)
1/2 cup shredded parmesan cheese, plus more for serving, see notes for alternatives
1 cup basil leaves, torn into pieces
1 teaspoon cornstarch
2 teaspoons cold water
Salt, to taste
Directions
Prepare Noodles

Trim and spiralize the zucchini (see notes below for how to do this without a spiralizer). Cut extra long noodles so that they are about the length of spaghetti.

Add olive oil, garlic, and the red pepper flakes to a large, deep skillet. Turn to medium heat. When the oil begins to bubble around the garlic, add the zucchini noodles. Toss the noodles with pasta tongs and cook until al dente — they should be wilted, but still have a crunch; 5 to 7 minutes. Do not let the noodles cook any longer or else they will become mushy. As they cook, keep tossing so that all the zucchini noodles have a chance to hit the bottom of the skillet.

Stir in the tomatoes, basil, and parmesan cheese. Cook for one minute. Use pasta tongs to transfer the noodles, tomatoes, and basil to a serving dish. Leave the liquid in the skillet.

To Finish

Bring the liquid left in the skillet to a simmer.

Combine cornstarch and cold water in a small bowl then whisk into the simmering liquid. Cook, while whisking until the liquid thickens to a sauce; about 1 minute.

Taste the sauce and season with salt. Pour the sauce over the zucchini, tomatoes, and basil. Finish with more parmesan cheese on top and serve immediately.
Adam and Joanne's Tips
How to make Zucchini Noodles without a Spiralizer: The spiralizer is not the only way to make noodles. You can use a julienne vegetable peeler or a mandoline. You can also use a standard vegetable peeler to make wide noodles or ribbons.
Don't be surprised if after the pasta has been sitting, liquid collects at the bottom of the serving dish. This is okay with us. The liquid mixes with tomato, garlic, cheese, and olive oil, so it's delicious.
Parmesan cheese may not be vegetarian since it can be made with rennet. Swap for any vegetarian-friendly hard cheese or use nutritional yeast. When using nutritional yeast, add to your tastes. I'd start with 2 tablespoons and increase from there.
Nutrition Facts: The nutrition facts provided below are estimates. We have used the USDA database to calculate approximate values. We assumed 1/2 teaspoon salt.
If you make this recipe, snap a photo and hashtag it #inspiredtaste — We love to see your creations on Instagram and Facebook! Find us: @inspiredtaste
Nutrition Per Serving:
Serving Size
1/4 of the recipe
/
Calories
197
/
Protein
10.7 g
/
Carbohydrate
11.2 g
/
Dietary Fiber
3.4 g
/
Total Sugars
1.7 g
/
Total Fat
14.3 g
/
Saturated Fat
3.4 g
/
Cholesterol
7.2 mg
/
Sodium
471.4 mg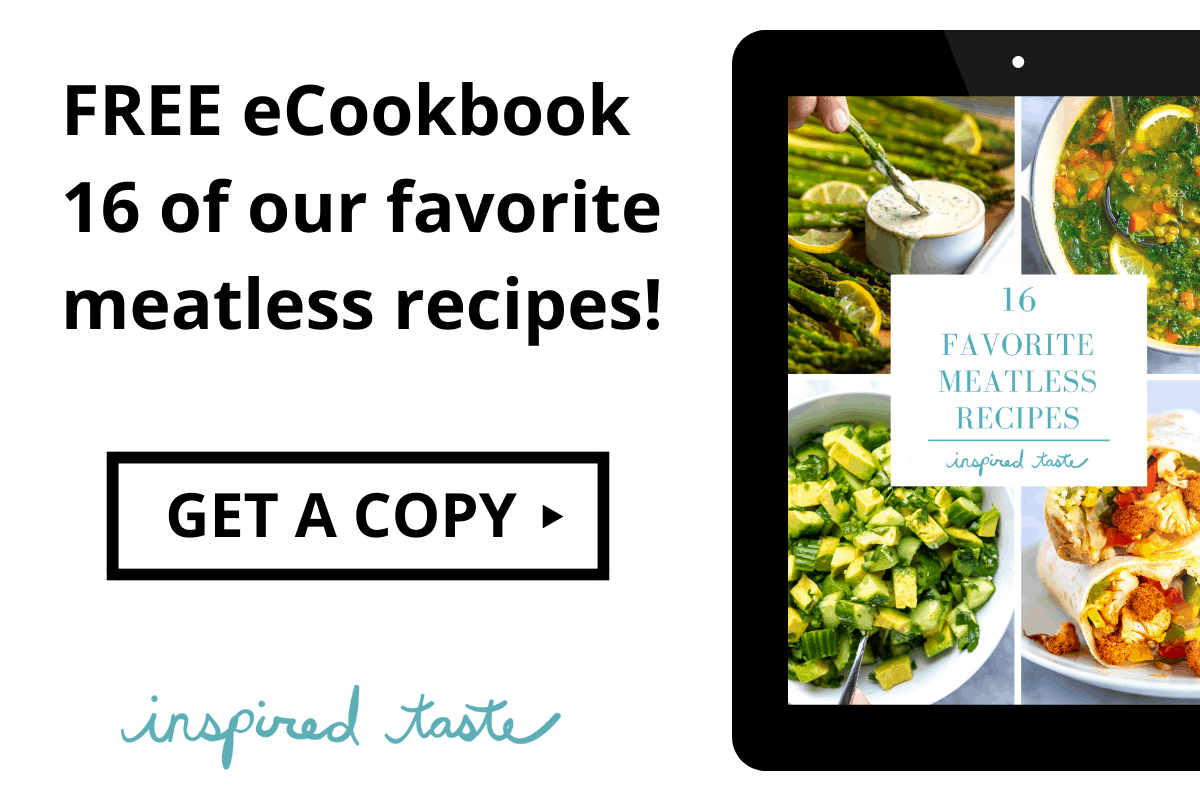 Don't Miss Our Latest Recipes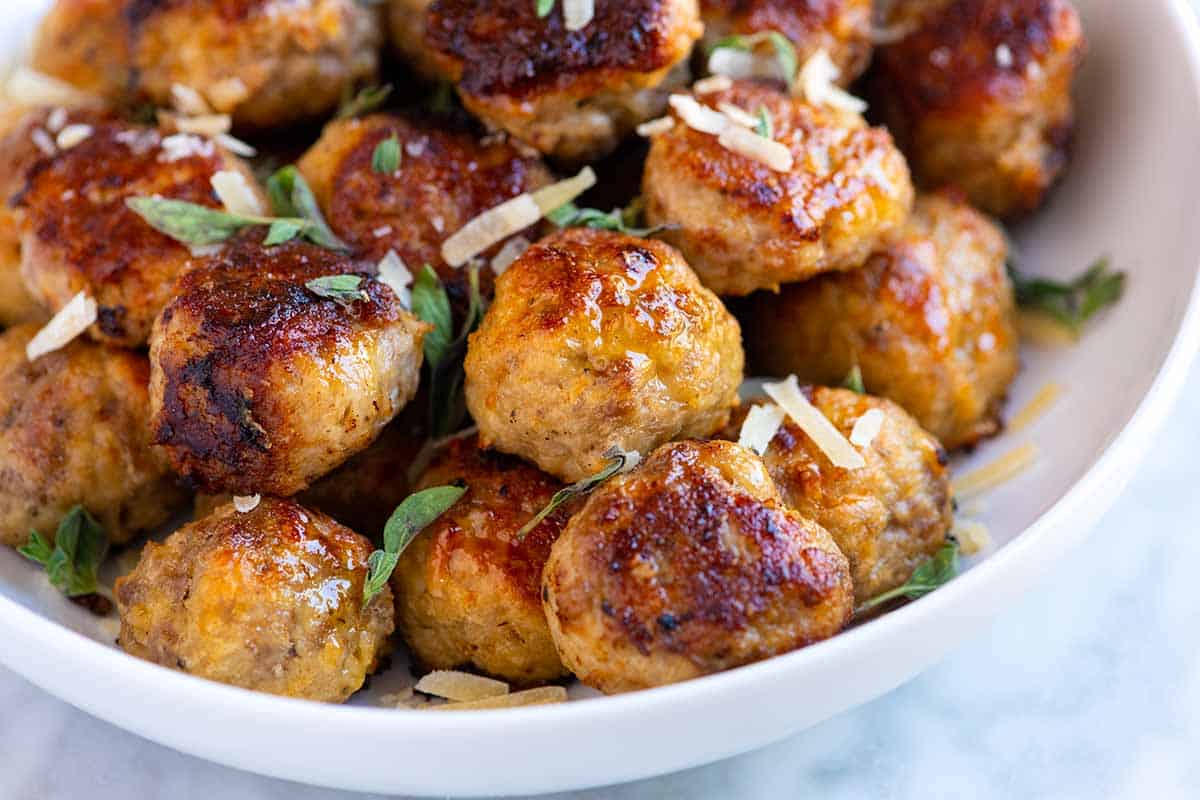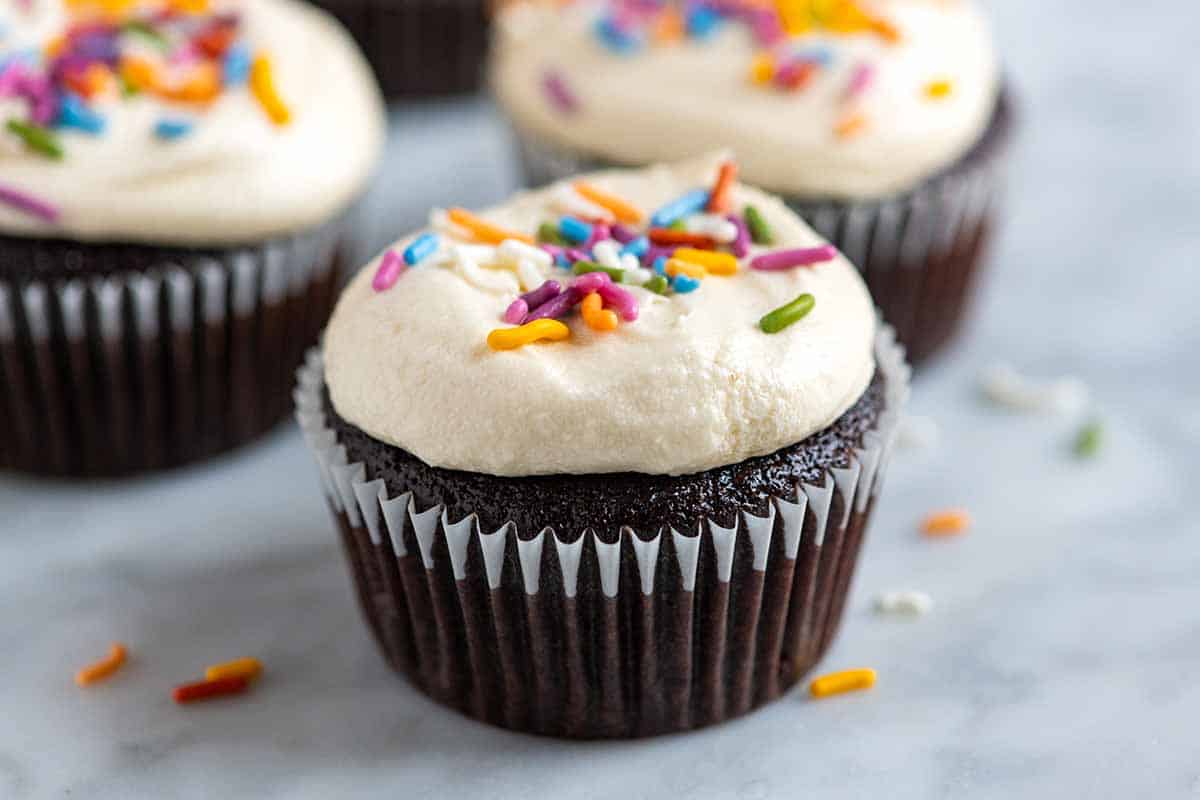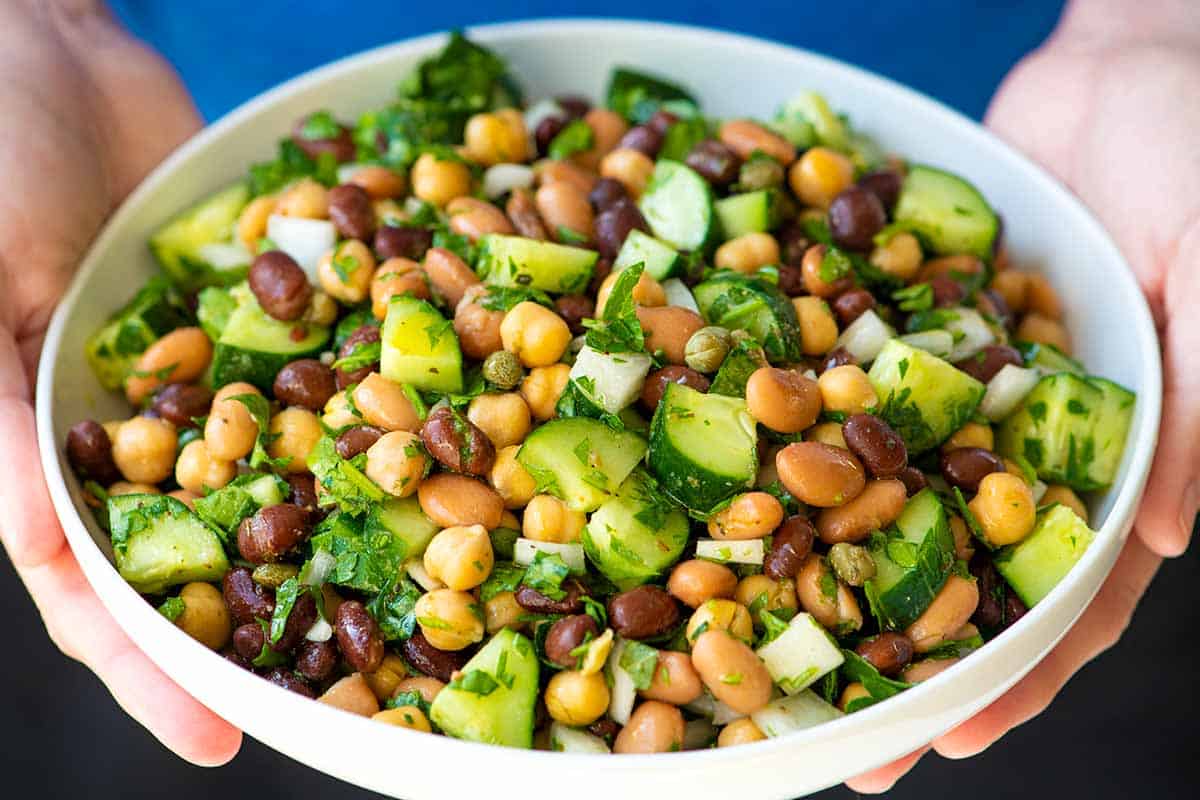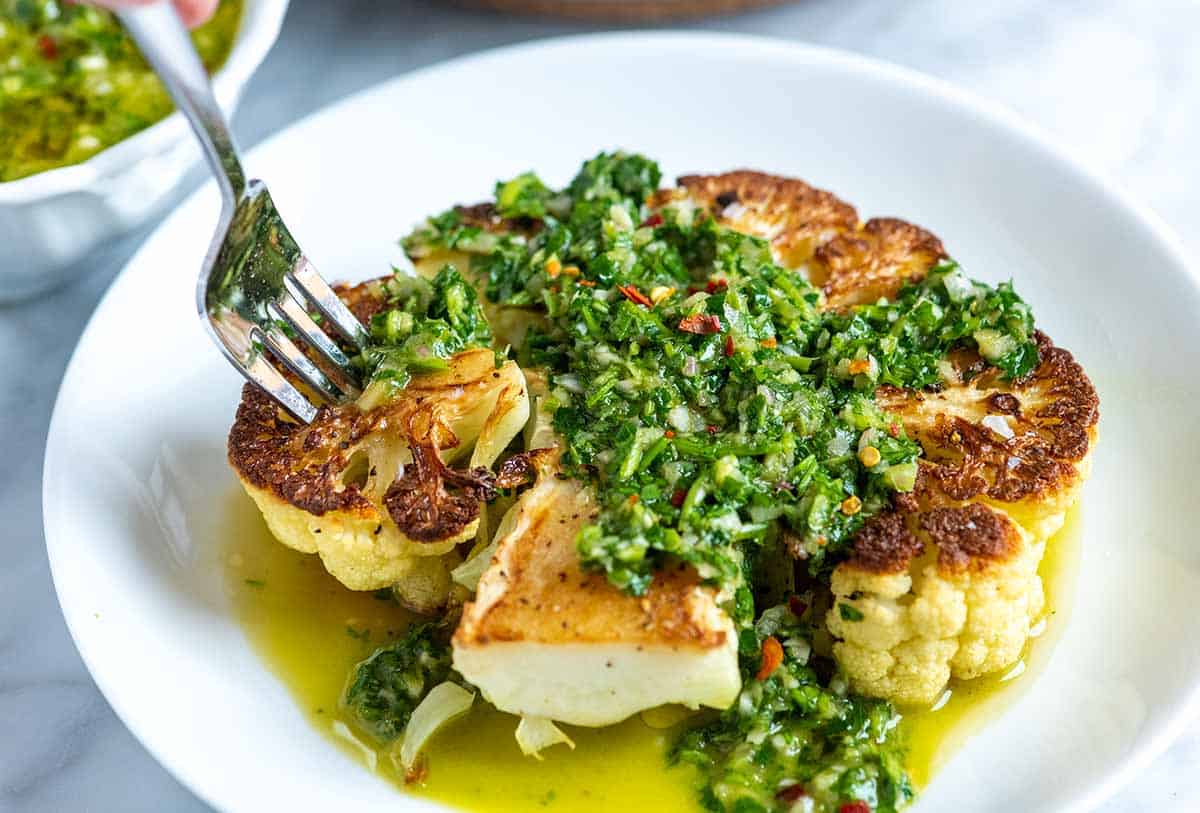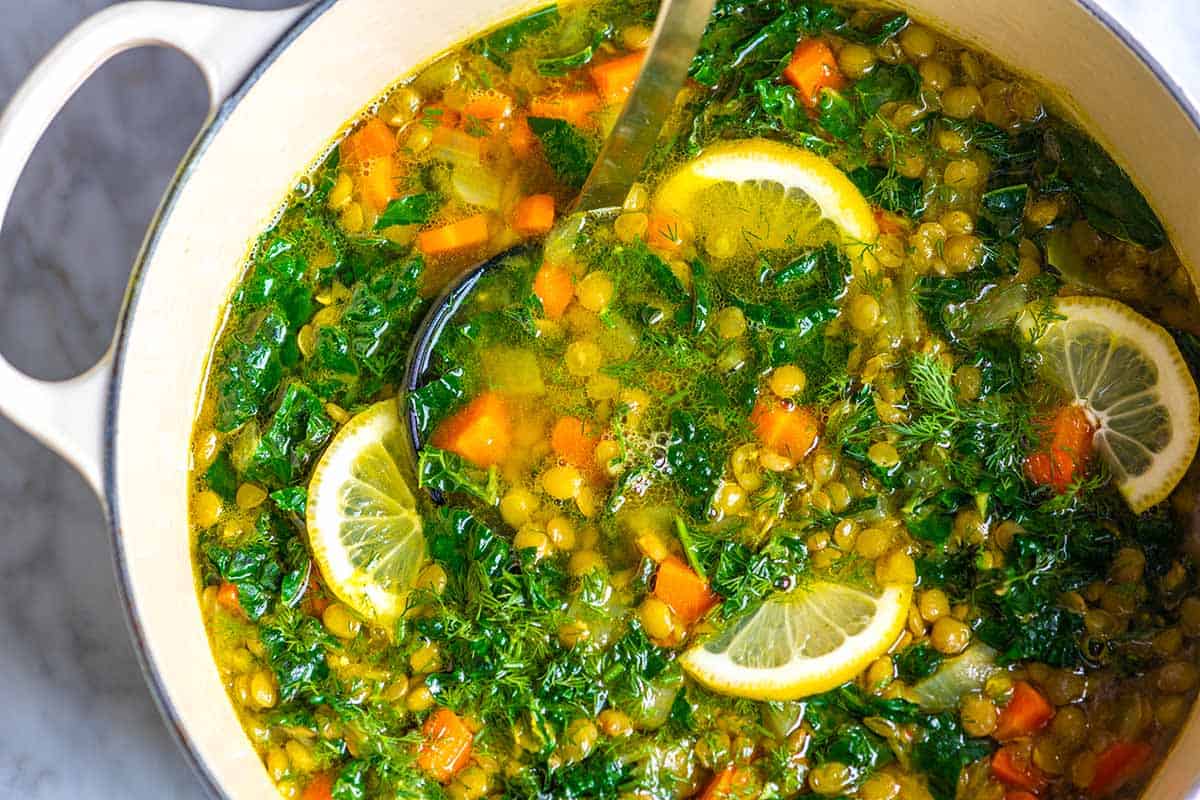 Tour Our New Kitchen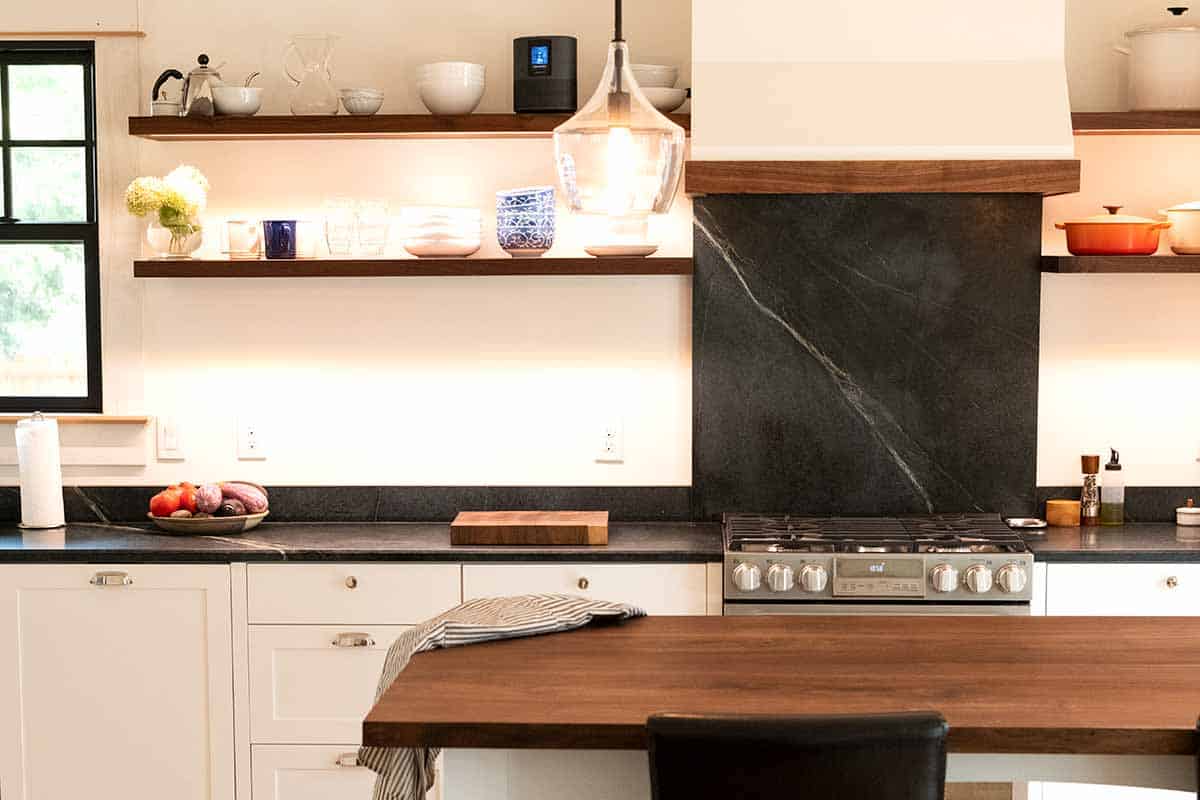 Previous Post: Soft and Fluffy Flatbread (No Yeast)
Next Post: Homemade Blue Cheese Dressing (Better Than Store-Bought)