How to make baked French toast with cinnamon raisin bread.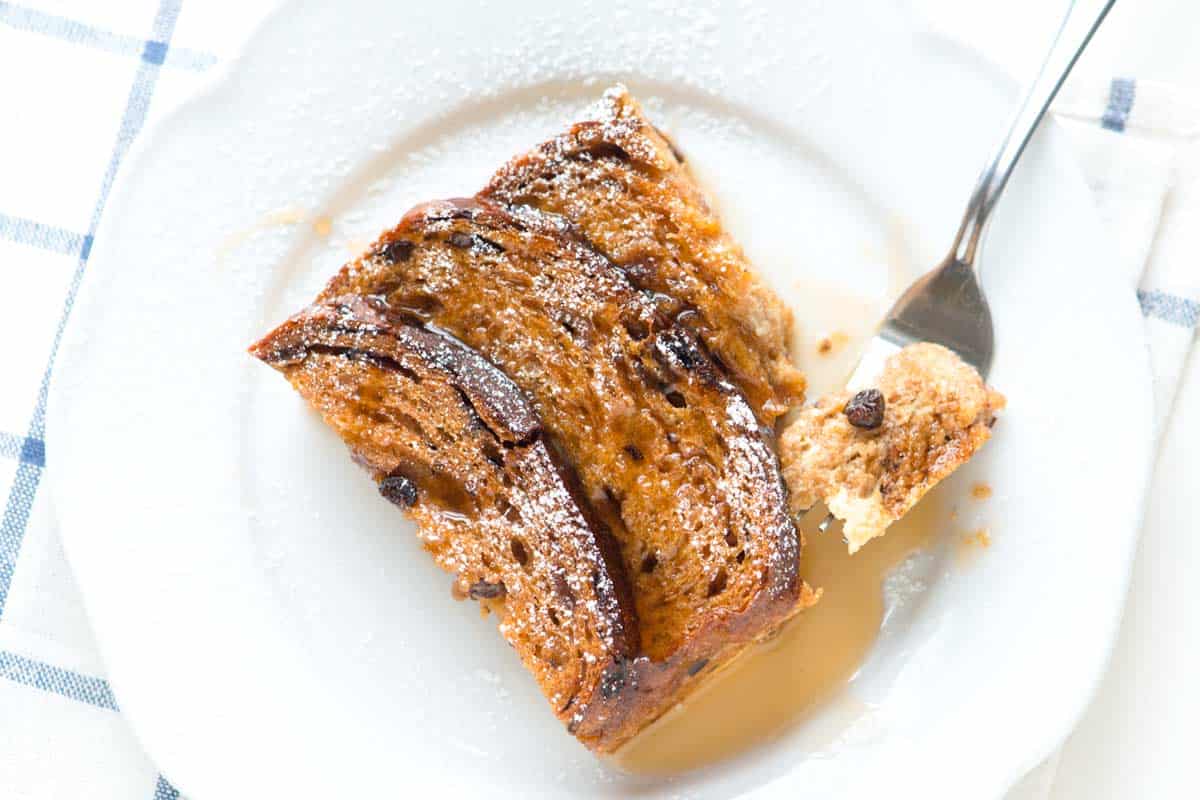 This recipe is inspired and adapted from one of our favorite food bloggers / cookbook writers, Smitten Kitchen. If you like the sound of this recipe, we highly recommend taking a look at her book.
How to Make French Toast in the Oven
We adore our original French toast recipe, but if we are cooking for more than 4, this baked French toast recipe is where we turn.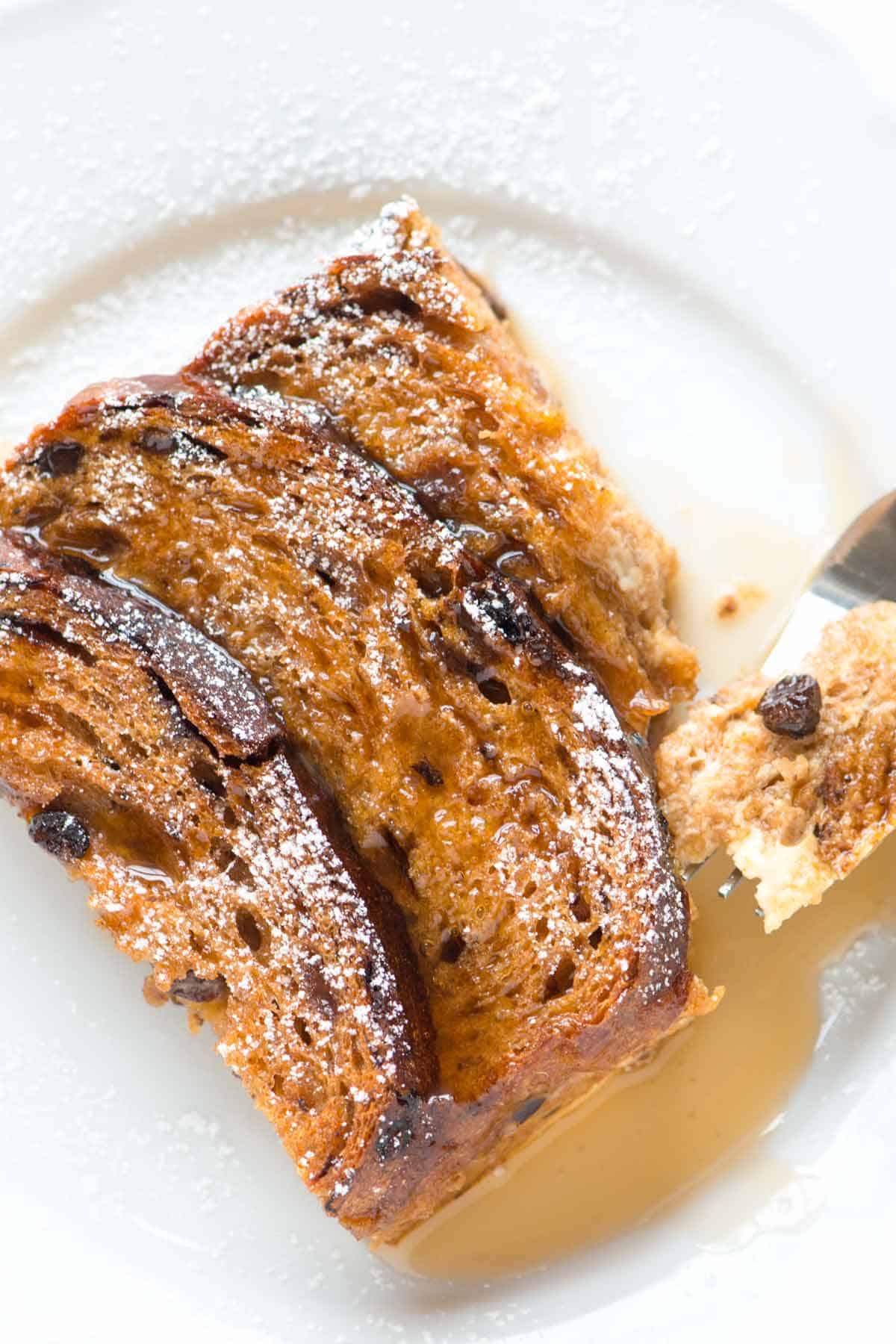 To make it, generously spread each bread slice with butter and sprinkle with a little cinnamon sugar. Then bake the buttered slices in the oven until toasted and the sugar has some crunch. After they cool off a bit, layer the bread in a baking sheet and pour over a mixture of milk, eggs and vanilla.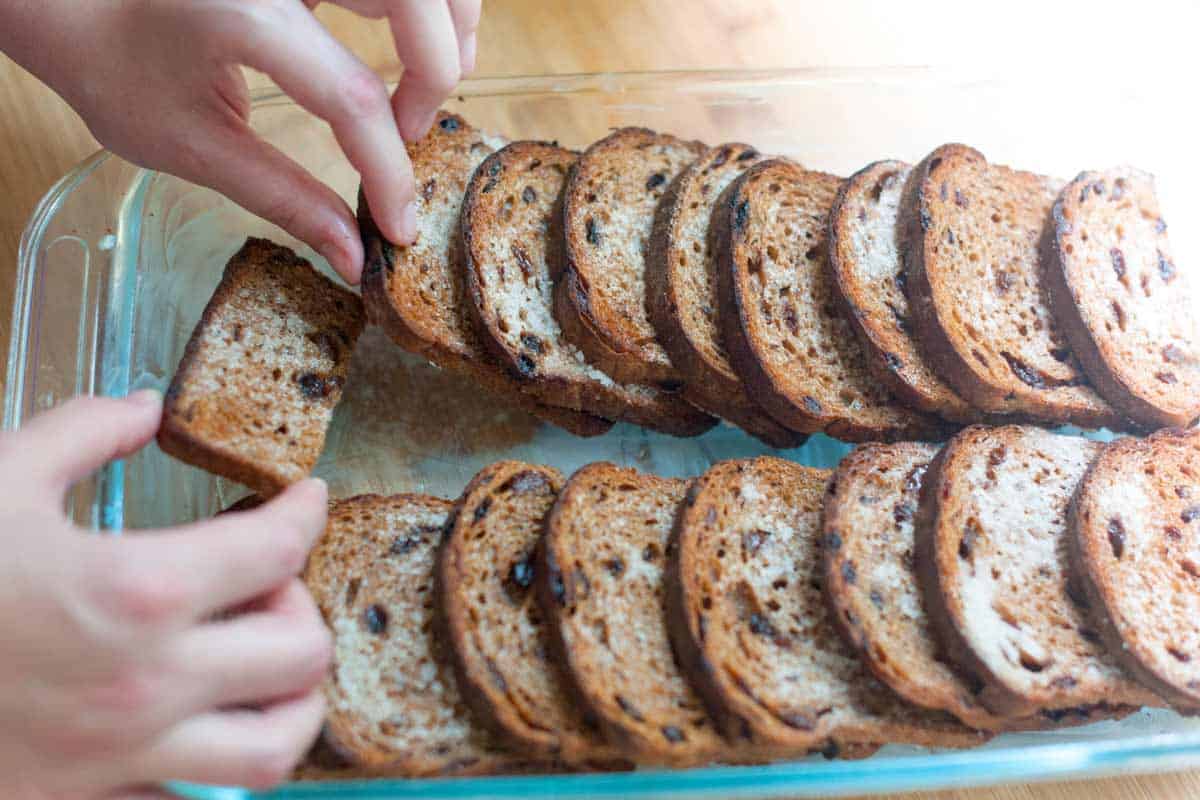 Set the baking dish aside for 15 minutes or so and give the top of the bread a push to help absorb some of the custard.
Make ahead: Instead of waiting 15 minutes, cover and refrigerate overnight.
After about 30 minutes in the oven the French toast will be puffed and golden. Slice into squares and serve with maple syrup and butter on top.
Baked Cinnamon Raisin French Toast
This takes our beloved French Toast up a couple notches. Instead of standing, patiently waiting for custard-soaked bread slices to cook in a pan, they are lined up in a baking dish, soaked in vanilla custard and baked until puffed and golden brown. We use cinnamon raisin bread for this, but basic sandwich bread will work nicely.
Makes approximately 8 servings
You Will Need
1/2 cup (100 grams) granulated sugar
1 tablespoon ground cinnamon
16 slices cinnamon raisin sandwich bread
8 tablespoons (115 grams or 1 stick) unsalted butter, softened
3 cups (710 ml) whole milk
6 large eggs
1/4 teaspoon sea salt
2 teaspoons vanilla extract
Directions
Toast Bread

1Heat the oven to 450 degrees F. Line two baking sheets with foil.

2In a small bowl, whisk the sugar and cinnamon together. Place the bread in one layer onto the baking sheets. Spread each slice with a little butter and sprinkle with about a teaspoon of cinnamon-sugar — you might have some cinnamon-sugar leftover.

3Slide the baking sheets into the oven and toast the bread until golden and until the cinnamon-sugar top has a slight crunch, 5 to 10 minutes.

4Reduce the oven to 375 degrees F and let the toast cool slightly.
Assemble French Toast

1Butter a 9-inch-by-13-inch baking dish. Cut two slices of the toast in half horizontally. You will have two top-halves (with the curved crust) and two bottom-halves.

2Arrange the toast in two rows in the baking sheet. Begin with one of the bottom halves of cut toast, layer 7 more slices in a row and finish with one of the top halves of cut toast. Repeat with the second row. (Halving the bread and arranging them at the ends of the rows makes sure every serving is the same thickness.)

3In a medium bowl, which the milk, eggs, salt and vanilla until blended then pout over the toast in the baking dish. Use a spatula or hands to gently press the toast down into the custard then let it sit for 15 minutes and up to overnight so that the custard absorbs into the toast.
Bake French Toast

1Bake the French toast until puffed and no liquid seeps out of the bread when they are pressed, about 30 minutes. Cut into squares then serve with maple syrup and more butter.
Adam and Joanne's Tips
If you make this recipe, snap a photo and hashtag it #inspiredtaste — We love to see your creations on Instagram and Facebook! Find us: @inspiredtaste