How to make our spiced pumpkin scones inspired by Starbucks. These always get rave reviews!
Watch the Video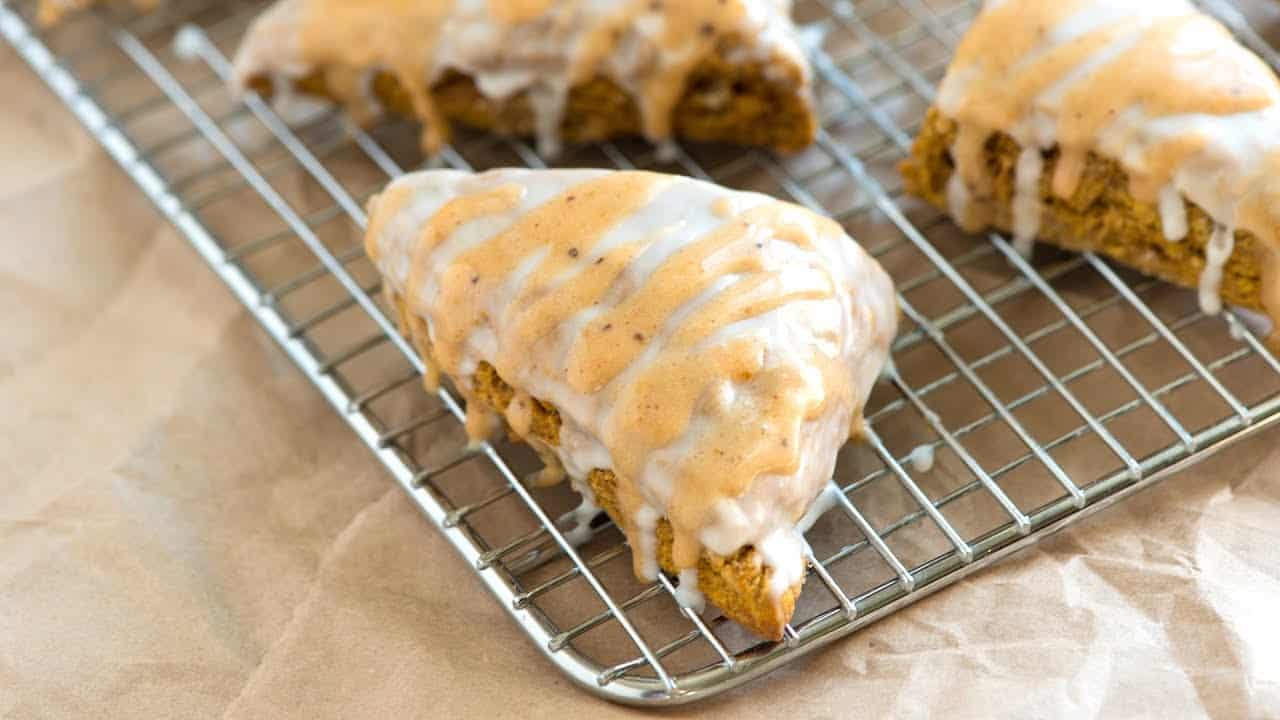 Related: We love these easy pumpkin cupcakes!
How to Make Our Perfectly Spiced Pumpkin Scones
These pumpkin scones are the best. We just love them. We add lots of pumpkin and fall spices to the dough and they have not one, but two glazes. One is a simple white glaze and the other, a pumpkin spice glaze that gets drizzled on top.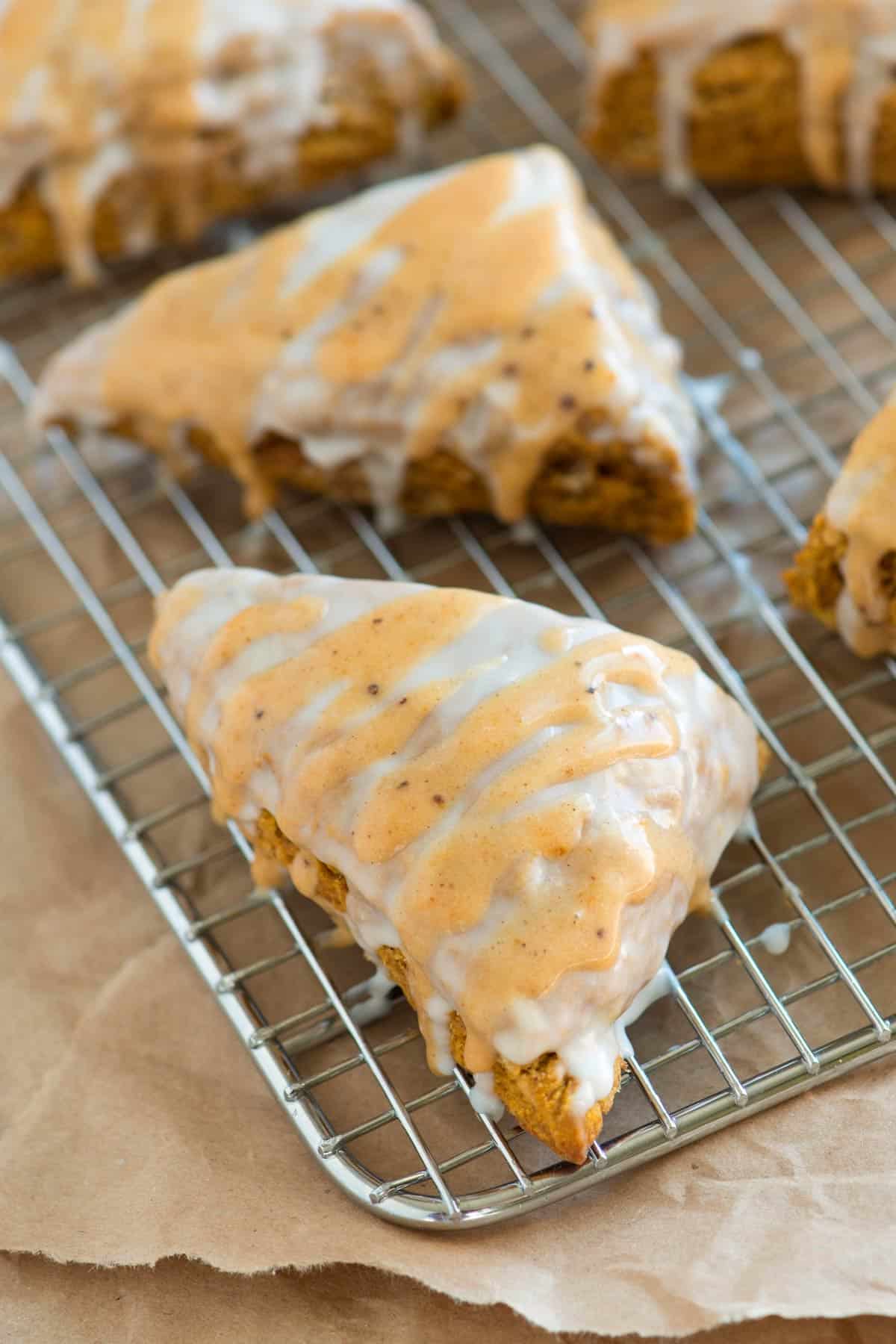 These scones are easy to make and worth the effort (they are so delicious). The scones are fantastic warm and at room temperature. You can make them with or without the glazes — we like both options.
Before we get to the glaze, let's talk about how to make the best scones.
The trick to making the best scones is cold butter — if it isn't cold, you're done before you even get started. It's the cold bits of butter in scones that makes them tender. We use cold butter for every scone recipe on this blog including our cranberry cream scones and these blackberry lemon scones.
It's also really important to not overwork the dough — the same goes for homemade flaky biscuits and butter pie crust.
To make the scones, we combine dry ingredients with lots of fall spices. Then we "cut" in cold butter. Do this by hand or by pulsing everything in a food processor.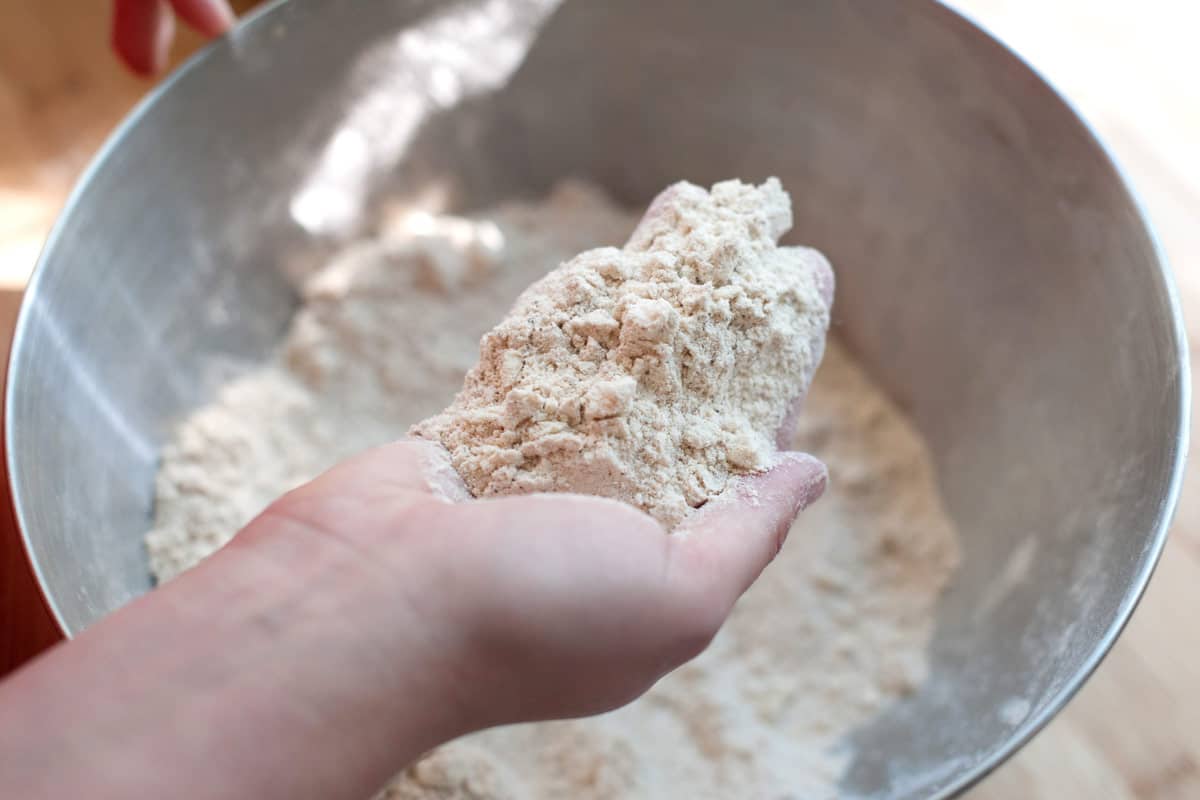 When it resembles coarse crumbs, add the wet ingredients. This is where the pumpkin puree comes in. When mixed, you've got your dough. Pat it into a rectangle and then cut into whatever shape you like — we go for triangles.
By the way, do you see all those specks of butter? That's what makes these scones rise, tender, and delicious!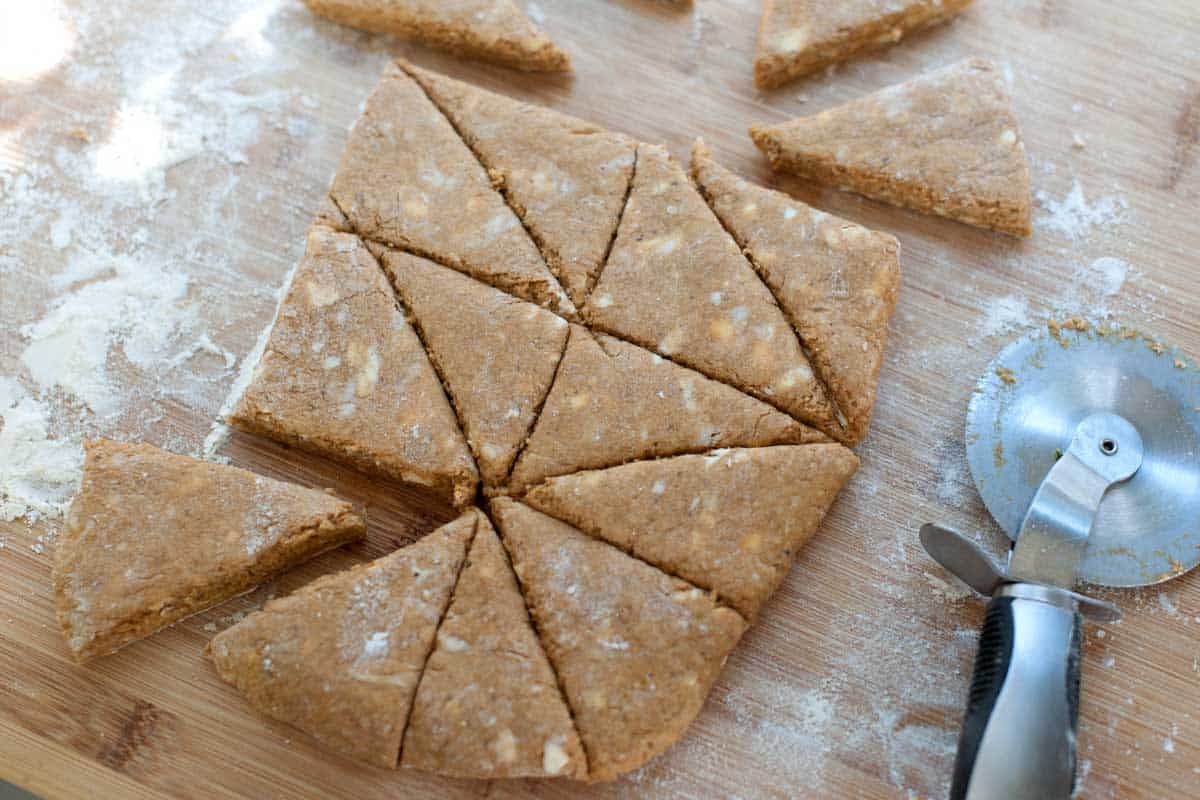 After baking and cooling, you can glaze them. I mentioned above that you can absolutely leave these plain without any glaze at all. You can also just use one glaze, but if you're really going for it, add both glazes. The flaky scone with both glazes look and taste like perfection. Highly recommended ?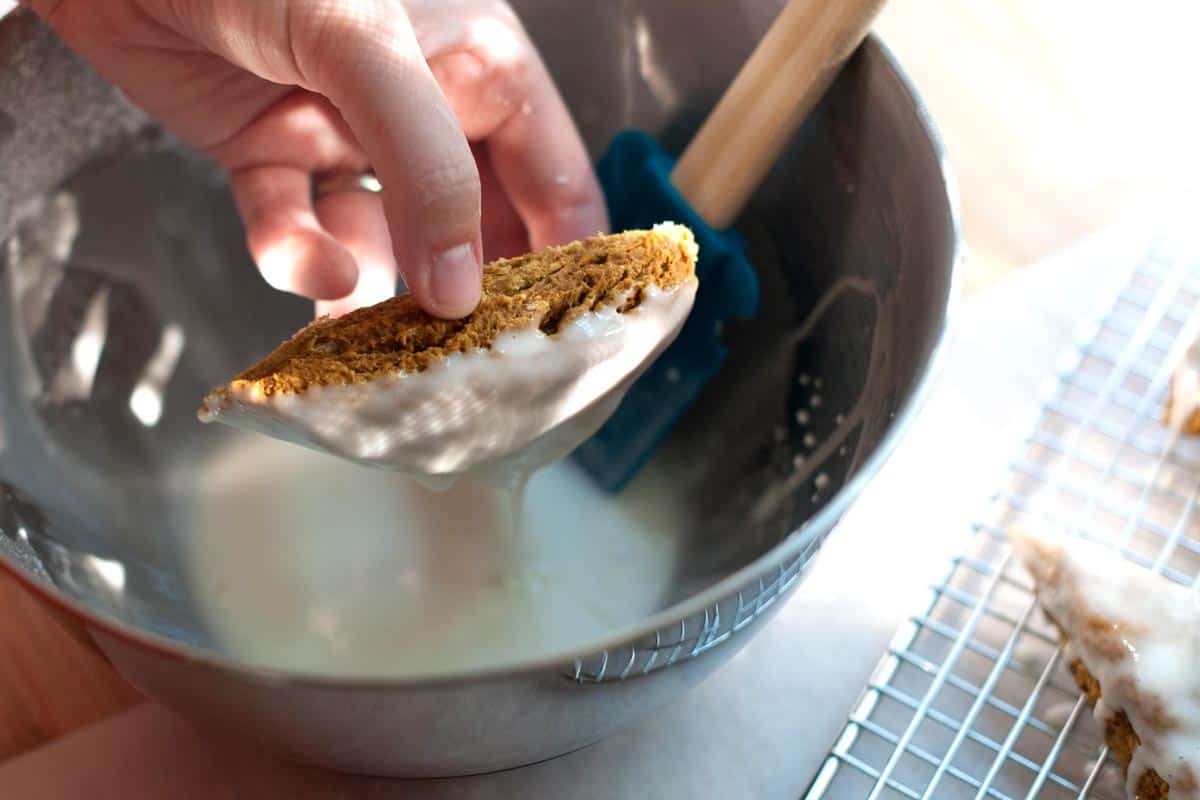 The first glaze is simple — just half and half or cream and powdered sugar. The second starts the same, but we also add pumpkin puree and extra spices. Once glazed, you're done! Grab a cup of coffee or a homemade pumpkin spice latte and enjoy.
More Easy Pumpkin Recipes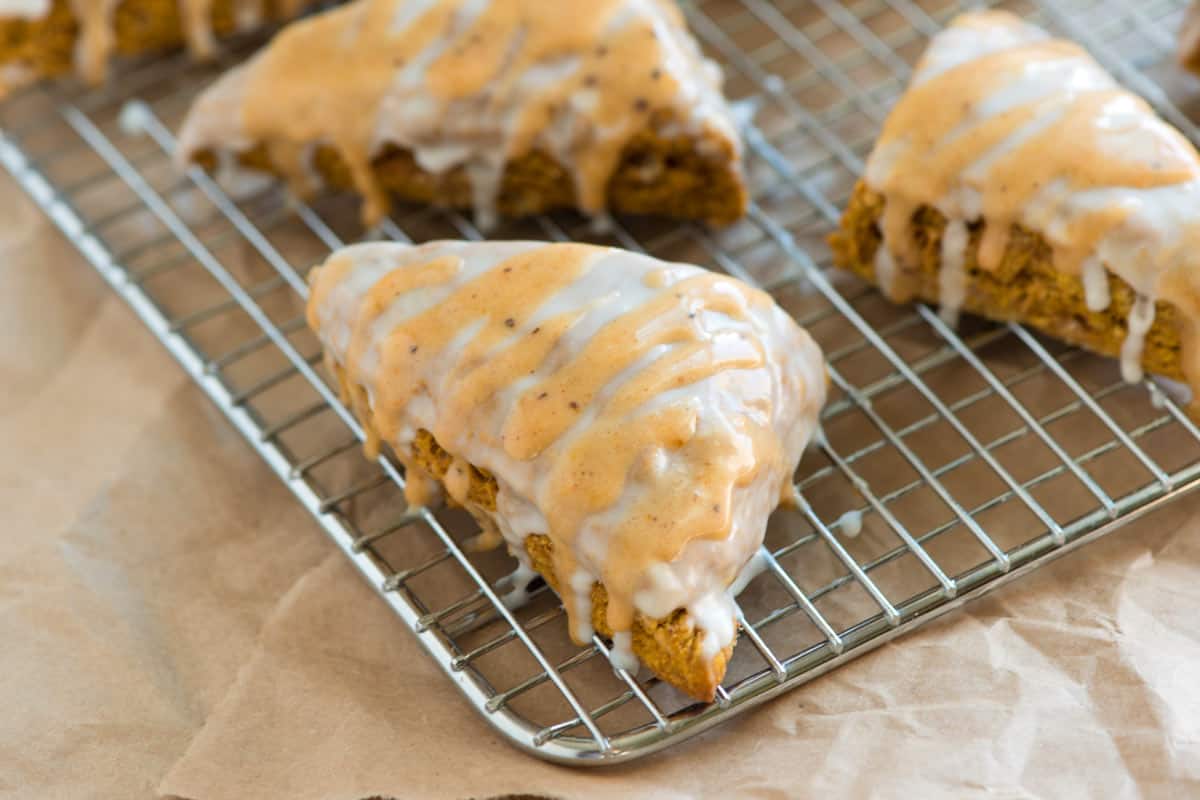 Perfectly Spiced Pumpkin Scones
The inspiration for this pumpkin scones recipe was a popular treat from Starbucks! I know it looks like a lot of ingredients, but trust us, the recipe is easy to make. There are two glazes shared below. The scones are delicious with both, but you could use one or leave the scones plain. We've had them all three ways and loved them all.
Watch Us Make the Recipe
You Will Need
Pumpkin Scones
2 cups (280 grams) all-purpose flour
1/3 cup (65 grams) brown sugar
1 teaspoon baking powder
1/2 teaspoon baking soda
1/2 teaspoon kosher salt
1 teaspoon ground cinnamon
3/4 teaspoon ground ginger
3/4 teaspoon ground cloves
1/2 teaspoon ground nutmeg
8 tablespoons (115 grams or 1 stick) cold unsalted butter
1/2 cup (115 grams) pumpkin puree, see our homemade pumpkin puree recipe
1 tablespoon molasses (we use Blackstrap Unsulphured Molasses)
3 tablespoons half and half or cream
1 large egg
2 teaspoons vanilla extract
Simple Sugar Glaze
1 cup (125 grams) powdered sugar, sifted
1 to 2 tablespoons half and half or cream
Pumpkin Spice Glaze
1 cup (125 grams) powdered sugar, sifted
1 tablespoon pumpkin puree, see our homemade pumpkin puree recipe
1/8 teaspoon cloves
1/8 teaspoon ground nutmeg
1/8 teaspoon ground ginger
1/4 teaspoon ground cinnamon
1 to 2 tablespoons half and half or cream
Directions
Make Dough

1Center a rack in the middle of the oven and heat oven to 400ºF. Line a baking sheet with parchment paper. Or use non-stick cooking spray.

2Whisk the flour, sugar, baking powder, baking soda, salt, cinnamon, ginger, cloves and nutmeg together until blended.

3Cut the butter into small cubes then scatter over the flour mixture. Use two knives or a pastry cutter to "cut" the butter into the flour until the mixture resembles coarse cornmeal with a few pea-sized bits of butter, about 5 minutes. (You could also use a food processor for this – if using, add flour mixture to the bowl of a food processor, add the cold butter cubes. Then pulse three to four times until the mixture looks like coarse cornmeal or crumbs).

4In a separate bowl, whisk the pumpkin puree, molasses, half and half, egg and vanilla extract until blended.

5Stir the pumpkin mixture into the flour and butter mixture until a soft dough forms. Transfer the dough to a floured surface. Knead three to four times until it comes together.
Bake Scones

1Pat the dough into a 10-inch by 7-inch rectangle (a rolling pin can be used here). Cut the rectangle in half lengthwise then cut into 4 even pieces crosswise, making eight rectangles. Cut each rectangle into two triangles, making 16 scones.

2Transfer scones to the baking sheet then bake 10 to 15 minutes or until golden brown and a toothpick inserted into the middle comes out clean. Transfer to a wire rack and cool completely.
Make Glazes

1For the simple sugar glaze, add the sugar to a medium bowl then add one tablespoon of half and half. Stir then judge the consistency. If when you pick a spoon up and out of the glaze it slowly drizzles back into the glaze, it is fine. If it is too thick, add a little more half and half (a little goes a long way, here). If it is too thin, add a little more powdered sugar.

2In another bowl, make the pumpkin spice glaze. Combine the sugar, pumpkin puree, spices then add one tablespoon of half and half. Stir and check consistency. Adjust the same way as you would the simple glaze.
To Finish

1Dip each cooled scone directly into the simple sugar glaze then place glazed side up back onto the cooling rack.

2Use a spoon to drizzle a zigzag pattern of the pumpkin spice glaze across each scone. Wait 15 minutes or until the glaze has set then enjoy!

3Store baked and glazed scones covered with plastic wrap. We recommend storing in the refrigerator if storing them for more than a day. They will lose a little moisture, but will still taste great.
Adam and Joanne's Tips
Molasses: This adds a backbone to the flavor of these scones. If you do not have any and do not wish to buy a whole bottle for 1 tablespoon, you can leave it out. The scones are still delicious without it.
Make Ahead Tip: You can freeze unbaked scone dough. Chill cut scones in the freezer until firm, and then transfer to resealable plastic bags. Keep up to a month. Bake in a 400ºF oven straight from the freezer. (They may take a few extra minutes).
Nutrition Facts: The nutrition facts provided below are estimates. We have used the USDA Supertracker recipe calculator to calculate approximate values.
If you make this recipe, snap a photo and hashtag it #inspiredtaste — We love to see your creations on Instagram and Facebook! Find us: @inspiredtaste
Nutrition Per Serving
Serving Size
1 scone
/
Calories
197
/
Protein
2 g
/
Carbohydrate
32 g
/
Dietary Fiber
1 g
/
Total Sugars
19 g
/
Total Fat
7 g
/
Saturated Fat
4 g
/
Cholesterol
29 mg
Recipe updated, originally posted October 2012. Since posting this in 2012, we have tweaked the recipe to be more clear. – Adam and Joanne