Three cheeses, artichokes, and fresh spinach makes this warm spinach and artichoke dip extra creamy and delicious.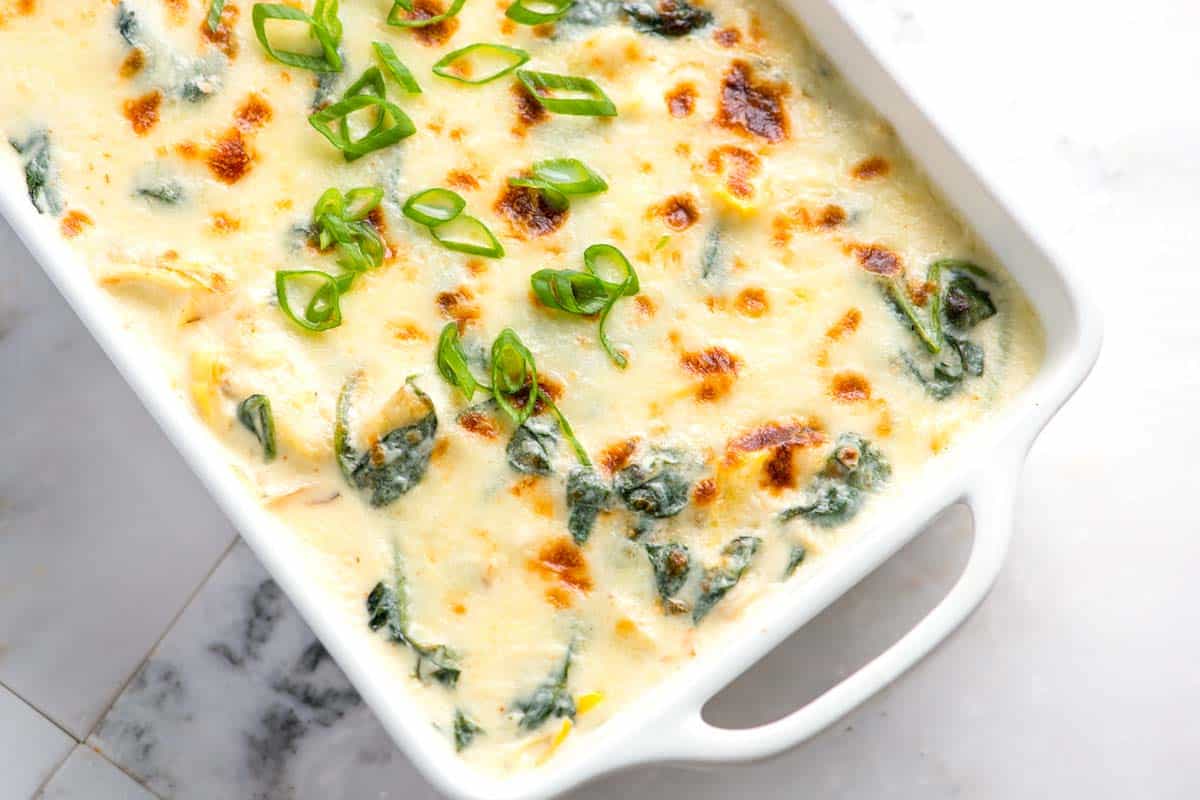 We love this warm gooey dip with not one, but three cheeses, lots of artichoke, fresh spinach and garlic. Serve this with pita wedges, chips, bread or vegetables. This would also be amazing smeared onto bread instead of mayo for sandwiches or added to the top of seared chicken for dinner.
How to Make the Best Spinach Artichoke Dip
This spinach and artichoke dip comes together in about 30 minutes — it's pretty easy, too. You can even make it ahead of time — about three days in advance. Just keep it covered and stored in the refrigerator then when you're ready to serve, add some cheese the top and bake. Easy.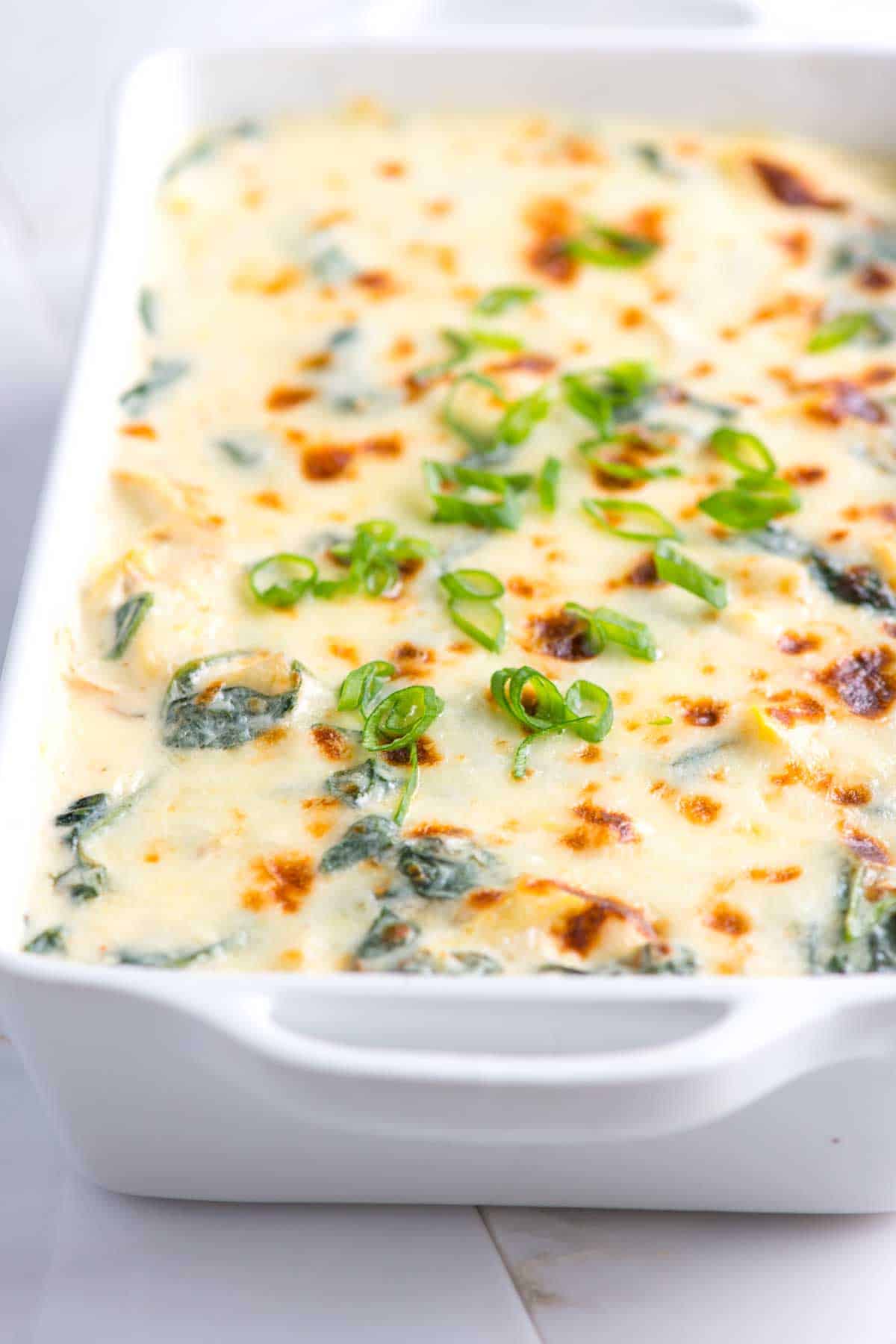 Start by cooking artichokes with garlic and olive oil until the artichokes brown just slightly around the edges. Throw in lots of fresh spinach until wilted down.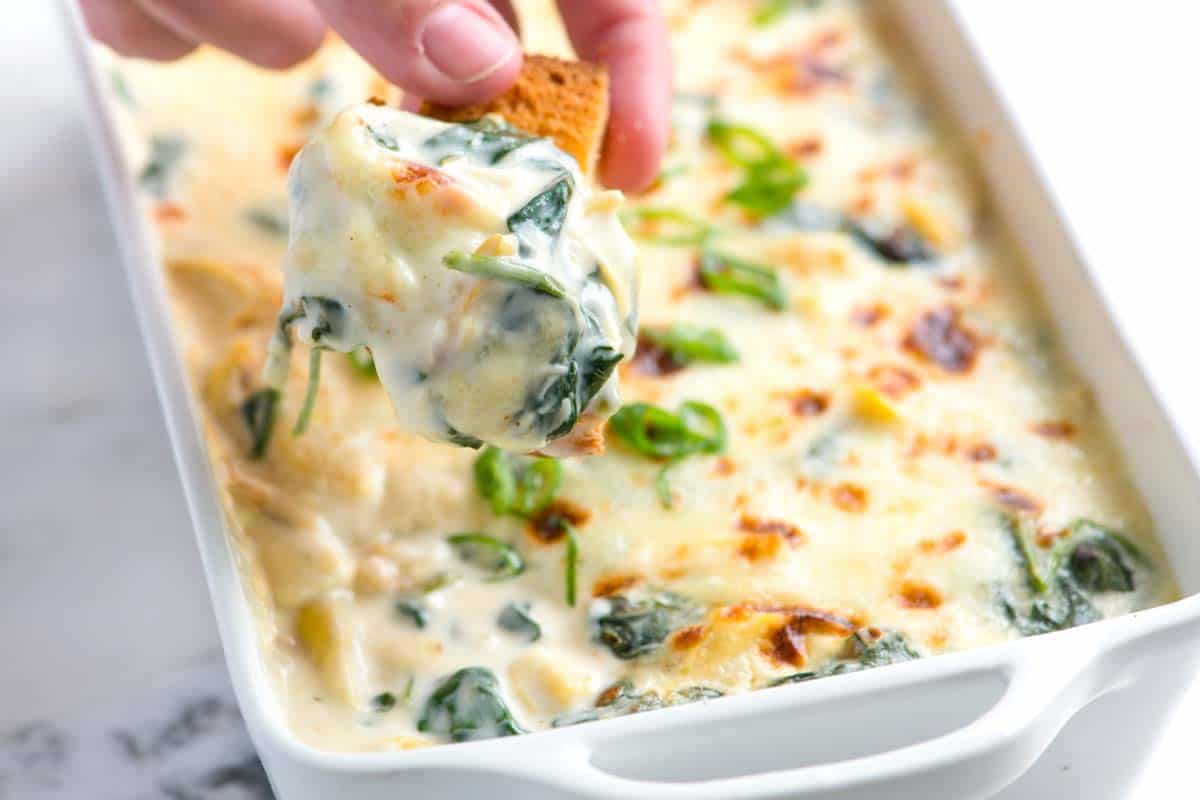 Next, we make the creamiest sauce, ever. Butter and flour are cooked together then milk is added — this is the same process as our ultra creamy macaroni and cheese sauce. Once the sauce is thick, we stir in three cheeses: cream cheese, feta cheese, and mozzarella. Then we add the artichokes, spinach, and the sauce to a baking dish and bake until bubbly. It's seriously good!
Easy Spinach Artichoke Dip
This dip is unbelievably creamy – it's practically addictive. We love serving alongside vegetables, pita wedges, bread or chips. This dip should be served warm. You can make this up to 3 days in advance, just store covered tightly in the refrigerator and reheat before serving. If making ahead, reserve the extra cheese for the top of the dip until you are ready to heat and serve. We use artichokes from cans. You can find frozen artichokes. If using frozen artichokes, thaw before making recipe. Also available are jarred artichokes packed in oil. You can use these without rinsing, just omit the oil.
Makes approximately 6 servings
You Will Need
1 1/2 cups drained artichoke hearts, roughly chopped (from two 14-ounce cans)
1 tablespoon extra-virgin olive oil
3 garlic cloves, minced
4 cups fresh baby spinach leaves
3 tablespoons butter
3 tablespoons all-purpose flour
1 1/2 cups (355 ml) milk, plus more as needed
4 ounces cream cheese
1/4 teaspoon cayenne pepper
1/2 teaspoon dried oregano
4 ounces feta cheese, crumbled (about 1/2 cup)
4 ounces mozzarella cheese, coarsely grated (about 1 cup)
1 scallion, thinly sliced
Salt and fresh ground black pepper, to taste
Directions
Prepare Artichokes and Spinach

1Heat oven to 350 degrees F. Butter or spray a small baking dish with non-stick cooking spray. (The pan should hold 4 to 5 cups. An 8-inch round pan, 8-inch x 4-inch loaf pan, 8-inch square pan or small oval baking dish will work).

2Heat olive oil in a wide skillet with sides over medium heat then add minced garlic and cook about 1 minute until fragrant. Add the artichokes and cook 2 to 3 minutes until warmed through and beginning to brown around the edges. Add the spinach and season lightly with salt and pepper. Cook, tossing occasionally, until the spinach wilts down, about 2 minutes. Transfer garlic, artichokes, and spinach to a bowl and set aside.
Make Sauce

1Place the skillet back onto medium heat then add the butter. When the butter begins to bubble, add the flour. Cook, whisking constantly 2 to 3 minutes until butter smells fragrant and nutty — the color of the butter-flour mixture will be light brown. While whisking, slowly pour the milk into butter and flour mixture. Continue to cook, whisking constantly until the sauce bubbles and thickens.

2Remove pan from the heat. Stir in the cream cheese, cayenne pepper, and oregano. When the cream cheese has melted into the sauce, add feta cheese and half (1/2 cup) of the mozzarella cheese. Stir until completely melted. Stir in the garlic, artichokes, and spinach from earlier.
To Finish

1Transfer the dip to baking dish and top with remaining mozzarella cheese (1/2 cup). Bake the dip until bubbly and the cheese begins to brown on top, 15 to 20 minutes. To make the cheese even more browed on top, turn oven to broil and broil 1 to 2 minutes. Serve warm.